Spring Forward
A small selection of the region's best public gardens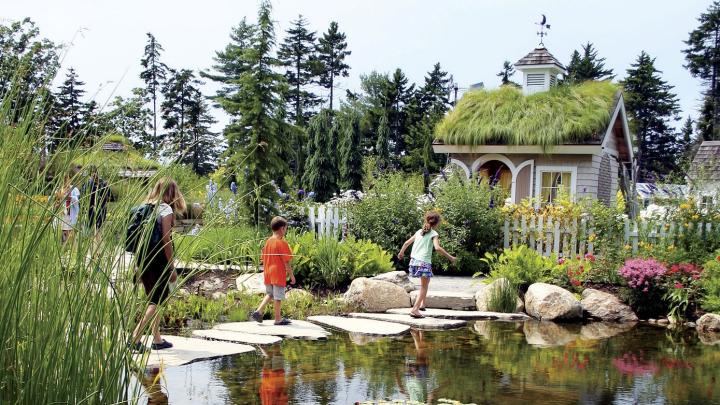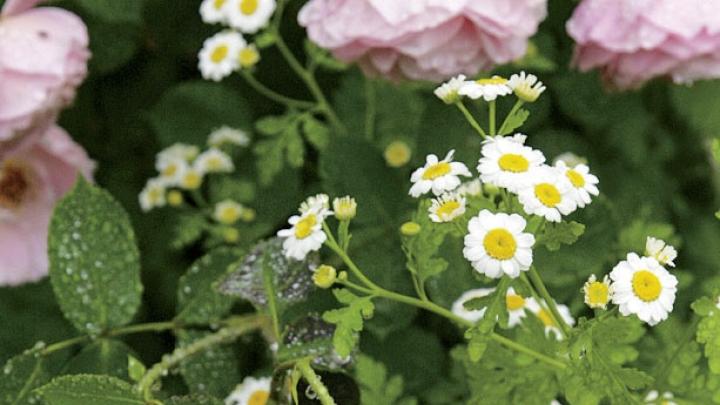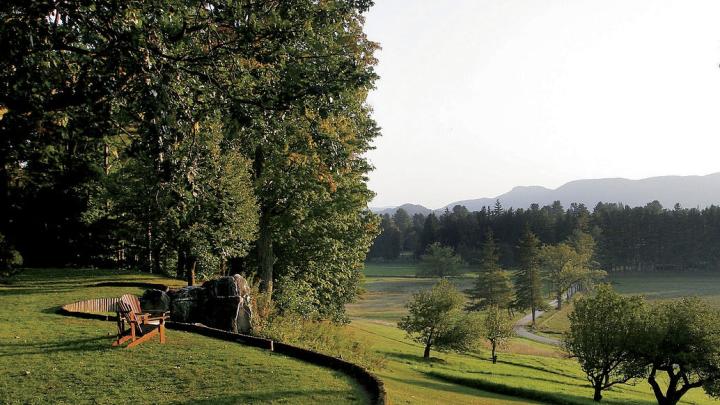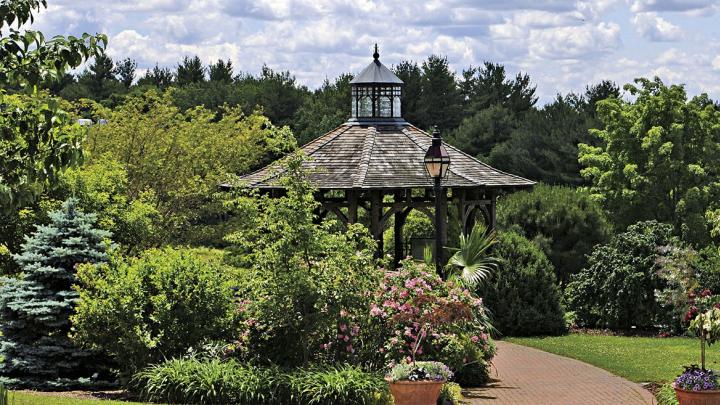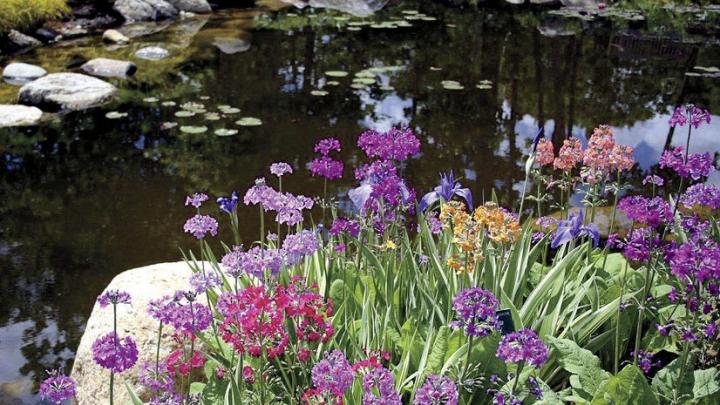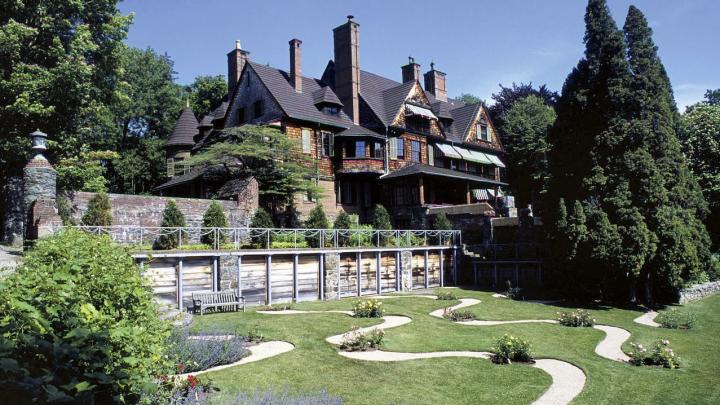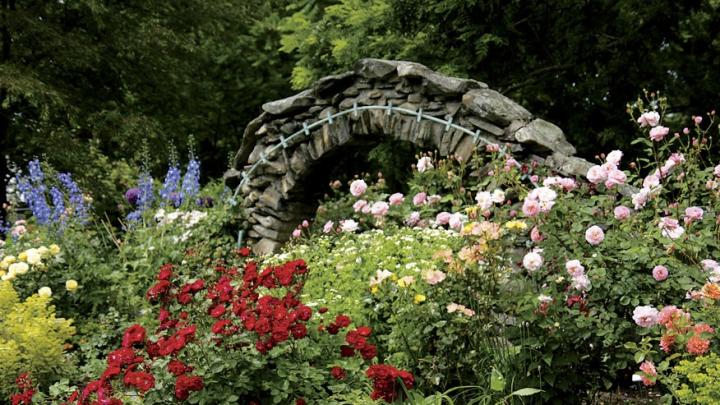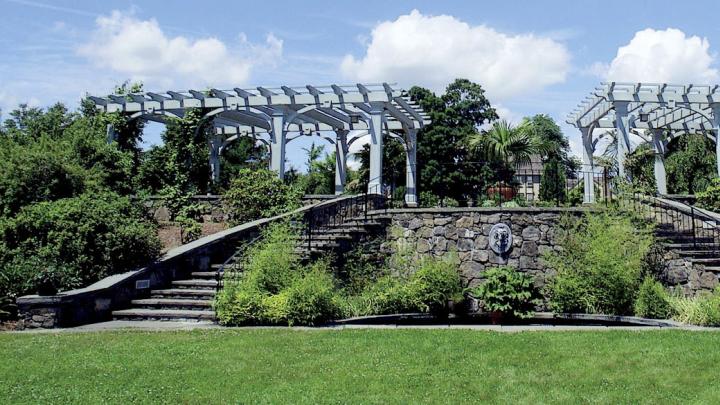 New England may not be widely known for its public gardens, but those that do grow here inspire passion in the hearts of hardy-zoned green thumbs. The Glebe House, for example—the Connecticut birthplace of the Episcopal Church in the New World—also boasts the only extant American garden designed by Gertrude Jekyll, whose impressionistic style turned landscapes into flowing paintings. The other side of the state offers the Gothic Revival-styled Roseland Cottage (owned by Historic New England), with its vibrant mid-nineteenth-century boxwood-edged parterre gardens: "an elaborate, rather rare place, planted beautifully," according to gardener Alan Emmet '50, RI '77, who wrote the authoritative So Fine a Prospect: Historic New England Gardens.
She also favors the normally private Abby Aldrich Rockefeller Garden, in Seal Harbor, Maine, designed by Beatrix Farrand, that is open to the public, by reservation only, one day a week in the summer. The estate's "huge, fabulous" main lawn is bordered by countless varieties of lush flowers, Emmet says. Equally thrilling is the series of woodland scenes and outdoor "rooms" Farrand created, filled with hostas, ferns, and other shade-loving greenery, set along mossy paths that wind their way to a walled garden. "The paths also hold a lot of Asian sculpture collected from the Rockefellers' trips," such as stone Buddhas and towers, Emmet reports. "And the moon gate that you step through into the walled garden in the woods is just magical."
In the interest of (temporarily) satisfying those late winter yearnings for blossoms and fresh greenery, and for planning excursions once the ground thaws, Harvard Magazine has produced a selective look at what's growing where—now, and this summer—in zones 3b through 7a. Although "the greatest public gardens are probably in the South," admits Roger Swain '71, Ph.D. '77, writer, gardener, and former longtime host of the PBS television show The Victory Garden, "what is here is definitely worth attention: certainly not shabby!"
For example, he says the greenhouses at Wellesley and Smith Colleges are "better than a ticket to Jamaica!" The Wellesley College Botanic Gardens has 16 of them (in addition to its arboretum and other artful landscapes). The spaces include sections devoted to succulents and desert plants, a fine array of unusual ferns, and tropical and subtropical trees and flowers, along with an orchid room and the 130-year-old Durant camellia, which came from Wellesley's founders, Pauline and Henry Fowle Durant, A.B. 1841. An entire "camellia corridor" is walkable at The Botanic Garden at Smith College, as is an invitingly humid palm house, with coffee, banana, and cacao plants. The Australian fern trees are also worth a visit, and the college's annual spring bulb show (March 2-17) is a popular tradition.
When the snow is gone, Swain urges a trip to discover "all the early bloomers, the spring ephemerals, the marsh marigolds, and skunk cabbages and other lovely early signs of spring" at the Garden in the Woods (home of the New England Wildflower Society in Framingham, Massachusetts). Enchanting pathways wind around various habitat displays, such as bog and swampland plants, meadow flowers, and an inspiring rock garden. Visitors can also take longer loops through woodlands and over the Hop Brook.
Later in the season, fans must get to "the best new public garden in New England—the Coastal Maine Botanical Gardens," Swain avers. More than 10 meticulously designed garden spaces have already been created on the organization's 248-acre tract in Boothbay; all are open year-round. Classes, dinners, and other events are available (although the buildings are closed from December through March). Miles of walking trails wind along the shoreline, through the mossy woods, and past small ponds.
The gardens opened in 2007 after 16 years of planning and planting by hundreds of volunteers and a core group of residents, some of whom mortgaged their homes to help raise money for the ambitious project. "It's a very creative and whimsical place for people of all ages," says marketing director Kris Folsom.
The unique Bibby and Harold Alfond Children's Garden is designed around well-known books with a Maine connection. Kids can sit atop "Sal's Bear" from Robert McCloskey's Blueberries For Sal, meet Miss Rumphius (by Barbara Clooney), who tells stories in a giant, handmade wooden chair, or search for E.B. White's Charlotte the spider in the Story Barn. There are a real rock cave and tree stumps to jump among, water pumps and fountains, as well as living roofs to study and a pond that highlights the local art of lobstering. A "fairy garden" offers miniature houses and other scenes crafted from moss, bark, pine cones, and mushrooms that involve fantastical creatures (fairy events are held on Fridays in July and August). "Adults love the children's gardens, too," according to Folsom, "because the landscaping and color from the annuals there are spectacular."
On the other side of the property, the Lerner Garden of the Five Senses provides a rare opportunity to enjoy the natural world in ways that go beyond our usual overdependence on visual beauty. There, paved stone pathways and elevated gardens ease the way for those with wheelchairs, walkers, and canes. There are herbs to smell and taste, a "popcorn plant" (Cassia didymobotrya), strongly scented flowers, and a wide variety of textured plants: "soft and fuzzy, others with jagged edges," Folsom explains. "You will use all your senses as you go along." The central water feature is a pond and waterfall that runs down over a stone wall: "You can run your hands along it and feel wet and cold water that travels from one pool to another," she says, and listening to and keeping the water on the same side assures the vision-impaired that they are always moving forward through the gardens. "Even the labyrinth is made of stones whose sizes change as you walk toward the center," she adds. "Take your socks off and walk the path to incorporate reflexology or experience it as a meditation—or just as a fun thing to do." (Horticultural therapy sessions and classes are also held in the garden.)
There are also rich rose arbors, a kitchen garden, perennial beds, shoreline trails, loads of rhododendrons, and a hillside garden lined with moss, boulders, and an unearthly, glowing glass orb sculpture by Henry Richardson. "If you are up in Maine and you come to the turnoff for Boothbay, you'd better take it," says Swain. "You can stop for lunch—there is a restaurant; walk in the gardens. It's been beautifully planted and has sculptures. Everyone who goes there falls in love with the place."
The 132-acre Tower Hill Botanic Garden in Boylston, Massachusetts, is another dynamic year-round destination—especially for those seeking ideas and inspiration for what they can accomplish at home. Various kinds of gardens (e.g., vegetable, winter plantings, and evolutionary) are on display, and woodland trails lead to diverse locales: a wildlife refuge pond and a mid-eighteenth-century English-style managed woodland with native species, a folly, and a Greek "temple of peace." Two glass houses, the Orangerie and the Limonaia, help take the edge off New England winters with citrus trees and blooming camellias, calla lilies, and bird-of-paradise flowers—along with other nonhardy plants from around the world. "People tell us their stress level decreases as they come up our driveway," says marketing and public-relations director Michael J. Arnum. "Tower Hill is a rejuvenating place, an oasis." As the home of the Worcester County Horticultural Society (founded in 1842), Tower Hill is also an educational wellspring. The library is open to the public, as are concerts, classes, workshops, art exhibits, and flower shows, such as those coming up on African violets (April 20-21) and primroses and daffodils (May 4-5).
"The beauty of botanical gardens today," says new executive director Katherine F. Abbott, M.P.A. '88, "is that they have grown so much beyond being a plant museum to really being about larger conservation issues: connecting people to plants in every way, shape, and form in terms of plants being a part of the air we breathe, the food we eat, and the water we drink, as well as our spiritual, psychological, and emotional well-being." The "systematic" garden, for example, which demonstrates plants' relationships, is based on American botanist Arthur Cronquist's taxonomic classification and is ordered evolutionarily: it begins with a primordial pool and moves through ferns to conclude with the Aster family, "the most complex compound flowers," Arnum says. One centerpiece of the systematic garden is a Southern magnolia that is espaliered against the brick of the Orangerie, "and even blooms once in a while for us if it's mild enough."
"The systematic garden is a lovely introduction to what's related to what—a teaching tool," Roger Swain declares. "Worcester gets lots of credit for its teaching and shows." But his favorite part of Tower Hill is the antique apple orchard. The garden purchased its first acreage from a dairy farm that also had an orchard, which has been nurtured and now includes 238 trees—among them 119 varieties of pre-twentieth-century apples. (Samples are available on Columbus Day weekend, but enthusiasts can order scionwood—cuttings from a tree—for grafting to their own trees and look forward to edible fruit.) Picnics, with wine and beer drunk in moderation, are allowed, or visitors can eat at the in-house Twigs Café, where food is served indoors or on a stone terrace with views of the Wachusett Reservoir.
To understand the depth and beauty of a 30-year collaborative artistic passion, visit Naumkeag, a National Historic Landmark built by McKim, Mead & White for lawyer and diplomat Joseph Choate, A.B. 1852, LL.B. '54, A.M. '60, LL.D. '88, and his family in 1885. Now owned by the Trustees of Reservations, the Gilded Age, 44-room house in Stockbridge, Massachusetts, is open to visitors from Memorial Day to Columbus Day, but the grounds alone, with their current designs by Fletcher Steele (who took landscape architecture classes at Harvard) in partnership with Choate's daughter, Mabel (who also studied garden design), offer lessons in grace, harmony, and scale. "They ended up creating an amazing monument to twentieth-century landscape design," says Mark Wilson, the Trustees' west region cultural resources manager.
The two worked on realizing their vision from 1926 until 1956; Mabel died two years later, bequeathing the property to The Trustees. Now a $2.6-million restoration of their work, which has deteriorated somewhat over time, is under way. "We have a five-fountain system and an 80-year-old piping infrastructure, with over eight acres of long-running pipes," Wilson says. "We have to look at sustainability and isolating some of that water." (Fundraising is in progress to match a $1-million challenge donation.) Meanwhile, everything is still open and operating for visitors.
The project includes masonry repairs to the terraced Art Deco-style blue steps (made from a then brand-new building material: cinder blocks) that lead from the house to Mabel Choate's extensive cutting gardens through an ethereal arbor of 75 white paper birches, which are near death and will be meticulously replaced. The serpentine lines of the 16 beds of roses sit in a sunny section by the house (designed to be seen from Choate's bedroom); new varieties will be introduced and existing bushes rejuvenated. Restoration is also planned for the Chinese garden, which includes a temple designed by Steele. Entered through the "Devil's Screen" and exited through a moon gate to bring good fortune, the garden holds carved lion and dragon stonework, foo dogs, and stone lanterns—treasures from Choate's extensive travels abroad—along with Asian plants and trees, including nine ginkgoes hovering over large-leaved butterburr. The temple "took 20 years to complete," Wilson notes. "The roof tiles came from Peking."
Other foreign accents lend personal warmth and history. A cast-iron pagoda, containing a sacred rock brought from China, leads to the Berlin-style linden allée inspired by a trip to Germany; a statue of Diana greets walkers at the end. Another sculpture, Young Faun with Heron, commissioned by architect Stanford White from Frederick MacMonnies, was moved by Steele from the front of the house to his more intimate side "outdoor room," known as the afternoon garden. The Italian-style courtyard is framed by Venetian gondola poles originally painted teal and red, with gold accents (all now faded), and held together by ship's rope. In the center is a shallow oval pool with four fountains surrounded by stone chairs in the classical style. "We're not a flower garden," Wilson points out. "Mabel was moving away from the heavy maintenance of flower beds and extensive lawns to more ground covers and mass plantings, or open fields, and using trees and bushes as sculptural elements. And Steele was telling people not to use DDT [its insecticidal properties were discovered in the late 1930s] on the property. They were really ahead of their time."
Coastal Rhode Island offers another, very different, example of a grand old house and gardens. "Blithewold is an early-twentieth-century place with wonderful old trees and roses and a beautiful setting on the Narragansett Bay," says Emmet, who particularly loves its old-fashioned rose varieties. (Hybrid roses, she says, "hold no romance for me.") Inspired by the English Manor style, the stone and stucco mansion with steeply pitched roofs sits at one end of an elegantly graded, 10-acre lawn that sweeps down to the water.
The entrance garden features 100-year-old climbing roses and dozens of shrub roses, including modern cultivars, as well as annuals and perennials, such as complementary blue and purple delphiniums and lavender—all immaculately maintained. The chestnut rose, with its thousands of pink blossoms, is among the largest in the country. The roses peak in mid June, with another round in late summer, but the house and grounds, open year-round, are worth touring any time. Bessie Van Wickle (later McKee) was an accomplished horticulturist who hired landscape architect John DeWolf to help realize her dream of creating a gardener's paradise. She and her daughters, Marjorie and Augustine, lived at Blithewold at least half the year, from 1896 until the death in 1976 of Marjorie, who also gardened actively and developed the estate, now owned by the nonprofit Blithewold, Inc.
The 33-acre property is also known for its 1,500 trees and shrubs, including rare specimens and a century-old sequoia. Willows, cottonwoods, and Japanese maples surround the 1920s water and rock gardens, where a man-made pond is home to wildlife. Stone walls and a bridge add heft, while English yews and Eastern red cedars planted long ago also help shield tender plants from the coastal winds and salt sprays. The delicate task of managing the plantings, increasingly vulnerable to both storms and drought, holds lessons in climate adaptation for gardeners everywhere.
You might also like
Genetic analysis reveals a culture enriched from both sides of the Danube.
Harvard researchers illuminate a longstanding epidemiological connection. 
Harvard's Faculty of Arts and Sciences broaches two tough topics.
Most popular
Professors' humble beginnings, concentration choices, and a mini history of Harvard and Radcliffe presidents
Brief life of a feisty mountaineer: 1859-1925
Realizing the full potential of black employees
More to explore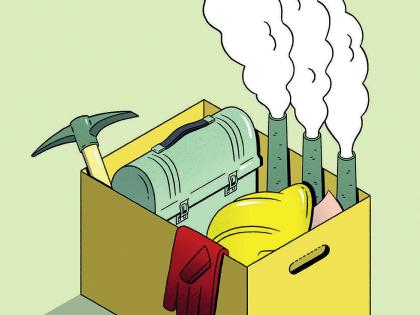 Expect massive job losses in industries associated with fossil fuels. The time to get ready is now.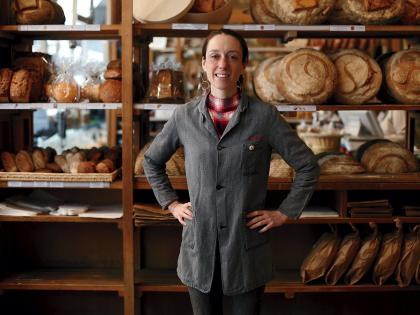 A third-generation French baker on legacy loaves and the "magic" of baking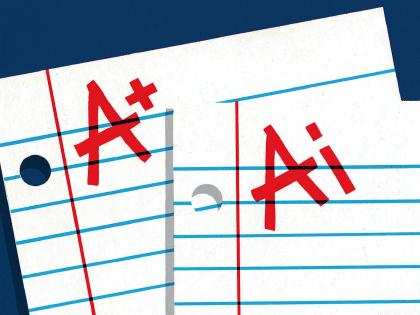 Generative AI can enhance teaching and learning but augurs a shift to oral forms of student assessment.