Montage
Raw Wood Sings
Bob Childs makes world-class violins.
Alone in his studio, while a radio plays baroque music, master violinmaker Bob Childs, Dv '92, Ed.M. '93, holds a flat piece of spruce in his hands and taps it with his finger. He listens. Tap! Tap! Tap! He listens again. It will take him some 200 hours to create a violin worthy of some of the greatest musicians in the world. But the wood must sound right to him—must sing to him—from the very start.
"You're listening for that bell-like sound, that sustained sound," Childs says. "A really good violin will sound good right from the beginning."
After spending so much time with this piece of wood, giving birth to what will be virtually a living instrument—one that will long outlive any of its players—Childs hears his own inner voice saying, "Keep it." But he does not. His masterpiece will go to someone in the Boston Symphony Orchestra, or New York Philharmonic, or perhaps a violinist in Germany or Scotland who's waited on his list for at least a year to get it.
There are at least two consolations, he says. Crafting violins is his calling, and with every one he makes, he adds to his legacy. And he is not saying goodbye to this violin forever.
Childs has made 140 violins in 38 years. Those who've bought his instruments become eligible for membership in a very elite organization: Childsplay, an orchestra whose members all play, yes, a Childs violin. They tour the nation, have a forthcoming PBS special, and play both large and small venues several times a year. At any time, Childs can hear the group's 20 musicians playing fiddle music on those pieces of wood he tapped and tapped and tapped for hours on end.
"There's a commonality to my instruments—people can recognize that I made them," he says. "Just like you can recognize that Stradivarius made an instrument. Really, what you're after is just to have it be you, and then to have all those voices united together. We think of it as a family choir…a violin choir that's singing together."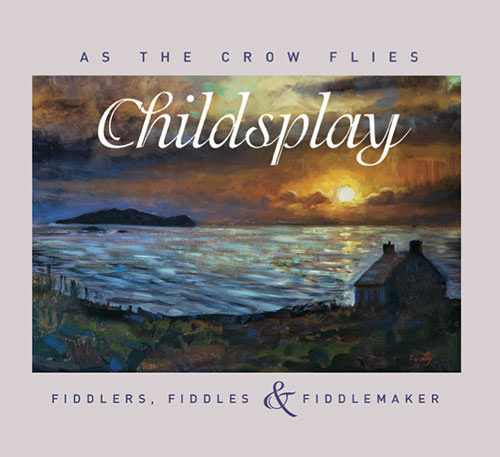 In his tiny third-floor workshop in Cambridge, Childs sits at a small desk surrounded by plaster violin molds and tools of varying shapes and sizes, with the smell of freshly cut maple and spruce wafting through the air. Holding the beginnings of a violin that he will eventually sell for about $18,000 up to a window flooded with light, he carefully carves the wood, constantly checking to make sure the thickness, and most important, the sound, are nothing short of impeccable.
"I can feel the quality of the wood, and the flex of it," Childs says. "The very amazing thing that people don't realize is that the sound of the violin is actually in the wood before you start." He lightly taps a piece of spruce that he has recently cut into the shape of the top of a violin. "There's a wisdom that you get," he adds. "It's a wisdom that I think is what I would call anoetic: anoetic knowledge—a wisdom that comes through your feeling, not necessarily intellectual wisdom."
 Pulling down a stack of air-dried wood from a high shelf above a small "Bugs Bunny" basketball hoop, Childs demonstrates his process. It begins, typically, when a musician comes to his studio and they pick the wood together. Depending on the type of wood—spruce, maple, and ebony are the primary varieties used—and the thickness, he says, each violin will have a unique sound and tonal quality. Then Childs holds up a plaster mold. "This is an old Guarneri violin that we took apart, and we made a cast of it," he says. "You make a cast of the violin you are going to copy by creating an external cast first, which means that you protect the violin that you are copying by giving it a protective cover, then creating an external wall or barrier that will hold the plaster you pour into it. That creates a reverse mold, so you have to create a positive image of the cast by pouring plaster into the external mold and you end up with an exact copy of the shape of the original back and top that you were seeking."
The molds enable him to replicate the outline and contours used by the master violinmakers of Italy, Childs says. "They say there are two things in the world that have completed their evolution—one of them is the redwood tree, and the other is the violin," he explains. "In terms of the form, it doesn't change."
Childs says that he likes to think of violins as going in two directions: either they are like trumpets and they're way out in front of the orchestra, or they're going to draw the audience toward the player, with what he describes as a "chocolatey kind of sound."
It has taken years for Childs to develop his eye. He first started working in Maine for a self-taught violinmaker. He then worked with some of the top craftsmen in the world before moving to Philadelphia; there he repaired and restored the violins for Philadelphia Orchestra musicians and began to develop his own style. "We got to take apart really beautiful, old, famous violins from orchestra members," recalls Childs, who also works as a clinical psychologist and teacher. "So I got to know Stradivarius violins and Guarnerius violins, Amati violins—all the great makers. I learned from the masters and was able to create my own brand."
Yet how does a maker, in the course of a lifetime, develop violins that all have his voice? "Some part of the violinmaker gets put in the violin, gets transmuted to the violin in some way," Childs says. "That's half of it. The other half, of course, is the player. The music that's inside the player comes out through the violin. In that way it's a remarkable thing. It's very mysterious."