Lives in Art
Early American artifacts help animate history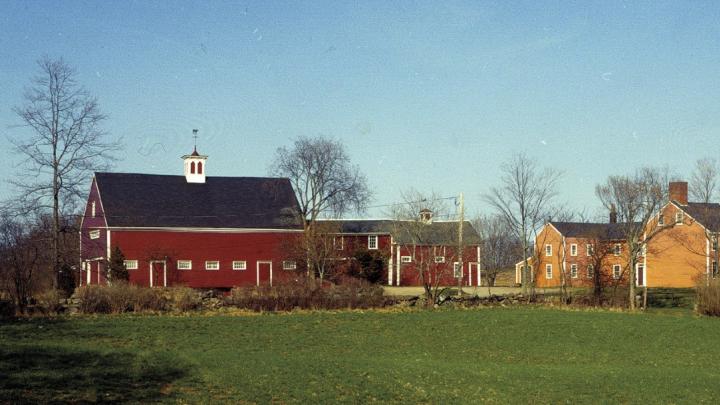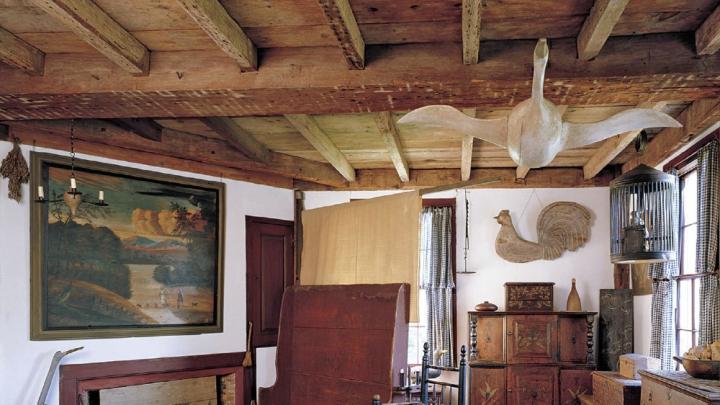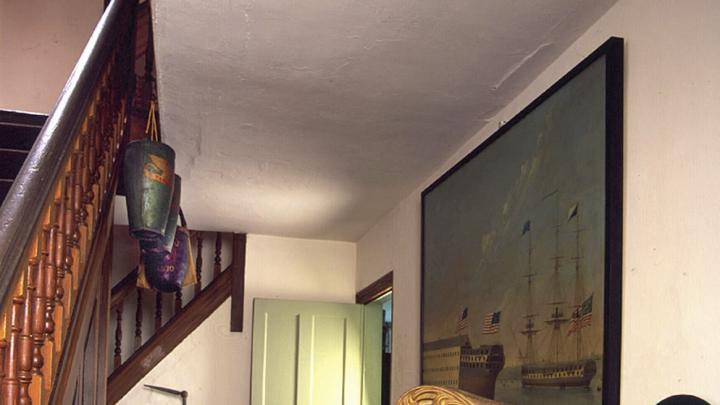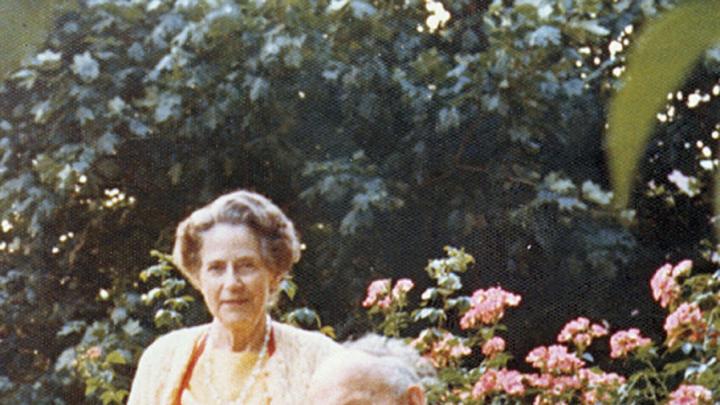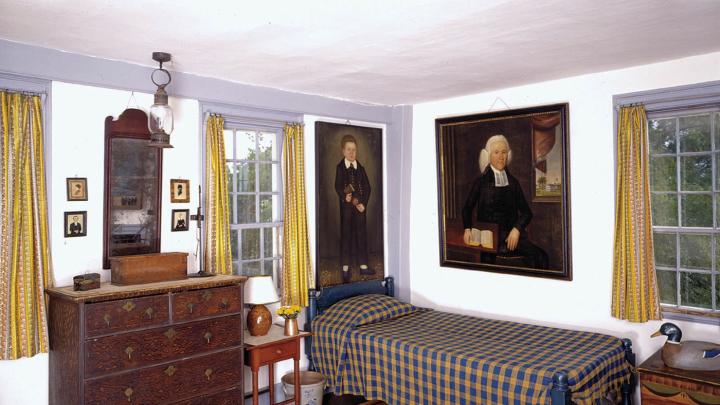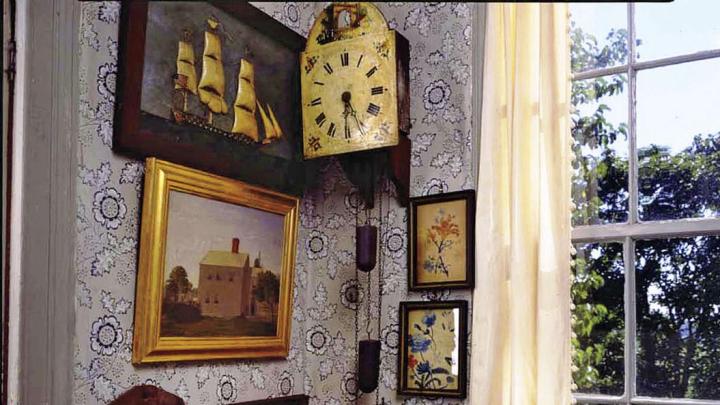 They were called to meals by a Grand Banks schooner's foghorn, and then ate from Staffordshire plates. Leather fire-buckets served as wastebaskets. And some light could be had from an early colonial device: a bulrush stalk soaked in tallow and "burned at both ends."
"It never occurred to us that other people didn't have a house like this," said Warren "Renny" Little '55 during a recent tour of his family's summer retreat, an eighteenth-century farmhouse known as Cogswell's Grant."I knew nothing about the stuff," he said—his parents' pioneering collection of American folk art and antiques that still crowd the interior—although he and siblings Jack and Selina were warned not to lean too far back in the stiff wooden chairs. When something did break, he added, "Mother was very good about not yelling."
Their parents, Bertram K. Little '23, Div '26, and Nina Fletcher Little, spent summers at the farm from 1938 until they died in 1993. The property, which also includes a historic salt-hay barn and pastoral acres along the Essex River, is now a museum owned and operated by Historic New England.
For 60 years, the senior Littles collected Americana they found beautiful and curious. In researching items, they recorded stories about their owners and makers; now each piece in its own small way illuminates the historic narrative of early America. "You don't need to be an art historian to be a collector. The desire to collect things that have an emotional connection to us is almost universal," says Historic New England site manager Kristen Weiss, A.M.-CMS '98, who gives tours and runs events—such as the open-air painting workshops and a talk on folk-art portraits this summer. "People come here to learn about the family, what they were so passionate about, and about the history they wanted to share." "The desire to collect things that have an emotional connection to us is almost universal."
Tours cover the beehive oven (uncovered during the Littles' painstaking house-restoration project) and a rare tape loom (circa 1668-1700) used to weave fabric edging, along with one of the few surviving pre-Revolutionary wood carvings of the royal coat of arms. There are also boxes—wooden, tin, and Shaker-made—and evidence of Nina Little's particular affection for birds and eggs: clay and wooden statues and decoys of sandpipers, terns, ducks, and cranes fill shelves and nooks. And of Bertram Little's penchant for early lamps and candle holders, and depictions of architectural structures. Among the more than 2,500 objects in the 10-room house, visitors will also find weathervanes, hooked rugs, farm tools, lanterns, clocks, redware pottery, painted folk art and furnishings—and plenty of portraits of not-so-prominent people by little-known New England artists.
"What's interesting about folk-art portraits," Weiss explains, "is that by the nineteenth century, a boom in itinerant painters and more people having money meant that average, middle-class people could now also have their portraits done." Of special note are the McArthur family portraits by Royal Brewster Smith—among the many subjects and artists Nina Little traced, identified, and wrote about in more than 150 articles, five books, and several museum catalogs that fostered wider scholarship about, and appreciation for, these artifacts.
The unsmiling McArthurs hang together in the room Little used growing up, which was later reserved for the grandchildren. "The way the people stare down at you from every point in the room!" exclaimed Little, with a laugh. "Those paintings gave my little nephew nightmares." But as a child himself, Little was intrigued by much of what his parents brought home, especially the painting and collage (circa 1850) by his bed. It depicts the ocean-bound ship that brought the first Odd Fellow, Thomas Wildey, to America in 1817. Across the bottom of the painting, the history of the fraternal order is written on yellowed sheets of paper and five carved wooden figures represent the original members.
"There are a lot of quirky things here," said Little, who spent much of his own career leading museums, such as the former Higgins Armory in Worcester, and other educational and cultural programs. His parents, he points out, were drawn to objects that others wouldn't have noticed, or might even have trashed. "They were not snobs," adds Weiss. "They went for what appealed to them visually, and for the stories they could learn. Nina Little's Neat and Tidy is a whole book on the history of boxes and how they were made and used and decorated. It's wonderfully strange and very interesting." "They went for what appealed to them visually, and for the stories they could learn."
Influenced by Bertram Little's cousin, Edna Greenwood, whose own Americana collection is at the Smithsonian, the couple began acquiring pieces in the 1920s, and ultimately filled Cogswell's Grant and their year-round home in Brookline, Massachusetts. By the 1960s, they had decided to donate the property, bound by conservation restrictions, to Historic New England, of which Bertram Little had been director from 1947 to 1970.
According to Little, when Richard Nylander, their family friend and then-curator with the organization, came to inventory the house in the early 1990s, he planned to spend a few weeks. It took more like two years. Every antique was photographed, numbered, and catalogued, and noted, too, were the hundreds of other more "modern" objects, such as an old glass jar of Bactine in the medicine chest; the family's extant wine and whiskey bottles and fruit preserves in the cellar; Nina Little's flower-print purse that still hangs on the back of her study chair, near her manual Smith-Corona typewriter (on which she wrote dates and notes on jelly-jar labels that she then affixed to their objects), a 1920s phone (it still has a dial tone); and, on a closet shelf, her husband's straw hat, banded by a sage-green silk necktie. "People ask why the roof isn't wood-shingled," reported Little. "Well, because it's not a historic museum, per se. It's a house and we lived in it just the way it is now."
Walking through the preserved rooms is like seeing a series of nesting boxes being slowly unpacked to reveal layers of American lives through history, all made tangibly real through ordinary objects both artful and personal. In her later years, Nina Little slept on the first floor in a rope bed, using a green-and-gold, yarn-sewn bed rug from 1821 made with hand-spun yarn and natural dyes. Lying there, she looked up at a gracefully carved flying goose hung from the ceiling; to her left was a box from a dry-goods store with compartments meant for spools of thread that instead held part of her beloved egg collection.
In the upstairs hallway, a wooden wind harp set in a window plays when river breezes blow in. On a table are two hinge-boxed slates that children once used to learn their school lessons. Little opens them and reads out the names of his and his brother's children, with the dates they had visited their grandparents. All were written in white chalk by Jack Little, along with a request: "Please don't erase."
You might also like
A Harvard series explores South Korean cinema in the years following the Korean War. 
A deflating ending fashions a three-way title tie.
A 70,000 square-foot theater and teaching center, plus housing for Harvard affiliates
Most popular
Brief life of an inventor with a lasting Harvard legacy: 1821-1903
Brief life of a great enigma, the Russian author and political propagandist born Alexei Maksimovich Peshkov: 1868-1936...
A hen turkey and her seven poults have settled near the eastern end of Harvard Yard. 
More to explore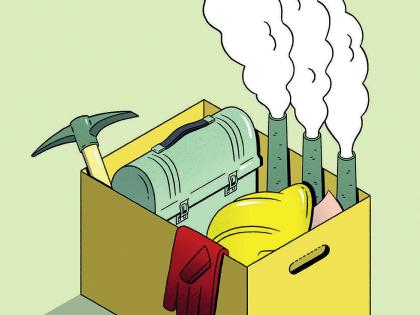 Expect massive job losses in industries associated with fossil fuels. The time to get ready is now.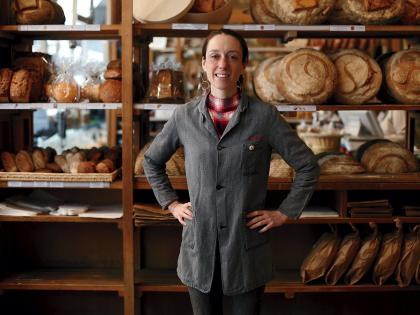 A third-generation French baker on legacy loaves and the "magic" of baking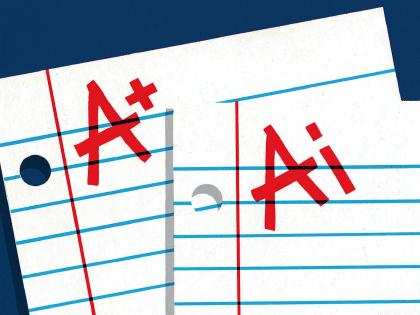 Generative AI can enhance teaching and learning but augurs a shift to oral forms of student assessment.