Humanities
The Art of Healing
7.9.15
Lisa Wong, an assistant professor of pediatrics and a violinist, performs with students from the Medical School and the School of Public Health. Photograph by Jay Connor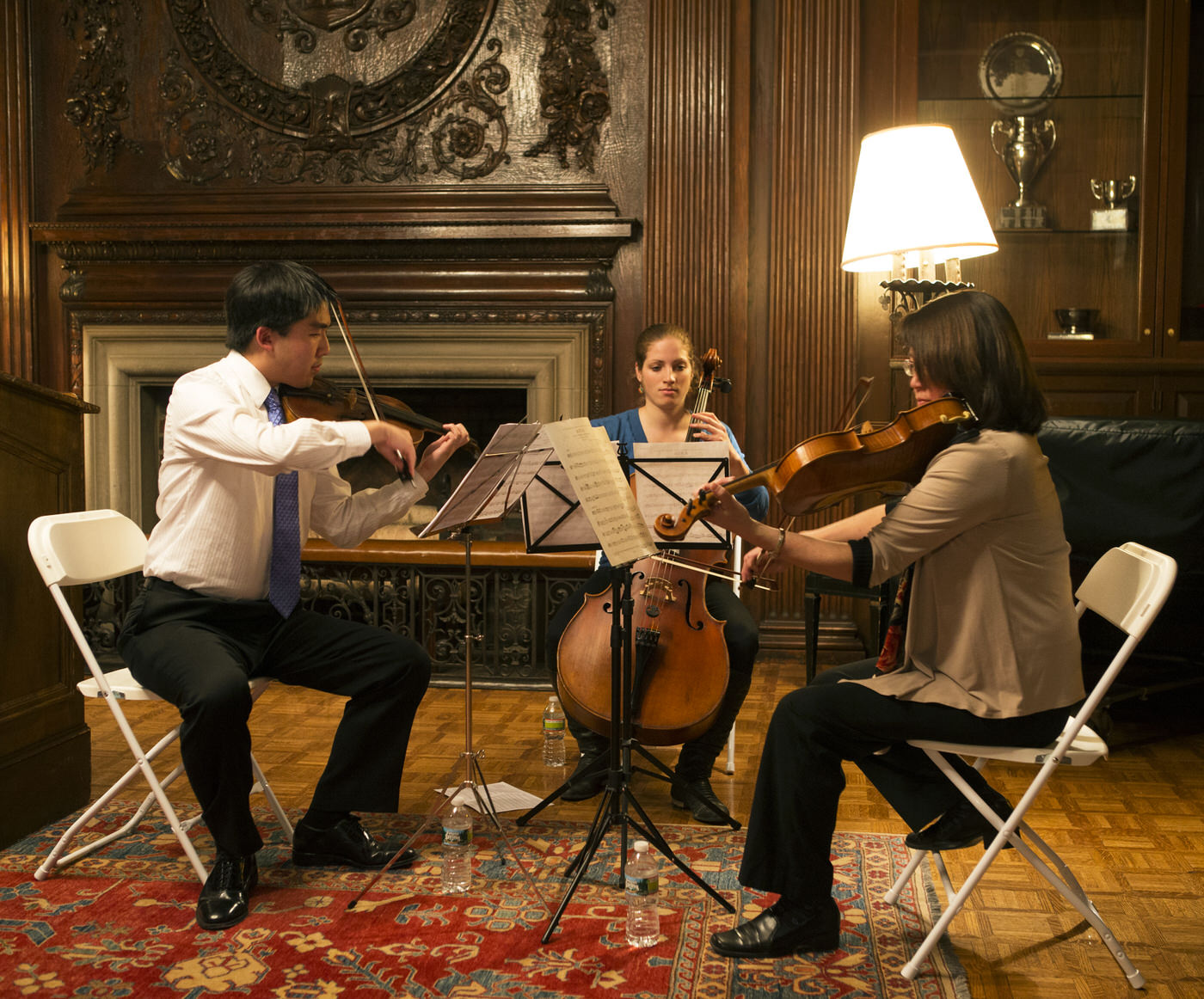 Lisa Wong, an assistant professor of pediatrics and a violinist, performs with students from the Medical School and the School of Public Health. Photograph by Jay Connor
Suzanne Koven has a novel role. The primary-care physician and assistant professor of medicine at Harvard Medical School (HMS) is also the "writer-in-residence" at Massachusetts General Hospital's division of general internal medicine—the first in the hospital's 200-year-plus history. The former English major talks about how Franz Kafka's Metamorphosis can teach physicians about the turmoil experienced by a patient's family members, and how Jeffrey Eugenides's Middlesex sheds light on issues of gender and identity in the context of medicine. She writes about the medical profession for the popular press, and uses literature to enhance the work of medical professionals.
Why does a hospital need a writer-in-residence? According to professors at HMS, studies show that engaging in artistic expression can help healthcare providers reduce burnout and foster empathy, and enhance their ability to communicate and connect with patients. Koven has observed that medicine's crucial element—the clinician-patient relationship—has been threatened as the profession becomes increasingly integrated with technology. Frustrated patients complain about clinicians who appear distant and apathetic, while overwhelmed clinicians struggle to maintain the emotional strength required to build relationships. Reading literature, she has observed, can help physicians reconnect with what attracted them to medicine in the first place: a shared sense of humanity with patients. "It's called 'the humanities' for a reason," she said in an interview. 
Though many prominent medical schools—including Columbia, Cornell, and Stanford—have established strong programs in the arts and humanities during the past decade, there has been, so far, no formal presence of these fields at HMS. Recognizing the gap, a group of self-organized HMS community members have been working since 2011 toward building an official program. This fall, the committee's efforts will finally come to fruition with the launch of a new "Arts&[email protected]" program that was approved by the HMS administration in June.
David S. Jones, Ackerman professor of the culture of medicine and director of the new program (see "A Cardiac Conundrum," about his research on cardiac care), said that many people at HMS have skills and interests in the arts and humanities, "but they do it in addition to being a doctor, not as part of being a doctor. We are trying to make a case that those interests are an important part of being a doctor, and there is no reason to be shy about it." He added that many HMS students who were exceptionally accomplished in the arts in high school or college become "sad" once they enter medical school, because they see medicine as an all-consuming occupation that leaves no room for their artistic interests. The new program, he explained, will attempt to change this impression by conveying the message that these interests can be an important part of a physician's identity, and should be appreciated.
The mandate for a formal program was confirmed by the results of a survey carried out by the committee in 2012. Among the 2,775 members of the HMS community who responded, 67 percent felt that medical education could be enhanced by incorporation of the arts, and 71 percent reported their own participation in the arts. Three-quarters of respondents expressed support for the creation of a formal HMS arts program, and more than 1,000 people asked to be included on the e-mail list for future arts activities and initiatives. The program itself advanced last December, when dean Jeffrey Flier provided seed money, jump-starting the process that culminated in its official recognition.
According to an associate director, Susan Pories, the program aims to create an enduring center for the arts and humanities at HMS, complementing existing bioethics and social medicine programs. Its planned activities include an artist-in-residence program, workshops in the arts, theatrical productions, and subsidized trips to artistic events. It will also sustain and strengthen thirdspace, a student-run online journal that seeks to capture the unique experience of medical education through visual arts and writing.
The arts have long had a sporadic presence at the medical school. A current elective course called "Training the Eye" sends students to the Museum of Fine Arts to practice their observation and interpretation skills through looking at artworks. And during the past few years, the committee developing the new program has organized events such as talks by accomplished artists, performances by students and faculty members, workshops, and study breaks. In 2013 and 2014, several medical students collaborated with drama students at the American Repertory Theater to present the one-act play Wit, which depicts the final hours of a cancer patient.
Many leaders of the arts initiative, like Koven, are faculty members with one foot in medicine and one foot in the arts. Lisa Wong, the new program's other associate director, is an assistant clinical professor of pediatrics and a violinist who has served for 20 years as president of the Longwood Symphony Orchestra, an ensemble composed primarily of members from Boston's healthcare community. Wong sees a close parallel between medicine and music: a doctor needs to pull together many pieces of information, such as laboratory test results and X-rays, just as a musician synthesizes note values, time signature, and dynamics from a page of music. To succeed in both fields, one needs to become comfortable with ambiguities, experiment with new approaches, and practice, rehearse, and revise constantly. Both fields also require teamwork and good communication.
Medical students are given only a short time to progress toward assuming responsibility for another person's life, said Ivana Viani, the HMS student who is currently editor-in-chief of thirdspace. Bearing this responsibility requires emotional strength, but the daily grind of medical training can easily make students lose touch with their own emotions, leading to apathy and burnout. Viani, who is excited about the new initiative, thinks there is no better way to engage in self-reflection than by practicing art. "Without having an official body that reminds students of the importance of creative expression, it is very easy for self-reflection to fall by the wayside," she said. "However, it is when you feel like you don't have the time to take a creative pause that you actually need it the most."