Klarman Hall Breaks Ground
Harvard Business School's expansion proceeds, amid debate about capitalism.
Under a dazzling spring sky, with just a hint of cirrus on the horizon—temperatures in the 70s, shadbushes and weeping cherries in full bloom, and leaves bursting to unfurl from every bush and tree on campus—Harvard Business School (HBS) this afternoon formally launched construction of Klarman Hall, its large new auditorium-conference-convening center complex. The facility, approved during the winter by the Boston Redevelopment Authority (BRA), will occupy the parcel south of the current Burden Hall (which will be razed later) and east of Spangler Center; occupancy is scheduled for 2018. See a rendering and associated description here.
HBS dean Nitin Nohria was master of ceremonies. After brief remarks, he turned to President Drew Faust, who celebrated "the most beautiful day of 2016—and what a beautiful thing to do on this beautiful day." Noting the importance of design in creating the HBS campus nearly a century ago, she cited the school's first dean, Edwin Gay: in dedicating the campus on the site of former wasteland along the Charles River, he had spoken about "stately buildings arising overnight from a swamp," and evoked the physical embodiment of a "spiritual force" that would, as if by magic, animate and drive the school's work. Faust said the same magic would be at work in the new facilities, and thanked the benefactors for whom it is named: Seth Klarman, M.B.A. '82, founder of Baupost Group, a highly successful, value-oriented investment partnership, and Beth Klarman, president of the family foundation.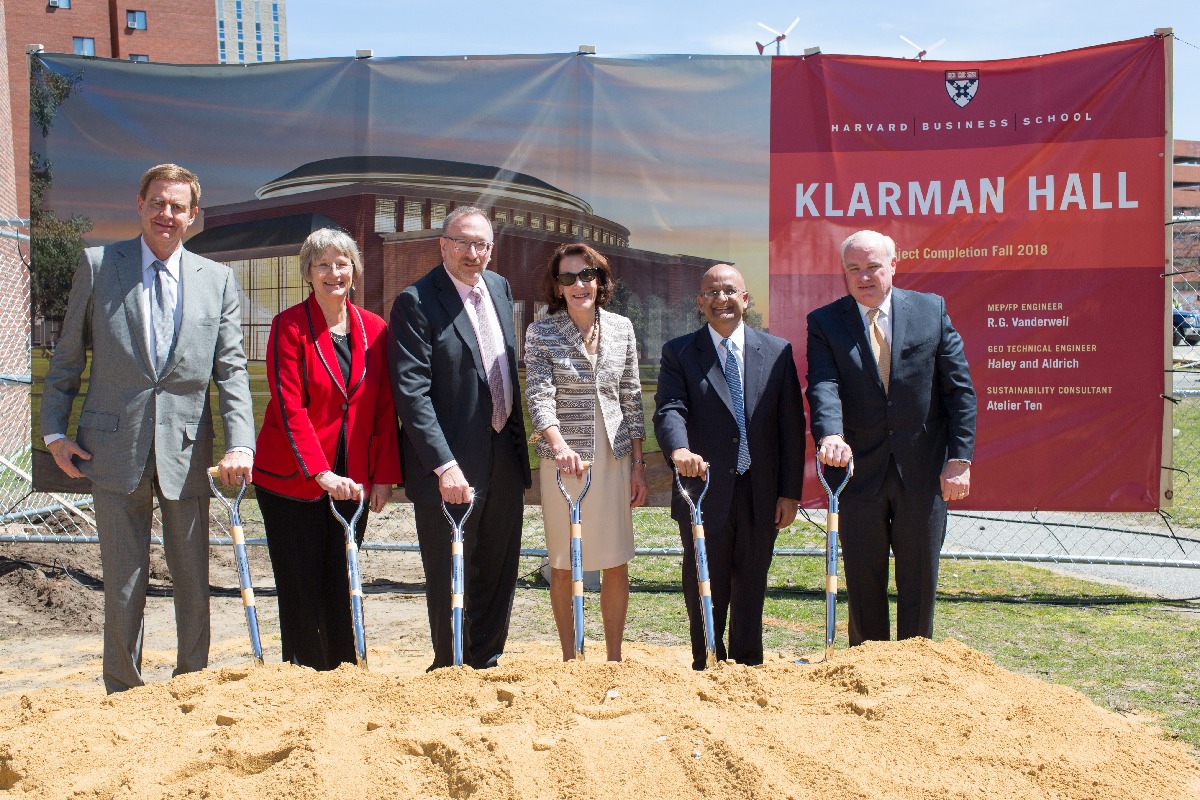 In his remarks, Seth Klarman recalled receiving his letter of admission 36 years ago, setting him on a course that changed his life. "I love this school, and I'll always be grateful for attending," he said, citing friends he met at HBS; what he learned about business and leadership; his continuing, enriching interactions with faculty members and M.B.A. students and visitors participating in symposiums; and the origins of his philanthropic interests. "No one does a better job of convening than Harvard Business School," he said, so when Nohria advanced the idea of a new conference and convening facility, he was "honored and excited to help." Before this specific gift took shape, he said, his wife, Beth, had planted the seed by raising the issue of how to celebrate his fiftieth birthday, which was also his twenty-fifth reunion year.
Klarman thanked architect William Rawn (profiled here, and also the architect for HBS's new executive-education facility, Tata Hall); in a clever touch, the covering for the table on which the groundbreaking hard hats rested was printed with  blueprints for Klarman Hall. He said he hoped the new center would be "impactful" for HBS, across the University, and beyond, "for decades to come."
"A Gateway for the World to Better Understand Business"
Then, Commenting on some of the topics that he hoped might be taken up at the hall, Klarman lent the ceremony a substantive note by offering a full-throated defense, and critique, of free-market capitalism. He was worried, he said, that "capitalism has come under intense attack," and that for all the benefits it confers, it has come to have an especially bad name among young people. Advocates and practitioners of capitalism, he said, have not offered a defense; politicians have advanced their own interests by firing away at capitalism; and the unemployed and underemployed, to whom economic theories are understandably irrelevant, have become focused on redistributing a fixed economic pie. The clear need, he said, is to expand the economic goods available to all, in an environment where there is "no real understanding that in America, one person's success is not usually at another's expense."
Capitalism, Klarman continued, "is not, of course, a panacea." As markets evolve and companies rise and fall, "There are losers as well as winners," and "the gains are not evenly spread." Job loss is inherent in the creative destruction of a functioning market system, and it is not always easy for those displaced to find new footing.
He cited a recent Washington Post op-ed by General Electric chairman and CEO Jeffrey R. Immelt (Klarman's M.B.A. classmate), which defended the business community against criticism from presidential candidate Bernie Sanders. He wrote:
We create wealth and jobs, instead of just calling for them in speeches. We take risks, invest, innovate and produce in ways that today sustain 125,000 U.S. jobs. Our engineers innovate every day to build hardware and software solutions that meet real-world challenges.…It's easy to make hollow campaign promises and take cheap shots in speeches and during editorial board sessions, but U.S. companies have to deliver for their employees, customers and shareholders every day. GE operates in the real world. We're in the business of building real things and generating real growth for a nation that needs it now more than ever.
All too often, Klarman said, capitalism is caricatured in the movie line by Gordon Gecko, "Greed is good." In fact, he continued, the "unbridled pursuit of profit" has inimical consequences, even extending to unethical behavior. Short-term maximization of profits is not  good for business, and companies in fact have multiple constituencies: shareholders alone should not reap all the benefits of capitalism. "Robber-baron" capitalism, he said, is at odds with businesses' obligation to create attractive workplaces, to benefit rather than damage the environment, and to serve customers well.
Amid these debates, Klarman said, HBS "can change and elevate" the conversation about capitalism. He took direct aim at Wall Street's insistence on maximizing short-term financial performance, corporations' responses to that pressure, and politicians' own short-term time horizons. Free-market solutions, properly conceived, he said, can change the world for the better. As an example, he cited a recent Environmental Defense Fund proposal to grant market rights to fisheries, with the aims of  conserving valuable fish stocks and of enhancing the safety of fishermen's working conditions. He also cited evidence, in the economically and politically oppressive environment of North Korea, of the latent capitalist instinct, when famine forced people in that long-suffering nation to set up rudimentary, informal markets for food.
At a time when capitalism is under attack, business schools are, too, Klarman said. HBS is and can be a "major force for good in the world," training corporate and nonprofit leaders. HBS can play a role in telling the world about the accomplishments of free enterprise, he said, even as it fosters self-examination and debate to "throttle excesses" before they take hold.
The school, he concluded, can serve as "a gateway for the world to better understand business and for business to better understand the world."
Hard Hats Love HBS
With the Klarman Hall groundbreaking, HBS remains an epicenter for heavy construction. Site work is already under way for the new conference center. Tata Hall is in operation, the nearby Esteves Hall (another executive-education residence) was recently completely renovated, and Chao Center (the replacement for Kresge) is being landscaped for its opening in June, right after Commencement. The Tata, Esteves, and Chao projects remake the eastern edge of HBS's campus as a renewed node of residential executive education.
Klarman is a different, and expansive, step, extending the campus south, into current parking areas. When both parts of the facility are built and Burden is razed, HBS will have a new, extensive green quadrangle east of Spangler, and the southern edge of Spangler and Klarman will form the edge of a new roadway. Its extension to the west will accommodate the sites for future HBS academic buildings.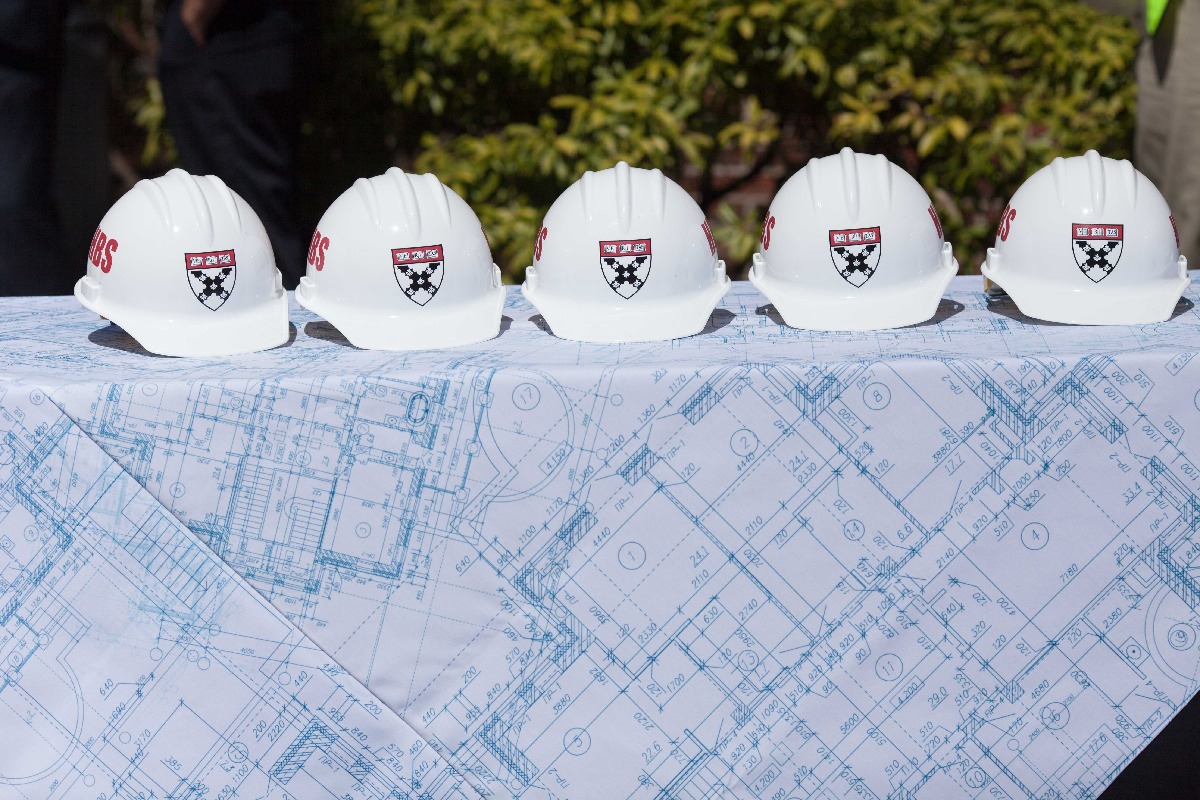 Photograph by Susan Young/HBS
Nor is this all the work under way. Klarman (estimated as a $171-million project by the BRA) will proceed at the same time as the $183.5-million renovation of the Soldiers Field Park graduate-student housing complex immediately to the east; scaffolding is already being put in place. And just across Western Avenue, construction is set to resume on the Science and Engineering Complex, which will, in 2020, house about two-thirds of the School of Engineering and Applied Sciences faculty. This is itself a $1-billion project, and one expected to bring the HBS entrepreneurs and the applied scientists into fruitful collaboration.
For the next five years, HBS and its environs will be heaven on earth for sidewalk superintendents.
You might also like
Harvard officially installs Claudine Gay, its thirtieth leader.
A half-dozen symposiums feature Harvard research on AI, climate change, inequality, and more
A musical and poetic "prelude" to Claudine Gay's installation festivities
Most popular
President Bacow on humility, Prime Minister Jacinda Ardern on democracy and social media, and Attorney General Merrick Garland on civic engagement and threats to U.S. democracy
The new police chief introduces a new policing culture.
Recent books with Harvard connections
More to explore
A test can identify these productivity-boosting personnel.
Ancient history professor studies coins, ceramics, and Zelda.
Anwar Floyd-Pruitt's wildly profuse art