Tastes and Tables | Tastes & Tables
In with the New
Harvard Square's Parsnip should ripen over time.
Photograph by Wayne E. Chinnock/Courtesy of Parsnip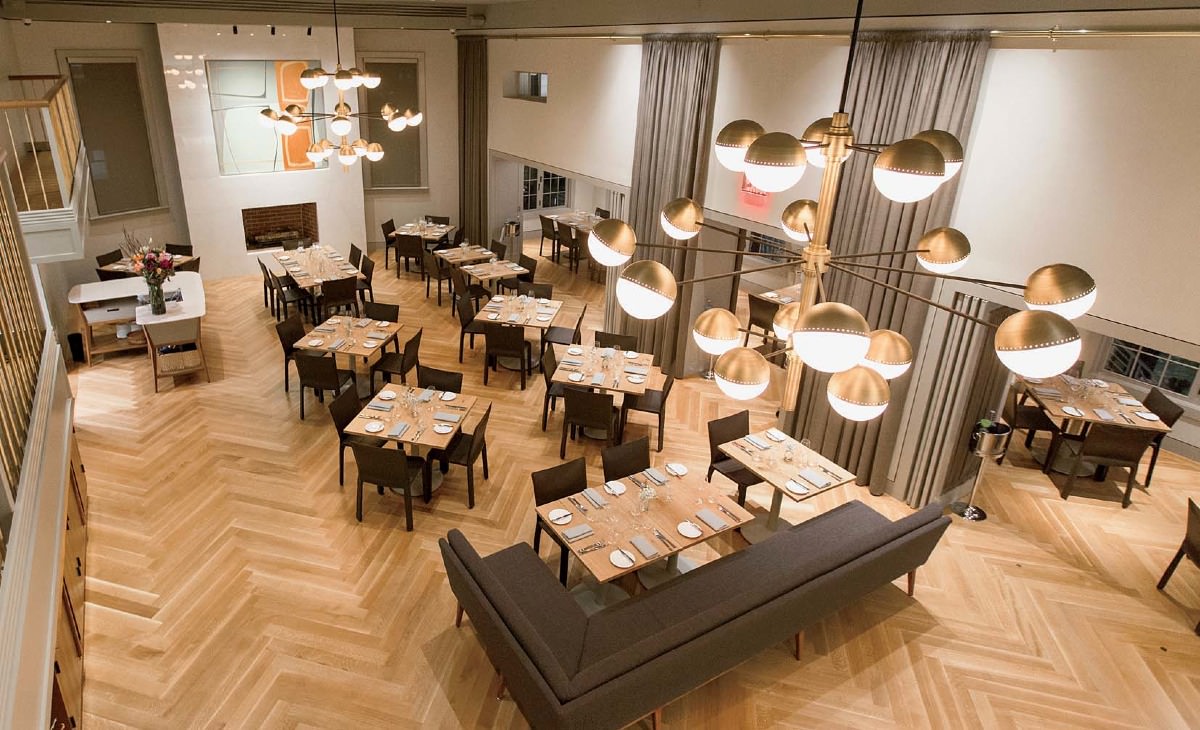 Photograph by Wayne E. Chinnock/Courtesy of Parsnip
Photograph by Wayne E. Chinnock/Courtesy of Parsnip
Photograph by Wayne E. Chinnock/Courtesy of Parsnip
Parsnip, which replaced the venerated Upstairs on the Square last fall, lacks the sassy whimsicality of its predecessor. Gone are the fuchsia-colored walls adorned with leaping zebras, the gilded chairs, mirrors, and the sense of participating in an Alice in Wonderland moment that charmed diners for years. Parsnip is more buttoned-down: an affluent Brit in a flannel suit to Upstairs's can-can girl.
The dining room still has its soaring ceiling and the large windows overlooking Winthrop Park. But the interior is now ruled by warm gray tones, a shining parquet floor, and 1950s-style, space-age chandeliers. The look-alike Jackson Pollock painting that looms over the tasteful, if generic, décor prompts the question: can Parsnip develop a character of its own?
The food tries to answer that. Continental fare with a French base, it's the essence of "fine dining," and therefore justifiably rich. The meal began with excellent homemade rolls—potato, wheat, and oatmeal—and a dish of sweet butter. We recommend the appetizer of hand-plucked heads of carefully roasted baby cauliflower, purple and yellow, that arrived with a subtle apple purée and a slab of novel, cumin-spiced crème brûlée ($14): rough crunch meets silky loaf, with a touch of burnt sugar. The fresh seared scallops in a truffle butter sauce came with poached baby gem lettuce, strips of prosciutto, and a generous clump of sweet pea tendrils that stitched the dish together ($17).
An entrée of handmade cavatelli, small blobs of dough tenderly rolled in on themselves, was awash in whipped, melting, goat cheese ($24). The creamy mass nearly obscured oyster mushrooms and the earthy, bitterish bite of fiddlehead fern fronds, and overwhelmed a sprinkling of pine nuts. Yet the lusty dish was tasty and filling. Lighter was the filet of sole in a quintessentially French sauce americaine ($30), accompanied by lobster-filled tortellini that were, unfortunately, a bit too tough and chewy.
The desserts are especially memorable. The lemon-balm sorbet paired with chunks of golden cake and a pool of buttermilk mousse ($11) "eats like a strawberry shortcake," noted the affable waiter, "but much better." Slices of faintly ripe strawberries added a pleasing herbaceous note. The poached pears, tasting faintly of anise and bergamot, lay on a plump bed of ricotta cream tweaked with honey and plenty of zested lemon ($11).
Parsnip's third-floor lounge is a warm counterpart to the dining room's cool affect. Low lights, velvety seating, and small tables offer intimacy. Behind the bar, alluring liquor bottles cluster along shelves backed by a dramatically lit red wall. Food is served: a fine mix of lamb or fish in the form of sandwiches and salads, along with small plates of snacks that seem to change frequently.
The lounge's porthole-style windows remain from the Upstairs days. They offer a bird's-eye view of the continually morphing Square, epitomized by Parsnip itself.