George Daley Appointed Harvard Medical Dean
Stem-cell scientist to lead school.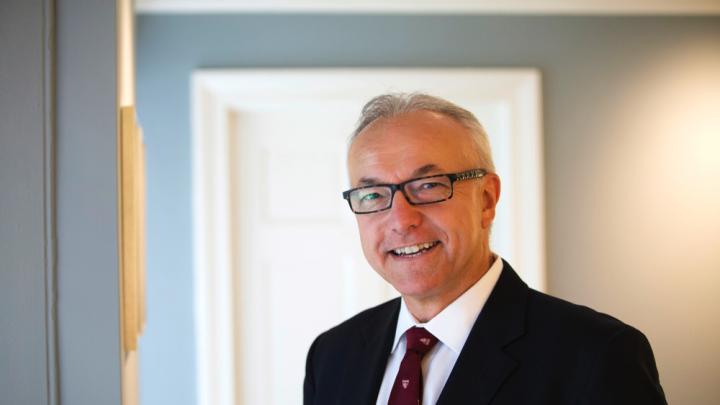 Pioneering stem-cell scientist George Q. Daley has been appointed dean of Harvard Medical School (HMS), effective January 1, 2017. He succeeds Jeffrey S. Flier, who concluded nine years of service on July 31; Watts professor of health care policy and professor of radiology Barbara J. McNeil is serving as acting dean.
Announcing the appointment, President Drew Faust described Daley as "an eminent scientist, a dedicated educator, an adept bridge-builder, a compelling advocate for scientific discovery, and a person of remarkable leadership qualities and thoughtful judgment. From his work at the forefront of basic science to his focus on combating disease, from his role in developing international guidelines for stem-cell research to his activities at the crossroads of medicine and biotechnology, he brings to all that he does an energetic and imaginative commitment to advancing discovery and improving lives."
During a conversation this morning at his home, the dean-designate—suitably attired with an HMS-crest necktie—discussed his career and his perception of HMS's opportunities and challenges (see "The Medical School Context," below). At this moment, he said, "the best and brightest medical and graduate students" are being educated through a "very dynamic and exciting new curriculum" (described in detail here). The research communities at the HMS quadrangle and in the affiliated hospitals are "superb," he continued—"one of the most creative and impactful on earth"—and the clinical communities are similarly "unparalleled." To Daley, that makes the deanship "an enormously exciting opportunity" to "catalyze connections" among the people pursuing each of these missions.
A Crimson Pedigree
Much of Daley's research has involved the reddest of tissues—blood, the cells that produce blood cells, and diseases such as leukemia—and he, too, is crimson to the core, with a Harvard career that spans nearly 40 years. Since arriving from Catskill, New York, in the fall of 1978, he joked, "I basically haven't left since then." After graduating from the College in 1982, he "attempted diversity" by earning a Ph.D. from MIT in 1989 as a student in the Harvard-MIT Division of Health Sciences and Technology (HST). When he earned his M.D. at the medical school in 1991, according to a Harvard Stem Cell Institute [HSCI] biographical note, he was only the twelfth student in school history to earn his degree summa cum laude.
His career has taken him into many of the institutions that make up the complicated HMS biomedical ecosystem. He trained in internal medicine at Massachusetts General Hospital (MGH) and then was a clinical fellow in hematology/oncology at Brigham and Women's (BWH) and Children's hospitals—each a major affiliate of the medical school. Daley was then a resident at MGH, ran a laboratory at the Whitehead Institute, and joined the HMS faculty as an assistant professor in 1995, ultimately settling in as a physician-scientist at Children's Hospital. He became an associate professor in 2004, received an endowed chair at Children's in 2009, and became a full professor at HMS in 2010.
Clearly, he should not have much of a learning curve as he navigates his new organizational environment, as Daley is now:
Stranahan professor of pediatrics and professor of biological chemistry and molecular pharmacology at HMS;
administrative director of the Stem Cell Transplantation Program at Children's and Dana-Farber Cancer Institute;
a member of the faculty of the Harvard-MIT HST division;
a founding member (2004) and now a director of the Harvard Stem Cell Institute (HSCI), the umbrella research organization for scientists throughout the University and affiliated hospitals;
an associate member of the Broad Institute, the Harvard-MIT genomics-research center; and
a Howard Hughes Medical Institute (HHMI) investigator, an appointment reflecting the importance of his research.
Through his engagement with HMS and HSCI, Daley has taught both medical and undergraduate students pursuing work in fields such as the human developmental and regenerative biology concentration.
Completing the family's Harvard pedigree, Daley's wife, Amy C. Edmondson, is herself a triple degree holder: A.B. '81, in engineering and design; A.M. '95, in psychology; and Ph.D. '96, in organizational behavior. A former colleague of Harvard dropout Buckminster Fuller, with whom she worked on designing geodesic structures, Edmondson is now Novartis professor of leadership and management and senior associate dean for culture and community at Harvard Business School (HBS). Much of her early academic work focused on management and organizational problems in hospitals and other healthcare settings. (A portrait of that research appears here; a later article touched on her research on errors in hospitals.) She now studies teams and teamwork in a broader organizational context. Beyond HBS, she served on the 2013 search committee for Harvard Graduate School of Education's new dean.
The couple married in Memorial Church and held their reception at the (then) master's residence at Quincy House, where Daley had been a resident tutor for a decade. Only then did he move out. They now live in Cambridge, close enough to Harvard Square that the new dean, if his schedule ever permits, could stroll over to catch the Longwood Medical Area shuttle bus to work.
From Stem Cells to Possible Cures
Daley's HHMI biography outlines his work on the hematopoietic stem cell, "an intriguing lead character…the cell that creates the entire array of blood cells"—including research into how it is generated and its influences on the course of some diseases. He has been recognized by election to the National Academy of Medicine, the American Association for the Advancement of Science, and the American Academy of Arts and Sciences.
The first phase of Daley's research examined a broad range of hematological cancers and other malignancies, before focusing, at Children's, on nonmalignant genetic diseases of the bone marrow, such as platelet disorders and sickle cell anemia. That research led him deeper into work on the development of blood cells, stem cells, and his clinical practice in bone-marrow transplantation. During this decade, he said, his "passions" had increasingly aimed at "fostering and nurturing the careers of my trainees," so transitioning now to "promoting the careers and progress of the faculty on a larger scale" felt natural—and an appropriate "evolution of my serving Harvard."
Harvard Magazine featured some of Daley's fundamental work in "Tools and Tests: The Evolution of Stem-Cell Research" (2010), and earlier, in "Stem-Cell Science" (2004), during the period when federal funding for research involving human embryonic stem cells was curtailed. The latter story highlights some of the public-policy concerns that Daley addressed during his tenure as president of the International Society for Stem Cell Research, where he headed the committee that published guidelines for ethical conduct of stem-cell research.
He plans to maintain a scientific practice, with a laboratory focused more narrowly on the biology of blood stem cells, in concert with Children's colleagues such as Grousbeck professor of pediatrics Leonard Zon (who is also professor of stem cell and regenerative biology) and Fikes professor of pediatrics David Williams, a leader in translational research and president of the Dana-Farber/Children's cancer and blood disorders center.
The Medical School Context
In recent years, HMS has made expensive and intellectually ambitious investments in new fields such as bioinformatics, systems biology, and systems pharmacology (applying disciplines like big data and quantitative analytics to drug discovery). No doubt, if the resources are forthcoming, the school would like to scale up in neurobiology and neuroscience with colleagues from the Faculty of Arts and Sciences. It is also in the early stages of deploying that new medical curriculum.
Undertaken in a time of budget constraints at the National Institutes of Health (NIH), the major source of federal support for biomedical research, these investments have produced significant budget deficits (see the dean's annual report for 2015-2016). NIH's budget has been augmented in the current fiscal year, and HMS's $750-million capital campaign appears to be progressing well, with $574 million (77 percent) given or pledged as of June 30. The new dean, of course, will be responsible for completing that fund drive—and for determining whether the initial goal was sufficiently ambitious.
As a scientist, Daley said, he was always challenged to "raise enough resources to keep [my] lab watered and fed." He has been acutely aware of the changing sources of funding for biomedical research; his own work has transitioned away from majority reliance on NIH grants. Across the United States, at the moment of "greatest opportunity and most potential in biomedical science," he said, there has never been a greater need for funding—an acute challenge given the federal budget constraints. Inevitably, other sources have grown increasingly important: foundation support, philanthropy, and partnerships with what he called Boston's robust community of biotechnology and pharmaceutical enterprises. "To maintain the pace of innovation, HMS will necessarily be partnering" with such neighbors, he said, to translate basic research into therapies. (Updated August 22, 2016, 2:10 p.m. The pharmaceutical and biotechnology industries have become a significant presence in Greater Boston, particularly around the Kendall Square area in Cambridge, where they are in proximity to multiple medical schools, many trained life-sciences, engineering, and computation experts, and a thriving venture-financing community. Daley has some knowledge of the industry through his service, for 23 years, on the medical and scientific advisory board—he is now co-chair— of MPM Capital, a venture-capital firm. Given the challenges of financing research and translating it into clinical application, that experience may have helped make Daley an appealing candidate for the deanship, although his MPM role was not reported in the University's news announcement and does not appear on his official online scientific biographical statements.)
Life science, he continued, is "an increasingly dominant theme of our economy and our country in the twenty-first century. It just is." Despite the evolving environment for research support, Harvard is "poised better than any community on earth to be ready for that," because of what he characterized as its world-class faculty and clinical capabilities.
The dean's role, he emphasized, was catalytic and connective, helping to sustain existing communities of education and science and to build new ones. Citing the Broad and the Wyss Institute for Biologically Inspired Engineering as recent examples, he pointed to the potential for developments in genetics and genomics, immunology (particularly new developments in cancer treatment), information technology and biological computation, and neuroscience. He noted the renewed importance of microbiology, given the rise of new pathogens like Zika. He alluded to shared imaging facilities essential for inquiries in multiple fields. And he cited the potential for partnerships within Longwood and across disciplines—embracing HBS, the engineering and applied sciences faculty, and quantitative and computational experts.
Although his background would seem to give special weight to HMS's role in scientific research, Daley also addressed the imperative of serving a diverse patient population and the global community. To this end, he said, it will be important to diversify the student body and faculty, and to partner with Michelle A. Williams, the new public-health dean. Daley noted that as an adviser to the NIH's National Heart, Lung, and Blood Institute, he had advocated greater research on disparities in health (based on socioeconomic status and differing genetic endowments) and in healthcare. "We have to continue to aspire to the greatest access to healthcare for all," he said. "It's a fundamental human right—and why being a physician is still a noble calling."
Enabling Harvard medical researchers and physicians to pursue that calling becomes Daley's responsibility in the new year. "I am deeply indebted to Drew and Alan [Garber, provost], because they have provided the support and encouragement" to sustain Harvard Medical School as the "greatest medical community on earth," Daley said. "And I'm privileged to make that happen on their behalf."
You might also like
The Crimson springs a major upset.
Harvard officially installs Claudine Gay, its thirtieth leader.
A half-dozen symposiums feature Harvard research on AI, climate change, inequality, and more
Most popular
A community letter as the new administration begins
Solving legal challenges at MoMA
More to explore
A test can identify these productivity-boosting personnel.
Ancient history professor studies coins, ceramics, and Zelda.
Anwar Floyd-Pruitt's wildly profuse art