News
Trump and Apocalyptic Thinking
11.10.16
Photograph by Rose Lincoln/Harvard Public Affairs and Communications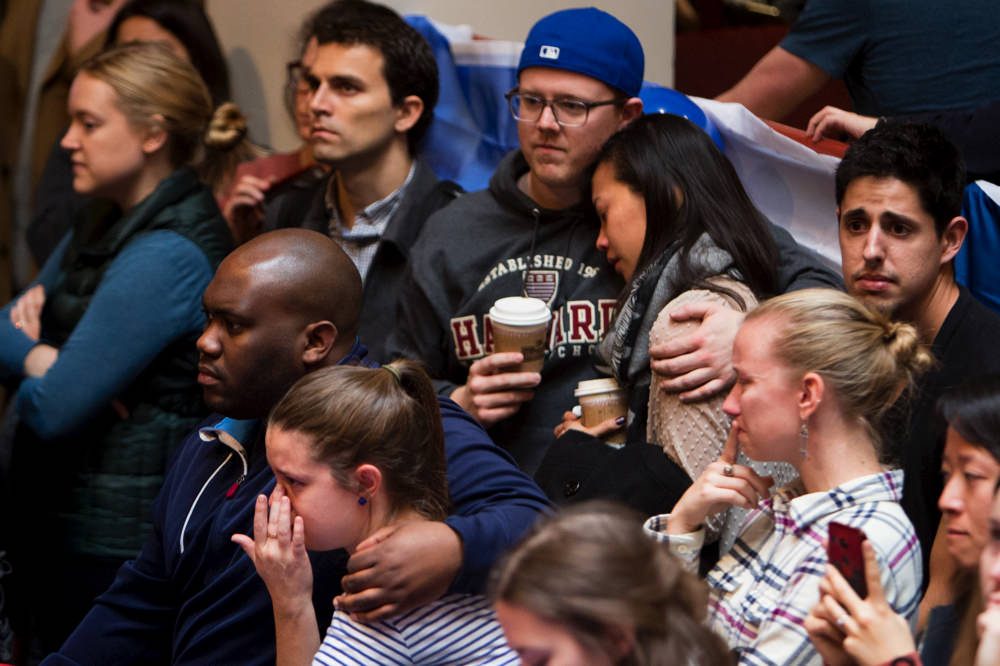 Photograph by Rose Lincoln/Harvard Public Affairs and Communications
Joining a wave of protesters in cities across the country, demonstrators massed in Harvard Yard this afternoon to rally against Donald Trump's surprise win in this week's presidential election. The evening before, just hours after some professors had canceled or postponed exams and given over whole class periods to discussing the election with (often distraught) students, a couple hundred people packed the first-floor auditorium in Emerson Hall to ask, basically: What happened?
The event was a panel discussion hosted by the Mahindra Humanities Center, called "Dark and Stormy: Reflections on the Election." By the time it began, every seat in the hall was full and more people kept flowing in. Some squatted in the aisles or stood along the walls; more than a dozen listened from just outside the door, faces pressed against the glass. Though moderator and Mahindra director Homi Bhabha made a brief nod or two toward those in the audience who might be feeling "exultation" at the election results, it was clear this was a room of disappointed voters.
Inside, three faculty members tried to make sense of the last 24 hours. Jill Lepore, the Kemper professor of American history, who covered the presidential conventions for The New Yorker, pointed to the "shared sense of imminent political apocalypse" she'd encountered talking to voters from both parties, a feeling of "doom and political nihilism," the sense "that redemption can only be found through apocalypse."
That dark foreboding connects in part, Lepore argued, to a crisis in political journalism, laid bare in this election. Journalists usually approach history by asking two questions: what previous era does the current moment resemble? And, "has it ever been as bad before as it is now?" Those questions tend to "collapse the distance between the past and present" in damaging and distorting ways and lead to a "pernicious fallacy" in American political discourse. 
On top of that, Lepore added, "political reporting has largely been replaced by punditry." With fewer reporters covering individual people and events, pundits are left to make "forced and false" analogies through the lens of history. "It produces," Lepore said, "a lot of jeremiads." Almost any piece by New York Times columnist David Brooks, Lepore said, is about the end of virtue. Almost everything written during the last year by writer and blogger Andrew Sullivan is about the end of democracy. "It's … the only move you have left if you're not on the ground speaking to people face to face and you want to talk about where people once were and where they are now. But it creates this inevitable narrative of decline that is ultimately apocalyptic and therefore I think quite dangerous, because it heightens political anxieties rather than addresses them or investigates them." 
Pre-election polls can add another potentially harmful dimension. "It's important," Lepore said, to think about polling as journalism, not social science. After all, that's where it began: George Gallup, who in 1935 founded the American Institute of Public Opinion (later Gallup, Inc.) was a professor of journalism. "He was trying to report on what people thought, what Americans' ideas were," Lepore said. "He actually thought—and admitted when he started doing it—that predicting elections was very bad for democracy. It's antithetical to how a republic works … because it's essentially supplanting representation with direct democracy. And the more you do it, and the earlier you do it, the more insidious it becomes."
Noting that polling has become less reliable in recent years, as response rates have declined from around 90 percent in George Gallup's day to about 3 percent now, Lepore said that it exerts outsize influence on the political process. She reminded the audience of the first Republican primary debate, in August 2015, in which Fox News used polling results to winnow the contenders for the main stage, and to decide which podium each of them would stand behind. The man who ended up at center stage, "of course, was Donald Trump," she said, "the candidate who was known to people as the candidate who polled better than anyone else."
The panelists kept returning to a subject that had animated countless news stories in the days and months leading up to the election: economic inequality and the travails of the white working class. Behavioral economist David Laibson, the Goldman professor of economics, offered a dismal report. After a series of slides showing how white voters without a college degree had supported Trump in large numbers—67 percent, according to exit polls—and how those same voters' economic fortunes had slipped over the past 50 years, while the well-educated had seen their wages increase steadily, Laibson laid out the situation starkly. "For working class families, white and black, the American dream has partially collapsed," he said. "The progress we all took for granted at the start of the postwar period and that lasted for decades has stalled for the majority of American families." Trump has promised to take care of them, and although Laibson said he sees him as a "false prophet," the anxieties behind his candidacy are real. 
Noting that warning signs have been there for decades, he connected Trump's rise to the populist phenomenon taking hold in Europe and other parts of the world. Addressing the audience as members of the educated elite that Trump and others have railed against, Laibson said, "People trusted us to help make the decisions for society, trusted us to give the right policy advice, trusted us to take everyone forward. And as I've shown you, it hasn't worked for everyone. It's worked for us."
And as technology advances and robots are poised to take over more and more jobs, darker days lie ahead. "As bad as you might feel right now," he said, "the forces I've described are going to intensify. … What's going to happen in 2030 when millions of commercial drivers lose their jobs to self-driving vehicles?" In the past, new jobs arose to replace the old ones that were lost. "But more and more economists see a future that's not going to play out the way it worked historically," Laibson said. "And more and more people are going to find themselves out of work, maybe supported by the government and disenchanted with a system that does not validate them and their ability to contribute. We should all be very scared about this trend toward rising inequality." 
Lepore drew a parallel between slavery and economic inequality. "I was thinking about Frederick Douglass all day," she said. In 1862, just after the start of the Civil War, the abolitionist and writer gave a speech on the reason for the country's "deplorable state." What he concluded was that it wasn't Abraham Lincoln's election or the "perfidy" of Southern politicians or the excessive absolutism of abolitionists that split the union: it was slavery. "He said, what we have failed to see is that when you shackle a man by his ankle, at the other end you have shackled your own neck. And there can be no uncoupling until you see that you are bound together in that system." In today's society, inequality is the shackle. She added, "What Douglass learned at the end of the Civil War was that the inequality that is slavery will always take another form." Until about 2011, "income inequality" wasn't part of the American political lexicon, but it had been dividing the country for decades already.
But what about race? Pushing back, Danielle Allen, director of the Safra Center for Ethics, said, "I think it's bigger than income inequality." Her essay in Wednesday's Washington Post, titled, "What will become of us under Trump? It depends on each of us" lamented that voters responding to diminished economic opportunities had gotten "wretchedly mixed up with the desires of the David Dukes among us, and their amplifiers, including the president-elect." In Emerson Hall that night, Allen reminded listeners that the United States is on the verge of becoming a country with no single ethnic majority. "In 2020, the college-age population will be majority-minority. … And it simply is the case that in the socioeconomic structure of American life, distributive patterns have always been linked to race." Demographics, she says, adds another "crank" to the question of a reorganizing economy increasingly altered by technological changes. It isn't only technology that is advancing on the white working class; it's a different underlying social fabric. "That's what Trump said to his supporters, and that's what they heard, and that's what they agreed with." For much of the country's history, Allen added, race permitted Americans to obscure issues of class. "The working class could be split along racial lines. … But to some extent those issues don't function the way they did." Race and class don't necessarily track together. As race determines class less often, then for the white working class, "there are losses in standing," Allen said. "That's just a fact. And it's hard—it's really hard. And it produces resentment, and that's why in general it's so important to try to figure out how to rethink broadly the concepts of fairness and equality and opportunity to include everybody." 
Work remains to be done, Allen said, and voters to be reached and listened to and won over. Laibson concurred, though he said, "We're late." One thing that must be done: investing heavily in education. Inequality there is vast, and without closing that gap, broader economic inequality won't be solved, he said. "Why are we surprised that 30 years later, those kids have radically different outcomes?"