John Harvard's Journal
Making a MOOC
A well-known public-health anecdote, the birth-weight paradox, is often used to illustrate how cause and effect can become tangled: "You probably know that maternal smoking during pregnancy is associated with increased infant mortality. What you may not know," explains Miguel Hernán, "is that maternal smoking is associated with a lower risk of mortality among infants who had a low birth weight." In other words, in a cohort of low-birth-weight babies, those born to mothers who smoked were healthier than those born to mothers who didn't. Could maternal smoking be beneficial for some infants—or is there some other explanation? Hernán, the Kolokotrones professor of biostatistics and epidemiology, teaches students how to use a tool called a causal diagram—an intuitive picture that maps the causal structure of problems—to clarify what is really going on. (The answer: the other causes of low birth-weight are associated with health problems more severe than those caused by maternal smoking.)
Hernán is a hot property: a leading, and charismatic, exponent of these causal diagrams, which in the past 20 years have become critical tools for assessing the effectiveness of treatment strategies and policy interventions in the health and social sciences. Now, as one of a small number of Harvard faculty members each year whose course is selected to become a MOOC (a massive, online, open course), he is about to go global. Just 20 new courses are chosen by a faculty review committee annually, all of them ultimately offered to learners in at least one free version—part of Harvard's commitment to improve access to education globally through HarvardX (HX), the University's online course initiative. Hernán's course is based on Epidemiology (EPI) 289: "Models for Causal Inference," the core offering he's taught for 14 years at the Harvard Chan School of Public Health (HSPH). Harvard Magazine accompanied Hernán during the making of his MOOC to find out what it takes to produce one, and how that compares to creating a traditional course.
Examples of other real-world public-health problems like the birth-weight paradox—"hooks" to engage and draw learners into the subject quickly—open each of the course's five lessons, and are one of the major changes in pedagogical approach Hernán has made to adapt his course for HarvardX. (HX project lead April Opoliner advocated the "hook" strategy.) Within each lesson, five seven-minute videos produced in the HX studio expand on the problem introduced in the hook; a closing video then demonstrates how causal diagrams are used to resolve it. Supplementing these lessons are case studies shot on location at HSPH in which Hernán interviews leading public-health scholars. Because causal diagrams can be applied to problems in many disciplines, he hopes in a future version to expand the cases to include interviews with faculty members from outside the health sciences.
Faculty members typically spend 96 to 142 hours helping produce and run an eight-week MOOC, according to HarvardX estimates. The production of Hernán's—its pacing dictated by his availability amid a packed schedule of lectures in the United States and abroad—will have spanned 20 months, a bit longer than usual. But when complete, it will free him from much of the time and expense of traveling to teach this fundamental introductory material.
In the HarvardX studio, Hernán stands in front of a greenscreen, as technicians prepare to shoot the first video of the course. It's early 2016. A boom mike hangs from the ceiling, just out of frame. "3-1, take 4," calls out HX videographer Alex Auriema. Craaack! The arm of the clapperboard snaps down, signaling a new scene. It is Hernán's first day in front of the camera, and the videographers have been prepping him, adjusting his clothes, attaching a microphone to his shirt, taking his eyeglasses on and off, offering him water, repositioning lights, adding a diffuser, running sound checks, and marking the floor with colored tape to ensure repeatability in the perfect positioning of equipment—a whirl of activity. Hernán says he's a little nervous, too, even though he knows the material so well that he gives three near-perfect takes, all on the same subject, almost without repeating himself. But he and the HarvardX team for this course, shepherded by project leader Opoliner, are perfectionists. The fourth take is the keeper.
Opoliner, S.D. '13, took this very class with Hernán, as a student. Energetic, creative, and upbeat, she will coordinate translating and simplifying the course for an online format. It takes a team of skilled professionals—HX employs a staff of about 45, including managers, videographers, graphic designers, digital editors, and even a copyright attorney and an accessibility coordinator (who helps make the materials usable for sight- and hearing-impaired learners)—to make each MOOC, at a cost that ranges widely, depending on the nature of the course and the sites of location shoots. This one cost about $100,000 to make. Producing a typical lecture course, by contrast, is something Hernán can do largely alone. He can also assign readings that are freely accessible at the library to residential students, without having to clear copyright. (For an HX course designed for global distribution, copyrights are critical. HX currently tracks 19,000 copyrights it has permission to use in its database.)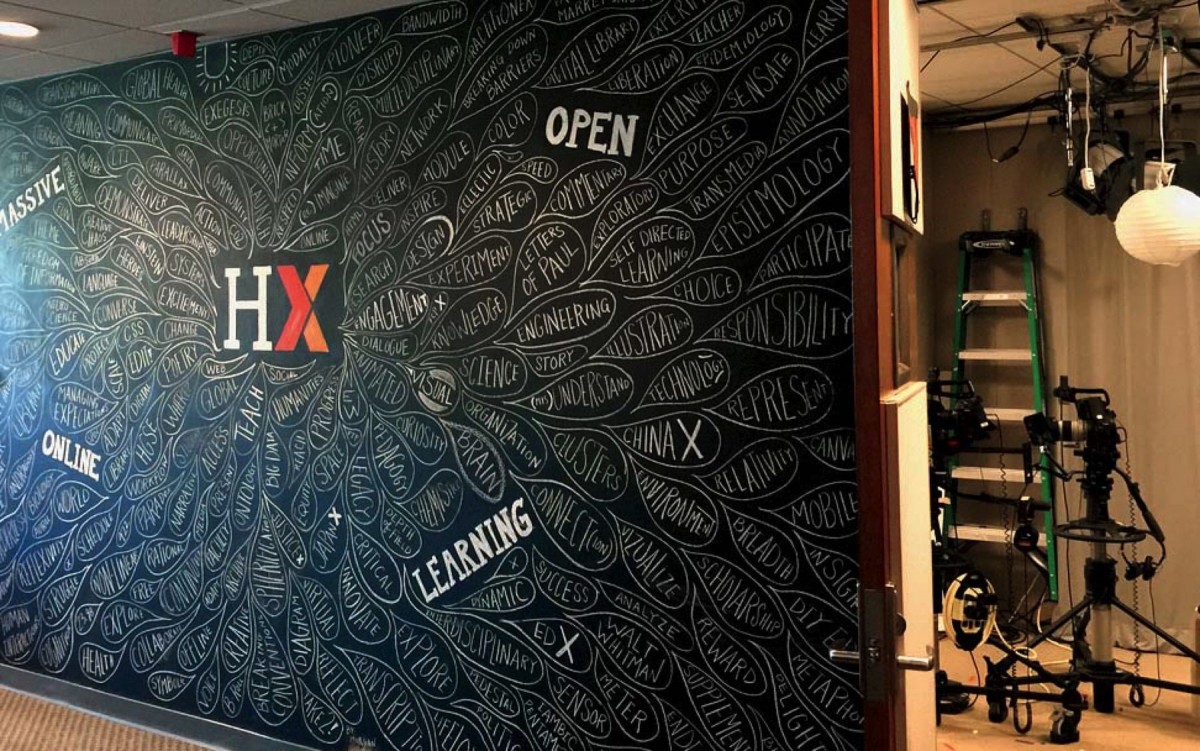 Photograph by Jonathan Shaw
Jennifer Walker, video editor for the project, stitches together the best takes from each filming session. A former theater manager for live performances at the House of Blues, she also assists as a second videographer during dual-camera location shoots at Hernán's HSPH office. That snap of the clapperboard? During later editing on Walker's computer screen, it appears as a dramatic vertical spike in the visual representation of the sound file, allowing her to easily align the video and audio tracks. (She also creates animations of the causal diagrams that are key to this course, bringing static images to life on the screen.)
Tucked in an off-street building between Mount Auburn and Brattle streets, HarvardX has been one of the University's fastest growing units since its launch in May 2012. It can handle about 40 projects at any given time—20 new courses per year, plus "reboots," or revisions to existing offerings. (HX generally commits to two such revisions for each course it produces). Millions of people have registered for at least one of its more than 100 courses; a third of enrollees who responded to a pre-course survey identify themselves as current or former educators interested in continuing education.
Among the University's goals in supporting the production of courses like Hernán's is maximizing their "reach" as part of "Harvard's contribution to a rising tide of education globally," says HX faculty director Robert Lue. He has long been interested in experimenting with hybrid educational models that incorporate technology: his Biovisions project, dating to 1999, uses animations of molecular and cellular biological processes in teaching, and is now widely deployed in public schools. Another goal is conducting research: "HarvardX represents a wonderful sandbox to explore new possibilities at the interface of learning and technology," he says. The third objective—which Hernán already practices—is creating content to benefit residential students.
Like Lue, Hernán has been interested in experimenting with different modes of teaching for some time. After adding live polling to his campus classes—stopping a lecture for five to 10 minutes to ask questions—he observed that this changed the classroom dynamic because instruction was "no longer one way." Working with HX is a natural progression that lets him experiment with other new pedagogical approaches, whether for international audiences or students in Boston.
He is especially eager to find out how the course will fare with nonresidential learners, because with an online offering, "you can lose students at any time. If they get bored, they will stop watching. You have to construct your course in a different way." A video lecture therefore becomes a short unit in which to make one point, "not five. Because if I try to make five points, I need 50 minutes." The hooks—the real-world applications—mean that "I start each lesson by telling students why this is important, why they should keep watching….You are in a competition for attention, which doesn't happen as much in a live setting."
HSPH and Harvard Medical School (HMS) students have been receptive to the videos. This past January, a year into the MOOC project, Hernán began assigning seven-minute, single-concept modules from that course's first lesson as pre-class homework in two residential courses. He sought feedback from the students on the presentation, and their assessment of this "flipped" approach: learning a concept by watching a video before class, then discussing it with the professor in class rather than listening to a lecture. From Hernán's perspective, the flipped approach lets him use his "face-to-face teaching time in a more effective way": he doesn't have to "start every time from the basics and build up." Even in draft form, he declares, "the effect has been amazing. You just assign the lesson, and then discuss real-world problems" in class, using causal diagrams as tools to dissect them. In the past, he says, that point in the learning process came so late, the course was nearly over.
Flipped classrooms do come with caveats. Peter Bol—who as vice provost for advances in learning oversees HX; the Harvard Initiative for Teaching and Learning (HILT); and a research group run by professor of government Dustin Tingley (Harvard Portrait, July-August 2016, page 23)—says that studies of flipped classrooms (including his own ChinaX course) have shown that they improve learning, but at the cost of creating much more work for students.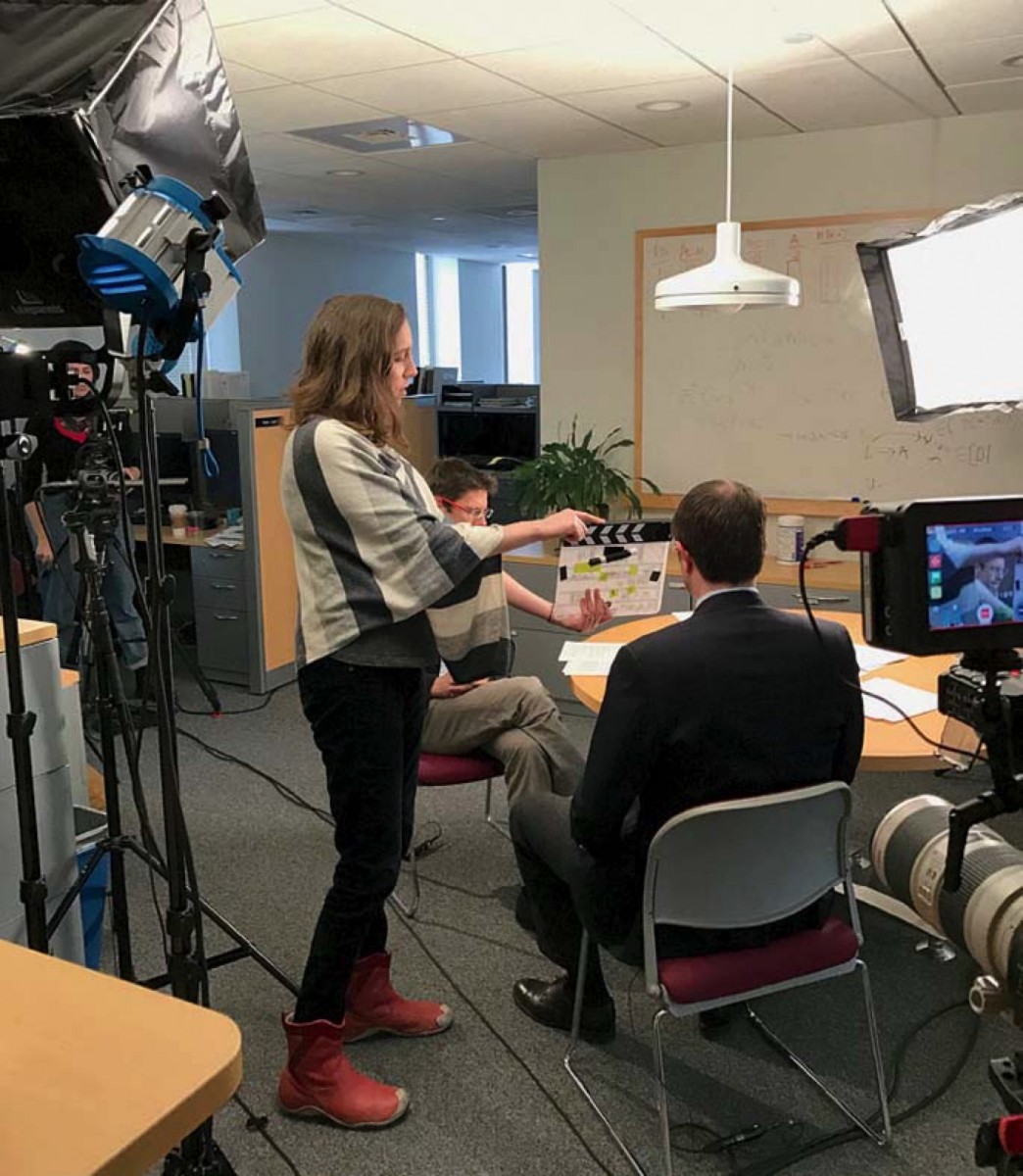 Photograph by Jonathan Shaw
So far, however, reaction among residential students has been overwhelmingly positive, reports Barbra Dickerman, a teaching assistant in several of Hernán's courses at HSPH and HMS. "Students loved how they could go back and re-watch and revisit; that's something you can't always do in the classroom setting. Further, students come to class having already watched the videos, which leaves more time for active learning through discussion and application." HX hired Dickerman, a critical support in producing the course, to help develop creative materials for the animations, illustrations, hooks, cases, and so on.
Reflecting on what she has learned by working on this MOOC, Dickerman cites, above all, how "to present information concisely." In addition, she has a new appreciation for "the power of visuals and graphics and movement to augment the content that's being spoken. I think that is a powerful advantage over the classroom setting." And she, too, praises the MOOC advantage of allowing students to move through the material at their own pace.
"I think this kind of format is going to be a big part of the future of education," she continues. "It's effective. It breaks down all kinds of barriers that keep people from being here in the classroom." And it optimizes resources: "For example, it seems obvious, but there's only one Miguel Hernán. And he can either teach a class of 70" once a year, "or develop this course that reaches many more around the world and across different disciplines."
Though the full, online course will launch around the time this magazine goes to press, Hernán is already pleased because the residential students who've used those online modules are learning more. "Instead of spending 90 percent of the course listening to me lecture," he points out, they watch a 10-minute video, "and then we spend 90 percent of the course in scientific discussion. It's completely different, the level at which they absorb the material. They are asking questions that they were not asking before."