Strengths—and Warning Signs
For the fourth consecutive year, Harvard has reported a financial surplus—and its largest to date: $114 million for the fiscal year ended June 30, 2017. And for at least the fourth consecutive year, the University's senior financial officers have cautioned against taking the good times for granted. They cited the significant boost resulting from the refinancing of much of Harvard's debt in the fall of 2016, which bolstered the results for fiscal 2017. And they are mindful of the decision to hold the distribution from the endowment, the largest source of operating revenue, flat in the current year (reflecting weak investment returns), after relatively robust increases in prior years—making it possible that the fiscal 2018 report will be more constrained.
Highlights of the year included:
revenue growth of $222 million (4.6 percent), to nearly $5 billion—largely consistent with the quarter-billion-dollar growth (5.5 percent) in fiscal 2016; and
expense growth of $185 million (3.9 percent), to $4.9 billion, moderating from the 5.3 percent growth in the prior year,
Revenue. The income engines included the annual operating distribution from the endowment (up $81 million, to $1.8 billion: 36 percent of revenue); net tuition and fees (up $56 million, to just more than $1 billion: 21 percent of revenue); sponsored-research funding (up $40 million, to $886 million: 19 percent of revenue); and capital-campaign-driven gifts for current use (up $29 million, to $450 million: 9 percent of revenue).
Undergraduate tuition revenue rose about 4 percent, and graduate- and professional-degree programs yielded about 5 percent more revenue, but with financial-aid scholarships rising just 4 percent, net tuition revenue for these programs increased 6 percent. Consistent with recent experience, tuition from continuing- and executive-education programs lapped the field, rising 8 percent; financial administrators hope that momentum can be sustained, providing relief elsewhere in schools' budgets.
Funds for federally sponsored research (about 70 percent of total research support) increased about 4 percent; nonfederal support, principally from foundations, increased about 8 percent, to $267 million. That welcome growth is tempered slightly because nonfederal research sponsors typically provide less "indirect" funding to pay for building, administrative, and related overhead costs—and that was evident this year, when that indirect funding actually declined modestly.
Expenses. Salaries and wages increased 4 percent, to $1.9 billion, reflecting annual merit increases and growth in employement—the latter associated mostly with expanded sponsored research and those continuing- and executive-education programs. Benefits costs rose 7 percent to $569 million, driven by interest-rate-related increases in defined-benefit pension and post-retirement healthcare costs (a factor expected to reverse this year).
The debt refinancing and restructuring in the fall of 2016 trimmed interest expense by $33 million in fiscal 2017—a benefit that will increase during the full 12 months of the current year.
In the meantime, Harvard is conducting campus construction at an unprecedented pace: such costs totaled $906 million in fiscal 2017, up from an already torrid level of $597 million in the prior year. (They are largely capitalized and therefore not directly reflected in the annual operating results.) The work encompasses undergraduate House renewal, the science and engineering complex rising in Allston and Harvard Business School's new conference center nearby, the reconfigured and expanded Kennedy School campus (see above), and renovation of Holyoke Center into the Smith Campus Center. The fiscal 2017 total may have been somewhat elevated by a land acquisition, not otherwise described: at year-end fiscal 2017, Harvard held $968 million of land, up from $784 million the prior year (and $672 million at the end of fiscal 2015). Most universities could not afford the luxury of holding a nonearning asset of that size; much is slated for future academic development, but it will be interesting to learn the revenue-generating plans in Harvard's proposal for development of its envisioned "enterprise research campus," on 36 acres of Allston Landing when it is filed with Boston regulators in coming months (see harvardmag.com/erc-17).
In prospect. Building activity will continue at a high level through the duration of the marquee projects, necessitating some additional Harvard borrowing in the future. The capital campaign concludes next June 30, so the future flow of current-use gifts merits attention. Gifts for endowment were $551 million in fiscal 2017, up smartly from the prior year, and should continue to flow in as campaign pledges are fulfilled, but they, too, will peak at some point.
The known constraint is internal: the decision to keep the operating distribution per endowment unit level with fiscal 2017. The relatively tepid investment returns during the year, and the multiyear restructuring of Harvard Management Company (HMC; see harvardmag.com/hmc-summary-17), aimed at boosting lagging performance, would have kept the distribution under pressure in succeeding years, too, according to the formula the University uses. Accordingly, the Corporation has decided to adopt a "collar" for the next three fiscal years: it has told schools to plan for per-unit distributions to rise between 2.5 percent and 4.5 percent annually, starting with 2.5 percent for 2019 (beginning July 1). That gives deans some budget guidance, while maintaining a relatively conservative posture during Harvard's presidential transition, the changes at HMC, and an uncertain economic and political environment. (More details are available at harvardmag.com/fas-octmtg-17.Endowment distributions are explained at harvardmag.com/distribution-16.)
A substantial unknown, revealed after the financial report was released in late October, is U.S. tax policy—including, for the first time, a proposed excise levy on endowment income (see "Taxing Matters" ).
Even before that news, Harvard's financial leaders were cautioning the community not to expect the 5 percent to 6 percent revenue growth of the past two years to continue. Both economic growth (which has lasted for an unusually long time, with unusually low interest rates and robust financial markets) and the capital campaign are long in the tooth. Continuing and executive education and current-use giving are sensitive to economic conditions and to fundraising fatigue. A weaker economy would increase families' need for financial aid, driving up those costs. And all that construction drives higher campus operating costs and depreciation, both of which are already rising.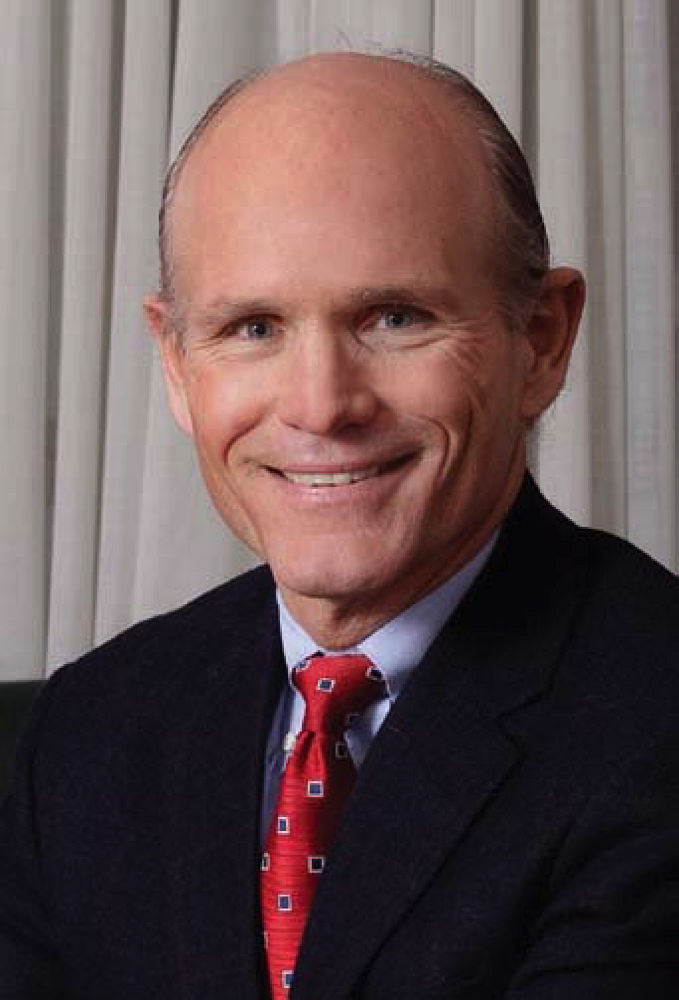 Photograph by Paige Brown/Courtesy of Tufts Medical Center
Given those factors, vice president for finance Thomas J. Hollister (the University's chief financial officer) and University treasurer Paul J. Finnegan, used their message in the annual report to look past the bounty to the concerns that come naturally to their species. The fiscal 2017 operating surplus, they stressed, "may represent a high-water mark for the foreseeable future," given revenue constraints throughout higher education. The entire sector's business model, they maintained, "is under enormous pressure," because a half-century of growth (in enrollments, federal research funding, and endowment-fueled investment income) has run its course. "Higher education has matured as a industry….The industry is showing financial strain, even in these comparatively healthy economic times"—and even with the welcome complement of a supernova capital campaign that has recorded more than $8 billion in pledges and receipts.
"Our deans and administrative staff are first focused on mission excellence," they continued, "but they are also increasingly focused on cost containment and newer sources of mission-related revenues.…We raise this not as a matter of discouragement, but simply to signal to the University's many friends, supporters, alumni, faculty, students and staff that the University, and its schools and units, will need to further adjust to the environment, change, and embrance new ways of extending Harvard's excellence in the future."
A detailed report appears at harvardmag.com/budget-17. 
You might also like
The Crimson springs a major upset.
Harvard officially installs Claudine Gay, its thirtieth leader.
A half-dozen symposiums feature Harvard research on AI, climate change, inequality, and more
Most popular
In Agyementi, Ghana, Sangu Delle '10 brings clean water to a village.
Portrait of a hockey-playing statistician—from Louisiana
Of philanthropy rewarded, broken glass, and pennies for Harvard
More to explore
A test can identify these productivity-boosting personnel.
Ancient history professor studies coins, ceramics, and Zelda.
Anwar Floyd-Pruitt's wildly profuse art