Neponset River Greenway
At Boston's Pope John Paul II Park, in Dorchester, cyclists can hop on the Neponset River Greenway to enjoy scenery—from beaches and marshlands to parks and old industrial sites—and to explore neighborhoods that are rich with historic legacies and cultural diversity.
"The goal was to build the greenway as a really pleasant travel corridor between the Blue Hills Reservation and Boston Harbor, and to reconnect neighborhoods to the water," says Jessica D. Mink, chair of the Neponset River Greenway Council, which has worked for decades, along with residents, government agencies, and organizations like the Neponset River Watershed Association, to clean up, conserve, and celebrate this "forgotten river."
The park itself was once a landfill and a drive-in movie theater. Now there are playing fields, and visitors can walk its perimeter paths along the Neponset River under an open sky while listening to birds sing. Looking across toward Quincy, says Mink, an astronomical software developer at the Harvard-Smithsonian Center for Astrophysics, "you can sometimes see harbor seals under the bridges."
The greenway runs north of the park about a half a mile, offering digressions to the swimmable Tenean Beach and the Port Norfolk residential enclave.
But for a nearly five-mile trip, cyclists should head south. The trail snakes through Boston's Adams Village and Lower Mills sections, crosses into Milton Village, and ends in Mattapan Square. It's a car-free zone of relatively flat terrain, so adults and kids can easily do it while hunting for landmarks (murals and  wildlife), and destinations (playgrounds and a wading pool).
Heading out, the trail soon passes the Neponset River Reservation, offering walking paths and marshland views. The historic Cedar Grove Cemetery looms up quickly, and within a mile is the Butler Street stop for the MBTA's Ashmont-Mattapan trolley.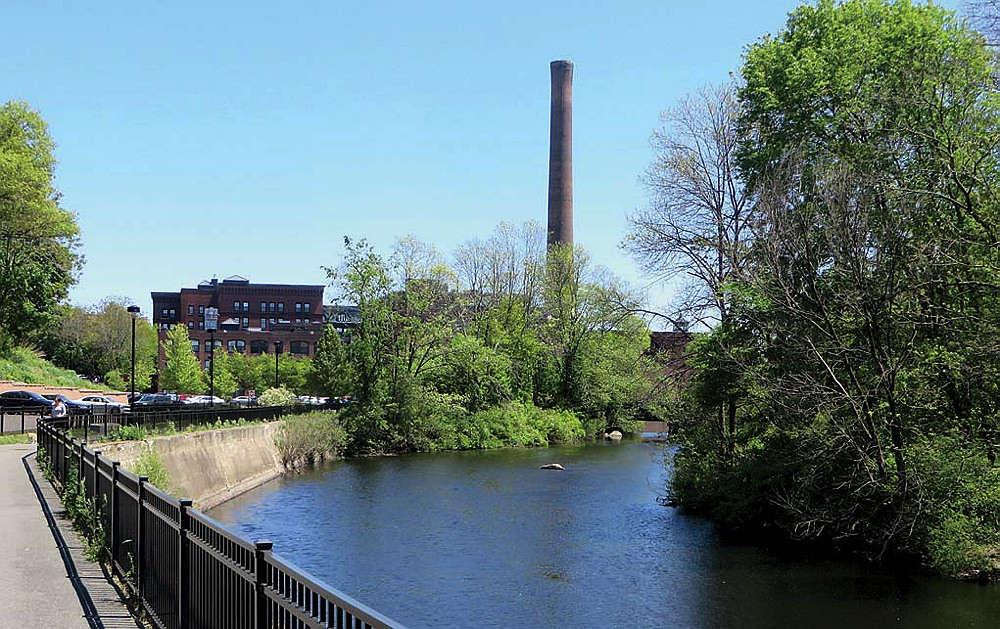 Photograph by Jessica Mink
Veer off here in Lower Mills and follow Butler Street to Huntoon and Medway Streets, to Ventura Park to overlook the river, or ride inland half a mile on residential streets to the restorative Dorchester Park, listed on the National Register of Historic Places. From there, it's a short pedal to Adams Street, where the historic red-brick industrial complex (built between 1868 and 1947) once housed, among other factories, the landmark Walter Baker Chocolate Company (first makers of the rich stuff in America and co-founded by physician James Baker, Harvard class of 1760). Break for sustenance at the nearby Ice Creamsmith or Lower Mills Tavern.
Back on Butler, the trail soon enters Milton. Look for the Lower Mills Gorge, Mink says: "A lot of people don't even know it's there." Then travel into Milton Village—passing the remains of a mill on the embankment, and the insect mural—before rolling on to the Central Avenue trolley station and the worthy food stops Steel & Rye and The Plate.
The greenway returns to Boston over the "basket-handle-style" Harvest River Bridge. Completed last year, it connects cyclists to Ryan Playground, where shady spots and a seasonal wading pool cool anyone in need of relief.
The last leg of the route rises up and over the Canopy Bridge. Stop at the top and gaze across the landscape or down to the maintenance shop for the vintage streetcars that trundle two and a half miles through Boston and Milton on the line that opened in 1929. Everyone, it seems to Mink, "loves to watch and ride the trolleys!"
The bridge ends in Mattapan Square. Try Brothers Deli and Restaurant for hot meals or the Le Foyer Bakery for Haitian-style sweets. Intrepid riders can follow the greenway another three and a half miles—although not always on a contiguous or car-free path—from Mattapan's Blue Hill Avenue to Fowl Meadow, which is in the Blue Hills Reservation. Along the way are the Martini Band Shell, a site for summer concerts, and the Fairmont Street business district.
The path, a remarkable and beautiful achievement, took decades of work, tenacity, and patient collaboration. And it's not over yet. "What we'd like to do is complete the remaining parts of this trail," Mink says, "continue it through Milton and Canton, and then keep going upstream as far as we can."
You might also like
The first in a series of public conversations about Harvard and the legacy of slavery
How to encourage free speech and inquiry on campus
A new play at the A.R.T. provides a modern take on ancient mythologies   
Most popular
Brief life of a formidable anthropologist: 1903-1991
First-years Ngozi Musa and Gabby Thomas help set the pace for track and field.
A negative investment return and annual spending reduce the endowment's value 5.1 percent.
More to explore
A test can identify these productivity-boosting personnel.
Ancient history professor studies coins, ceramics, and Zelda.
Anwar Floyd-Pruitt's wildly profuse art