Treasure
Gymsuits, Pre-Spandex
Lest young ladies' "tides" be deranged
Photograph of gymsuit by Kevin Grady/Radcliffe Institute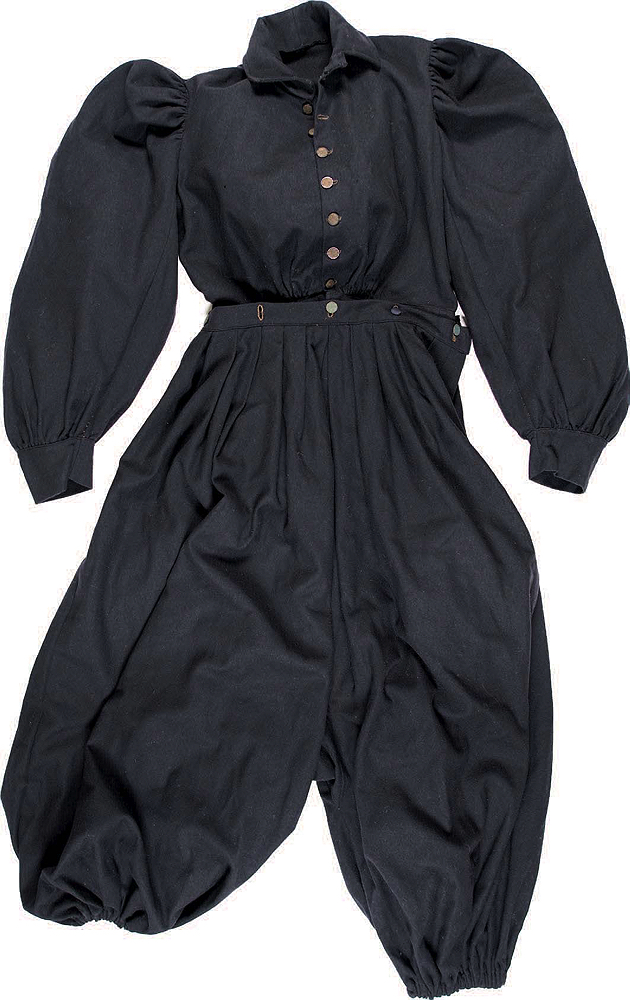 Photograph of gymsuit by Kevin Grady/Radcliffe Institute
Photograph courtesy of Schlesinger Library, Radcliffe Institute, Harvard University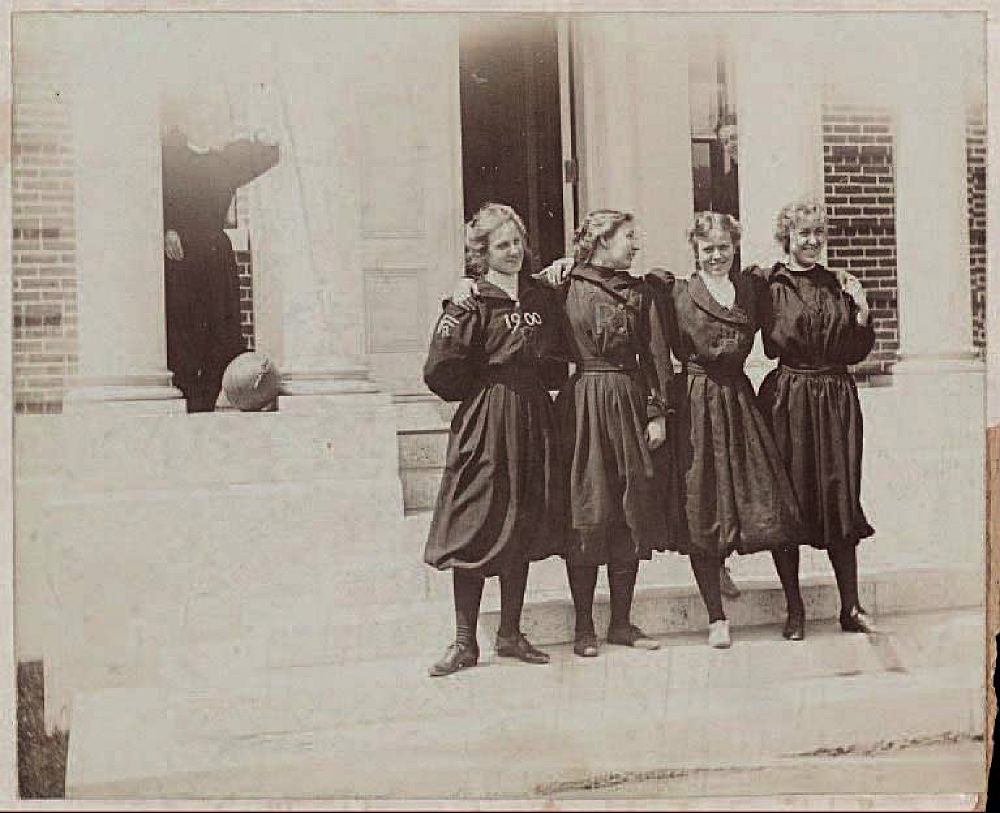 Photograph courtesy of Schlesinger Library, Radcliffe Institute, Harvard University
In our age of athleisure, of clothes that contour and compress, of aspiring to a high-performance life—sweatless and chafe-free—it's a jarring sight: the workout wear of a Radcliffe student from the turn of the twentieth century. This particular "gym dress" resides at the Schlesinger Library at the Radcliffe Institute for Advanced Study, and stands on display in "75 Stories, 75 Years" through October. It was donated by Libby Wright Plimpton '29, a gym teacher and field-hockey player, and belonged to her mother, Edith Hall Plimpton, who graduated in 1896.
At the time, athletics were central to female students' lives, and not just at Radcliffe. Schools such as Smith, Mount Holyoke, and Vassar also encouraged—and even mandated—physical activity. Gymnastics and group calisthenics were popular, as were competitive team sports like field hockey. In his 1873 bestseller, Sex in Education, Harvard Medical School professor Edward H. Clarke had warned that intellectual exertion would damage a young woman's childbearing capacity, "deranging the tides of her organization" by diverting blood-flow to the brain. In response, women's colleges insisted on fitness. 
Tennis and golf had long been accepted as genteel co-ed pastimes—occasions for courting, to which women would wear their best and most pleasing clothes. But this two-piece gym dress was in a different league. Made of a hot and heavy wool that was hard to wash, it buttoned from chin to belly, and also around the waistband. The extremities were snugly, demurely cuffed; stockings completed the look. With its puffy sleeves, "It was voluminous," comments curator of manuscripts Kathryn Jacob, who organized the exhibit. With its "divided skirt," though—implying the legs swamped, somewhere, within—it was scandalous.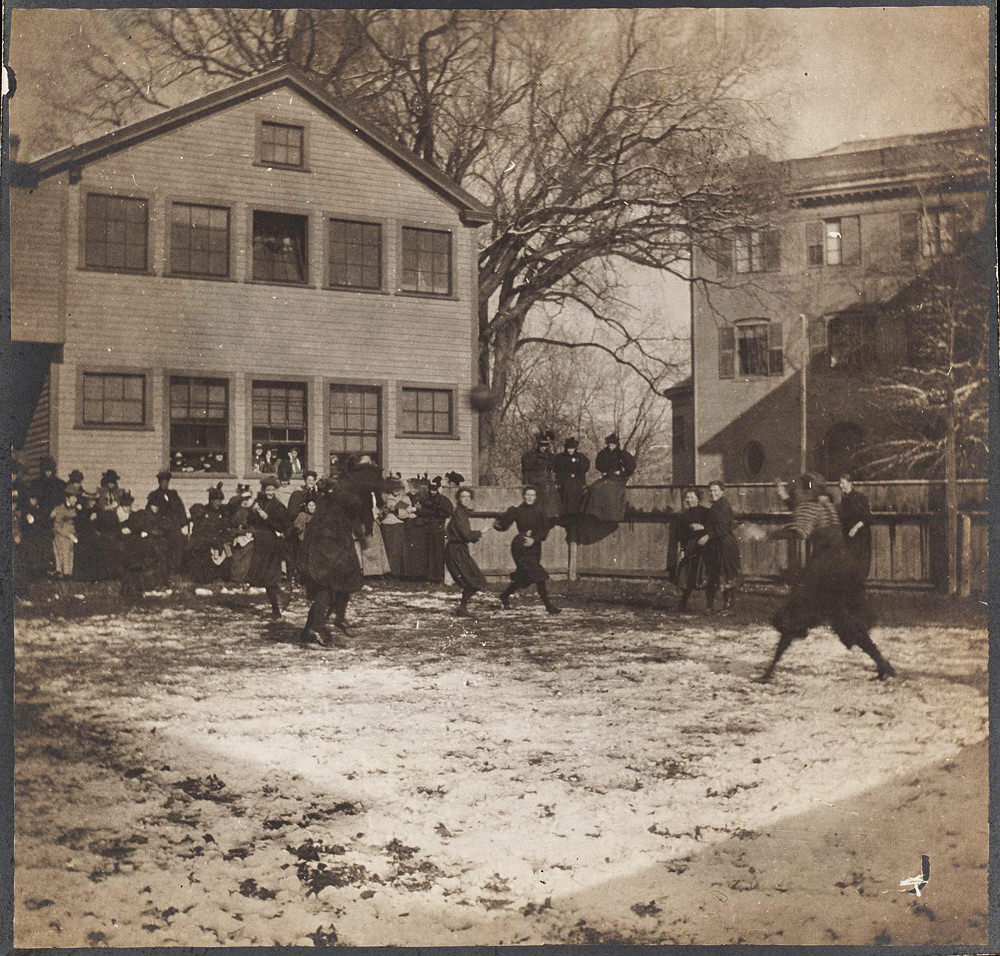 Photograph courtesy of Schlesinger Library, Radcliffe Institute, Harvard University
The suit was intended for single-sex contexts. Women were expected to don skirts on top for their trips to and from the field. When the basketball team was photographed in their bloomers, the captain was chastised by the College's first dean, Agnes Irwin. By 1898, Radcliffe had built a gymnasium to shield students from view—or protect passersby from the shock of seeing the young ladies tangle for the ball and yell from the sidelines.
With its academics dictated by men, the College cultivated an independent identity through extracurriculars. Two of those activities permitted trousers: theater and sports. When, in 1897, a Radcliffe committee laid down the "bloomer rule" banning male costumes, they did allow gym clothes on stage. "This black wool jumpsuit," says Jacob, "which looks so confining to us, was actually quite liberating."