Tastes and Tables
Of Phở, Bún, and Fish Sauce
Boston-area Vietnamese cuisine
It's lunchtime in Harvard Square, and Le's Restaurant is packed. Diners slurp steaming beef noodle soup (tái nam pho) and dig into grilled shrimp and pork and vermicelli (bún tôm thit) laced with nước mắm, a limey fish-sauce vinaigrette. At a window table, Duong Huynh and Vinh Le (no relation to Le's owners) peruse the menu. As the duo behind Nem, a local Vietnamese food venture that offers culinary classes and pop-up dinners, they are, naturally, choosy.
"You have to understand," says Huynh, who moved to the United States with her family at age 10, and settled in Boston after graduating from MIT. "Vietnamese people live for food."
"After the war—what we call the American War," adds Le, "the people were so hungry. My mother told me this—that for a meal you have only two or three small pieces of meat. So when we have food, we sit around and talk and we celebrate together."
"But even before the war, we were foodies," his wife goes on. "I think it's because geographically we are blessed with so many different ingredients."
A fertile, mainly coastal, country, Vietnam boasts three distinct culinary regions: the north (influenced by Cantonese cuisine), the middle (once home to imperial Hue cuisine), and the agricultural-rich south, which integrates Thai and Cambodian fare, according to Le. In that base of rice paddies, lush produce, and tropical fruits, the food tends to be sweeter.
Freshness is paramount, and the diet, overall, relies heavily on fish and seafood. Rice (cơm) and vermicelli (bún) are eaten in countless varieties, as is phở, a brothy soup with rice noodles: phở bò (with beef), phở gà (with chicken)…. Also common, and popularized through the Boston-area Bon Me food trucks, are the delectable Vietnamese sandwiches (bánh mì), made with airy rice-flour baguettes, and fresh rice-paper rolls, called gỏi cuốn.
French colonization played a role in culinary techniques—along with breads and broths, which have a nearly sacred role in Vietnamese cooking, according to Le. Families have their own secret recipes, and batches can take days to make using slow-cooked bones and herbal infusions.
At Le's, the couple starts with bánh hỏi tôm nướng ($12.25). The ceremonial dish is often served at weddings or engagement parties, Huynh explains, as a waiter sets down a platter piled with fresh bean sprouts, basil and mint leaves, shredded carrots, chopped cucumbers, scallions, and peanuts, squares of white vermicelli, and grilled shrimp. Separate bowls hold rice papers, hot water, and nước mắm. Soften the paper in the water, lay it on a plate, line it with bite-sized bits of anything from the platter, then roll the mass into a taut bundle. The yin-yang mélange of flavors and textures is refreshing, healthy, and filling. Americans think of rice-paper rolls as a specific dish, Huynh says, but in Vietnam they are "more of a way to eat your protein. My family is from a coastal town and if my uncle had a fresh catch, he'd steam up the big fish and we would all sit down and we'll have this to pair it with."
Next up is a pot of phở tái nam ($9.50): vermicelli and tender slices of rare eye round and brisket swimming in hot broth. Again, there's basil, scallions, cilantro, and bean sprouts on hand to add in.
"And you know, phở is often eaten for breakfast," Huynh says.
"They eat it every day—for breakfast, lunch, and dinner—whatever," adds Le. Huynh reaches for the bánh xèo ($9.95), cutting a chunk of the crispy rice-powder crêpe stuffed with bean sprouts and mung bean, but too few chunks of shrimp and pork. "I like to just put it in my bowl and lather the nước mắmon, like this," she says, sprinkling the sauce onto a mound of basil and mint. At Le's, she also likes the "family meals" on the menu—a caramelized fish, for example—as well as the sour soup (canh chua). More exotic is the "fire pot" with a vinegar-base broth, "eaten by dipping ingredients and then rolling them up in spring rolls."
The couple met when she spent an academic semester abroad interning at the Ho Chi Minh City design firm where he worked. They founded Nem in 2014, partly as a culinary outlet for Le (who splits his time between Boston, working in urban design, and Hanoi, where he developed the menu at the new Monsoon Bar & Kitchen). Huynh works in real-estate finance and development, which helps support his creative ventures. For both of them, their venture—which offers cooking classes, private events, and pop-up dinners (held periodically at Urban Hearth in Cambridge)—is both a business and an important means of pairing a communal meal with a cultural event.
Amid Vietnamese music and flowers, Nem guests may enjoy Le's duck magret, beef tartare with a pineapple sauce, and fresh, handmade vermicelli, which, he points out, "you cannot even find in Boston." Talk easily turns to Southeast Asian spices, history, or the landscape of the Mekong Delta, where he once led tours, scouting out restaurants (and their kitchens) to ensure that visitors ate well. "What I see now with the contemporary Vietnamese food scene is that we need to bring it to a new level," he says. "The process of making this food is very complex and sophisticated…with Nem, I am not selling the food, I am selling the experience."
To further explore Greater Boston's Vietnamese food scene, here is a list of other restaurants and take-out places to try: 
Since the wave of migration to the United States after the fall of Saigon in 1975, the biggest Vietnamese-American enclave in Massachusetts has grown up in Dorchester, in a section book-ended by the Savin Hill and Fields Corner MBTA stations. To explore it, take the Red Line to JFK/UMASS, then walk east on Columbia Road to Dorchester Avenue.
Within 15 minutes, you will come to Banh Mi Ba Le (1052 Dot Ave). The combination take-out place, grocery store, and bakery serves some of the best bánh mì around. Check out the spicy beef on the homemade rice-flour baguette, or order from the hot bar. Try the fruit smoothies (we like the taro and coconut) and milk teas with or without boba—tapioca balls. House-made desserts include coconut-flavored three-bean pudding; Seussical-green pandan jelly (among Duong Huynh's favorite treats); and a soupy drink, chè sâm bổ lượng, with lychee fruit, pearl barley, seaweed, mango, and brown sugar.
A few blocks away is the less crowded, also very good, Nhu Lan (1155-57 Dot Ave), which has both a sit-down restaurant and a fast-food counter. Try the fresh fish, steamed or fried, slathered with coconut-curry or black bean sauce, or get the Vietnamese fondue (lẩu) and cook your own goat, seafood, or beef in a scalding-hot pot of soup stock. Everything on the menu also appears to have a vegetarian option, but double-check to make sure fish sauce is not added. Ready-made takeout opportunities for more adventurous eaters include mủ trôm,a sweet pandan-flavored drink with jellies that looked like fish eggs, and gio thu, a hunk of head cheese made with pig's ear and black fungus.
Pho Hoa (1370 Dot Ave) is among the largest and most established restaurants; look for the mural outside depicting immigration with Vietnamese folkloric imagery: people in a boat watching fish swim toward a waterfall, above which a tree and dragon spiral skyward, encircling a scene from contemporary Boston.
A few blocks from the Fields Corner MBTA station is the family-oriented Anh Hong (291 Adams Street), best known for its shared entrée "beef seven ways": grilled with butter, rolled into sausage, or dipped in a tangy vinegar sauce are among the options. And steps from the station itself is Hiên Vuong (1487 Dot Ave), which features a touted bún mắm, a fermented-fish broth and vermicelli gumbo-like soup with seafood, pork, vegetables, and herbs.
It's a favorite of Huynh's, but she recommends the version served at New Dong Khanh (83 Harrison Avenue), in Chinatown: "Very pungent broth. Not easy to handle," she warns, "but it's full of umami and better than the same dish I've had in Vietnam." She also likes that restaurant's bánh cuon (steamed rice flour rolls with pork filling); bánh xèo (a Vietnamese crêpe flavored with turmeric and stuffed with mung bean and bean sprouts); and hoanh thanh bo kho (braised beef broth in five spices, with wontons). And try the smoothies, she adds; especially the avocado and durian.
On the next street over, New Saigon Sandwich (696 Washington Street), a tiny storefront serving take-out hot boxed meals (like teriyaki chicken with rice or noodles), also sells fresh bánh mì —try the shredded pork, tofu, or BBQ beef, layered with cilantro, carrots, daikon, pickles, onions, and chili peppers.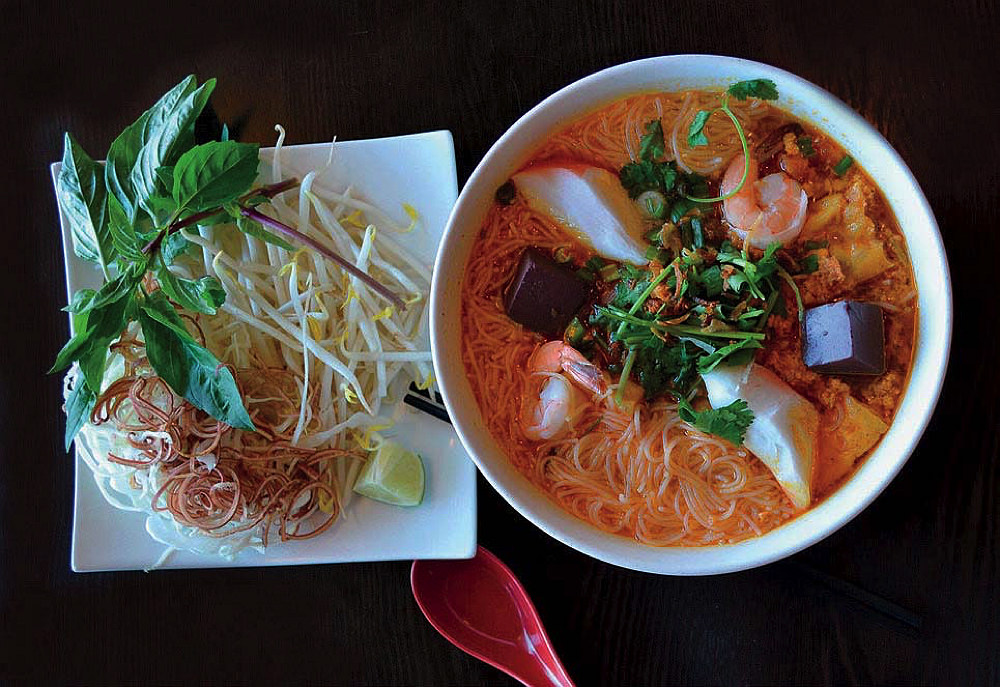 For more ambience, go to Pho Countryside, in Kenmore Square, where the subdued lighting, tiny bar, and 12 cozy tables are enhanced by digital images of flickering flames simulating a fireplace. We liked the "Countryside rice plate," flavored with grilled pork chop, sausage, shredded pork skin, pork-egg custard, and the fresh "health conscious" entrées, especially the hủ tiếu southern-styled tofu and vegetable noodle soup.