Personal Favorites
An eclectic array of Greater Boston restaurants
Seeking fresh perspectives, we asked Harvard Magazine staffers and friends to name some of their favorite restaurants in Greater Boston. The resulting list ranged from fancy to casual spots, with high marks given for inventive food, comfort, personable servers, and ease of conversation (low noise levels). A hodge-podge selection of these top picks follows.
Opened last year, the tiny, white-walled Celeste, in Somerville's Union Square, is a joyful, relaxed place with refined Peruvian cuisine. There's an open kitchen and a bar with six seats, along with eight tables. Latin-American-style salsa and jazz float through the air, adding to Celeste's cosmopolitan ambience. It also feels homey, as if a group of friends hanging for the evening just happen to be running a restaurant. The bartender mixes tangy pisco sours and margaritas, and pitchers of non-alcoholic chicha morada. That refreshing Peruvian drink, made from brewed purple corn flavored with apple, pineapple, cinnamon, cloves, limes, and sugar, tastes of grapes and watermelon. Bubble-gum-sweet and faintly lemony, the carbonated Inca Kola is consumed as a symbol of national pride (never mind its vaguely radioactive-looking neon-yellow color).
That authenticity and care have led to numerous accolades and to Celeste's semi-finalist designation for this year's James Beard Foundation "best new restaurant" award. Start with a limey ceviche, or try a Lima staple: cold boiled potatoes dressed in huancaína, a cream sauce spiced with fruity ají amarillo peppers. Everywhere in Lima, too, are restaurants serving a distinctive Chinese-Peruvian cuisine, chifa. Celeste's rich lomo saltado features Chinese stir-fried beef, combined with tomatoes, onions, peppers, soy sauce, and potatoes. We also loved the comforting classic ají de gallina: chicken stew with garlic, turmeric, walnuts, and more yellow peppers, served over rice and slabs of potato. End the meal with mousse lucuma, an Andean valley native fruit that somehow melds mango and lemon with butterscotch. ($8-$27)
For Cuban-style Latin American food, head to the lively Gustazo, in Waltham. Try the fresh-baked empanadas andyuca fries with cilantro aioli, peppers stuffed with cod and béchamel, or the heftier dishes: slow-roasted pork on tostones, and mariscada (seafood stew with coconut milk). The bold, sophisticated food in a cozy, colorful spot draws crowds, although diners who want more elbow room might also appreciate Gustazo's larger, new second location north of Porter Square in Cambridge. ($7-$32)
Uruguayan-inspired cuisine prevails at the artful La Bodega, in east Watertown. Highlights of the tapas menu include paper-thin Ibérico salami, salmon with green chermoula, and saffron-flecked seafood in a nest of toasted, vermicelli-like fideos—or leave room for the chivito al pan, a beef slider topped with ham, bacon, cheese, and a fried egg. The sparkling bar holds creative bouquets, and dark, theatrical lighting gives the dining room and the attached, charming vintage train car an air of romance. ($5-$27)
Glamour on a grand scale prevails at the plush OAK Long Bar + Kitchen, in Boston's Back Bay. Ornate chandeliers, leather bar stools, and upholstered nooks abound amid polished wood and mirrors. That—and expert barmen proffering ample martinis and classic sidecars—make this a terrific "feel-good" place for after-work gatherings, impressive dinner dates, or any excuse for a celebration. Choose from small or big plates of loosely French-style food, like charcuterie and steak frites, a juicy burger, and loads of fresh seafood. ($15-$49)
Springtime smells of lilacs and green grass. But to taste the season, order the artichoke crudité at the South End Venetian-fare hotspot SRV, in Boston. Marinated slivers of raw artichoke hearts are topped with bright-green whole and puréed fava beans, greens, and a mild truffle-infused cheese. Or try the stalks of tannin-rich rhubarb paired with almond crema, spicy plump raisins, bits of almonds—and speck, a cured ham with a juniper kick. SRV's huge, elegant space with high white ceilings is grounded by maroon banquettes, small marble-topped tables, and a gleaming old-wood floor. ($11-$38)
For less rarified Italian food in a more neighborly setting, try Savinos, in Belmont. The ravioli and porcini-sage cream, a beet salad with pistachios and goat cheese, and a balsamic-laced duck breast with polenta top the menu. What's more, chef/owner Thomas Cutrone offers specials for "Wednesday Girls Night Out" and keeps the place on the quieter side—"no crazy bar scene"—with Thursdays reserved for live jazz. ($8-$32)
In Harvard Square, Harvest was praised for its professional waitstaff and consistently "outstanding" locally sourced dishes—especially the fish. Also coveted are seats on its pretty and secluded patio, or at its intimate bar. Start with raw-bar specials and artisanal cheeses, then move on to entrées like brown-butter hake and beef strip loin with Béarnaise and potato-mushroom pavé—or equally good vegetarian dishes, like mushroom agnolotti with pecorino. ($12-$46)
For a magic show of cocktails—flasks and secret messages tucked in hollowed-out books, dry-ice "fog" wafting from clay vessels, and glasses sporting flowers and "good luck" bits of fake money—head farther afield, to The Baldwin Bar, inside a former Woburn mansion. The place is also a James Beard award semi-finalist, for "outstanding bar program," thanks to showrunner Ran Duan, who has transformed half of his parents' Chinese restaurant. Tasty Sichuan dishes still reign across the dining areas, from dan dan noodles with pork and spinach and tofu-stuffed crepes with mushrooms to a whole fish with chili-miso sauce. Ask the wizard mixologists what dishes pair best with that night's tantalizing potions.($7.50-$22.95)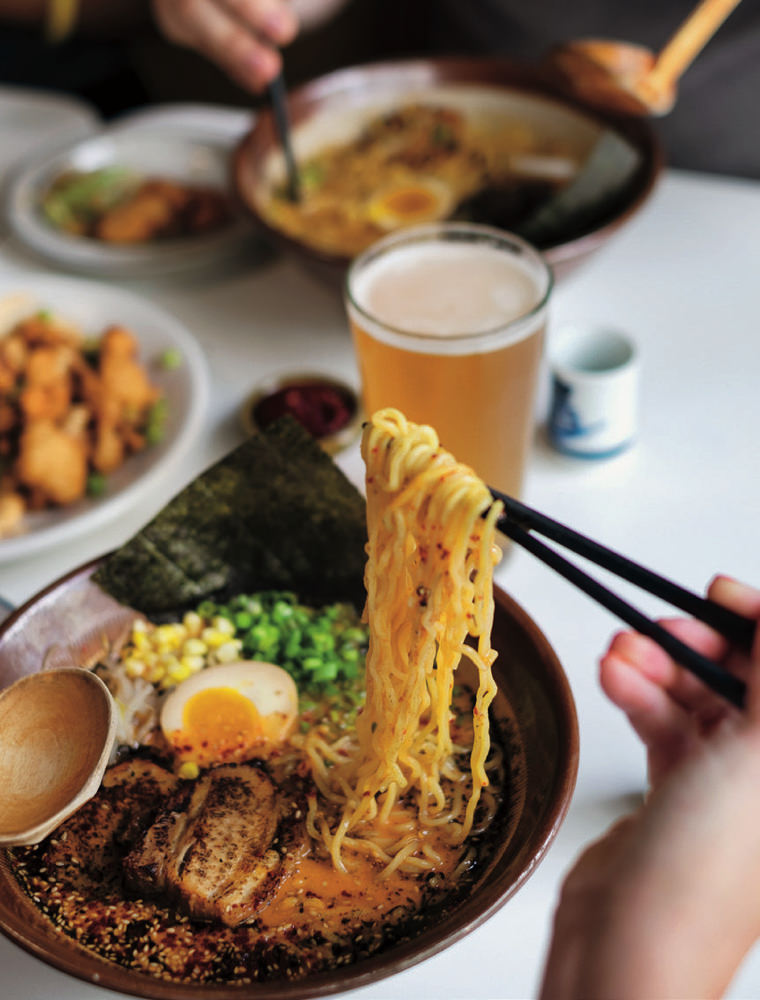 Photograph by Ezra Lee Pollard (@eflicky on instagram)
For umami-packed Asian ramen and brown-rice bowls—and the addictive "Hawaiian-style burger" (a flat patty with crispy, salty onions, spicy mayo, and pineapple relish)—run to Little Big Diner, in Newton. With only 15 seats, and a no-reservations policy, show up to get on the wait list, and then browse in Newtonville Books, across the way, until the restaurant calls you (by phone) to a table. ($8-$18)
Watertown's beloved and historic Deluxe Town Diner serves the traditional all-day breakfast—the scrambled-eggs burrito, challah French toast, and sour-cream flapjacks are the best around—along with beef and veggie burgers (with fresh-cut fries) and a carb-rich turkey dinner. But there are plenty of lighter, wholesome items as well, like spinach and mushroom salad, sautéed quinoa and vegetables, and a Middle Eastern sampler platter fit for two. ($5.25-$14.95)
Hummus, tabouli, and stuffed grape leaves are served with warm pita bread at the Middle Eastern-style Andala Coffee House, in Cambridge's Central Square. It's relaxed and quiet. The café also offers hookahs and sidewalk tables shaded by a trellis of grape vines. We like the "foole plate" (short for ful mudammas) of saucy fava beans perked up with lemon juice, garlic, and jalapeños, and the housemade merguez sausages and chicken kebabs. Strong teas and Turkish coffee cap a meal. Or reenergize with the "wake-up call" banana-and-peanut-butter smoothie. ($5.99-$19.99)
What stands out among all these prized restaurants is the authentic food, served without pretense. That, and no booming soundtracks, earn our top vote any time. 
You might also like
The Crimson outlasts the Bears in an Ivy nighttime shootout.
The first in a series of public conversations about Harvard and the legacy of slavery
How to encourage free speech and inquiry on campus
Most popular
Modeling how globalization leaves the least-skilled workers behind
Why good data are essential to understanding the Voting Rights Act
A theorist explores the limits to shrinking datasets.
More to explore
A test can identify these productivity-boosting personnel.
Ancient history professor studies coins, ceramics, and Zelda.
Anwar Floyd-Pruitt's wildly profuse art