Yesterday's News
From the pages of the Harvard Alumni Bulletin and Harvard Magazine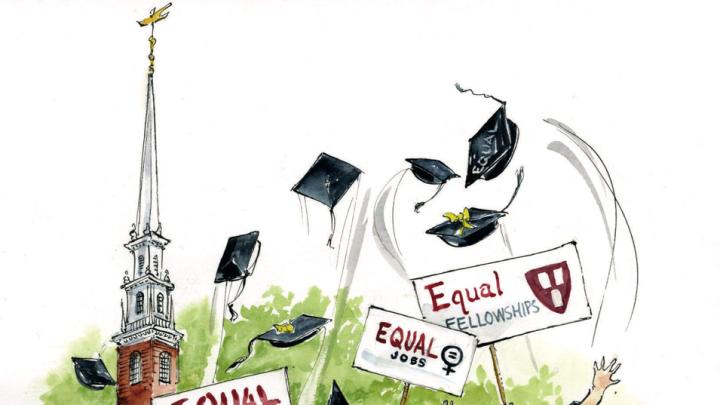 1929
The Law School's Institute of Criminal Law opens, to study practical ways—including consultations with psychiatrists, social workers, and doctors—to deal with criminals, as "mere punishment…does not yield adequate results."
1954
Half a year after defending Harvard against Senator Joseph McCarthy, President Nathan Pusey draws more than 500 people to the National Press Club's luncheon in his honor; his speech on "Freedom, Loyalty, and the American University" and his willingness to answer all questions earn a "remarkable ovation."
1969
Eighteen students have signed up to concentrate in the newly created field of Afro-American studies.
A representative of Students for a Democratic Society receives last-minute permission to speak at the Morning Exercises, and attacks Harvard, calling the Commencement ceremony "an obscenity" and "an atrocity." Subsequently, he, about 30 seniors, and some hundred others walk out to hold a brief counter-Commencement and listen to an address by philosophy professor Hilary Putnam.
1974
About 125 Radcliffe seniors organize a demonstration during Commencement week, wearing armbands, placards on their backs sporting equal signs, and bright yellow ribbons atop their caps. Their four demands are: equal admissions; equal job opportunities; equal facilities and finances for athletics; equal distribution of fellowship funds.
1979
The success of National Lampoon's Animal House prompts Universal Pictures to offer $500 to sponsor a toga party in South [Cabot] House. Dean of students Archie Epps vetoes the proposal.
1989
South African archbishop Desmond Tutu, LL.D. '79, running as a petition candidate for Harvard-Radcliffe Alumni Against Apartheid, gains a seat on Harvard's Board of Overseers.
You might also like
The Crimson springs a major upset.
Harvard officially installs Claudine Gay, its thirtieth leader.
A half-dozen symposiums feature Harvard research on AI, climate change, inequality, and more
Most popular
A community letter as the new administration begins
Solving legal challenges at MoMA
More to explore
A test can identify these productivity-boosting personnel.
Ancient history professor studies coins, ceramics, and Zelda.
Anwar Floyd-Pruitt's wildly profuse art