Explorations and Curiosities
A Bridge to the Past
Historic New England's Eustis Estate
A recent tour of the Eustis Estate, perched on a knoll in Milton, Massachusetts, ends in what the guide calls "the original man cave." It was the library of William Ellery Channing "W.E.C." Eustis, A.B. 1871, S.B. '73, who lived in the mansion with his wife, Edith Hemenway Eustis, and their three children. The room, above the porte-cochère, features a bay window perfectly aligned with the allée of locusts, framing a picturesque view of the country drive. The room's interior is anchored by carved black walnut woodwork below a beamed vaulted ceiling. Guide Richard Arsenault also points out the "hidden staircase" and elegant brass gasolier. The corner fireplace and mantle, he adds, are "over-the-top Aesthetic-movement style. Very ornate, asymmetrical, lots of flora—and all of it? Made out of molded terra cotta. It's all just lovely."
Then he gestures across the room, encouraging visitors to "look at stuff on the shelves!" They are loaded with books about regional history, boats, and architecture, all supplied by Historic New England, which opened the 80-acre property to the public in 2017. Because neither the library's chairs nor its bay-window seats are cordoned off, as they would be in most house museums, they indeed invite anyone to relax there and learn more about what it was really like to live and work on this self-sufficient estate during the Gilded Age.
That magnanimity is intentional. "Usually, at most of our other properties, people have to put on booties and go on a designated tour," says estate program assistant Amy Morgan Link. "But here, we wanted to change up the experience in ways that would entice many people, especially young people, so they don't walk in and feel like, 'Uh oh! I am not supposed to move, or touch, anything!'"
Visitors are not only free to stroll and picnic on the grounds, which overlook part of the Blue Hills Reservation, they can also walk through much of the mansion by themselves. Interactive digital kiosks (another new venture for Historic New England) offer vintage family and estate photographs that depict life there from the 1880s through the early 1930s. Restoration work is explained, along with Eustis family furnishings, like the Charles Eastlake-styled bedroom set, and the Italian Renaissance pieces in the front hall. (Historic New England's vast collections of objects and archival materials furnished the rest of the house.)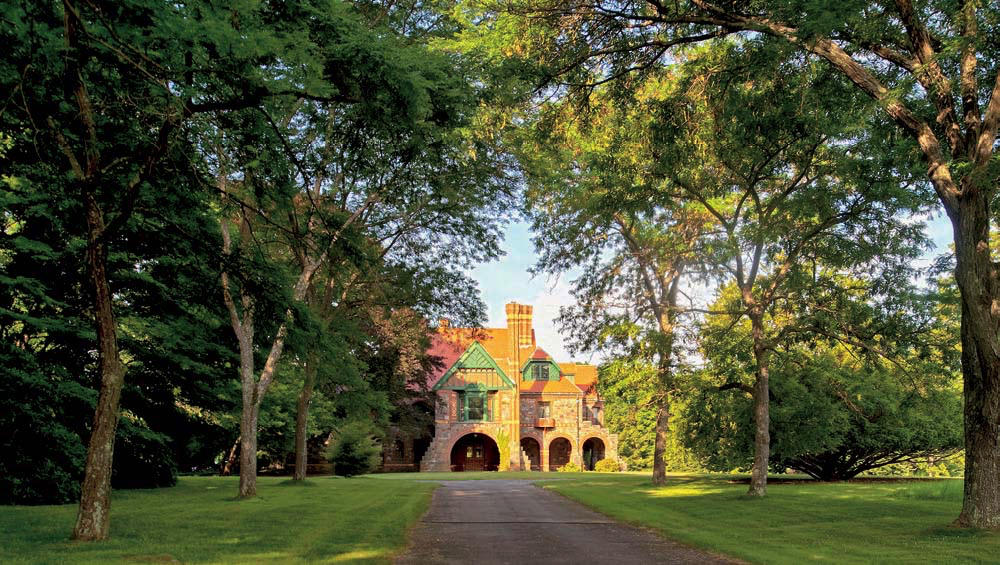 Photograph by Eric Roth/Courtesy of Historic New England
View the original 1878 blueprints by the prominent architect William Ralph Emerson (a cousin of the Transcendentalist leader and writer Ralph Waldo Emerson, A.B. 1821, A.M. '27, LL.D. '66), as well as landscaping plans, U.S. Census data on household staff members, and biographical notes on Eustis family members. Although the third floor is off-limits to visitors, there are images of its billiard room and smoking porch, and the "laboratory" where W.E.C. Eustis—a metallurgical engineer who ultimately owned three copper mines and smelting foundries in Canada, California, and Virginia—"tinkered" with early radio and other technologies.
Eustis was the grandson of theologian William Ellery Channing, A.B. 1798, A.M. 1802, S.T.D. '20, a founder of the Unitarian Universalist Church, and grew up in a fairly affluent Boston family. But it was his mother-in-law, Mary Porter Tileston Hemenway, a conservation-minded philanthropist, who in 1866 purchased 230 acres and the "Old Farm" in Milton, and later gave the young couple some of that land and built the nearly 19,000-square-foot mansion as a wedding gift. Construction on the ornate domain—with its local stone, bands of red and yellow brick, six chimneys, Romanesque archways, and prominent gables—began in 1878 and was finished in 1883.
Mary Tileston was accustomed to wealth, having hailed from one of New York City's richest merchant families, and then married Edward Augustus Holyoke Hemenway, a self-made businessman who opened new trade routes to Chile and other parts of South America. Their son, public servant and philanthropist Augustus Hemenway, A.B. 1875, donated the first Hemenway Gymnasium to Harvard; his wife, Harriet Lawrence Hemenway, co-founder of Mass Audubon, donated a separate Hemenway Gymnasium to Radcliffe.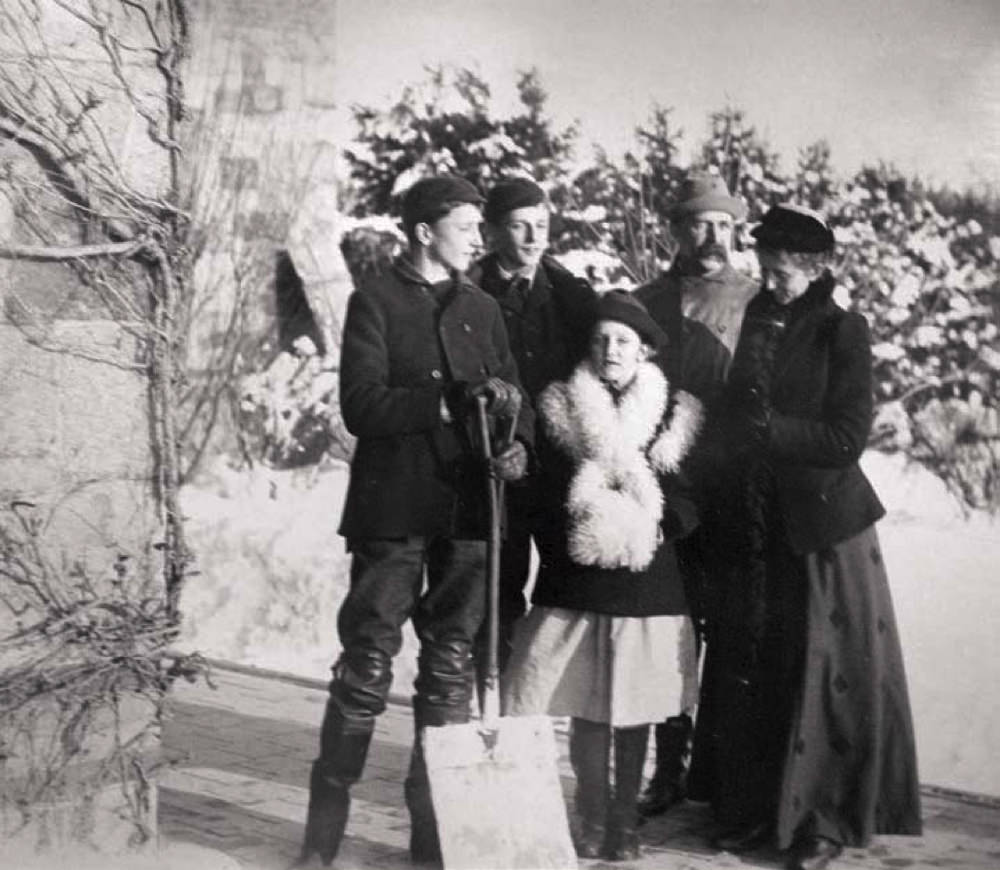 When her husband died in 1876, just months before their daughter's wedding, Mary Hemenway was left in charge of a vast fortune. She hired Emerson to renovate and enlarge "Old Farm" (although she lived primarily on Beacon Hill), and later became a regular visitor at her daughter's estate next door—spending time with her grandsons, the Eustis twins, Augustus and Frederic, both members of the Harvard class of 1901. Historic New England, which has 37 other sites, bought the estate in 2012 from Frederic Augustus Eustis II, A.M. '52, Ph.D. '77 (Augustus's son), who lived there with his wife, Elizabeth, until 2014. After they moved out, some $5.1 million was spent to repair and restore the house and remaining outbuildings, and to convert the fairy-tale-worthy stone 1892 gatehouse into administrative offices.
The mansion is stylish, with early modern amenities, like radiant heat, and stunning examples of detailed craftsmanship. The interior décor highlights rich earth and green tones, and incorporates botanical and other motifs reflecting a fascination with the "exotic" Far East at the time, Arsenault says: there are bamboo branches painted on the small parlor's walls, and natural-leaf imprints in the dining room's tiled fireplace surround. But despite its size, grand entrance hall, and open central staircase, the Eustis Estate is not an explicitly opulent showplace of the magnitude of the historic Newport, Rhode Island, mansions. These rooms, designed on a human scale and used by a family, have a more intimate ambiance.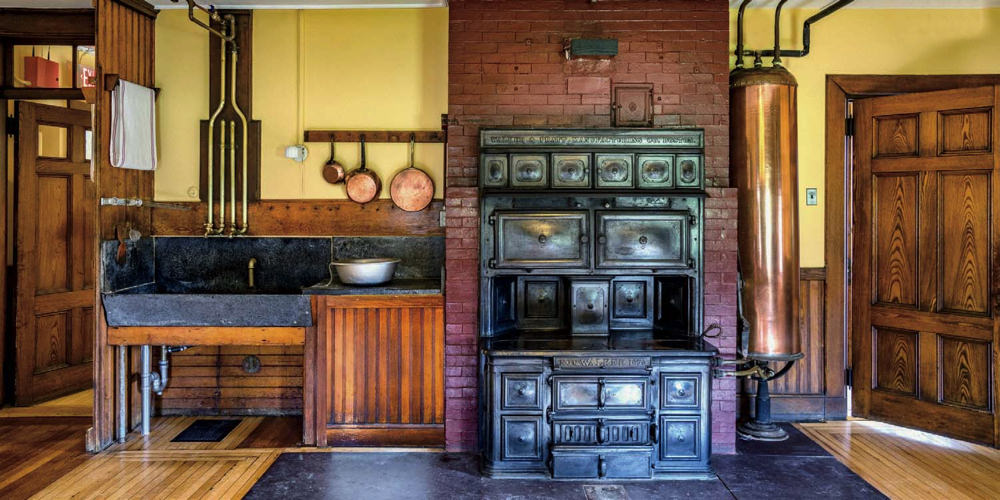 The house is remarkably well preserved, considering that four generations of Eustises lived and played there. No significant structural changes were made, says tour guide Arsenault, as his group enters the kitchen, anchored by an 1879 Walker and Pratt cast-iron, coal-burning stove. "We only did two things in this room: we painted and removed the modern stove. Otherwise, this was how the family lived with the kitchen, with modern dishwasher, until 2014," he explains—using original soapstone sinks, old brass pipes, and a copper water-heater. Moving on, he opens a faux-wood painted vault on one wall, where the silver was kept, and slides up the door of a dumbwaiter in the butler's pantry.
He also highlights contemporary high-tech features, such as the "electric annunciator" on the wall: buttons with bells and lights, labeled for 20 different rooms, that—in addition to six ceramic speaking tubes embedded in the wall—allowed discreet communication among family members and the staff. And in the home's first-floor hallway, visitors can step into the lighted telephone closet—or see the 1890s-era Western Union wall phone and box that still hang outside the vestibule.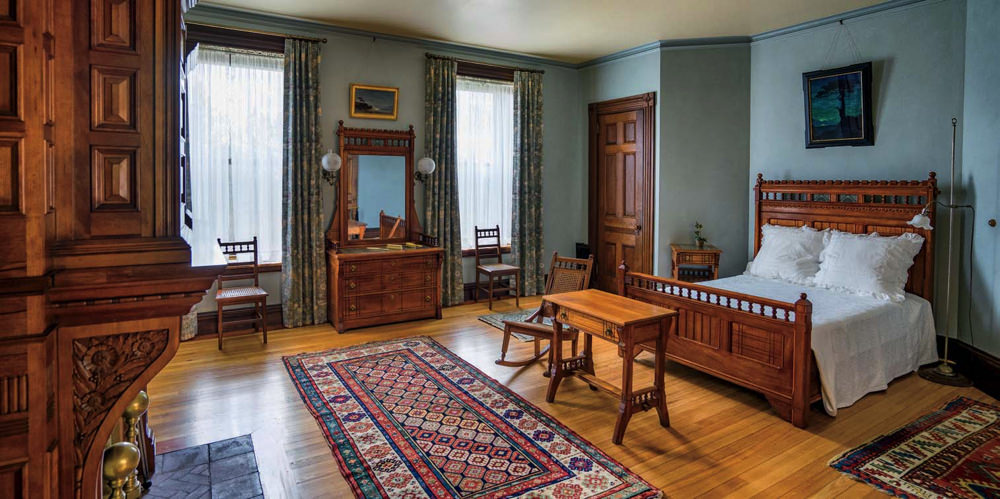 Photograph by Eric Roth/Courtesy of Historic New England
On the second floor, amid a bedroom and the day and night nurseries, are two washrooms with the original tinned-copper bathtubs and marble-topped sinks. "Notice," he says, "you have not seen an original toilet yet. Victorians wouldn't dream of washing in the same place they used the facilities." A water closet for family use was at the corner of the second-floor central hallway.
As for the household staff, the tour reveals their quarters—five small rooms and a common space above the kitchen. Arsenault notes the lower-quality woodwork and "ugly" radiators (instead of heating grates), but points out each room's large windows and reminds visitors that having "central heat, and food, and running water, was probably considered quite a luxury" for servants who came from poorer, rural living conditions. It's not known what the Eustis staff was paid, but in late nineteenth-century New England, he says, rates typically ranged from $1 to $3 a day for a laundress and housekeeper, respectively; they worked seven days a week, with Sunday mornings off, presumably to attend church services.
Throughout a visit, little personal information is shared about the Eustis family; Historic New England focuses on the architecture, the Aesthetic movement, and the restoration. But enlarged, framed vintage photos taken by W.E.C. Eustis, a serious amateur photographer with a basement darkroom, do depict a lively household, gatherings with friends and family members, and activities like bicycle- and horseback-riding.
Along with his other passions, sporting and yachting, he managed the fully self-sustaining estate. In its heyday, Amy Morgan Link reports, there were several orchards, pig and dairy barns, a chicken house, a small pond (where ice was harvested), stables, and two greenhouses—along with outbuildings for carpenters, painters, and gardeners: "all of these things that were there simply to take care of this property."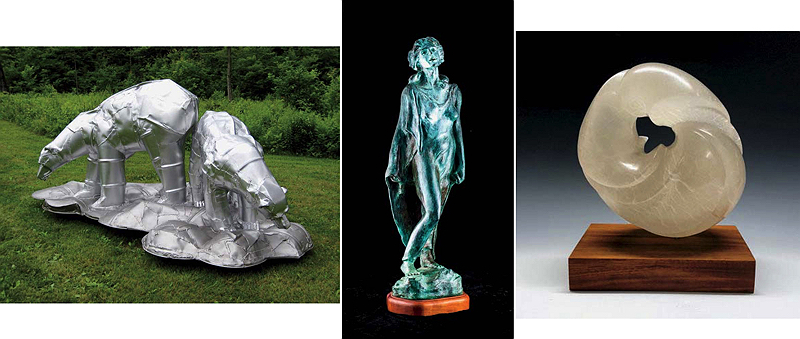 Changing Landscape: Sculpture at the Eustis Estate (June 22-October 13) includes The Discarded, by Morris Norvin; Green Goddess, by Serena Bates; and Involution, by Elisa Adams.
All images courtesy of the artists and Historic New England
The flagship site is now listed on the National Register of Historic Places. But it's also rented for weddings and film shoots and, through public events and rotating art exhibits, is meant to serve as a year-round gathering point. This summer's exhibit, Changing Landscape: Sculpture at the Eustis Estate (from June 22 to October 13), presents more than 80 works by members of the New England Sculptors Association. Sculpture walks are planned (July 14, August 4, and September 15), as is a family drop-in art workshop (July 20). The show bridges opposing drives—for innovation and preservation—underscoring the idea that landscapes and historic events and architecture do evolve and are viewed differently over time. In addition to the regular house tours, docent-led events will focus on the life and work of staff members (July 26 and September 6), and technological advancements, such as the 1902 "powerhouse" built by W.E.C. Eustis (August 16). A Victorian Birthday Party (August 25) will celebrate the life of children during that era, with lawn games, cake, and lemonade.
Historic New England hopes the estate can enliven the past and offer new perspectives on contemporary culture, architecture, and the use of space. That the house itself was so intact certainly helps. When asked why it was never much altered, Link says the family, historically, was preservation-minded: Mary Hemenway helped save the Old South Meeting House, in Boston, among other projects. "They never changed the kitchen, which is extraordinary. That's usually the first room to get renovated. But I just think there was an understanding that they had something here that was very important."