News
Nitin Nohria to Conclude Business School Deanship
11.7.19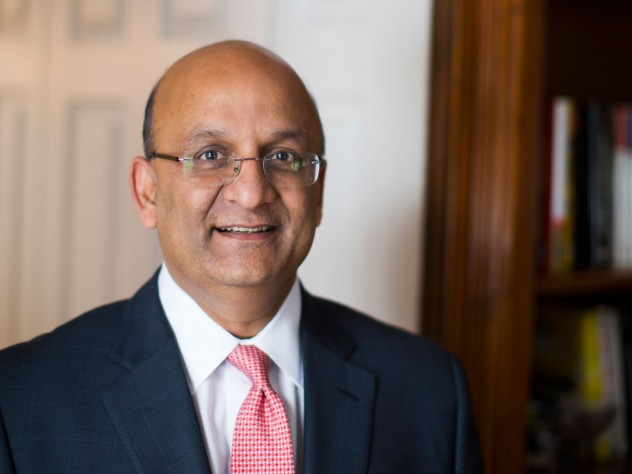 Photograph by Stephanie Mitchell/Harvard Public Affairs and Communications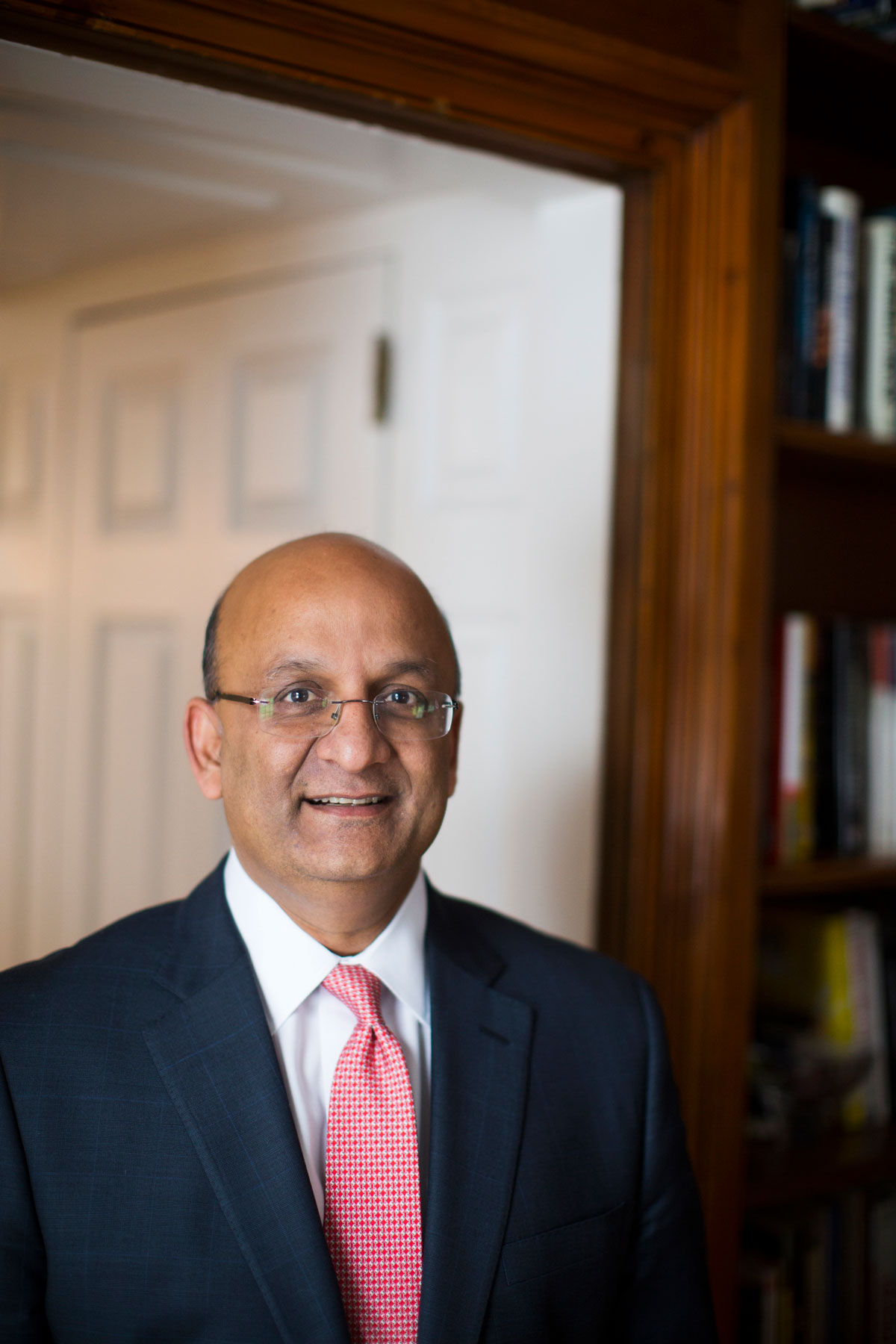 Photograph by Stephanie Mitchell/Harvard Public Affairs and Communications
Nitin Nohria, dean of Harvard Business School (HBS) since 2010, announced yesterday that he will step down at the end of the academic year, concluding a decade of service. His announcement comes one week after the memorial service for John McArthur, the school's preeminent twentieth-century dean. It is early in the new millennium to draw conclusions, but Nohria is likely to be seen as equally consequential for the school's evolution and growth during the twenty-first, as he led:
Nohria also emphatically made changes in HBS culture as women and underrepresented minority members of the community brought forth echoes of its history and continuing patterns of behavior that fell well short of welcoming inclusiveness. Those initiatives extended from the decanal office to the classroom to diversifying the school's teaching cases.
He also, happily, paid for all this with a recordbreaking $1.4-billion capital campaign, for which he toured the globe repeatedly to meet with HBS alumni worldwide. (The school also extended its international reach through its network of research offices during his tenure, with new outposts in Istanbul, Singapore, Israel, and Johannesburg.)
In his message to the community, Nohria, who joined the faculty in 1988, wrote:
I love this School and University and have tried to serve both as best I could. Early in my tenure, a colleague shared a maxim that I adopted as a daily reminder of my job's purpose. It is from the Hebrew text Pirkei Avot, and its essence is, "You can never complete the work, nor must you abandon it." In the same vein, former Dean John McArthur often reminded me that even today HBS remains a "delicate experiment." Although I became Dean after we marked the School's centennial, I have seen my role as continuing this delicate but enduring experiment. Our mission of educating leaders who make a difference in the world has always been and continues to be ever so important. The work of educating leaders will never be complete, nor can we abandon it.
He indicated he will take a sabbatical after stepping down "to reflect on what I may do next." For now, he is chair of the Allston Land Company, which is in the final process of selecting a development partner for the first 14 acres of Harvard's Enterprise Research Campus, across Western Avenue from HBS (a decision is expected by the end of 2019). Nohria was widely considered to be among the candidates for Harvard's presidency during the search that ended in the appointment of Lawrence S. Bacow. His record at HBS, including his engagement with the wider University, would certainly make him attractive to any number of institutions—particularly given that his business scholarship is not the only arrow in his quiver: he earned his Ph.D. in management from MIT's Sloan School of Management, but also received a bachelor of technology degree in chemical engineering from the Indian Institute of Technology.
President Bacow wrote of Nohria:
I write to express my deep appreciation to Nitin Nohria for his superlative service over the past decade as dean of Harvard Business School. 

For much of his academic career, Nitin has been an expert on effective leadership, and his own tenure as dean has been a case study in putting that expertise into practice. He has led HBS with vision and wisdom, a canny sense of organizational dynamics, a humane concern for others, and a relish for innovation. He has affirmed HBS's longstanding commitment to educating leaders who will make a difference in the world, while pursuing that mission in imaginative new ways. With his colleagues, he has worked to renew the School's curricula and teaching methods, to build the faculty and amplify the impact of their research, to broaden HBS's global reach, and to enhance the sense of community and connectedness among students, faculty, staff, and alumni.

In all this, Nitin has been guided by a set of core values and a devotion to doing what is right, both for his School and for the people who are its lifeblood. His leadership has benefited not only HBS but the University more broadly. He has drawn HBS into new academic collaborations with other parts of Harvard. He has been a generous mentor and advisor to colleagues University-wide as well as a highly influential voice in our Academic Council. He has worked to attract essential support not just for HBS but for other Harvard schools. And within the past year he has taken on a central role in planning for the University's envisioned enterprise research campus in Allston—a role in which I'm very pleased he will continue.
Bacow will begin a search for Nohria's successor soon.
Read the  HBS announcement here.