Montage | Open Book
Hoffa and Harvard Law
Photograph by Robert W. Kelley/The LIFE Picture Collection via Getty Images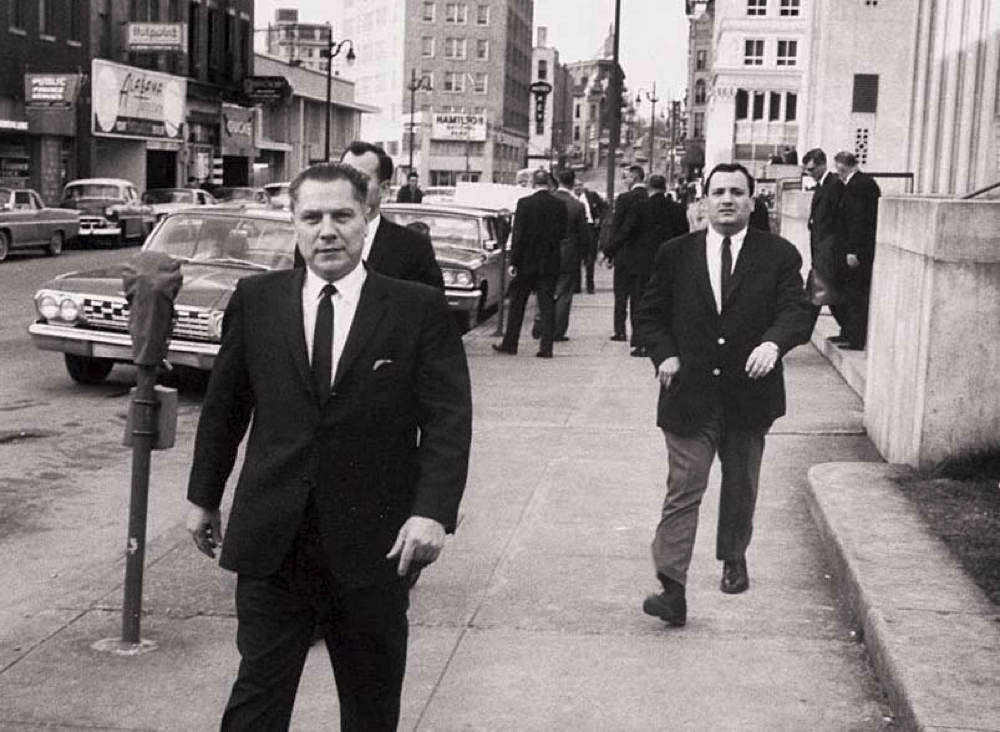 Photograph by Robert W. Kelley/The LIFE Picture Collection via Getty Images
Jack Goldsmith is Shattuck professor of law. As such, he is known for his work on the legal aspects of terrorism, national security, and other fraught topics in international law. But like all faculty members, he has a life beyond the classroom and his scholarship. In his case, the complications of that personal life are the subject of the new book, In Hoffa's Shadow: A Stepfather, a Disappearance in Detroit, and My Search for the Truth (Farrar, Straus and Giroux, $28). From the introduction:
One evening in early December 2003, I found myself alone in a brightly lit cavernous office on the fifth floor of the United States Department of Justice, reading a stack of Supreme Court decisions about the Fourth Amendment's prohibition on unreasonable searches and seizures. At the time I was serving as the assistant attorney general in charge of the Office of Legal Counsel, a position that made me a senior legal adviser to the attorney general and the president. A few weeks earlier, I had concluded that President George W. Bush's secret two-year-old warrantless surveillance program…was shot through with legal problems.…
My thoughts that stressful December evening began with a crisis about national security and presidental power but soon veered to a different turbulent period of my life. One of the cases in my "to-read" pile was a 1967 Supreme Court decision…that restricted the government's use of electronic bugs to capture private conversations by stealth. As my tired eyes reached the end of the opinion, two citations leapt off the page like ghosts: "O'Brien v. United States, 386 U.S. 345 (1967); Hoffa v. United States, 387 U.S. 231 (1967)."
…The Hoffa case involved the pension fraud conviction of James Riddle Hoffa, the autocratic leader of the International Brotherhood of Teamsters, who would later vanish, on July 30, 1975, in what remains one of the greatest unsolved crimes in American history. The O'Brien decision concerned the conviction of Charles "Chuckie" O'Brien, also a Teamsters official, for stealing a marble statue of St. Theresa from a U.S. Customs warehouse in Detroit Harbor Terminal. The Supreme Court vacated both convictions so that lower courts could determine if the government had eavesdropped on Hoffa and O'Brien in possible violation of a new governmental policy and developing Supreme Court jurisprudence.…
After reading the decisions, I immediately saw their connection to each other, and to me. In the 1950s and 1960s, Jimmy Hoffa was the nation's best-known and most feared labor leader.…Chuckie O'Brien met Hoffa at age nine and later served as his most intimate aide for more than two decades. Chuckie helped Hoffa bulldoze to the president of the Teamsters. He was Hoffa's trusted messenger to organized crime figures around the country, and was by his side during his seven-year battle with Bobby Kennedy that ultimately sent Hoffa to prison.…
But in 1974, he and Hoffa had a falling out.…Soon after Hoffa vanished, Chuckie became a leading suspect.…Based on a slew of circumstantial evidence, the FBI quickly concluded that Chuckie picked up Hoffa and drove him to his death.
I knew this history well because Chuckie O'Brien is my stepfather.