Eat, Drink, Read
The Boston Public Library's cozy winter hideout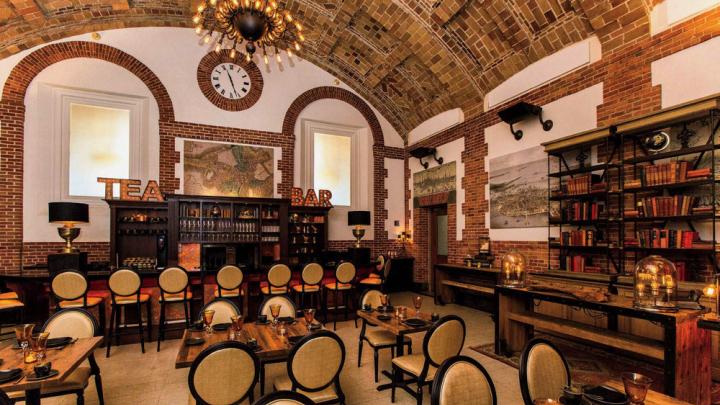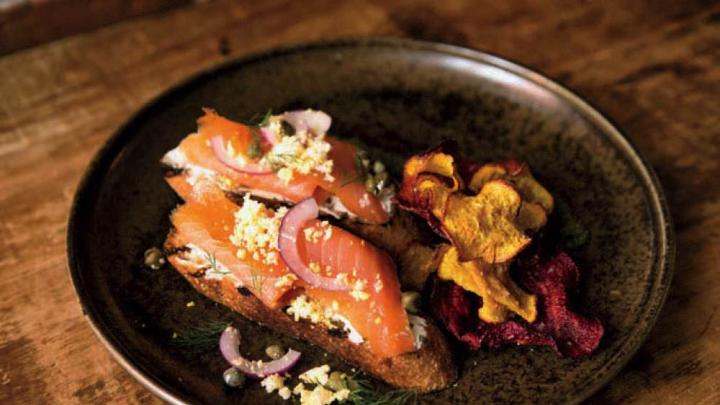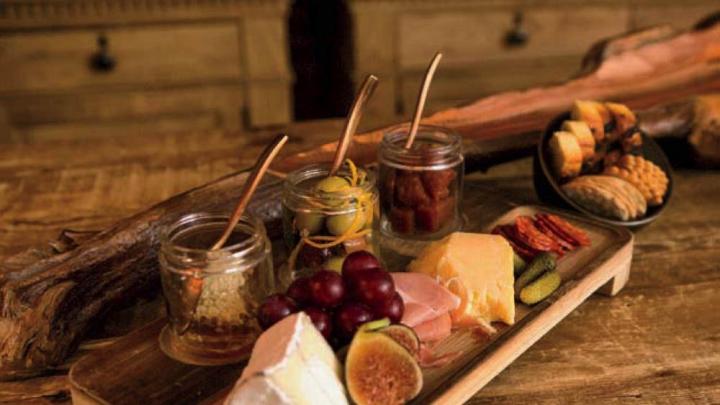 If you agree with C.S. Lewis that "eating and reading are two pleasures that combine admirably," then head straight to the Map Room Tea Lounge, at the Boston Public Library. 
The amber-toned room with a vintage feel opened last year in the landmark Copley Square building, and offers a homey hideout—especially during the winter. "People who want to get together after work, relax, and have drinks," says Michael Colford, director of library services, "now they just come to the library." 
Sit at the bar or café tables to order beer, wine, or literary-themed cocktails like the Olive 'r' Twist and Tequila Mockingbird. A shareable charcuterie board and tartines (open-faced sandwiches) top the "bar bites" menu; or try the traditional afternoon-tea fare: savory crust-less sandwiches and sweets.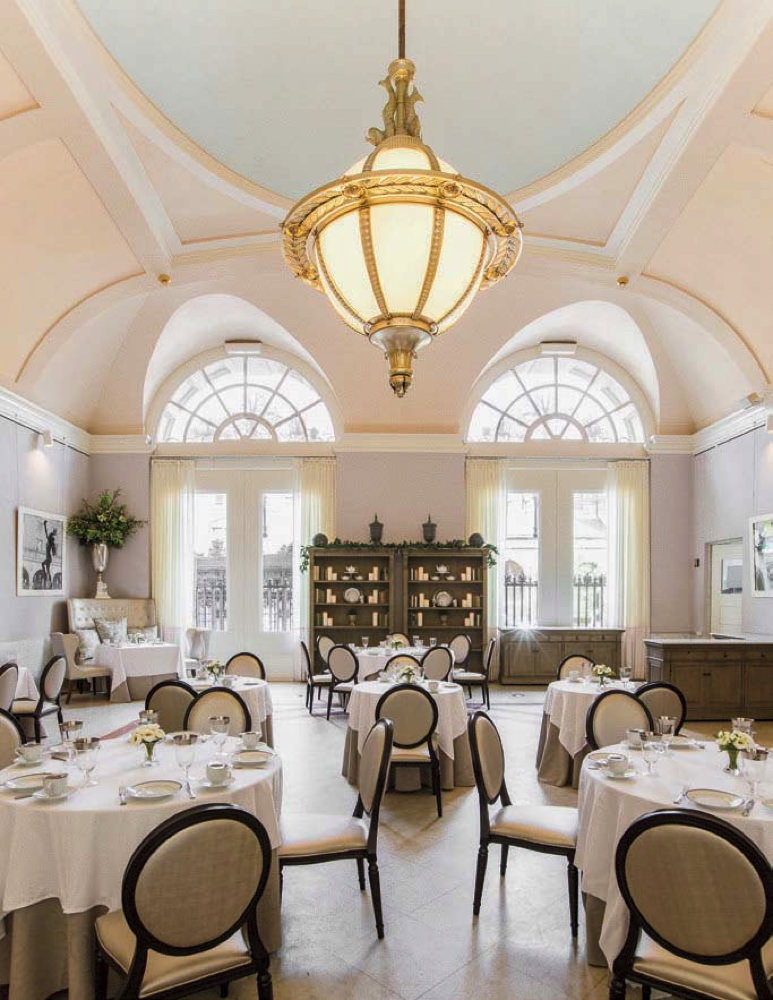 Photograph by Binita Patel
The place draws a diverse, quiet crowd. One late afternoon, Newbury Street boutique-shoppers, local lunchers, and scholars shared the lounge, or chose the adjacent, more formal, Courtyard Tea Room. Young couples, tourists, and others taking the library's terrific tours of the historic 1895 McKim, Mead, & White building drifted in for drinks or desserts. "We've seen a huge change here since the 2016 renovation of the [modern] Johnson building," reports Colford. "An upswing in the desire for, and use of, public space that's open and welcoming." 
The American Renaissance-style main building, inspired by the Sainte-Geneviève Library in Paris, was designed by architect Charles F. McKim (recipient of an honorary master's from Harvard in 1890). During the cornerstone-laying, Boston's revered author Oliver Wendell Holmes, A.B. 1829, M.D. '36, LL.D. '80, proclaimed: "This palace is the peoples' own." The attached 1972 building is the work of architect Philip Johnson '27 ('30), B.Arch. '43; it was restored and renovated by William Rawn Associates, Architects, Inc. (founding principal William L. Rawn III is J.D. '69; read a profile at harvardmag.com/rawn-09). The McKim building tours cover art and architecture—statues, inscriptions, decorative motifs, and the interior courtyard. Inspired in part by that of Rome's Palazzo della Cancelleria, the courtyard is a calm haven with sunny nooks, even in the winter—and just steps away from the lounge and tea room. 
The lounge fills a fairly cavernous space once reserved for rare and other archival maps. The vaulted tiled ceiling, designed by architect and builder Rafael Guastavino, who based it on the Catalan arch, is now dramatically lit. Reproduction vintage maps of Boston hang on the walls. Add to that the old-fashioned, Edison-style light bulbs, desk globes, and an antique bicycle, and you get what Salvatore J. DeGeorge, general manager at the The Catered Affair, which operates the library's restaurants, calls a "rustic, industrial-revolution vibe and style." The place is comfortable and theatrical, as if you're drinking and dining on a stage set. 
Shelves at the host station hold a hodge-podge selection of books: Yukio Mishima's Thirst for Love and Frederick the Great, by Thomas Carlyle, along with Windjamming to Fiji, by Viola Irene Cooper. But the case behind the bar is only for bottles, which are put to good use by friendly bartenders in signature tea-infused drinks ($12). "The Dicken's" (so listed) offers Earl Grey-flavored gin and pineapple juice; "Of Milk and Men" blends chai bourbon with splashes of vanilla and bitters.
Combine drinks, or a pot of tea, with anything on the bar menu. Truffle-oil-fried kettle chips with onion dip are rich and filling ($6); assorted soups with bread ($9), less so. Dollops of honeycomb and quince jam come with the fine charcuterie board, along with olives and grapes ($14-$28). The prosciutto and fig ($12) and "avocado mash" ($9) tartines are especially tasty. Reservations are not taken for the "bar bites" menu, but are required for the more elaborate tea-service menu (offered either in the lounge or the tea room).
The latter, a gracious wedding-cake of a room, suits an afternoon indulgence, special occasions, or any time an injection of old-world romance is warranted. But it lacks the snug atmosphere of the lounge—and the chocolate torte with espresso sauce ($9). 
Both dining spaces are relatively quiet, unlike the buzzy hive of activity at and around the Johnson building's Newsfeed Café. That casual grab-and-go venue—drinks, sandwiches, salads, and pastries—is located in the wide-open lobby near the intersection of Boylston and Exeter Streets. People of all ages and backgrounds fill the tables, reading, writing, listening, and talking. A glassed-in WGBH studio, with live broadcasts, anchors a corner, enabling people to tune in—or not. Along one bank of windows facing the street, patrons can sit and work while people-watching. "We're finding that people like the energy, and want to be in communal, public spaces," says Michael Colford—even if they're headphoned and immersed in screen work.  
What would C.S. Lewis have made of all this? "Of course not all books are suitable for meal-time reading. It would be a kind of blasphemy to read poetry at table," he asserted in Surprised by Joy: The Shape of My Early Life. "What one wants is a gossipy, formless book which can be opened anywhere…Boswell, and a translation of Herodotus, and Lang's History of English Literature. Tristram Shandy, Elia, and the Anatomy of Melancholy are all good for the same purpose." Feel free to grab one such volume from BPL's stacks, and proceed to the lounge, tea room, or café—with Lewis's blessings.   
You might also like
The Crimson springs a major upset.
Harvard officially installs Claudine Gay, its thirtieth leader.
A half-dozen symposiums feature Harvard research on AI, climate change, inequality, and more
Most popular
A community letter as the new administration begins
Solving legal challenges at MoMA
More to explore
A test can identify these productivity-boosting personnel.
Ancient history professor studies coins, ceramics, and Zelda.
Anwar Floyd-Pruitt's wildly profuse art