College Admits 13.9 Percent of Early Applicants
The College has admitted 13.9 percent of early-action applicants to the class of 2024, up slightly from 13.4 percent admitted from that pool last year. 
The College has admitted 13.9 percent of early-action applicants to the class of 2024, up slightly from 13.4 percent admitted from that pool last year. Of the 6,424 students who applied early to the 2024 class, 895 were admitted. The numbers were 935 and 964 for the previous two years, respectively. 
The University's statement emphasized the greater presence of women among those accepted. This year, women make up 51.7 percent of those already admitted, compared to 51.2 percent last year and 47.2 percent two years ago. "This is an encouraging result, and certainly a long way from the four-to-one male-to-female ratio of the past," said William R. Fitzsimmons, dean of admissions and financial aid. 
Of students who intend to concentrate in the physical sciences, 57.4 percent are women, the University statement said. The number has risen from 52.9 last year and just 33 percent the year before. For computer science, the corresponding percentages are 49.1 percent, 42.9 percent, and 29 percent. "Continued increases in the percentages of women interested in the physical sciences, engineering, and computer science bode well for the future," Fitzsimmons noted. Harvard Paulson School of Engineering and Applied Sciences dean Frank Doyle echoed the sentiment: "We have been working hard to change the underrepresentation of women—and African-American and Latinx students—that has plagued engineering, computer science, and other STEM fields nationally for many years….That is very welcome news indeed."
The accepted students' demographics remained similar to years past: African-American students make up 12.7 percent of those admitted, compared to 12 percent last year. Asian-American students make up 24 percent, compared to 26.1 percent last year; Latinos make up 11.1 percent (10.1 percent last year); and 1.3 percent of students are Native American or Native Hawaiians (1 percent last year). International students comprise 9.6 percent of admitted students so far, compared to 11.2 last year. And 10.1 percent of admitted students are first-generation college students (9.6 last year). 
Total cost of attendance will likely exceed $70,000 in the next academic year (the figure is $69,607 for the 2019-2020 year), but the College's financial-aid program reduces the price significantly for most students. Approximately 70 percent of students receive some form of aid, the University statement says, and about 55 percent receive need-based scholarships, with families paying an average of $12,200 per year. One in five students pay nothing.
Those admitted early are not obligated to enroll, and will have until May 1 to make their final college decision. 
You might also like
The Crimson springs a major upset.
Harvard officially installs Claudine Gay, its thirtieth leader.
A half-dozen symposiums feature Harvard research on AI, climate change, inequality, and more
Most popular
A profile of Harvard's thirtieth president
Life decisions en route to Massachusetts Hall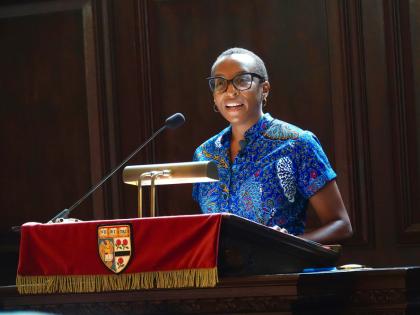 President Claudine Gay's first semester-opening Morning Prayers
More to explore
A test can identify these productivity-boosting personnel.
Ancient history professor studies coins, ceramics, and Zelda.
Anwar Floyd-Pruitt's wildly profuse art