Seriously Goofy
Comedian Karen Chee finds her voice.
When Karen Chee '17 was a child, her parents proved definitively that TV was bad for her. During a Jeopardy broadcast, Chee's mother had her count how many times producers cut to different shots. Each change, her mother said, sapped one's ability to focus. Chee counted, and the number was astounding. "I was completely convinced by the argument," she says. In the dentist's waiting room, she would train her gaze away from the TV, desperate to preserve brain function.
As a writer for Late Night with Seth Meyers on NBC, her fear of television has long faded. Now she often appears herself, mostly on the recurring segment "What Does Millennial Late Night Writer Karen Chee Know?" in which Chee, the youngest writer, attempts to identify '80s and '90s cultural touchstones (the PalmPilot, Garbage Pail Kids, MC Hammer) and fails spectacularly.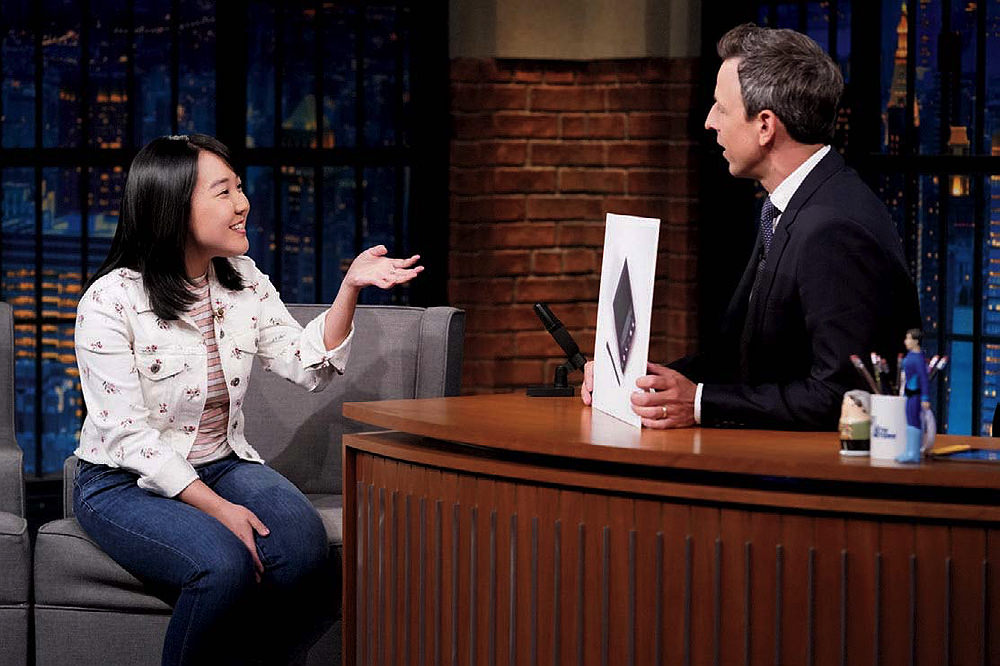 Chee, with host Seth Meyers, after failing to identify a PalmPilot.
Photograph by Lloyd Bishop/NBC
Comedy wasn't always on the radar for Chee. A first-grade devotee of the Cam Jansen and Encyclopedia Brown mystery series, she was first set on becoming a detective. That year, looking for undercover work, she designed a business card—with a self-portrait, a phone number, and her home address—and dropped it in mailboxes around the neighborhood. When her mother found out, they went house to house to retrieve them. "And then I realized as you get older, the detective stories get scarier," Chee says. "And I was like, 'I can't do this anymore.'"
An outgoing, bossy, and precocious child growing up in the San Francisco Bay Area, she had another interest that would last longer: writing. Around the time her detective work fell through, she wrote a story about her grandfather that was so long, her teacher felt compelled to call home and inform her mom.
Though TV comedy wasn't a staple of the Chee household, laughter was. "We have a bunch of family members who are very silly, funny people who joke around," she says. "And so in our house, people laughed constantly." She remembers sitting in her bedroom, listening to the muffled sound of her parents' conversation, waiting for her mother's laugh to cut through.
In eighth grade, Chee discovered comedy. First, it was Whose Line Is It Anyway?, recommended by her drama-class teacher. Then, The Office, pointed out by a classmate. When her brother brought home DVDs of The Colbert Report and The Daily Show from the library, her world changed. "I didn't know political satire was fake, and I didn't know television comedy was a thing," Chee says. "It felt like my brain had exploded."
To grapple with the unfamiliar content, she took copious notes. She noticed that each episode of The Office began with a short, off-topic intro and how the show's writers established each character with a unique, unvarying perspective. When she liked a joke, she'd write it down. She'd look up her favorite shows on the movie database site IMDb, find their writers, and watch other projects they'd worked on: an ad hoc comedy education. She was especially obsessed with late-night television. With her grandpa, she watched David Letterman, Conan O'Brien '85, and Johnny Carson.
Encouraged by her drama teacher, she also started performing improv comedy. "I was really bad at acting," Chee says of her early days. "And really bad at improv." She "broke" constantly, giggling at jokes on stage that were supposed to be taken in stride. But she loved it: the playful atmosphere, the way that improv had rules and a structure, but that all the dialogue was made up. "That was really exhilarating," she says. "I think maybe because I was so Type-A, tightly wound, this was the first place I could be like, 'Whatever you say goes!'"
Chee arrived at Harvard knowing that comedy would be part of her college experience. It soon became most of it. Within a few months, she had joined the Immediate Gratification Players improv troupe, the sketch group On Harvard Time, and the satirical news publication Satire V. She hung around people who were always down to goof around. "I never really saw the very serious side of Harvard," Chee says. "I am sure there are also people who are, like, trying to go to med school, you know what I mean?"
But she took goofiness seriously. Inspired by comedians like Jerry Seinfeld, who marks an "X" on his calendar every day he completes his daily writing task, and Megan Amram '10, whose prolific tweeting serves as a de facto portfolio, Chee began her own routine. Each morning she'd wake up and write jokes—sometimes for an hour, sometimes until she'd reached 10. At first, they came out excruciatingly slowly, but over time her pace quickened. "It took a really long time," Chee says. "But it really felt like I was training a muscle essentially or building up a muscle that wasn't really there."
As a fan of all sorts of comedic styles, though, it was hard to identify her own comedic voice. To find it, she'd take on others'. One day, she'd wake up as David Sedaris. On another, Tina Fey or Mindy Kaling. She'd spend a day or so writing in each author's style, and then review her work, searching for common topics. She found that no matter whom she imitated, social and political satire emerged, often focusing on race and gender. So she kept going with that.
In her first piece accepted for The New Yorker, "Why I'm Not Voting," she takes on the persona of a clueless, capricious woman who invokes Meryl Streep in four of 10 rationalizations. In "Asian Woman Kindly Corrects Bigot with the More Accurate Racial Slur," on the satirical news site Reductress, she reports on a Korean woman who, when called a racial slur, explains to a racist man that he failed to use the proper one.
Chee's voice—unflinchingly cheery, happily ironic, socially perceptive—has served her well so far. Frequent freelance writing gigs, internships at the Late Show with Stephen Colbert and Full Frontal with Samantha Bee, and a bountiful Twitter account helped land a role at the 2019 Golden Globes, writing jokes for Sandra Oh. Now, at Late Night with Seth Meyers and in her own stand-up, she has learned to trust her voice—one that has taken a while, and a whole lot of work, to figure out.
"I'm not naturally funny," Chee explains. "But a lot of it is just trusting yourself. You're going to have a ton of bad ideas, a ton of bad jokes. You have to do that to get to good ones."
You might also like
Viet Thanh Nguyen urges moving beyond the "sob story."
The context for Harvard Management Company's 2023 results
The Crimson outlasts the Bears in an Ivy nighttime shootout.
Most popular
Turning the Black List into a business, to modernize Hollywood's dream machine
A mansion promotes artist Winslow Homer's roots in Belmont, Massachusetts.
Digitized herbaria collections data allow researchers to predict future plant ranges.
More to explore
A test can identify these productivity-boosting personnel.
Ancient history professor studies coins, ceramics, and Zelda.
Anwar Floyd-Pruitt's wildly profuse art