How We Eat Out Now
Restaurants call for help.
Earlier this year, the Cajun-French bistro Café du Pays in Kendall Square began selling foodstuffs, revamped its menu, and morphed into Vincent's Corner Grocery. The name recalls a previous longtime business at the site, channeling the enduring spirit now required of any Greater Boston independent restaurant during the pandemic. Vincent's specialty products, wines, and take-out—like the fried-oyster sandwich and charred eggplant salad—are the focus, but (heated) patio dining will also extend as long as weather allows.
From cocktails-to-go, prix-fixe menus, and gift-certificate discounts to timed seating and outdoor tables, "I've seen people pulling out all the stops, just to make it," says chef Tony Maws, owner of Craigie on Main (now serving family-style meals in its decorated parking lot as Craigie Next Door). Maws is also a spokesman for the Mass Restaurants United (MRU) coalition that is fighting for the industry's survival. More than 60 Boston-area restaurants have already closed, The Boston Globe reported in September. And many more are on the endangered list. Anecdotally, Maws says, most places are collecting 30 percent, or less, of their normal revenue. "That makes everyone want to curl up in a corner with anxiety," he adds, "and we don't know what's next. We don't know about the health and safety climate, the political climate, the economy. All of these things are nebulous and volatile at the same time—which is a strange, terrible combination."
Individual diners can certainly help. Gift certificates, take-out meals, small-group dining—"Anything that generates revenue works," Maws says. "But we also understand that the public is experiencing its own sense of angst as well." What's really essential, he adds, is what MRU has pressed for: government intervention. Although Governor Charlie Baker '79 this fall increased the number of diners allowed at a table to 10 and extended the outdoor-dining season, state legislation to address wider challenges, such as high food-delivery fees, was still stalled at press time, as was the $120-billion federal RESTAURANTS Act.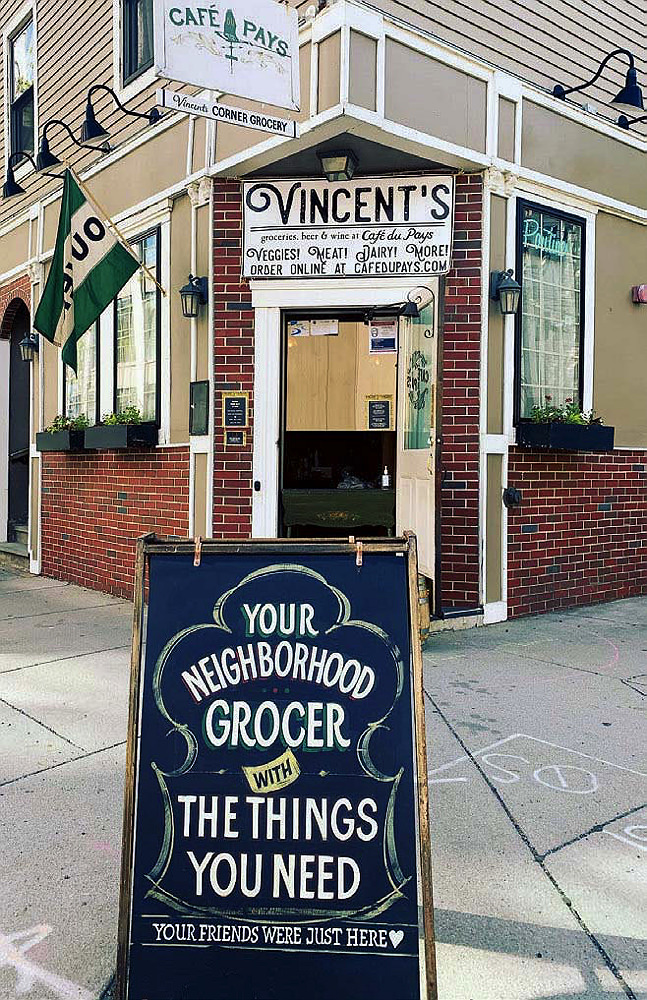 Photograph courtesy of Café du Pays
In the coming months, diners can keep patronizing their favorite spots, or try these staff recommendations:
Asta, in the Back Bay, serves both take-home dinners and a six-course tasting menu for indoor, sit-down dining. A sampling of the chef's Nordic-spare ingenious dishes includes onion flan, shiitake mushrooms with watercress, and pine-tinged sorbet.
At the classic Harvard Square restaurant Harvest, tuck into creative New England-inspired fare, like artisanal cheeses, pork and beans, and sweet-potato agnolotti, on the patio, or inside a softly lit dining room perfect for a wintry night.
Enjoy Momi Nonmi's exquisite Japanese-Hawaiian cuisine and warming sake through take-out, or join a few friends for reservation-only indoor dining at the small Inman Square space, in Cambridge.
Always a lively outing, Neptune Oyster, in Boston's North End, offers an array of raw seafood and cooks up whatever's freshest: sea scallops, seared tuna, chowder, fried clams, spicy cioppino, and broiled bass.
For an airy setting and fine Venetian-style fare—like tagliatelle topped with mushroom ragu and roasted lamb—head to SRV in Boston's South End. Take-out and indoor dining for lunch and dinner, and Sunday brunch.
In Newton Centre, sycamore makes robust Mediterranean-style food for take-out or sit-down: roasted chicken with sausage, lentil and spinach salad with apple slices and goat cheese, and the stellar s'mores pudding.
Whether the choice is such fine dining or simple fast food, eating out has catapulted restaurants into "one of the largest industries in America, the industry that hires tons of people—people of every shape, size, and ethnicity," Maws observes. "We hire people who cannot get hired elsewhere. And we are also a bull's-eye for a bunch of other businesses: vendors, farms, insurance companies, trash collectors. So, this is not just about the economic impact now, this is about stimulating the economy so restaurants can exist in the future."  
You might also like
Harvard officially installs Claudine Gay, its thirtieth leader.
A half-dozen symposiums feature Harvard research on AI, climate change, inequality, and more
A musical and poetic "prelude" to Claudine Gay's installation festivities
Most popular
President Bacow on humility, Prime Minister Jacinda Ardern on democracy and social media, and Attorney General Merrick Garland on civic engagement and threats to U.S. democracy
The new police chief introduces a new policing culture.
Recent books with Harvard connections
More to explore
A test can identify these productivity-boosting personnel.
Ancient history professor studies coins, ceramics, and Zelda.
Anwar Floyd-Pruitt's wildly profuse art