Harvard Squared
The (Truly) Great Outdoors
Here's how to turn your al fresco space into a springtime oasis.
Most of us have spent more time than usual at home lately. With spring comes the chance to branch out—literally—by venturing outside, even if it's only into your own garden or patio. 
Spring also brings a renewed real estate market. If you're hoping to sell, or simply want to beautify the space you're in, there are plenty of helpful options right in our own backyards. 
First, understand how important aesthetic appeal is, whether you're hosting guests or preparing your home for the market. "You only have one opportunity to make a first impression. It's like going on a blind date," says Gail Roberts, a Realtor who has sold many properties in and around Harvard Square. "Your yard is the first thing anyone will see."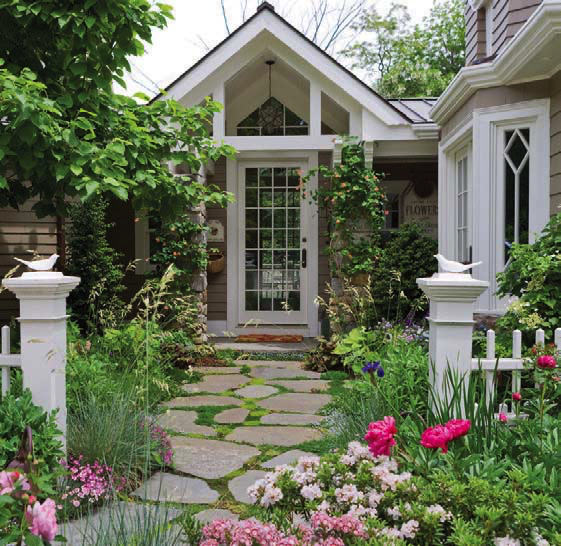 Courtesy ParterreGarden.com / Warren Patterson
No need to start from scratch. Roberts recommends edging beds with mulch, which gives gardens and shrubbery a freshly planted look. "Dark is more attractive than cedar," she advises. Next, consider placing pops of bright flowers throughout the front yard, especially in a planter on your front stoop or along your walkway. Expert tip: Choose a theme of one or two colors instead of a full palette. "Flowers outside are very welcoming, and if you use one or two colors, you get more bang for the buck,"  she says. "It looks like you've planted more, and it makes a huge difference." 
For both mulch and plantings, visit Mahoney's Garden Center, with seven locations throughout the Boston area. In addition to endless greenhouses and helpful staff, you'll find colorful pots, wind chimes, baskets, and other decorative objects to make those plants pop. Find your best location at mahoneysgarden.com. 
Need more intensive help? Consider Parterre, a team of highly trained horticulturalists just outside Harvard Square. They'll partner with you to create the garden of your dreams—from lavender-laced urban patios to dramatic archways and fountains. Just need a spring clean-up? They can do that, too. See their work at parterregarden.com.
Next, spruce up details you might otherwise take for granted: replace or polish doorknobs, sweep walkways, replace snagged screen doors, and make sure your house number is visible on a mailbox or near your door, Roberts says. These steps are especially important if you're trying to increase property value, she explains, because "Most people don't have an imagination—they're buying into whatever you're putting out there." Make it as easy as possible for a prospective buyer to envision themselves in your home, which means a spotless exterior. Pop into Tags Hardware in Porter Square for odds and ends, and consider their handyman services to complete the job. Find them at acehardware.com. 
Roberts also urges homeowners to power-wash windows. Not only does it let the sun shine in—finally!—but it also boosts property value and reflects pride of ownership. "The sunnier and brighter a house, the more money you get," she says. If doing such a thing yourself feels mythical, hire Watertown-based Unicorn. Not only will they make your panes sparkle, they also power-wash surfaces and de-gunk gutters. Browse services at unicornwindowcleaning.com.
Finally, decorate your patio or deck with the deep inventory from Belmont favorite Didriks (didriks.com), which carries everything from grills (like the coveted Big Green Egg) to bird-feeders, rugs, furniture, and linens for al fresco fetes. For extra inspiration, try a virtual design consultation with Cabot House (cabothousefurniture.com). More ambitious? Take a horticulture design class with Native Plant Trust—where you can learn how to decorate with native plants, discover rare plant families, and how to create children's gardens. Enroll at nativeplanttrust.org. 
Photo Courtesy of A. Russo & Sons, Inc.
Then frame your hard work in its best light with illumination from family-run business New England Nightscapes, which also offers music-system installations to give your barbecues the perfect soundtrack. Find them at newenglandnightscapes.com. 
And if you're a guest at someone else's outdoor fete? Visit Russo's in Watertown for curbside pickup—or order delivery at russos.com. This beloved farm stand and garden shop offers seasonal gift arrangements, herbs, and hanging plants. Don't forget to buy some fresh fruits and veggies for the grill while you're there.