Montage
When Fantasy Isn't Enough
Documentarian Lance Oppenheim explores life in The Villages.
Ever since documentarian Lance Oppenheim '19 first heard of The Villages, as a child growing up in south Florida, he'd been intrigued by the place. Often referred to as "Disneyland for seniors," it is a sprawling retirement community with more than 123,000 residents living in daily vacation-like leisure, with a monthly amenity fee providing endless opportunities to party, socialize, golf, and even find romance. Oppenheim found himself wondering sometimes if the apparent oasis truly appealed to everyone who lived there, and if that appeal truly lasted: "What happens when your fantasy becomes just as mundane as life outside of the fantasy used to be?"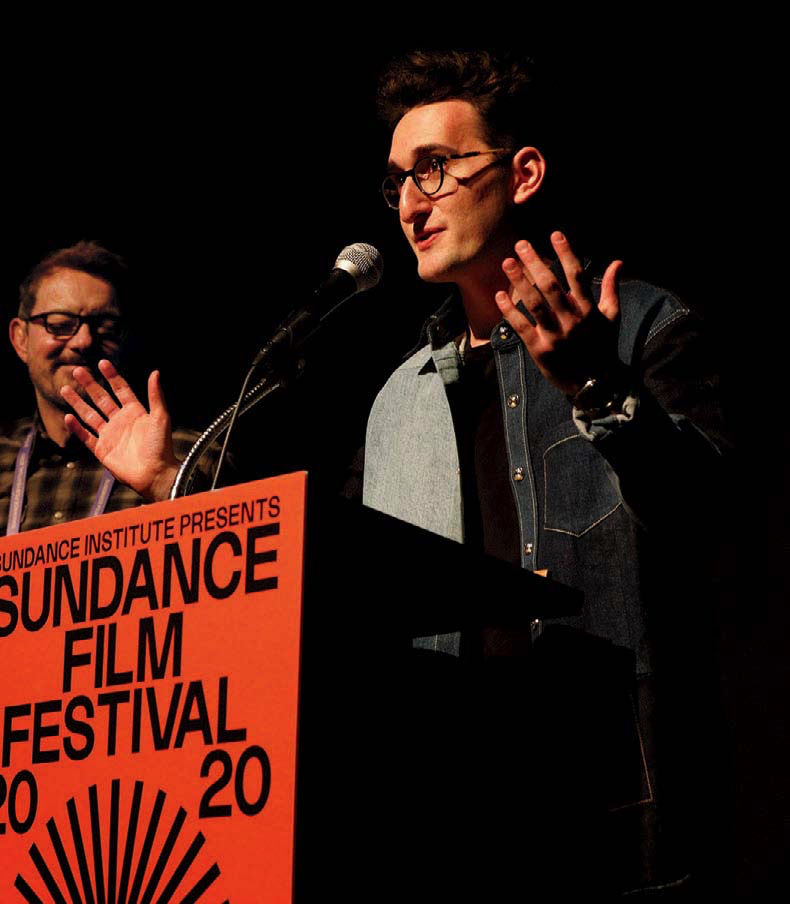 Photograph courtesy of Lance Oppenheim
That question eventually led to his documentary Some Kind of Heaven, released in January (after a Sundance Festival premiere in 2020), about a set of retirees for whom The Villages isn't paradise but paradise lost: Barbara, a widow struggling to find purpose and companionship; Dennis, a roguish vagabond living in his van and trying to gain entry to The Villages by marrying rich; and Anne, whose marriage—and patience—strain under the increasingly erratic behavior of her husband, Reggie.
It took Oppenheim a little time to get to Some Kind of Heaven, though. As a teenager, he filmed short documentaries about his grandfather contending with Alzheimer's, a struggling NFL free agent, and a vigilante animal-rescue group toeing questionable moral ground. At Harvard, he studied documentary-filmmaking in the Visual and Environmental Studies program (now the department of art, film, and visual studies) and continued building his filmography, most notably with three short works for The New York Times Op-Docs department, to which he'd been pitching ideas for years. His Op-Docs focused on different types of in-between existence: a man who has lived on cruise ships for two decades, an airport parking lot that has become home to airline employees, the emotion-laden short documentaries defense attorneys produce for clients' sentencing hearings.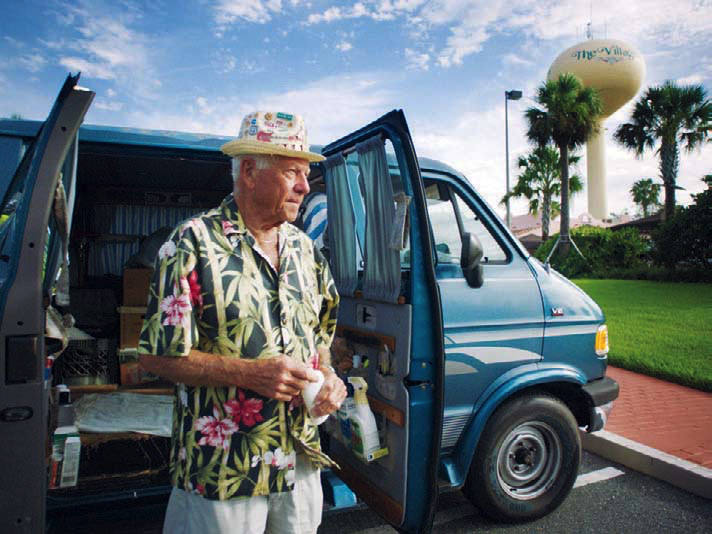 Some Kind of Heaven:
Photograph courtesy of Lance Oppenheim
Those films represented a developing interest not just in what he calls transitionary places, but also in the people in transition who find themselves at turning points in their lives: not unlike residents in The Villages, building a bridge between a life already lived and its end. So, in the summer of his junior year, Oppenheim turned his attention to the place that had fascinated him ever since he was 12. Because it's publicly accessible like any other town (anyone can visit), all he had to do was show up with a camera.
Whatever initial sense he had about issues to document—the bureaucracy of such a unique environment? how the real-estate and death industries operated?—dissipated once he began shooting. There were so many dynamics to The Villages' bureaucracy, with its 17 community development districts and countless neighborhood oversight committees, that it was unclear at first where to focus his narrative. "The whole process," he recalls, "was constantly like wandering into a room with no lights on and my flashlight was barely working."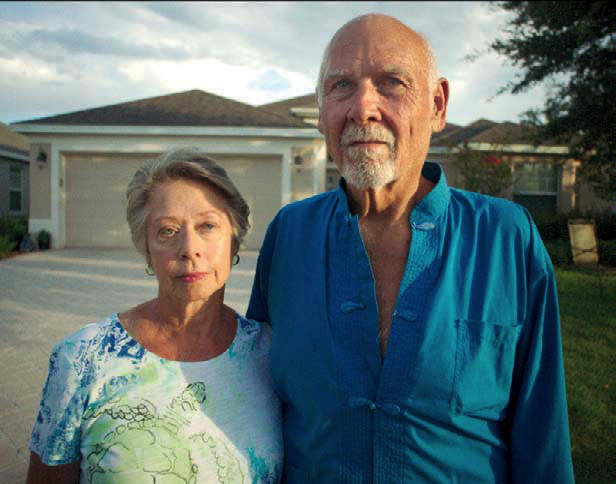 Photograph courtesy of Lance Oppenheim
But he had developed a philosophy that kept him calm amid his temporary lack of direction: his job, he believes, isn't to impose but to be receptive. "If you're going in with a preexisting idea of a place and that idea isn't challenged while you're there, then I think you're doing something wrong," he says. "It's really important when going into a story, and especially a world or a community that isn't yours, to hold onto your curiosity and your openness."
While the narrative shape of his potential film remained elusive, its look didn't. Oppenheim and cinematographer David Bolen, with whom he'd collaborated before, both wanted "a creative treatment of reality" rather than a realistic cinéma vérité approach. The result recalls the whimsical aesthetic of a Wes Anderson movie: beautifully composed shots, full of the pastel colors of retired Florida living, depicting the often surreal quality of the community's activities, like synchronized swimming, senior cheerleading, clubs dedicated only to people named Eileen, or armadas of bright golf carts puttering along the roads. Says Oppenheim, "We wanted to make the movie look and feel unlike any other documentary."
Once he settled on a few seniors as his subjects, he broke from cinéma vérité style in another way: he had to collaborate with the people in his film, he realized, not simply observe them. "The presence of a camera was so foreign to the people we were following that trying to shoot, observe, and capture little intimate details of everyday life just wasn't working," he explains. Instead, Oppenheim asked his subjects what they would be doing each day, then decided whether to follow and shoot. If he did shoot something, he'd often give direction. "It was like we were enlisting and working with our subjects as if they were performing the drama or the scenes from their everyday lives," he says. This did not compromise the authenticity of what he was trying to portray, he asserts: "We were trying to make something that felt less representational to the everyday experience of these folks, but that captured the emotional truth."
Oppenheim made several trips to The Villages throughout his senior year to continue gathering footage, treating it almost like an artistic residency: drawing on the insights of his professors and peers, and using classes to test out the shape of what he'd already edited. Eventually, the story at the center of the film began to come into view, and it reached all the way back to what he wondered when he first began thinking about The Villages. "You've bought into this fantasy, for the maybe last decade or two of your life, and you're not happy," he says. "What do you do?"
The result is the film's willingness to look past, or avoid mocking, a singular and often strange place, and instead to consider what it means for people to try to find meaning (not just pleasure) in how they spend their remaining years. "Everyone, no matter where you are in your life, has dreams and desires," Oppenheim says. "That, as a hook, to me was much more compelling than painting a portrait of 'Hey, there's a bunch of older people who have decided to live in this really strange place.'"