John Harvard's Journal | The Undergraduate
Between Harvard and St. Louis
On the day of a summer 2019 car-wash fundraiser for the R.C. Striders, a junior track team based in St. Louis, almost everyone from the 20-person squad spent more than five hours in the sweltering sun. They'd qualified for the Junior Olympics and needed funds to help get there. Usually, practice at the Normandy High School track was strenuous, not only from the physical exertion but from the ghosts: Mike Brown was once a student there. His killing by police officer Darren Wilson in 2014 ignited more than "400 days of sustained direct action," as activist Brittany Packnett Cunningham put it—the Ferguson Uprising.
Coach Camille Smith, daughter of coach Richard Curtis, in whose loving memory the team is named, brought jars of home-made pickles. Parents, friends, and elders prepared barbecued ribs, collard greens, and snow cones to sell. I was there with my camera as part of Harvard's Mindich Program in Community-Engaged Research, filming her spirit and everyone's work. In one take, her daughter, in rose-tinted heart sunglasses, lip-syncs to Beyoncé's "Before I Let Go," as she sits selling a tray full of those pickle jars.
My presence there felt both necessary and inadequate to the solid bonds they'd allowed me to record. I worried whether the moments I'd filmed conveyed their power. As I reviewed the footage on campus in the fall, something I wrote in my summer diary clearly expressed what I felt seeing them stride: "Don't chase a vision so quickly that you run ahead of its pace."
I wrote many diary entries that summer. "I've never been so anxious to write yet been at such a loss for words," begins another. Some entries ran seven pages long. I jotted trends, one on how I could better collaborate with others: "I leave my thoughts in my head…even when I should make them heard." As the rhythm of those new engagements formed, some feelings recurred with unique resonances, like being introduced for the first time to the R.C. Striders: "I'm almost scared to go to such a sensitive place with people I've only just met."
I didn't just write these things down; I shared them with my fellow undergraduates and our program coordinator, Robin McDowell, a Ph.D. candidate in African and African American Studies, every week at our debrief meetings. An idea of Robin's, they allowed us to grapple with the question foundational to the Mindich Program's collaboration with The Commonwealth Project, led by St. Louis-based rapper and revolutionary Tef Poe and Walter Johnson, Winthrop professor of history and professor of African and African American studies at Harvard—a Missouri native: "What could Harvard do that would be useful in St Louis?" Our team—Catie Barr '20, Saul Glist '22, Kale Catchings '23, and I—was the first group of Harvard undergraduates tasked with a multi-pronged effort at making knowledge mutual: to assist front-line practitioners tackling racial capitalism in the city with our skills while we learned from their know-how.
Alongside the debrief hours, taken over Crown Candy's signature sandwiches or at City Museum's labyrinthine amusement park, Robin met with each of us individually to understand what we wanted to learn. I was interested in how creative and cultural practice could be of service to communities. Catie, who became program coordinator for the internship's remote version in 2020, noted that we could make a clichéd Justice-League blockbuster from our unlikely pairing: "Take the artist, the athlete, the public-health person, and the legal-aid person—they've never met before and how do they figure it out." Not only were we different in our personal interests, but together, we looked like an Addams Family portrait: all exceedingly tall except for Robin, and each from noticeably different racial and cultural backgrounds. Introducing ourselves to people at many different points of the social-justice landscape in St. Louis, we speculated upon our versatility: whose character would align most with those sitting across from us?
Saul and Kale found a quick match at the Metropolitan St. Louis Equal Housing and Opportunity Council (EHOC), the nonprofit where we were based. It's one of a number of organizations working with residents of nearby Centreville on a class-action lawsuit over excessive flooding and sewage pollution that they've endured. Saul's sharp wit and deep interest in legal work pushed him through thousands of documents—staying on to work at EHOC through the pandemic to this day. Kale, a Harvard basketball recruit who moves with an effortless calm, became a skilled mediator in disputes between tenants and landlords at the city courthouse. Together, they successfully advocated to rename a suburban park to honor the land's original, evicted, black owner, ophthalmologist Howard Venable. Catie's speedy decisionmaking and environmental know-how eventually turned her into a kick-ass project manager on a water-testing drive in Centreville. She coordinated our group to collect samples from a town's-worth of homes and get them shipped before they expired. On those frenetic days with Saul and Robin driving to prearranged spots, Kale and I reading GIS maps, and Catie calling scientists from collaborating universities, we all leaned into the irony of our harmony, wearing yellow construction vests bearing the name of our very own fictional handyman company, "Commonwealth & Sons." [To learn more about the local issues addressed, see "From Lewis and Clark to Michael Brown," May-June 2020, page 33, about Walter Johnson's new history of St. Louis.]
Developing and sustaining relationships within our own team helped us forge new ones with political and cultural organizers from across the city. I learned a lot from their golden insights that demanded we attend to the complex responsibilities of our work. Like the director of the Griot Museum, Lois Conley, who sought to build an archive of the continuing Black HIV/AIDS epidemic that would "collect and present our histories, but not leave them so visible as to be vulnerable to capture" by people seeking to profit from them. Or Jamala Rogers, leader of the Organization for Black Struggle, who made us consider how community organizing could support the class-action lawsuit. We talked with her and her partner, Percy Green, for more than three hours. Green, the former leader of Action Council to Improve Opportunities for Negroes (A.C.T.I.O.N.), who in 1964 climbed the then-unfinished St. Louis Arch to protest unfair wages, spelled out why our work mattered in a deeply sincere email that Robin printed for each of us: "after all, who determines 'worthy of life' is in the eyes of the beholders. (Smile)"
These ethical questions provoked Catie and me the most. University actors had long benefited from the catastrophes shaped by urban planning in St. Louis. Before the Pruitt-Igoe housing project was razed in 1972, researchers became a parasitic symptom of its high rates of crime and poverty: in his history of St. Louis, The Broken Heart of America, Johnson writes that, "by the late 60s, there were more sociologists working in Pruitt-Igoe than dedicated maintenance workers." One of those sociologists was Joyce Ladner, a black scholar who sought to decolonize social-science methodologies by presenting those 33 tower blocks through the eyes of the young black women who lived there. I absorbed these overlapping stories; from a tour of that mostly empty 57-acre site by local historian Mark Loehrer, from Johnson's book, and from articles that demanded I stop presenting oppression-stricken people and places as damaged. Traveling past the lush greenery of St. Louis's Forest Park on our way to the algae-infested standing water in Centreville, I wondered whether our short-term intervention in the present catastrophe could overcome the limitations that threatened to turn it into just another report-writing exercise.
I perceived my challenges as multiple. I felt conflicted not only about my outsider position, but also by my assigned task: legal intake interviews categorizing the monetary and health costs of the flooding. I saw a gulf between what the law and its codes presumed about the residents with whom we worked: how their compensation depended only on how they'd been wronged, rather than showing how resiliently they'd acted. Centreville resident Walter Byrd, for example, had used his sailboat to fish people out of their homes when the sewage-laced flood waters rose too high. Eventually, I grew so concerned that we weren't highlighting the decades-strong ties Byrd and his neighbors had developed that I ended up refusing to do what was necessary, the legal intake, because doing that task felt inadequate to the situation.
I forgot that I wasn't alone. An arrogance cropped up: thinking only I felt as concerned about these issues, that only I had the answer. It's a problem that persists within all salvific responses to injustice: my knowledge couldn't, and wouldn't, "save them." In focusing on myself, I forgot the collective response we sought to build.
Tef instructed me with some wisdom: we were there to learn from where our partnerships led us, and we needed to humble our skills to that task. My awareness of a place, its people, and their complexities deepened, but tying them all together changed my mindset, to value an education aspiring toward a "we."
During a public meeting held online in March to support Centreville Citizens for Change's campaign, Walter Byrd powerfully framed his reasons for not wanting to leave: "You'd be giving up friendship." Despite the difficulties of finding financial support for the multifaceted civic and legal intervention, his commitment to his neighbors' survival undergirds that of everybody involved, including the environmental-justice nonprofits, lawyers Nicole Nelson and Kalila Jackson, and now, too, the Mindich Program's collaboration with Commonwealth Project.
The summer program's third iteration will take place in St. Louis this year, continuing its redefinition of our role as university actors—as Professor Johnson noted, the "difference between [asking] 'What do I have to give?' and listening to someone say, 'Here's what we need.'" In the wake of 2020's uprisings for racial justice, these experiences inspired Flavia Pérea, director of the Mindich Program, and me to set up the "Just Inquiry Initiative," a nine-month virtual program supporting undergraduate student teams interested in doing similar coalition and collaborative work, led by communities in struggle. We saw that the many inequities that the COVID-19 pandemic has amplified were those that students seemed most excited about tackling.
To my own filmmaking practice and the first cohort of teams funded this January, I address questions that support collaboration: How do we develop relationships in which we can examine oppressions and challenge them? What enables and constrains our abilities to do both? What gets built when we find each other anew? The way that our advisers, partners, and peers remain committed to our team's personal and scholarly growth manifests the kind of pedagogy I learn from and seek to practice. One that leaves no one behind. Love.
It's how I came to understand the track-team coaches' stewardship of their athletes.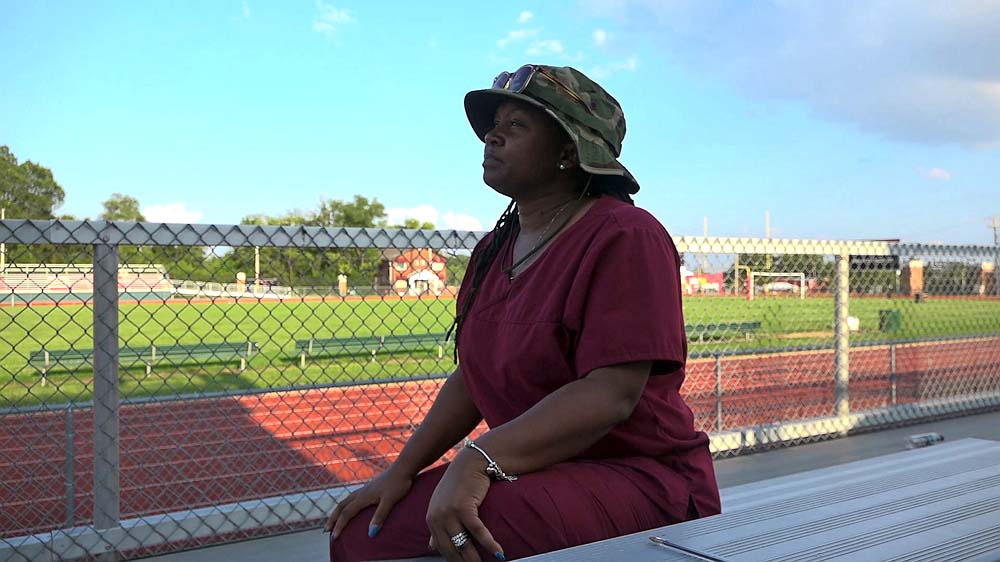 Photograph courtesy of Che R. Applewhaite
Coach Camille started her pickle business after a St. Louis police officer shot and killed her eldest son, Davion Henderson, in 2017. At first, the family challenged the police version of events with a lawsuit. But Smith realized that none of its outcomes would allow her to heal or help the young athletes, living in nearby neighborhoods, feel safe. She decided to make her own justice, refusing to leave her son's memory behind: "I didn't take a break after my son was murdered, I came back out, 'cause I was committed to the track, to the children. I remember praying and asking God…would it ease my pain if I was able to give?…Would He allow that to be an opportunity for my son to breathe through me? Everything that I wanted for him, the vision that I wanted for him, I wanted that much more to give it to the children. So, my fight and my motivation got greater."
She showed me that how our student team sought to learn was in no way new, although we moved with a different rhythm than her team running on the red rubber. One night toward the end of that summer, she drove me across the Delmar Divide back to our student housing, telling stories of the places we passed. The wealth gap that segregation created between white and black people living on opposite sides of that boulevard made me realize our effort, much like the city, saw many truths and challenges. Being attentive to them all was difficult, because they were contradictory and enveloping like the relationships that formed them—unraveling different lines from the tight, heavy knots that prevent black people in St. Louis from living more liberated lives. The people we met revealed a collaborative vision of leadership that roots "learning" in what we do with others. Leaving no one behind, we change the process, and as a result, change our minds.