Harvard Squared | Curiosities
Boston's Cycleboat Cruises
Enjoying inner harbor views and history
Sipping their canned tequila cocktails, two young women who'd hopped aboard the Cycleboat Boston cruise gamely pedaled away from Charlestown's Pier 6. A briny breeze kicked up. Along with four other riders, including a just-married couple, they were out for an evening on the water. The boat seats 12 pedalers, but a motor does pick up when riders opt out. This usually happens, Cycleboat Boston co-owner Ed Cardinali notes with a smile, about 10 minutes into the 90-minute tour of Boston's inner harbor.
The refreshing trip offers a novel perspective on the city and its landmarks. Gliding by the Seaport District, Cardinali points out the Institute of Contemporary Art, with its cantilevered gallery overlooking the water. There are working trawlers at Fish Pier, and happy strollers along the Boston Harborwalk, the nearly continuous 43-mile route skirting the city's shoreline. The cycleboat passengers, meanwhile, have plugged in their own tunes on board, and are swaying, singing, and waving to those on shore, the young women more enthusiastically, as the trip progresses. At the wheel, hitting a maximum five knots, is Captain Cory Vetrano, a former marine biologist who's always worked on the water. "It's good to see the commercial life of the harbor coming back after COVID," he remarks, before dipping into Fort Point Channel, by the museum that commemorates the Boston Tea Party, and rolling under an old iron bridge and bridge-keeper's home, relics of the harbor's previous lives.
Turning back toward Charlestown, the tour chugs by Christopher Columbus Waterfront Park, Long Wharf, and the New England Aquarium—a vibrant hub on a summer weekend—and then around the North End—with a glimpse of Old North Church. Onward to the Charlestown Naval Shipyard Park, where the docked USS Cassin Young looms into view.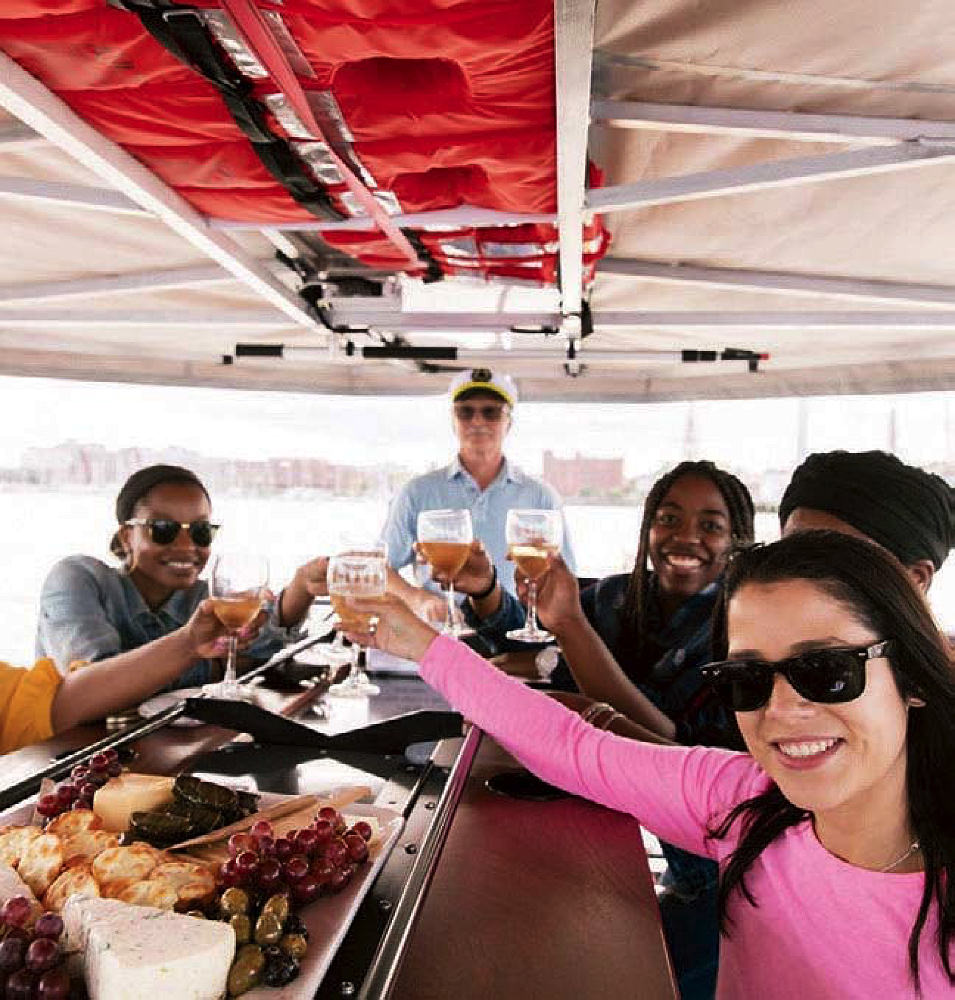 Photograph courtesy of Cycleboat Boston. 
The restored 1943 destroyer survived seven Pacific Theater battles, including two kamikaze attacks, Cardinali points out. Ships like it, he adds, were once built and repaired in the shipyard where, at peak production, more than 50,000 people were employed during World War II. Now the destroyer, along with the adjacent USS Constitution (and the museum honoring the three-masted naval frigate built in 1797) are part of the Boston National Historical Park. As the boat enters the yard's original dry dock, Cardinali explains how the extant pump house lowered and raised hundreds of vessels. An adjacent brick structure, a former military factory, has been repurposed as The Anchor, a wine and beer garden with a lively outdoor gathering place for concerts and events. That's where Kathleen O'Connor and Cara Bongiorni, now finishing the last of their six-pack, were when the earlier Cycleboat tour chugged by, and, inspired, they reserved seats on the next cruise.
The cycleboat pulls into Pier 6, the end of the trip. "There's no reason this should be so much fun!" O'Connor says of the deceptively simple outing. "This is the most fun I've had in a long time," Bongiorni agrees. "It's great to be out here, on the water." She does a little jubilant dance, laughing, and feeling free. Captain Vetrano wishes them well as they debark. "Some people are here to hang out on the boat, to blow off steam; some are interested in the history of the harbor and Boston, the Naval Yard," he says. "I do kind of tell the same jokes and stories every time, but it's with great people who are having a good time—and you neverget tired of the harbor and these views."