John Harvard's Journal
The 2021 Honorands
An honorable tradition resumes, virtually.
Four women and three men (including last year's guest speaker, Martin Baron) received honorary degrees during the graduation program on May 27. University provost Alan M. Garber introduced the honorands as video highlights of their careers streamed, and President Lawrence S. Bacow read the citations. Read more about each at harvardmag.com/honorands-21.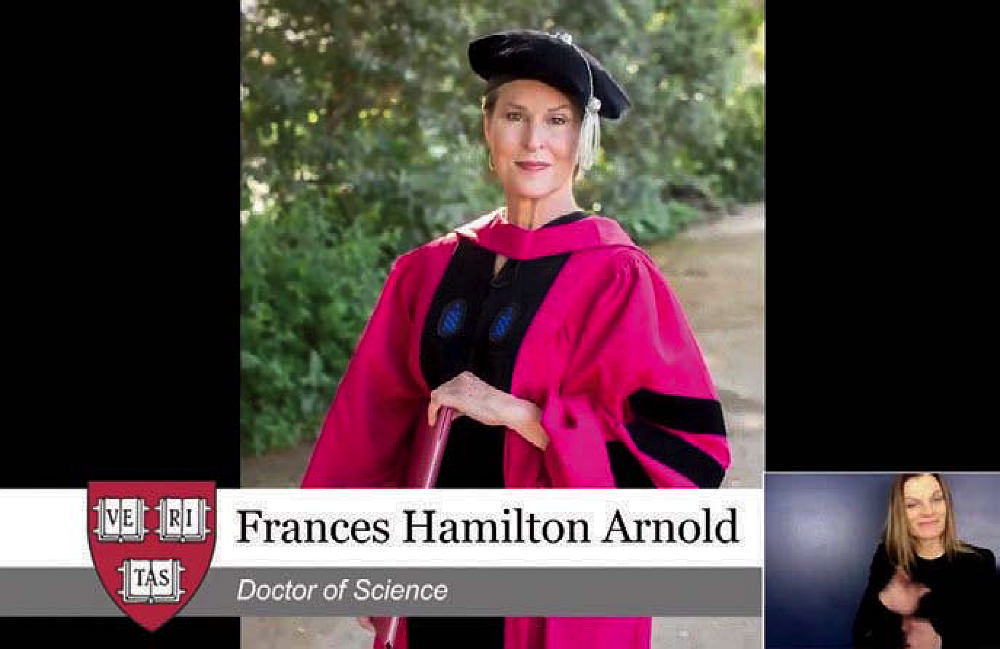 Screenshot by 
Harvard Magazine
Frances H. Arnold, Linus Pauling professor of chemical engineering, bioengineering, and biochemistry at the California Institute of Technology, co-winner of the 2018 Nobel Prize in Chemistry. Doctor of Science. Evolving enzymes with neoteric techniques, enabling applications in farming, fuels, and pharma, an adroit doyenne of designer proteins who makes it easier being green.
Martin Baron, retired as executive editor of The Washington Post, with prior service at The Boston Globe, The New York Times, Los Angeles Times, and Miami Herald. Doctor of Laws. A formidable fiduciary of America's fourth estate; as a herald of light and a bearer of truth, he has deftly kept us posted on the times around the globe.
Arlie R. Hochschild, professor of sociology emerita at the University of California, Berkeley. Doctor of Laws. Crossing chasms in outlook with empathy her springboard, probing the interplay of feelings and relations, she has reckoned the wages of emotional labor and sought to discern where the right sees wrongs.
Salman Khan, M.B.A. '03, founder of the nonprofit Khan Academy, a free, online, self-paced education platform. Doctor of Laws. An avid avatar of active learning who kindles curiosity in countless students; a virtual virtuoso whose salmagundi of videos opens pedagogic pathways for people worldwide.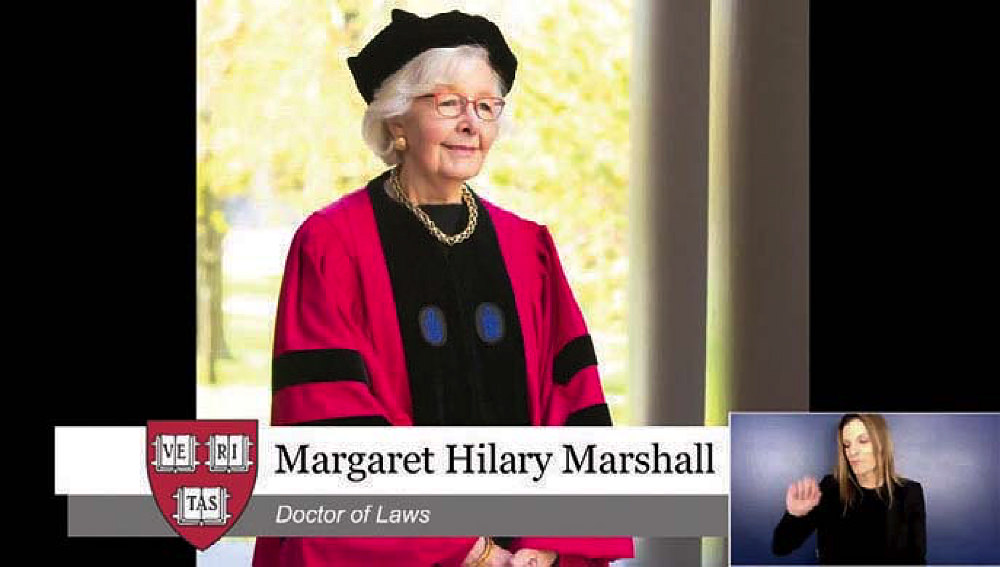 Screenshot by 
Harvard Magazine 
Margaret H. Marshall, Ed.M. '69, Ed '77, L '78, former University general counsel, chief justice of the Massachusetts Supreme Judicial Court, and senior trustee of Yale. Doctor of Laws. An ardent advocate against apartheid; an eminent exponent of equality under law; in serving venerable institutions, a venerated leader; in striving for justice, a chief marshal supreme.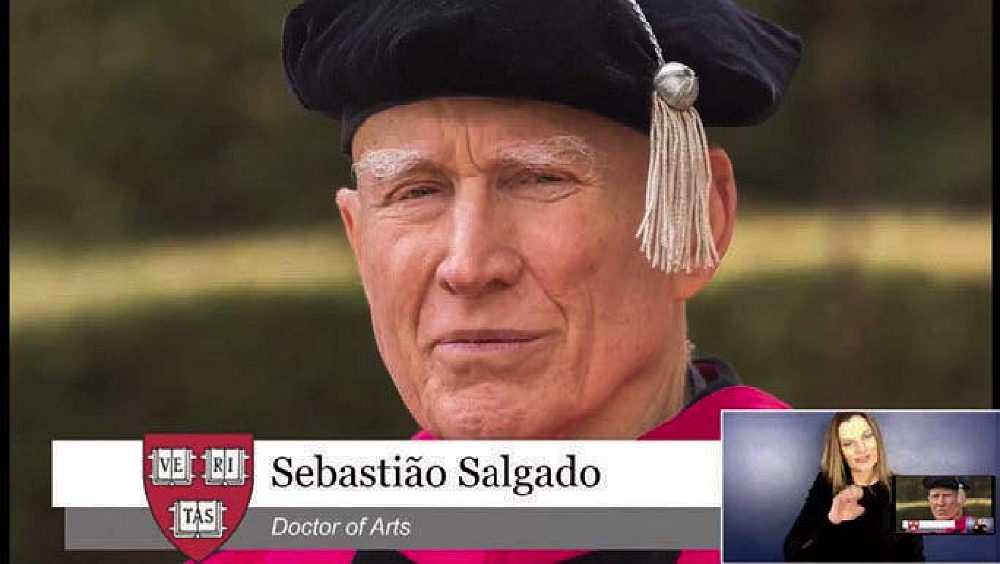 Screenshot by 
Harvard Magazine 
Sebastião Salgado, photojournalist and documentary photographer. Doctor of Arts. With sublime images of poignant power, with profound devotion to human dignity, with concern for the precarity of a fragile planet, he frames spellbinding stories of life on Earth.
Anna Deavere Smith, RI '92, a dramatist and actress, renowned for her one-woman shows documenting ordinary American lives through original dramas. Doctor of Arts. Stirring our conscience with artful acumen, a portraitist whose palette evokes many hues and shades; immersing herself in the lives of others, she holds up a mirror to what fires human nature.