John Harvard's Journal
Brevia
New personnel chief, Supreme Court appeal, Yale aims for zero greenhouse-gas emissions, and more
HR Head
Manuel Cuevas-Trisán began his service as Harvard's vice president for human resources on August 2. He succeeds Marilyn Hausammann—the first person appointed to the newly created position in 2004—who retired in May. Cuevas-Trisán had been vice president and chief human resource officer at Northwestern since 2019, following a career practicing law in the public and private sectors, and 21 years at Motorola, where he focused on employment law and related issues before becoming chief human resources officer in 2015.
Roland Fryer's Return
Professor Roland G. Fryer Jr. has been permitted to resume teaching after an administrative leave imposed in 2019 following findings that he had violated the Faculty of Arts and Sciences' sexual harassment and professional conduct policies (see harvardmag.com/fryer-19). Dean of social science Lawrence D. Bobo informed the economics department on July 1, noting that Fryer had undergone training on "setting boundaries in an academic setting," and that he will not hold supervisory or advising roles during the next two years. In an accompanying note, Fryer apologized for his past conduct, "which brought shame on the department and disrepute on me personally," apologized "to all that I have affected, including the complainants," and signed his message, "Humbly, Roland."
SCOTUS on SFFA
As Students for Fair Admissions pursues its thus far unsuccessful litigation alleging that the College discriminates against Asian American applicants (and its broader challenge to the use of affirmative action in holistic admissions processes), the next step is up to the Supreme Court of the United States. It was expected to decide in June whether to hear SFFA's appeal (see News Briefs, July-August, page 23). Instead, the court deferred, asking the acting solicitor general to file a brief on the case. Those views, when presented sometime this fall, are likely to favor the University's position: the Biden administration has reversed its predecessor's support for lawsuits challenging affirmative action in admissions.
Green Goals
Upping the ante on strides toward greenhouse-gas-free operations, Yale in June announced plans to achieve campus net-zero carbon emissions by 2035 (Harvard's goal by 2050). Having exceeded its 2005 goal of reducing GHG emissions 43 percent by 2020—despite the growth in its facilities and population—Yale now intends to achieve at least a 50 percent reduction from the 2005 level by 2035, and to purchase verifiable offsets to achieve net-zero carbon emissions. By 2050, it plans to achieve zero actual carbon emissions (without purchasing offsets).…Implementing its new ethical investing principles, Yale also announced an initial list of fossil-fuel companies ineligible for investment by its endowment. Although the major international oil companies are not on the list, it does include producers such as China Energy Development Holdings Limited, Marathon Oil, and Imperial Oil and Suncor Energy (which synthesize petroleum from Canada's oil sands, an especially GHG-intensive process).
On Other Campuses
Amy Gutmann '71,Ph.D. '76, president of the University of Pennsylvania since 2004, had announced plans to conclude her service next June 30. Her timetable may be accelerated: President Joseph R. Biden has nominated her to serve as U.S. ambassador to the Federal Republic of Germany.…Less than a year after Harvard decided to limit the number of petition candidates who can be elected and serve on the Board of Overseers at any one time to six (see "Overseers' Overhaul," November-December 2020, page 23), Yale ended the practice of allowing petition candidates to seek nomination and election to its Board of Trustees. (The trustees are equivalent to the fellows of Harvard's Corporation, the University's fiduciary governing board, which has no provision for external nominations or elections of members. Yale's "alumni fellows," six of 16 volunteer trustees, are elected by alumni; that balloting mechanism will continue.) A petition candidate was defeated by an alumni committee nominee in Yale's election this spring. Three petition candidacies were pending for the 2022 voting, including a Yale Forward divestment advocate—an effort parallel to the Harvard Forward petition campaign that has elected four Overseers during the past two years.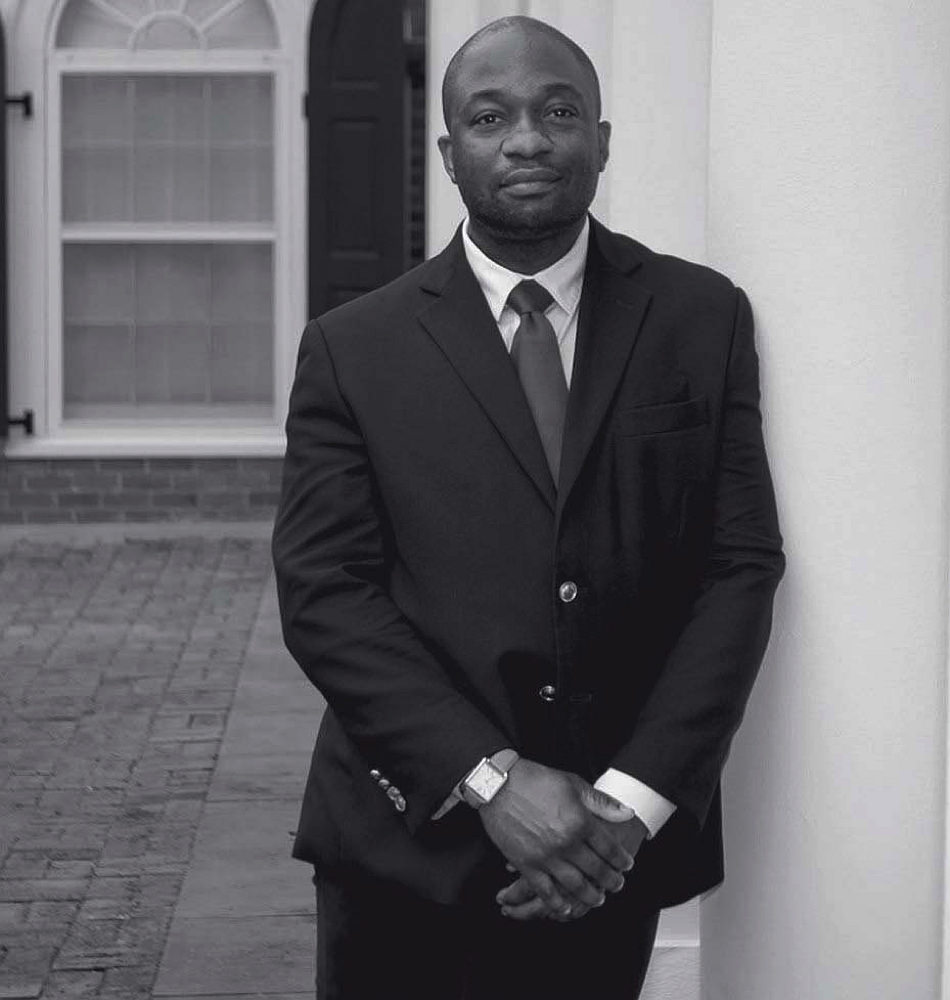 Photograph by Jeneene Chatowsky
Americana expert
Horace D. Ballard has been appointed Stebbins associate curator of American art; he begins service at the Harvard Art Museums on September 1. Ballard has been on the Williams College Museum of Art staff since 2017; see harvardmag.com/new-curator-21 for further details.
Pedagogical Prospects
Although the task force on the future of teaching and learning (after the forced pandemic experience with remote and hybrid instruction) had not yet issued its report as this issue went to press (see "The Future of Teaching," July-August, page 18), its members and their work are now known. Graduate School of Education dean Bridget Terry Long, whose faculty has just launched its first all-online master's degree program, leads a group on blended (in-person and virtual) education, the Harvard Gazette reports. Vice provost for advances in learning Bharat Anand, who chairs the effort, leads a group examining short-form digital content (i.e., for less than full-term courses). And former Faculty of Arts and Sciences dean Michael D. Smith's group is looking at ways to engage audiences around the globe. Other members come from across the schools, the Division of Continuing Education, and the University libraries.
Donations of Note
Philanthropic support for higher education continues apace, with some especially notable recent gifts: Carnegie Mellon received $150 million from the Richard King Mellon Foundation toward a new science building and for research on robotics and advanced materials.…The University of Oregon recorded a second $500-million gift from Penny and Phil Knight (co-founder of Nike) to expand its bioengineering campus, associated faculty, and master's degree programs.…Western Michigan University received an anonymous $550-million gift from an alumnus—apparently the largest ever made to a public university, and more than WMU's current endowment. Some $300 million will support the medical school, with the other funds earmarked for financial aid, faculty hiring, and ($50 million) athletics.…And Yale announced a $150-million naming gift from entertainment executive David Geffen, which will enable its drama school to become tuition-free, joining its school of music.
Nota Bene
IT chief. Klara Jelinkova has been appointed vice president and chief information officer, effective September 13, succeeding Anne Margulies, who assumed the position in 2010 and retired in May. She had been vice president for international operations and IT at Rice University.
FAS finances. Faculty of Arts and Sciences dean Claudine Gay in June announced the appointment of Scott A. Jordan, M.P.A. '99, as dean for administration and finance, effective August 9. He succeeds Leslie A. Kirwan, who retired. Jordan had two decades of experience in senior finance roles for the Commonwealth of Massachusetts before becoming executive vice president for administration and chief financial officer of the University of Connecticut in early 2015.
Allston exit. Thomas P. Glynn, chief executive of Harvard Allston Land Company since 2018, has retired from that post. As the leader of the University's commercial campus across Western Avenue from the Business School, Glynn oversaw the selection of Tishman Speyer as development partner for the initial 14-acre parcel, expanded plans for which now encompass nearly two million square feet of facilities: office/lab buildings, apartment towers, a hotel, and a University conference center (see News Briefs, May-June, page 24). Glynn will continue to teach at the Harvard Kennedy School.
 Simons scholars. The Simons Foundation, which underwrites basic research by outstanding theoretical scientists—including initial $100,000 grants annually for five years, plus support for staff and institutional overhead—has named two Harvard faculty members Simons Investigators: Eugene Demler, professor of physics, for work on quantum systems; and L. Mahadevan, Valpine professor of applied mathematics, of organismic and evolutionary biology, and of physics,for theoretical physics as applied in life sciences. He was profiled in "The Physics of the Familiar," the March-April 2008 cover story.
Miscellany. Megan Sniffin-Marinoff, University archivist since 2004, retired in May (see Harvard Portrait, January-February 2018, page 16).… Emanuel (Manny) Contomanolis, formerly Northeastern University's senior associate vice president, employer engagement and career design, has been appointed director of the Office of Career Services, which helps students find summer positions and post-graduation jobs. He succeeds Robin Mount, Ed.M. '79 Ed.D. '94....Natalie Colbert, M.P.P. '08, a former Central Intelligence Agency analyst and manager, has been appointed executive director of the Harvard Kennedy School's Belfer Center for Science and International Affairs.…U.S. Senator Tom Cotton '99, J.D. '02 (R-Arkansas), introduced the Ivory Tower Tax Act, which would "impose a 1 percent tax on the fair market value of private colleges' endowments worth more than $2.5 billion and $500,000 per full-time enrolled student. It would only apply to colleges that don't have a religious mission and that have more than 500 full-time students," according to Inside Higher Education. The proceeds would support apprenticeship programs.…As a pandemic precaution, undergraduates will again have to do without an in-person "shopping week" to choose classes; a remote set of "course presentations" will be available, as the Faculty of Arts and Sciences continues to work on a course selection and registration process that would preserve student choice while rationalizing assignment of classrooms and teaching assistants (see harvardmag.com/shopping-wk-19).