John Harvard's Journal | Sports
Harvard Football's Star Punter Makes History
Jon Sot "flips the field" and the Crimson excel early.
Before the Harvard football team opened its 2021 season—its 147th— on September 18 against Georgetown with a 44-9 victory, the Crimson's most decorated returnee, Jon Sot '22, manned a position not generally in the spotlight during this era of high-flying offenses: punter. First-team All-Ivy in 2018 and '19 (the '20 season, of course, was wiped out by COVID-19), Sot this year was placed on the '21 Football Championship Subdivision Punter of the Year Preseason Watch List, one of 20 punters tabbed nationally and the lone Ivy Leaguer to be so honored.
Sot easily gets the vote of his coach, Tim Murphy, who calls him "arguably the greatest punter in Harvard history." Murphy, who is in his twenty-eighth season on the Crimson sidelines, elaborates: "His ability to flip the field"—football terminology for transferring the line of scrimmage from deep in one team's territory to deep in the other's—"is a huge asset. Jon can do it all. If you want to pin the opponent down, he can pin the opponent down. If you need a 50-yard punt, he can manage that. He's kind of like a baseball pitcher. He's got a lot of different pitches."
Two seasons ago, Murphy employed a highly unusual arrangement when it came to punting: a tandem. This stemmed from situational needs. When a team is far back in its own territory, the punter's job is to blast the ball like a long-range howitzer shell far down the field so the opponent will have farther to go to score. But if the team's offense is stalled past midfield, beyond field-goal-kicking range, the punter's job is to delicately drop a kick like a mortar shot at least inside the 20-yard line—and preferably even closer to the end zone. (The most accomplished punters can place the ball inside the five and make it bounce out of bounds—the so-called "coffin-corner kick.") While most teams are fortunate to have one good punter, Murphy could call on Sean McKeogh '21, superb on the short ones, and Sot, the so-called "big leg," for the long ones. The result: The Crimson led the Ivies in punting, with a 38.8-yard net punting average (which includes yards from returns), a huge 2.3 yards ahead of runner-up Princeton. Sot captured individual honors with a 42.3-yard average, the only Ivy punter to top 40 yards per boot.
The punting pairing was never more of a weapon than during a two-game stretch in October. In a 35-22 victory over Cornell at Harvard Stadium, the Crimson averaged 47.7 yards on seven punts. McKeogh punted four times for a 41.3-yard average, with two ending up inside the Big Red 20. Sot kicked three times for an almost surreal 56.3-yard average, also placing two inside the 20.
This proved a mere warmup for the following week, a 31-21 victory at Holy Cross (Harvard's final win in a 4-6 season). McKeogh again was stellar, dropping five of his six punts inside the Crusader 20. But Sot produced the game's bombshell. Early in the third quarter, facing fourth down, the Crimson was backed up at its own 14-yard line. The Holy Cross return man, mindful of Sot's big leg and a stiff breeze, stood at his own 31: 55 yards from the line of scrimmage—about 15 yards farther back than usual. "My foot was in the front of the end zone," recalls Sot. "The snap from our snapper, Adam West ['21], was perfect. I caught it well, I hit it, and I looked up. 'There it goes! I got it!' I thought. Then I looked at the returner"—who was gobsmacked, like everyone else at Fitton Field—"and he's looking up at the ball. I saw him turn around. The ball landed at the 23. It went 63 yards in the air. Then it rolled another 13 yards.
"When I got to the sideline, I went nuts," Sot continued. "A lot of the older guys on the team said, 'We've never seen someone be so energetic about punting.'"
Sot's 76-yard boomer, while titanic, was still 10 yards shy of the all-time Harvard record, set in 1897 against Yale by Percy Duncan Haughton, A.B. 1899, later one of the Crimson's and college football's most brilliant coaches. Haughton had the advantage of punting in an era when the football was rounder and squashier. Sot has only a nodding acquaintance with Haughton. Unlike his punting predecessor, who was tall and lanky, Sot is a compact 5'10" and 184 pounds. As with Haughton, his favorite sport is not football but baseball: Haughton was a star outfielder at Harvard and Sot was a centerfielder at Saint Joseph's High School in Metuchen, New Jersey.
"I think a lot of my power comes from baseball," says Sot. "My twitch muscles really help with that power. A lot of it is also flexibility. One thing that helps is yoga. Harvard gave out yoga mats this past spring. Being a punter, you don't have to have the strongest leg. A football only weighs so much. It's all about ball contact, flexibility, and those twitch muscles to help the ball go."
Sot assiduously works at what he describes as the "punter's craft." His main goal is to achieve "turnover"—making a booted ball both ascend and descend in a spiral. "In a perfect world, I hope to receive the snap right above my right hip," he says. "You hold the ball, thinking of a clock, and mold and tilt it so the laces are at 11 o'clock. The ball also is slightly tilted with the nose down. If you held the ball straight you might get it to spiral but you'd lose power. This way you can get as much power as you can generate and the ball will turn over perfectly." He likes to make contact "pretty much right on top of the shoelaces, right on that bone on your foot. And you want to make contact pretty much at the point in your swing that your leg locks, right before it maybe, and you just drive right up through the ball, keeping your toe pointed upward."
Sot says that when he hits a bad punt, "I can tell for the most part what went wrong. When it doesn't turn over, the ball was probably too far inside my kicking leg. Sometimes you don't point your toe enough—you leave your toe a little inflected—and that also can cause the ball to not turn over. Sometimes, when the punt doesn't go that far, I'll say, 'Oh, I toed it.'"
This season Sot will have fourth down all to himself; McKeogh, his friendly rival, has graduated. An economics concentrator, Sot admits to thoughts of a future in the NFL. For the moment, he is like a surfer seeking the perfect wave: "Perfect conditions, perfect snap, perfect catch, perfect mechanics—and watch that ball sail!"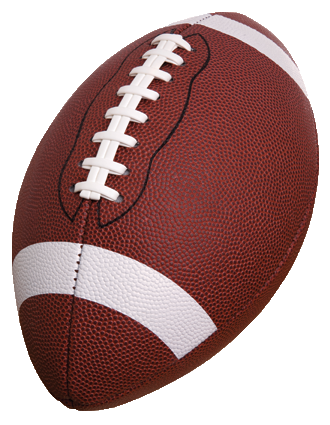 Harvard Football
Sign up for Harvard Magazine's football e-mail and follow the Crimson all season long! Dick Friedman will provide the latest news, game summaries, and insights.
In the opener against Georgetown, Sot did not need to make an appearance until there were six minutes remaining in the third quarter with Harvard leading 30-9. His first official punt in two years was a high-arcing 48-yarder that was fair-caught by the Hoyas' return man, Joshua Tomas, at Georgetown's 16-yard line. Job well done, Sot trotted off and watched as three plays later Crimson linebacker Daniel Abraham '22 ['23] picked off a pass that led to a Harvard touchdown. In a relatively stress-free demolition of the outclassed Hoyas, a new starting quarterback, Charlie Dean '23 ['24], completed 10 of 19 passes, two of which went for touchdowns and (importantly) none for interceptions. Dean's best weapon, however, was the handoff, especially to his fleet of primary running backs, Aaron Shampklin '21 ['23] (183 yards on 14 carries, two touchdowns) and Aidan Borguet '23 ['24] (85 yards on seven carries, one touchdown). Overall the Crimson outrushed Georgetown 335 yards to six.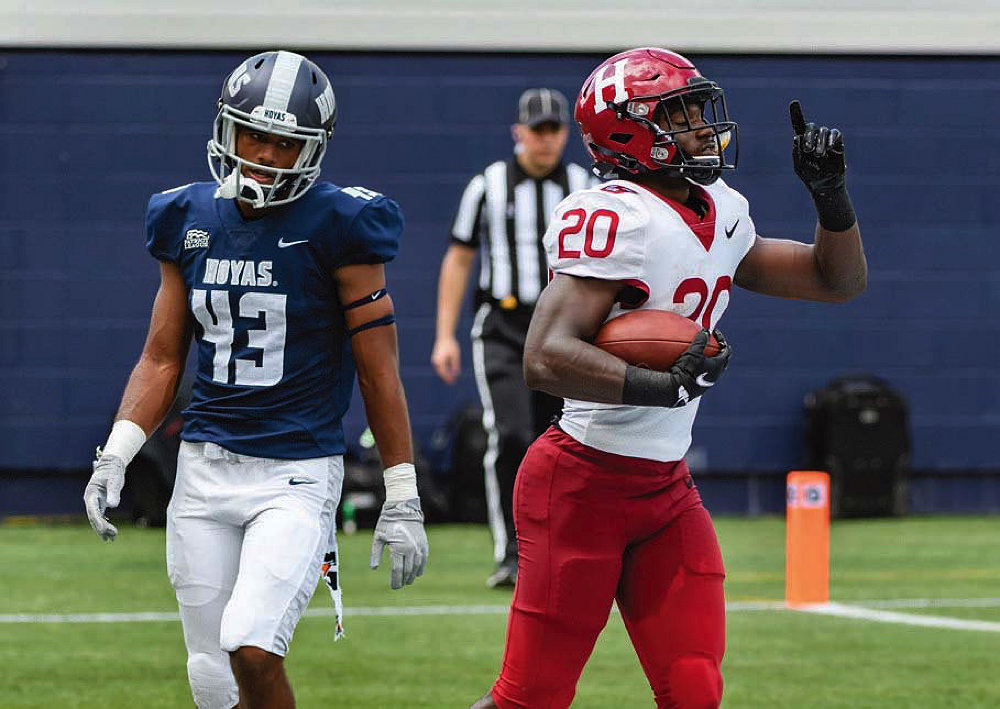 Photograph by Art Pitman/Harvard Athletics Communications
The following Friday night against Ivy rival Brown, in front of an unexpectedly large throng of 20,748 fans from both schools, Sot again proved the value of his skill. Midway through the first quarter, from the Harvard 44, he lofted a punt that bounced at the Bears' five and settled at the three before the Crimson downed the ball. Two plays later Brown fumbled and Harvard's linebacker Andrew Irwin '21 ['22] pounced on the ball at the four. On the next play, Dean made a couple of blinding fakes, then handed the ball off to Shampklin, who ran right up the gut for a touchdown. The rout was on. In the second period the opportunistic Crimson scored 35 points, tying the school record for a quarter, en route to a 49-17 laugher. Controlling the line of scrimmage, Harvard literally ran roughshod over its foe, outgaining Brown on the ground 243 yards to 14. Meantime, the defense, led by linebacker and captain Jordan Hill '20 ['22], held the Bears' heralded quarterback, E.J. Perry, in check. The victory was the 180th for Murphy at Harvard, making him the winningest coach in Ivy League history.
Tougher foes awaited, with many punts to come, some perilous. But football, mercifully, was back.
TIDBITS: State of the roster: The 2021 Crimson have 14 players from Massachusetts, 11 from Pennsylvania, 10 from New Jersey, nine each from Georgia and Florida, eight from California, seven from Texas, and six from Michigan, with 25 other states also represented….Harvard's all-time record in season openers is now 120-25-2. After the win over Brown, its mark under the lights improved to 16-2.