Springtime Antics at the Arnold Arboretum
Lesser-known plants with tricks up their sleeves (or, rather, stems)
For many visitors, springtime at Harvard's Arnold Arboretum means Lilac Sunday—a 112-year-old annual celebration on Mother's Day in honor of the delightfully fragrant, eye-catching flowers. The 281-acre landscape, which holds more than 15,000 woody-plant specimens, is home to its fair share of these springtime stars. But as the too-long winter finally ebbs, Arboretum director William "Ned" Friedman hopes people will also admire some of the less trumpeted, but equally beautiful, flora. "I'm okay with lilacs," says Friedman, Arnold professor of organismic and evolutionary biology, "but I think there's a lot more stuff here that's a lot more interesting." Nudging visitors to explore beyond the lilacs, he recently took a Harvard Magazine writer on a tour of a selection of his favorite, often unheralded, trees and shrubs in the Arboretum's collection.
A Very Tulip-Tree Reunion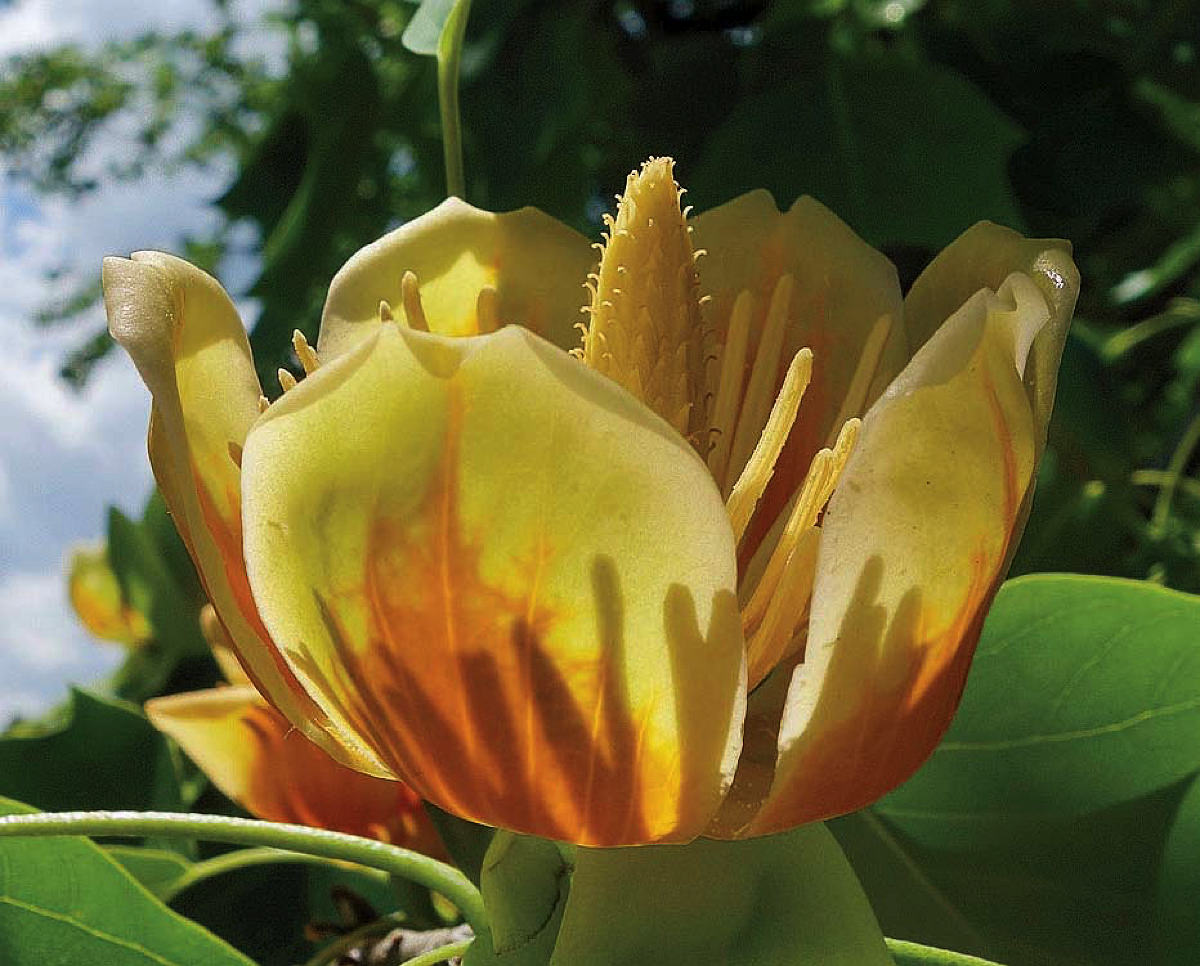 Photograph by William "Ned" Friedman/The Harvard Arnold Arboretum
Twelve million years ago in east Asia, Friedman says, one group of tulip trees began "wandering off" from the other. When water levels were low, they crossed the Bering land bridge, which once connected Asia and the Americas, and settled in what would become the eastern United States. The group that stayed in China became the Chinese tulip tree (Liriodendron chinense) and the wandering tulips became the American tulip tree (Liriodendron tulipifera). Visitors can find these two very, very old friends reunited near the Arboretum's front entrance, just past the Hunnewell building. And even after so much time and distance apart, they are still able to cross-pollinate. Their good-looking offspring, the hybrid tulip tree (Liriodendron tulipifera x chinense) is nestled between them.
Every spring, Friedman makes a point of visiting this happy trio. Although often overshadowed by the nearby magnolia trees' ever-popular starburst blooms, the tulip trees unfold as the weather warms with yellowy-green flowers roughly the size of a sand dollar. A bright orange ring runs along the base of the petals, and in the center are plentiful and prominent stamens, ranging in color from banana-yellow to cantaloupe-orange. "I just love looking at their flowers," says Friedman. "They're subtle. They're beautiful. They're big."
Horse Chestnuts and Buckeyes Play Chameleons
A bit farther down Arborway, the horse chestnuts (Aesculus hippocastanum)—giant trees whose crown of branches can stretch as wide as a semi-truck—play a springtime trick. The blooms on their spire-shape flower heads change color, from yellow to red-pink, signaling to bees which ones have already been pollinated. A yellow flower is an invitation for pollination, but because bees cannot see red, according to Friedman, a red one sends the message that it's already been pollinated, "'so, move over there, pal.'"
The small collection of buckeyes (Aesculus glabra) nearby provides a nice lesson in patience. Their leaves were already made for the year about 11 months earlier, and as spring approaches, "They're just sitting there waiting for water and warmth, and then they just blast out of there," he says, flowering in May. Their blooms look a bit like oversized, fuzzy caterpillars: long clusters of white, yellow, and pink flowers surrounded by a tufty halo of stamens. "This is one of our really special collections," he says. "I don't think enough people see them, but if you're here at the right time, it's just incredible."
Tree Peonies Fit for a King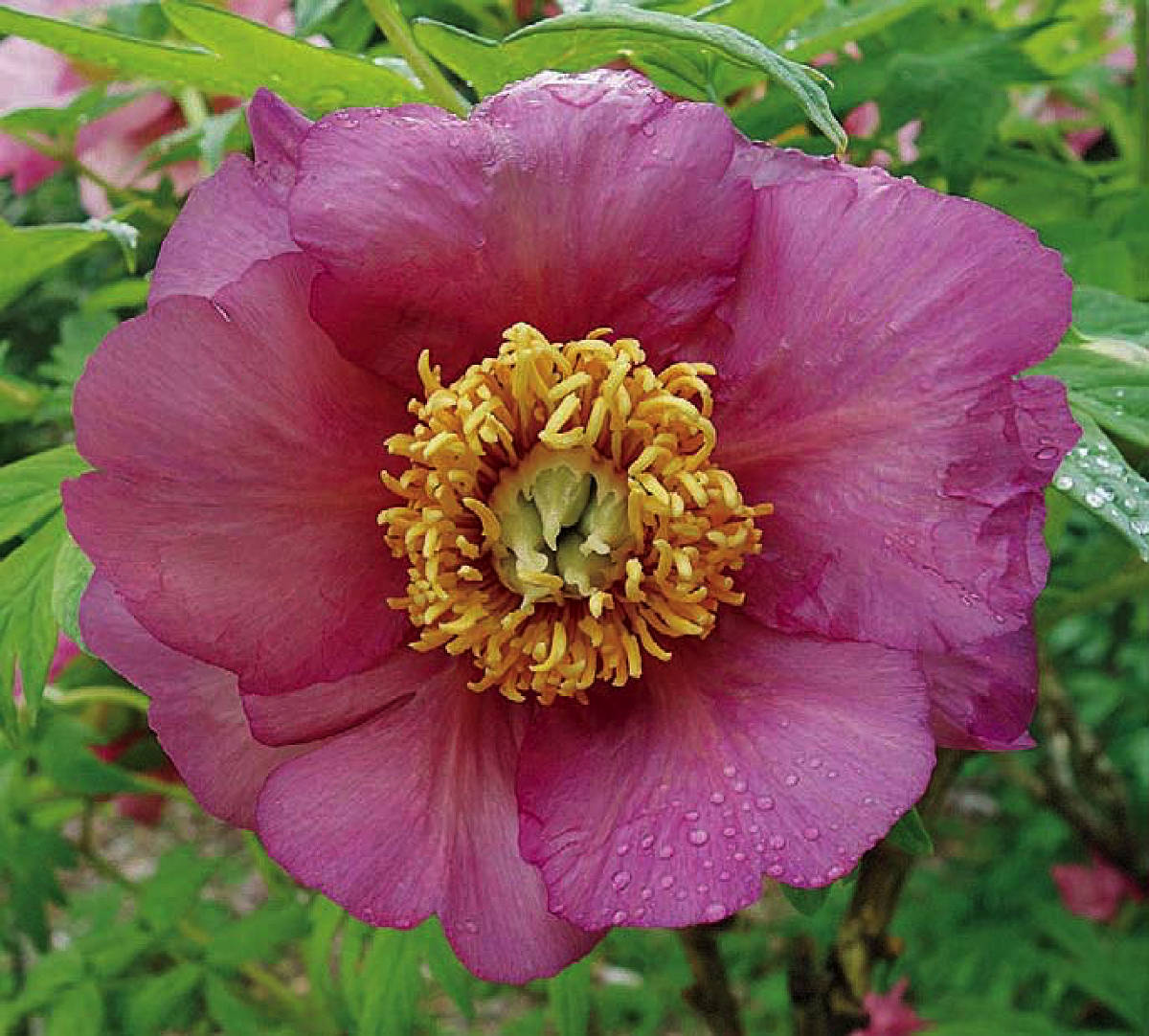 Paeonia 
Photograph by William "Ned" Friedman/The Harvard Arnold Arboretum
Small shrubs as they are, tree peonies (Paeonia sect. Moutan) produce impressive, dinner-plate-sized flowers. Their delicate petals—in reds, pink, corals, and purples—crinkle like tissue paper around a gift, which in this case is a large dollop of egg-yolk-colored pollen. Cultivated for medicinal and ornamental purposes in China for about 1,400 years and dubbed "the king of flowers" by ancient Chinese plant-lovers, these regal shrubs are found at the Arboretum, both up the road from its propagation facility and at the top of Bussey Hill in the Explorers Garden.
While admiring the collection of tree peonies near the propagation facility, visitors should look for the original 1812 farmhouse set back from the road. Though currently empty and closed to the public, it was once the home of the Arboretum's first plant propagator, Jackson Thornton Dawson, who raised and distributed 450,718 plants during his 43 years at the gardens. He was such a renowned plantsman that the first director of the Missouri Botanical Garden once said that Dawson could coax "into vigorous growth a twig found in the pocket of a shooting jacket weeks after this had been laid aside."
Quick-Changing Bigleaf Magnolia
The flowers of the bigleaf magnolia (Magnolia macrophylla) can shapeshift almost overnight, from champagne flutes to serving platters. At the opening of their two-day flowering period, the opaque, ivory-colored tepals hold a tight vertical groove and only the female reproductive organs (stigmas) are exposed. It attracts pollinators, namely bees and beetles, with a strong scent—which, depending on the tree, can smell like candy, lemon verbena, or a fine soap. The next day, the flower petals open like a palm and the male parts disperse pollen. "It's a bit of a magic trick," Friedman says, designed to avoid self-pollination.
A certain degree of carnage accompanies these beautiful blooms, however. Inside the flower, visitors may find some dead bees, as something about the trees is toxic to them. "I've been trying to figure it out chemically, but I will probably go to my grave not knowing," he says. Luckily for the reproductive health of the magnolias, however, beetles seem to be able to pollinate them just fine.
Mountain Laurels' Botanical Archery
Towering clusters of mountain laurels (Kalmia latifolia) run along Hemlock Hill Road for about the length of a football field. Part of the heath family (which includes blueberries and cranberries), their flowers are as intricate and ornate as handmade lace, every corrugated bloom stenciled with a deep, sunset pink in its center. The tip of each pollen-producing stamen is tucked inside a pouch on the petal, so as the flower opens, it's as if "You've taken a bow and arrow and you're stretching it," Friedman says. When an insect touches that arched bow, "it trips the switch, and it shoots pollen onto the insect."
Although each flower is beautiful up close, the massed plantings of blooming mountain laurels at a distance offer an oceanic swell of "just insane reds and pinks and whites" crashing against Hemlock Hill Road, he says. He invites visitors to take in this all-consuming vista, which occurs for only a few weeks, from mid-May to early-June.
Crabapples with a View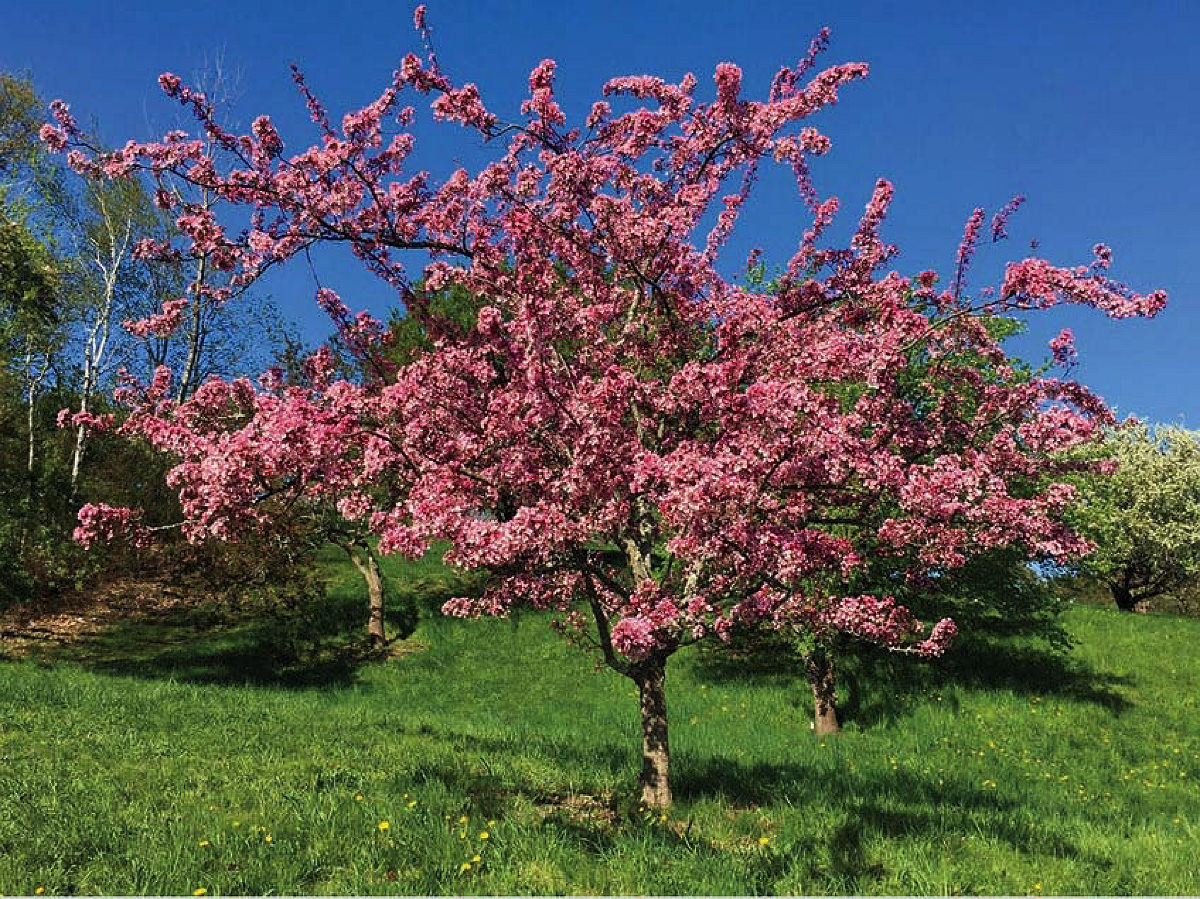 Crabapple (Malus 'Strawberry Parfait')


Photograph by William "Ned" Friedman/The Harvard Arnold Arboretum

Atop Peters Hill, with sublime views of Boston and the Blue Hills, visitors can immerse themselves in what Friedman calls a magnificent "sea of flowers." Each crabapple tree contains tens of thousands of blossoms, ranging from pure white to dusk purple. For more than a century, the Arboretum has played a crucial role in apple domestication, often serving as the horticultural testing grounds for new varieties. Overall, the process of transforming small, far-less-delicious crabapples into the larger, sweeter cultivars found today in grocery stores has taken about 6,000 years. Malus sieversii, the wild ancestor of domesticated apples, first grew on the western side of the Tian Shan mountains in central Asia, near Kazakhstan, then traveled the Silk Road to Europe, where it was hybridized with wild crabapples. In 1625, the Reverend William Blaxton, the first British colonist to settle Boston, planted North America's first apple orchard on his property.
Now, as a nod to the long, winding history of apple domestication, the Arboretum's keeper of the living collections Michael Dosmann recently planted the wild ancestor Malus sieversii next to one of its tastiest, most recently descended cultivars, Malus pumila, or the Honeycrisp.
The Spiky Honeylocusts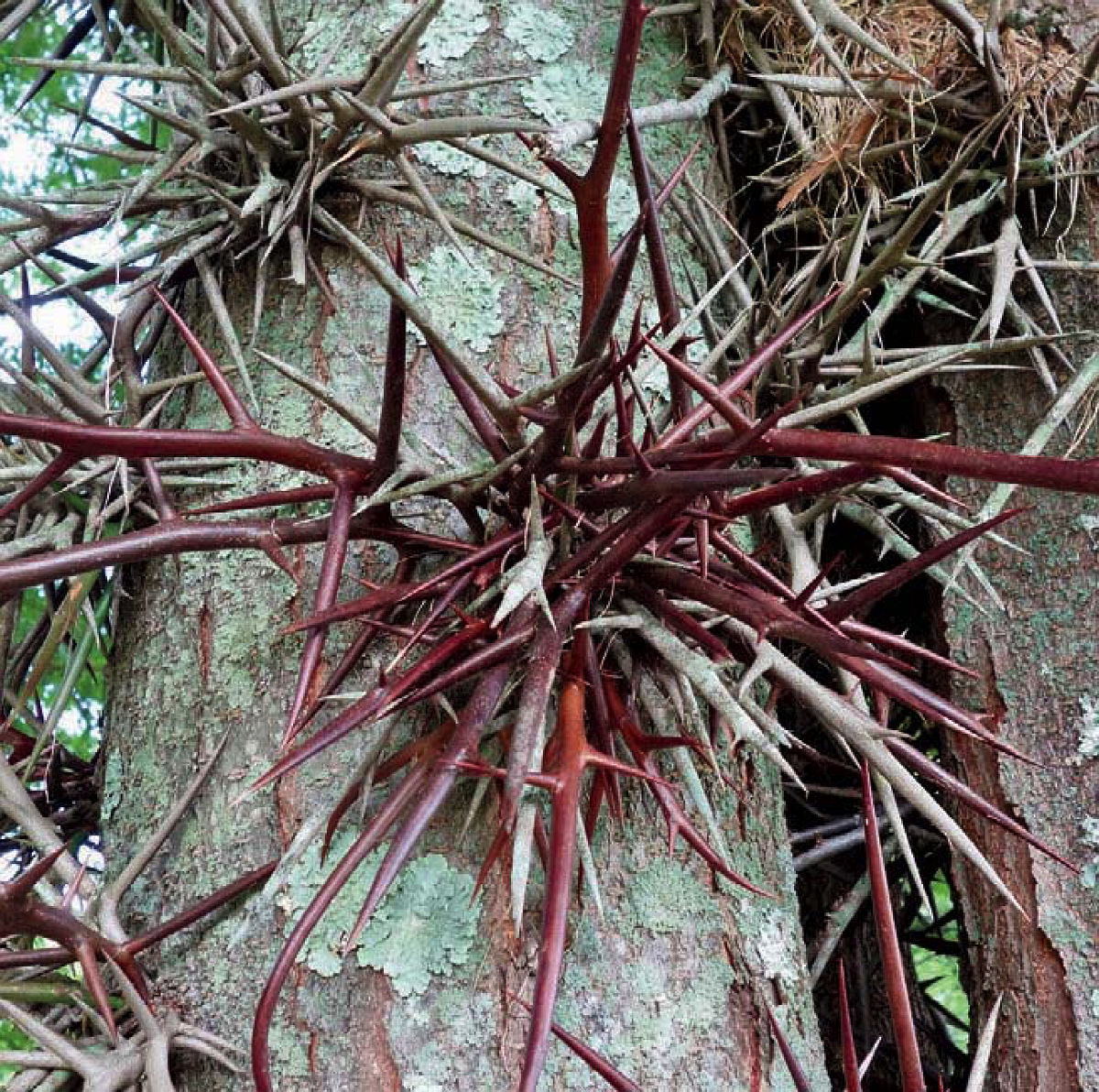 (Gleditisia triacanthos) 
Photograph by William "Ned" Friedman/The Harvard Arnold Arboretum
Just up Peters Hill from a Revolutionary War cemetery (also part of the Arboretum's grounds) are warriors of a different variety. Armed and dangerous, the trunks of the honeylocusts (Gleditsia triacanthos) have thick thorn clusters, spiky as sea urchins. Growing up to four inches, the spikes are "really sharp," cautions Friedman. "They don't want animals nibbling on them." Yet these pricky specimens are named for the sweet, gummy legume pulp in their seed pods, which can be a real treat for rabbits, deer, squirrels, and crows. Native Americans once used their pulp in medicine and food, but in the spring, they're a feast for the eyes. Amidst their thorns, fronded leaves and graceful, cream-colored flowers bloom like grapes on a vine.
Colorful Conifers
"Surprisingly, you know, not only can flowers be colorful, but so can conifers," says Friedman. Just as there is "spring flowering" for flowering plants, conifers have "spring coning," during which they reveal new, young cones in bright colors. Friedman's favorites are the Arboretum's 25 species of spruce, set back from Hemlock Hill Road. "Going in the spruces in May, walking into them and looking for these red cones—that's just the highlight of spring." He loves how the "quiet fortitude of the Norway spruce breaks stride" to put on a colorful show of yellow, pink, and crimson cones, and points visitors to the Koyama spruce (Picea koyamae) and Lijiang spruce (Picea likiangensis) for their deep blood-red ones. Spruce cones, like springtime flowers, are ephemeral. "They'll pop in the spring, coat your car with pollen, and then fall," he says. They are "the conifer equivalent of magnolias—showstoppers at peak color on a sunny day."
Mindful Meandering
Friedman urges visitors this spring to look more closely. "If you'll slow down, you can really look at an organism. Don't look at it as an extension of you, but look at it as another non-sentient organism, and ask, what kind of relationship can I have with it? Can I detect something new about it each day or each season? What is beautiful about it?" By looking closely, we can "become more empathetic to plant life," he says, and ultimately develop "respect for something other than ourselves."  
Select Springtime Events at the Arboretum
May 7: Springtime Bird Walk—a two-hour "Birding 101" tour with docent Bob Mayer, suitable for experienced and budding ornithophiles alike
May 8: 112th Lilac Sunday—bring a picnic and enjoy fragrant blossoms, strolls, children's activities, and more
June 3-July 24: "Meaningful Beauty: The Vibrant Vocabulary of Honeysuckles"—an exhibit blending artful and scientific imagery to convey ideas about plant formation and evolution
Published in the print edition of the May-June 2022 issue, under the  headline "Unsung Flowers."
You might also like
Toward another apartment complex on Harvard-owned land
Stepping down after 30 years of University service
Harvard researchers seek to empower individuals to steer their own careers.
Most popular
A new election could take place as early as next fall. 
In the Woodberry Poetry Room, a landmark audio collection waits to be heard.
Lincoln offers rich history, nature trails, local food, and art.
More to explore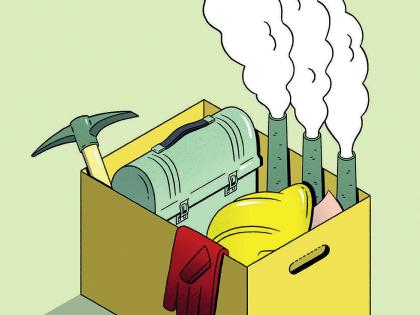 Expect massive job losses in industries associated with fossil fuels. The time to get ready is now.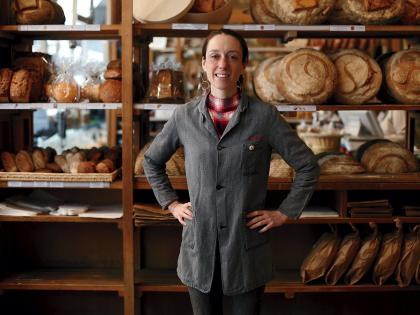 A third-generation French baker on legacy loaves and the "magic" of baking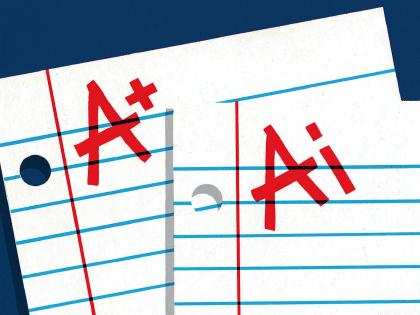 Generative AI can enhance teaching and learning but augurs a shift to oral forms of student assessment.