The Need for Communal Healing
Coming to terms with personal and pandemic grief
I have been wondering what I'm supposed to do with all my grief. It has started to feel as though it will spill out of me and onto the floor, and when it does it will make a mess that everyone will see, horrified, and must help me clean up. Most of my life, frankly, has not been very hard, which has made the events of this past year all the more incomprehensible; among other things, I caught COVID-19 during finals, I seem to have developed some form of long COVID, an ex was accused of sexual assault, my mom had a stroke, and my dad was diagnosed with cancer.
These are all things that I would not normally broadcast publicly. I've noticed that when I tell people about how I'm doing or write about my life, I usually do so in such a way that my malaise slips through but the specifics—what truly lies at the heart of the matter—do not. I suspect this is because talking about things sometimes makes them more real than you'd like them to be; avoidance feels safer. Still, concealing things clearly doesn't make them go away.
I'm writing about this now because I think it might be important for a grieving process. Since returning to campus, I've realized that I'm not the only one who's going through more than usual; at least a few of my friends are dealing with the deaths of loved ones, many are going through mental health crises, and most seem to be experiencing other, individual tragedies which were not caused by the pandemic but were certainly compounded by it. There is a notable silence around these problems. When I've learned about them, they've been shared in confidence, almost apologetically, as an explanation for why someone's been acting strangely. I've been wondering what it would be like if all of us felt able to talk about these things more freely. I think it might help. While it seems easy, hiding also carries costs. Essentially, I think that we need to make space for communal grief.
When I was 12, I went to my first shiva. My friend's grandfather, who lived minutes away from me, had suddenly died. In the following days I passed in and out of her grandmother's small living room to sit with her relatives, who occupied the room's couch and few chairs. Initially, I thought it would be awkward for me to be there—I didn't really know her grandfather, and I'm not even Jewish—but, strangely, it wasn't. I can still remember how the house smelled, like candle wax and fresh bread. I can still remember what the chatter in the room sounded like, less mournful than I'd expected. Maybe this shouldn't have been so surprising. The shiva wasn't really about my friend's grandfather; it was about my friend, and her grandmother, and the rest of their family. It was an act of acknowledgement, of love—essential to letting go.
In my own culture, mourning is also a collective activity. African American funerals are often almost celebratory; they are meant to fortify community around the living as much as they are about grieving.
It was strange, then, to realize that there would be no such mourning period at Harvard following the worst of the pandemic. When all of the undergraduates returned to campus, there was plenty of dedicated celebration, but little beyond cursory acknowledgements of what we'd all lost. I vaguely remember a resident dean or administrator calling the previous year "difficult"—implying a belief that difficult times had passed. Predictably, they had not. In a troubling sign for the student body, appointments for University-provided mental health therapy have been fully booked roughly a month out for the entire year. Students in urgent need of assistance are often left with few options; when a friend who had become so anxious that she found it difficult to leave her room called the Counseling and Mental Health Services (CAMHS) hotline in tears, an operator told her to maybe try some breathing techniques.
I don't actually know of any university which has been able to provide its students with the full support they probably need right now; indeed, on the scale of other academic institutions, Harvard is far from the worst. There's also a sense in which I don't even need the University's help right now; thanks to my father's job, I'm lucky enough to have very good health insurance which pays for mental health therapy, and I've found friends here who support me. Still, I'm luckier than many other Harvard students. Part of the reason why I'm writing this, I think, is because I know that I have it pretty good—whatever I'm going through is emblematic of a crisis that is probably more severe for others.
At the tail end of last winter's COVID surge, I was texting an on-again, off-again friend. We'd lived perhaps three miles away from each other for months but hadn't seen each other in person, and so it was a little surprising to see his name appear on my phone screen. It seemed as though he was looking for help. He had recently called the CAMHS hotline, and apparently told the operator something so concerning that the operator had called University police to come to his dorm. Later that week, the College forced him to take a leave for the rest of the semester.
That more students than ever are experiencing mental health problems is obvious; that this is connected to loss and grief may be less so.
This spring, I was dating a boy who told me, early in our relationship, that over the past year he'd become afraid of people. "I used to be like, 90 percent extrovert, 10 percent introvert," he said. "Now I'm 60 percent extrovert and 40 percent introvert." I, who have always been at least 60 percent introvert, wasn't sure what to make of this at first. Eventually, I understood: intentionally socially isolating is hard, but so is coming out of that isolation. This wasn't really an alien feeling for me—at the first party I went to after the height of the pandemic, I almost cried.
That more college students than ever are experiencing mental health problems is obvious; that this is connected to loss and grief, as I am suggesting, may be less so. Nobody knows exactly why adolescents are in such a crisis. The standard response seems to blame some combination of social media and quarantine isolation. But adolescent mental health today is worse than it was at other points with high social media usage, and social isolation has mostly ended. I'm reminded of something I was told in high school when I first started experiencing anxiety: "You're not anxious because you have an anxiety disorder. You're anxious because you're experiencing things that are justifiably making you anxious." In other words, the causes of my problems were not nebulous or internal, they were immediate and material. Perhaps, then, college students' emotional distress is simply because things were, and continue to be, difficult.
I've been thinking about what happens to one's life after tragedy. I recall an old family neighbor when we lived in Manhattan: he had worked in the Twin Towers in a corporate job for years until 9/11, a day on which he was running late for work and thus just barely missed the plane crashes which killed all of his coworkers. After that, I heard, he dedicated his life to his true passion: coaching minor league baseball.
I don't know if I've found new purpose as my old neighbor did. I got into Harvard because of an almost blinding drive that has slowly evaporated and left very little in its place. When I was a 15-year-old, I loved the book #Girlboss, a manifesto for ambitious women written by Nasty Gal founder Sophia Amoruso. Meanwhile, I've more recently resonated with The Idiot by Elif Batuman '99, a novel somewhat based on the author's own distinctly purposeless and confused first year at Harvard, and My Year of Rest and Relaxation by Ottessa Moshfegh, a novel about a disaffected young woman who quits her job and drugs herself into a semi-sleep for an entire year.
I'm not exactly apathetic or lazy—I still do quite a lot of work, and I still find things that I'm passionate about—but my disposition toward it all has changed. The space in my mind where I used to hold concrete goals, a motivating schema, is now blank. The things that used to matter to me now don't.
Perhaps this has to do with how, as a society, we respond differently to events of mass death. 9/11 was a national tragedy, ushering in national mourning and then national retribution. COVID, meanwhile, has set off chains of countless individual tragedies. In this scenario, there are very few people to blame, nobody to atone for their wrongs. The very acknowledgment of loss during COVID is probably made more difficult by the ways in which many would prefer to act as though the pandemic is over (it's not). I wonder if the blurriness of this boundary, the uncertainty about when it's all going to be over, is also contributing. It's difficult to move on because everything is still happening.
At the beginning of the spring semester, I received an email message: there was going to be a multi-day meditation retreat for Harvard students in Western Massachusetts in the middle of April, the cost almost fully subsidized by an anonymous donor. Would I like to come? I signed up.
As the date approached, I felt more exhausted than I'd anticipated. Everything seemed like an effort, few things gave me satisfaction. In the days before the retreat, I (gleefully) informed various publications and extracurriculars I'm a member of that they shouldn't expect any work from me that weekend; in fact, since electronics wouldn't be allowed on the retreat, they probably shouldn't even try to contact me. I shut down my phone and left my laptop in a corner of my room, feeling oddly relieved.
Those few days of retreat ended up being a moment of healing, from the semester and the past two years. We meditated and talked in small groups, and we were also given lots of time by ourselves to simply be with ourselves, in silence, reflecting. I don't think I'd realized how little time I had like that at school, or at any other point in my life, until it was given to me that weekend. Indeed, it was a space that I clearly needed; by the end of the retreat, I'd come away with a lot of realizations about why I felt such constant dissatisfaction. A lot of these insights, in retrospect, seem fairly obvious: I was making myself do things I didn't want to do, I wasn't spending enough time with my friends, I wasn't setting aside sufficient time to take care of myself. And yet, they felt profound.
When I think about what communal grieving might look like, I imagine something similar, or at least inspired by, this retreat. I would want the University to expand access to mental health services, of course. But I would also want Harvard to create spaces where we can talk to each other—students, professors, and other staff—about all that's happened to us. I would want it to dedicate time for us to reflect, and to offer each other communal support. Essentially, I would want it to acknowledge our grief, and to make space for all of the attendant complications that come with it.
Published in the print edition of the July-August 2022 issue (Volume 124, Number 6), under the headline "Communal Healing."
Berta Greenwald Ledecky Undergraduate Fellow Rebecca E. J. Cadenhead '24 is focusing on resting, meditating, and researching her senior thesis.
For reporting about mental health challenges facing children and young adults, see "No Going Back to Normal" by Jacob Sweet.
You might also like
The Crimson springs a major upset.
Harvard officially installs Claudine Gay, its thirtieth leader.
A half-dozen symposiums feature Harvard research on AI, climate change, inequality, and more
Most popular
A profile of Harvard's thirtieth president
Life decisions en route to Massachusetts Hall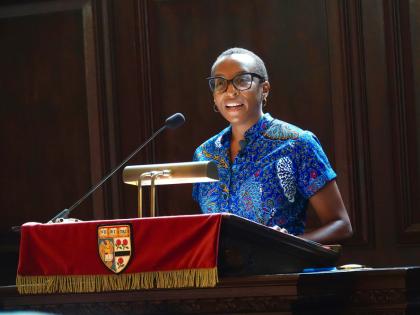 President Claudine Gay's first semester-opening Morning Prayers
More to explore
A test can identify these productivity-boosting personnel.
Ancient history professor studies coins, ceramics, and Zelda.
Anwar Floyd-Pruitt's wildly profuse art