The Irresistible Allison Feaster
A life in basketball, so far
When the clock ran out on the Boston Celtics' first game against the Brooklyn Nets in last season's NBA playoffs—a chaotic, glorious, preposterous win that would help propel the team all the way to June and the finals and a matchup with the mighty Golden State Warriors—Allison Feaster '98 was in the team's locker room at TD Garden. As Celtics vice president of player development and organizational growth, she often watches from a box suite upstairs with other basketball-operations executives, but at halftime and before and after games, she is usually with the team—"the guys," she calls them. And so, at that moment, she was watching from the locker room when Kyrie Irving buried a three-pointer to put Brooklyn ahead with 45 seconds to play. She could hear the Nets staff cheering in the opponent's locker room nearby. "And then," she says, "Jayson hits that last-second shot." After a wild scramble of a final possession, Celtics guard Marcus Smart found teammate Jayson Tatum under the basket for a lay-up just as the buzzer sounded. Final score: 115-114.
Outside the locker room, jubilation erupted. Fans leapt to their feet, players hugged on the court. Inside the room's relative (and soon-to-be-shattered) stillness, Feaster remembers looking around in a kind of delighted astonishment: "How did I get here?"
This is a question she asks herself often. She asked it again a few weeks later in Miami, after the Celtics eked out a game-seven win in front of the Heat's home crowd to advance to the NBA finals. And then again a few days after that, in a San Francisco restaurant where she and most of the players and coaches were sitting down to dinner after arriving for a game against the Warriors. They were jet-lagged and exhausted, but happy to be there. "Once we all got to the table, there was just this consciousness of us being there together, of being one of the two teams still standing," Feaster recalls. "And just, a sense of being super thankful." It was a moment of almost indescribable sweetness.
Even on a slow summer workday at the Auerbach Center a few weeks later, walking through the balcony lounge that overlooks the Celtics practice court and the 17 NBA championship banners hanging above it, she can't help but think, again: "How did I get here?"
In one way, the answer seems obvious. Feaster is one of the best basketball players ever to wear an Ivy League uniform. A three-time Ivy League Player of the Year and four-time first-team all-Ivy selection, she set Harvard women's basketball records that remain unbeaten 24 years later, among them most career points (2,312), rebounds (1,157), and steals (290). Her scoring record is second highest in the league, behind only Princeton legend Bill Bradley. Feaster led the Crimson to three straight conference titles, and during her senior year, she and her teammates pulled off one of the greatest upsets in Division I history, eliminating Stanford in the opening round of the NCAA Tournament: the first time a sixteen-seed had ever beaten a one-seed. "She was phenomenal—she could play any position, one through five," says Kathy Delaney-Smith, who coached Feaster at Harvard. "She wore about seven different hats."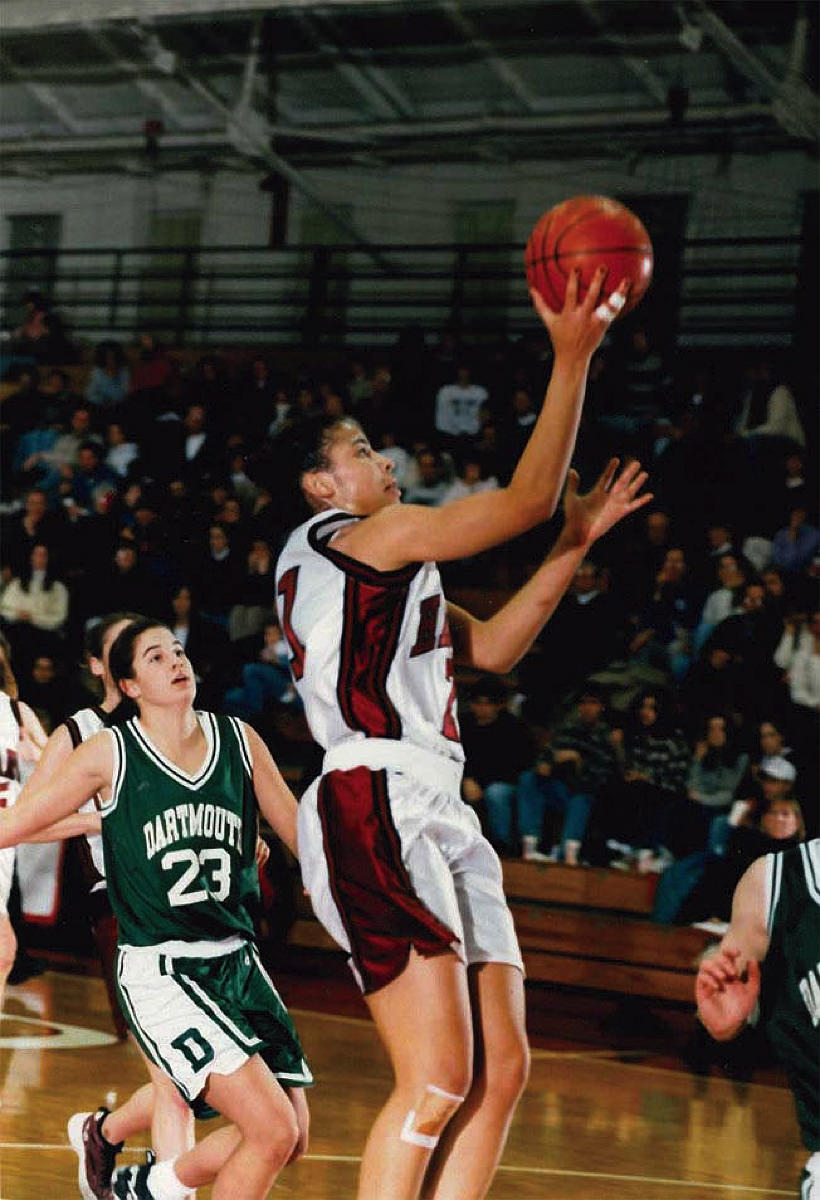 Photograph courtesy of Harvard Athletic Communications
Feaster was drafted fifth overall into the WNBA, where she transformed herself from a forward into a shooting guard; her career there lasted 10 years and included a 2001 trip to the finals with the Charlotte Sting. She played even longer in Europe, for professional clubs in Portugal, Spain, France, and Italy. Twice, her team won EuroLeague championship titles.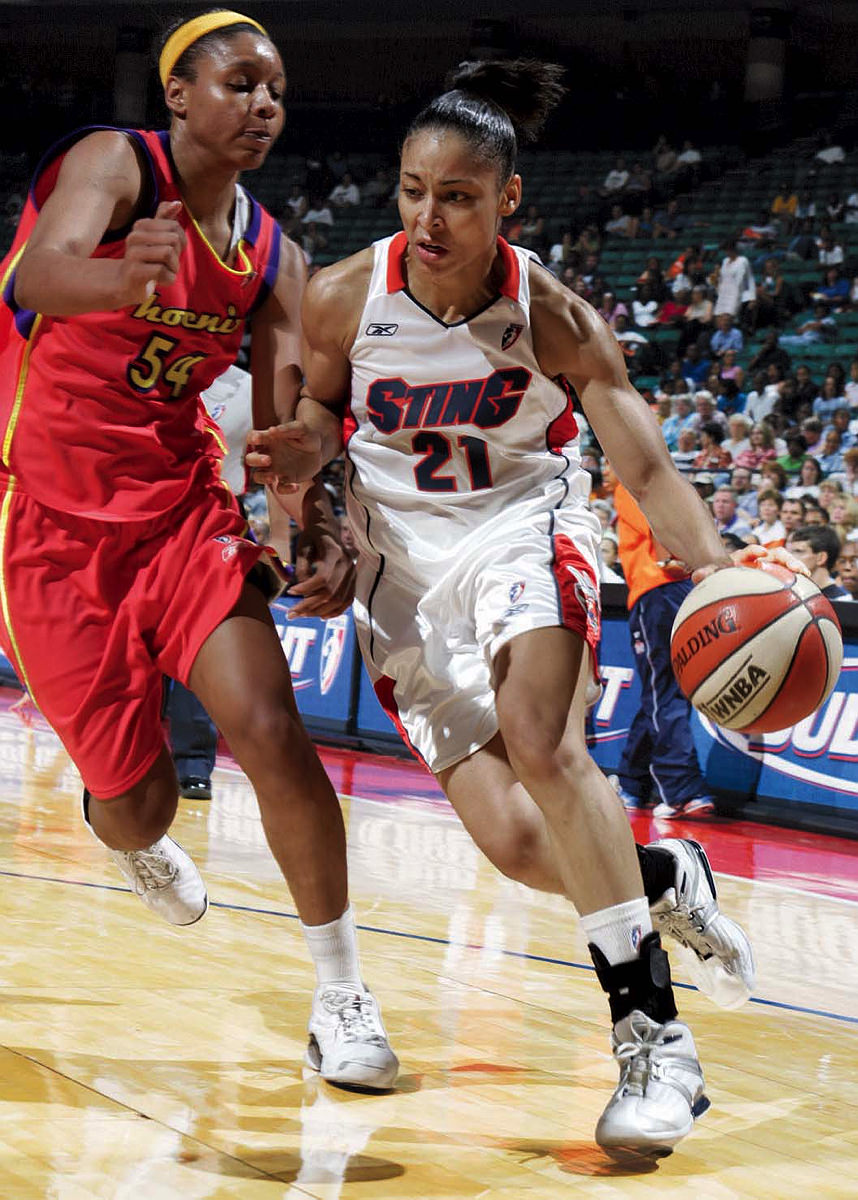 Photograph by Kent Smith/Getty Images
She retired in 2016, having earned an M.B.A. while playing abroad, and afterward became one of two women to enroll in the NBA's then-new Basketball Operations Associate Program, aimed at cultivating front-office talent among former players. She was embedded with five teams, including the Celtics, and afterward was hired as manager of player personnel and coach relations for the G-League, the NBA's minor league operation. That's where she was working in 2019, when she received a phone call from Danny Ainge, then the Celtics general manager. He was creating a new position in the team's front office, he said. He wanted her back in Boston.
There's no tidy encapsulation of Feaster's job with the Celtics. She is among a short (but growing) list of women who have climbed their way into NBA front offices and coaching staffs in recent years. Part of her work is player development, which she describes as "helping the guys be the best they can be, both on and off the court." That means things like helping them finish their educations, handle the pressures of family life, maintain perspective during inevitable dry spells in the game, plan for life after retirement, or simply navigate the disorienting, incandescent fame of being an NBA player.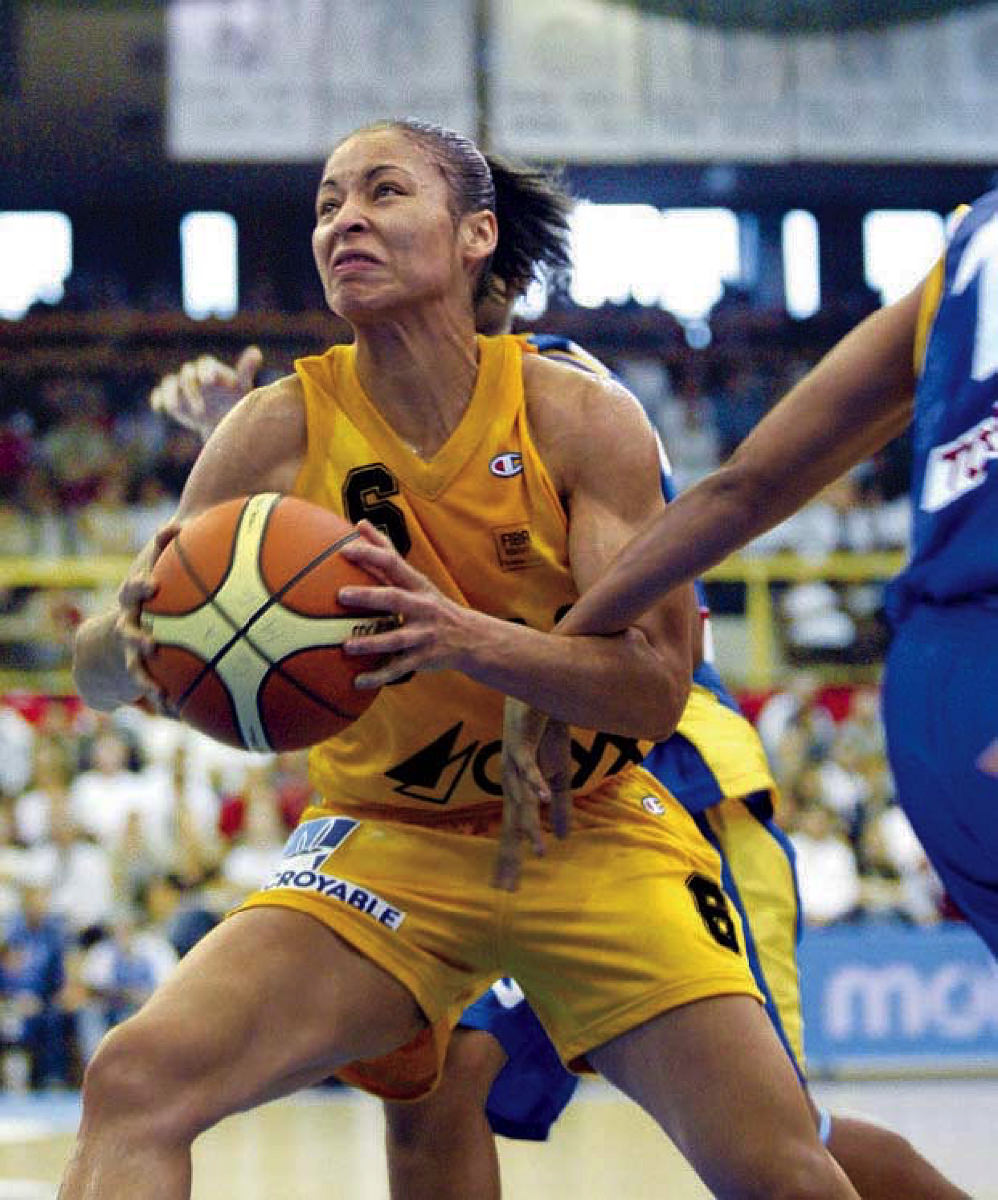 Photograph by Attila Kisbenedek/Getty Images
Feaster was promoted in 2020, just 10 months into the job. These days, her responsibilities straddle both the basketball and business operations. She serves as a liaison between the Celtics and the NBA and as the team's "cultural ambassador," both internally and externally. She also co-leads the Boston Celtics United initiative fighting racial and social inequality in Greater Boston, a 10-year, $25-million commitment she helped conceive after the murder of George Floyd. That work is close to her heart: "We're serving a community like those our players are from....I see myself in a lot of the people we're fortunate to engage with." In August, she spent a day helping give away $20,000 grants to small business owners: a hair stylist, a caterer, a restauranteur, a baby-food manufacturer—all women of color. In an poignant address last year, she spoke to a nonprofit for vulnerable youth about the school-to-prison pipeline and how it touched her own family.
Feaster travels with the team and works closely with the coaching staff and basketball operations president Brad Stevens. "She's a person that I lean on quite a bit," he says. "Nothing flusters her." In media discussions about who might become the league's first female general manager, her name often comes up.
There have been tests. As this magazine went to press in late September, news broke that the Celtics were suspending head coach Ime Udoka for the entire 2022-23 season over a relationship with a female staff member. Feaster, as one of the most prominent women in the organization, quickly became the focus of wild—and inaccurate—social-media speculation, later denounced by Stevens. In an interview the next day, she sounded steady, purposeful. She talked about her role in what comes next for the team: "The same as before, really—carving out space for people to express how they feel; being a support for one another. At the same time, we have to support our guys to pull together and compete."
And yet. What looks now like one long, straight line pointing up often felt to Feaster like a series of plunges into uncertain depths. Figuring out how to swim, and then figuring it out again. She still remembers the shaky feeling the day her mother dropped her off in Harvard Square, wearing an oversized Duke sweatshirt and a baseball cap. She was a young black woman from rural South Carolina, suddenly very far from home. Then, and for a long time to come, it was not always clear how one thing would lead to another. And so she just kept hustling, year after year. She played until, at 40, she'd exhausted both her body and soul on the court, in part because retirement felt like such a black hole: "I just had no idea what my life would be afterward." She got used to being "an only": the only girl, the only American, the only person of color—dropped off again and again in "a figurative Harvard Square," she says, "completely out of my comfort zone. You have to learn to adapt. To step outside yourself. To extend your reach."
Women's basketball, at every level, involves a degree of contingency and precariousness far beyond that of the men's game.
There is also this: women's basketball, at every level, involves a degree of contingency and precariousness far beyond that of the men's game. Stark disparities persist in media attention, revenues, and marketing. The pay gap between the NBA and the WNBA is a major reason why many women play in Europe during the off-season (it's why Brittney Griner was in Russia last winter when she was arrested). This year's top NBA draft pick, Paolo Banchero, signed a four-year contract with an annual average salary of $12.5 million, compared to an annual average of $75,556 for WNBA's top pick, Rhyne Howard. The NBA average salary last year was $5.4 million; for the WNBA, it was $120,600. The league's three highest-paid stars—Diana Taurasi, Jewell Loyd, and Breanna Stewart—make $228,094 per year. Last season, the Warriors' Stephen Curry took home $45.8 million.
This, too: the WNBA is a small league, 12 teams, allowed only 12 players each—144 roster spots in total, a number that quickly starts to feel cramped. (Meanwhile, more than 500 players come through the NBA's 30 teams each season.) Every year, good female players—sometimes very good players, with a string of accolades behind them—find themselves with nowhere to play. As great as she was all four years at Harvard, Feaster never counted on a professional career. An economics concentrator, she was planning on a job at a Wall Street bank until almost the day of the WNBA draft.
And then there are the demands of family life. Balancing children and basketball can be especially difficult for women. There are compromises and impossibilities. The timing of a pregnancy can derail a season, or a career. After Feaster found out in 2005 that she was pregnant, she stayed in the Charlotte Sting's starting lineup for another three months, until she started having to cut her compression shorts to make them fit. She recalled the experience in a WBUR interview much later—the tangle of euphoria and worry, the immediate flood of anxious questions: "How am I going to manage this pregnancy? Continue to play? For how long? Where will I give birth? Which continent? I would have to stop playing in Europe for a season. That was my livelihood."
Her daughter, Sarah, was born the following February, in Spain, where Feaster's then-husband, Danny Strong, was playing. For the next decade, Sarah lived with her mother, mostly in Spain, as Feaster followed her career to Salamanca, Girona, and the outskirts of Madrid. Sometimes they were apart from Strong, who played on different teams in other countries. When Feaster retired, the family reunited in North Carolina, where Strong had established himself as a high school coach. Sarah stayed there when Feaster moved to Boston—in part because Strong had begun coaching her. Now 16, Sarah is one of the most-recruited prospects in the country and a member of the U.S. under-18 team in 3x3 basketball. "She's a much better player than I was," says Feaster, now managing motherhood from 700 miles away, helping her daughter navigate a journey that began for her more than three decades ago.
Feaster was seven when she first learned to play. She and her siblings—two brothers and a sister—had a homemade goal attached to a walnut tree on a dirt slope in the family's backyard. "It wasn't even a driveway," she says. "It was a road that led to a road." This was on her grandparents' farm in the Midlands of South Carolina, where Feaster spent the first part of her childhood. (Years later, she later described her earliest memories to an interviewer in Spain: drinking Coca-Cola out of glass bottles with her great-grandfather, listening to crickets in the forest at night, helping him sell his melons by the side of the road on Saturdays. "I saw him working very hard," she said. "I learned what making a sacrifice meant, the high price he had to pay to make a living.")
The third youngest of her siblings, she was scrappy. Feaster's mother, Sandra Booker, remembers how intensely she competed, even in those backyard games: "She doesn't like to be beaten."
When Feaster was 10, her parents separated and her mother moved with the children to the nearby town of Chester. By then, basketball was serious. Her first team was in an all-boys community league sponsored by the local bank. "I remember our little red shirts," she says. Pretty quickly, she joined the starting lineup, and she made the all-star team that first year. "As a young girl playing in a boys' league, you had to show up super, extra, over-the-top strong," she says. So, she did. Her aunt, who attended the games with Feaster's mother—both women had been basketball players themselves—offered a stern directive that would come to define a core element of Feaster's game: "She said, 'Whatever you do, rebound. You've got to box out and rebound,'" Feaster remembers. "So I had this in my head, and I'm just aggressively boxing the boys out. Just trying to go for every rebound. And scoring?" She laughs. "Forget about the scoring."
Soon enough, she was scoring, too. In seventh grade, Feaster was invited to join the high school girls' varsity team, and by senior year, she was being recruited by nearly every power program in the country. But she had already decided on Harvard.
Her reasons for choosing an academically intense college far from home without athletic scholarships or national titles were deliberate and deep-seated. They had to do with two defining female figures in her life: her mother, and Harvard's coach. Booker had dropped out of college in 1970 when she got pregnant. After the divorce, she had to raise four children on her own. Those were tough years. Sometimes she took two jobs; at one local company, she'd worked her way up from switchboard operator to receptionist. But it was still hard to stay afloat. "I knew I had to do more," she says. "We really didn't want to go on public assistance, even though we qualified for it." Instead, she went back to school, taking night courses until she earned her college degree—and, with it, better pay.
Photograph by Bill Baptist/Getty Images
"I always tried to pour into my kids what my family poured into me," says Booker, who would sometimes bring Feaster with her to the office on weekends. "What they taught us was: you've got to do the best you can, and you need education to be your best." As valedictorian of her high school class, Feaster was drawn to Harvard in part because "being a student was prioritized above all," she says. "People are not just there to play a sport. That was important to me."
The other thing that drew her was Kathy Delaney-Smith, who retired in April as the winningest basketball coach in Ivy League history. "Kathy is like a second mother to me," Feaster says. "It's hard for me to describe and do justice to the impact she's had on my life." She talks about Delaney-Smith's door always being open, about players becoming family, and the blurry impossibility of separating the coach from the person. "She took this cacophony of super-competitive, super-emotional, super-high-performing individuals and harnessed those crazy components to produce a cohesive unit," Feaster says. "We fed off each other, we learned to empathize with one another, to push one another forward. All of us still draw on the community she built. To me, that's magic."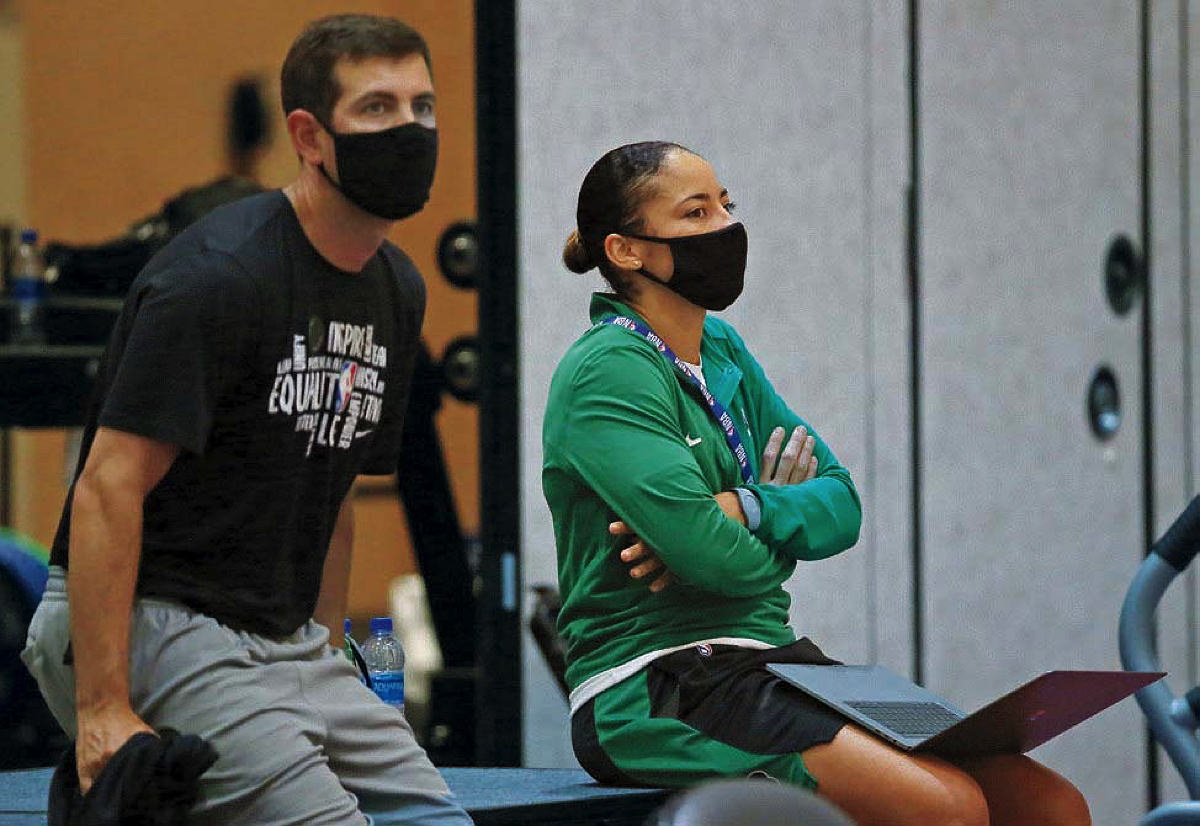 Photograph by Nathaniel S. Butler/Getty Images
Listening to Feaster talk this way, it's easy to forget what a star she was from the moment she stepped onto the hardwood at Lavietes Pavillion. "She could just do things that other players on our team couldn't do at the time," remembers former assistant coach Trisha Brown '87. "Just in terms of explosive moves to the rim and her talent for rebounding." Feaster would go home every summer with a workout regimen and come back a different player: a ball-handler, an assist-maker, a deadeye three-point shooter.
 "Sometimes people have off nights—she never really had an off night."
"She was an absolute force," says former point guard Jessica Gelman '97. "Like, sometimes people have off nights—she never really had an off night." Racing down the court with the ball during a fast break, Gelman would sometimes flip a no-look pass backward, knowing Feaster would be there to catch it and shoot a three. Gelman remembers how fast she was, and how strong: long before large biceps became common for female players, Feaster had them. "People called her 'Feaster Pipes,'" Gelman says.
Former guard Megan Basil Song '98, who, like Feaster, grew up often being "the only ponytail in the gym," remembers catching sight of two young boys during the pregame warm-up for a matchup against Yale. "They were playing off to the side, and I heard one of them say, 'Hey, pass me the ball! I'm Allison Feaster!' And it was just this moment of, oh my goodness. She's a role model for these little boys. This strong female player."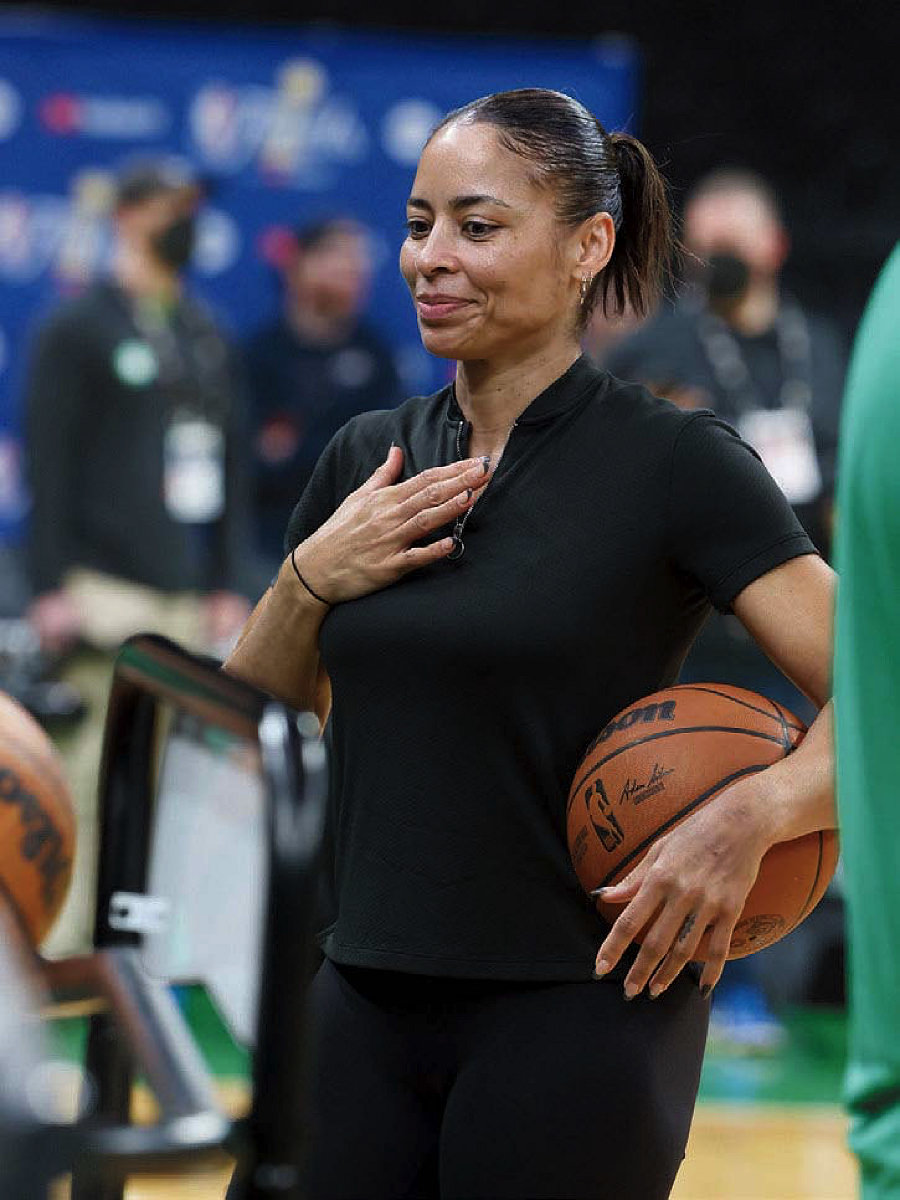 Photograph by David Sherman/Getty Images
These are not the stories that Feaster tells. "I didn't get here by myself," she often says—which echoes like a kind of answer to her recurring question. And indeed, former coaches and teammates invariably talk about her humility, her seriousness, her ability to listen and relate. "It easily could have been 'The Allison Feaster Show,'" Song says, "but that wasn't how she carried herself." They talk about how slyly hilarious she was, and how quiet she seemed early on—so shy in the beginning that as a high school recruit, she had ducked out of an official campus visit to return home a day early, sending a wave of mild panic through the coaching staff.
More than anything, Feaster's former coaches and teammates talk about how she made those around her better. In 1994, she joined a struggling team that had lost 19 of 26 games the previous season, thanks in part to a string of injuries and a hole in the roster left by two graduating seniors. "Sometimes in a situation like that, you have stars come in who can be disruptive to team culture," says Tamara Butler Battaglino '95, who was a senior captain during Feaster's first year. "But if anything, she just further solidified it. She slid into her starting lineup spot with no fanfare. Immediately brought our whole team to the next level."
Delaney-Smith remembers a tournament early in Feaster's freshman year, in which Harvard lost, but Feaster was named MVP. "She wouldn't take the trophy," the coach says. "It sat in my office all year. She didn't want it because the team didn't win. Because we didn't win."
Feaster's professional teammates tell similar stories. Rushia Brown, who played with Feaster in France and the WNBA, describes her, above all, as "loving." Retired French player Edwige Lawson-Wade, Feaster's teammate for six seasons in Europe, recalls, "She has this intensity, and it would go through you. And you would do amazing things." The women won two EuroLeague championships together, but another memory also stands out: the night when, early in their careers, playing on a middling team, they beat the biggest club in France. "We were not supposed to do it," Lawson-Wade says. "Nobody won over there—they were unbeatable in their gym." But before the game, Feaster spoke to the team, "with that look she has," about how they were going to win, how they were going to surprise everyone. And then they did. "Like, no doubt—from the beginning to the end of the game." Lawson-Wade still remembers the silence of the home crowd in their packed arena.
With a little searching, it's possible to find some of Feaster's old games on YouTube. Everything her former teammates and coaches describe comes to life on the screen: Feaster battling for loose balls, faking out a defender to step back into a jump shot, making a steal at half-court and hurling the ball to a teammate under the far basket. Sometimes she seems to exist almost outside of time, moving faster than the game, frictionless and fluid. She calls for a pass, and as soon as it comes, she's already arcing toward the basket, the ball already leaving her fingertips, her whole body in the air.
The NCAA Tournament game against Stanford is preserved there, with Feaster's 35-point, 13-rebound onslaught. And the 2004 EuroLeague championship final, too, in which Feaster's Valenciennes Olympic, from the northwest edge of France, defeated Spain's Spar Girona to take the title. "Elle est irrésistible! Allison Feaster!" the announcers shout, as she sinks another three-pointer from the corner.
When Feaster talks to audiences, she often makes a point of speaking directly to young athletes, to young girls. Partly, this is an extension of her work with the Celtics social justice initiative, but it's also a responsibility she feels to "pull as I climb," to hold open a path for those behind her: women, and especially women of color, hoping to reach a place like hers, who want to know how she got there. Speaking last year to a Latin American sports media channel, Feaster said: "So many times, women are taught to be passive, taught to be humble. I'm not advocating arrogance, but I'm advocating confidence—and all the work and all the preparation that so many women bring." Her advice, she acknowledged, was easy to give but not easy to do: "It's step up, don't be afraid. Be brave." One plunge, and then another, and then another.  
Lydialyle Gibson is associate editor of this magazine.
You might also like
Harvard officially installs Claudine Gay, its thirtieth leader.
A half-dozen symposiums feature Harvard research on AI, climate change, inequality, and more
A musical and poetic "prelude" to Claudine Gay's installation festivities
Most popular
President Bacow on humility, Prime Minister Jacinda Ardern on democracy and social media, and Attorney General Merrick Garland on civic engagement and threats to U.S. democracy
The new police chief introduces a new policing culture.
Recent books with Harvard connections
More to explore
A test can identify these productivity-boosting personnel.
Ancient history professor studies coins, ceramics, and Zelda.
Anwar Floyd-Pruitt's wildly profuse art