A Wide Receiver on the Basketball Court
Chris Ledlum '23 makes his mark on the hardcourt.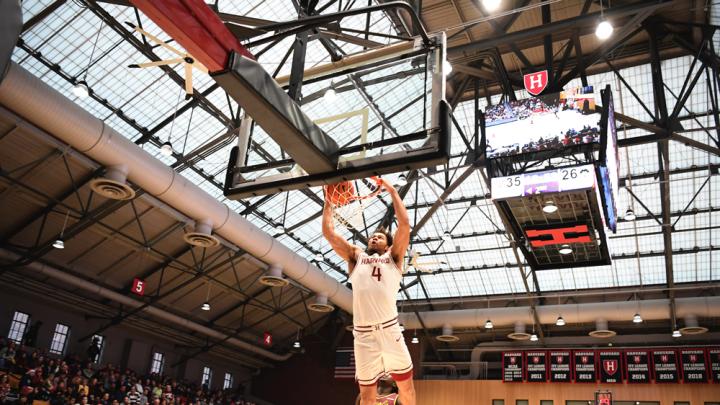 Men's basketball senior guard/forward Chris Ledlum, a former high-school football player, sometimes jokes with teammates that even on the basketball court, he's "an NFL-level wide receiver." Against Cornell in January, he demonstrated why: in the second half, guard Idan Tretout '23 grabbed a rebound and made an over-the-shoulder throw down the court to Ledlum, who snagged the ball with his left hand and, while falling out of bounds, whipped a pass to co-captain Sam Silverstein '24. Silverstein slipped it to forward Justice Ajogbor '24, whose dunk gave Harvard a 59-50 lead in what eventually became a 95-89 win.  
The sequence embodied how Ledlum, who leads the Crimson in points, rebounds, and steals—and whom The Boston Globe ranked as the best men's Division I basketball player in Massachusetts—can elevate the team's performance. The challenge for the Crimson has been sustaining that level. After defeating Cornell, Harvard lost four straight conference games before sweeping last weekend's contests at Columbia and Cornell. Now, the Crimson are 14-12 overall, 5-7 in the Ivy League, and still have a chance to qualify for Ivy Madness. 
How did Ledlum become a basketball star, and why, despite his help, has Harvard performed inconsistently?
Growing up in New York City, Ledlum's first love was football, and his best sport was baseball (he was a shortstop and pitcher). Yet "somehow," he said, "I ended up playing basketball." The shift began at St. Peter's High School on Staten Island when he joined his friends on the freshman basketball team, his first time playing the sport competitively. Ledlum asked his parents to get a basketball hoop for the driveway so that he could practice and, by junior year, was averaging over 20 points per game. He also caught 12 touchdown passes in two seasons as a receiver on the football team, which led to scholarship offers in both sports. The basketball opportunities proved better, and there were concerns about the risk of injury in football, so he gave that up.
During his senior year, Ledlum attended Northfield Mount Hermon, a prep school in central Massachusetts where his coach, John Carroll—who also grew up in New York City playing basketball, football, and baseball—helped him blend his skills. Ledlum used the footwork of a receiver to sidestep defenders in the lane on the basketball court, and he snared rebounds by anticipating how shots would ricochet off the rim, just as a shortstop gauges the angle of the ball off the bat. As the 2019 Massachusetts Gatorade Player of the Year, Ledlum received offers from prominent programs like the University of Florida and the University of Illinois, but decided on Harvard. 
Ledlum arrived that fall and describes his freshman season as an "adjusting period," because of the faster speed of college basketball. His first start came on March 7, 2020, in the season finale against Yale (an 83-69 win). Ledlum made a 360-degree dunk that seemed indicative of the Crimson's ascent heading into Ivy Madness at Lavietes Pavilion the following weekend. But that was the last game Ledlum or the team would play that season. The tournament was cancelled because of COVID-19, which also wiped out the 2020-2021 season. When Ledlum returned to campus in fall 2021 as a junior, he tore the labrum in his hip. Playing through the injury for 13 games, he still averaged 16.7 points and 9.3 rebounds per contest, but then the labral tear caused a sports hernia and groin tear. Ledlum missed the remainder of the season, and Harvard, depleted by injuries, sputtered to a sixth-place finish. 
Afterward, last June, Stemberg head coach Tommy Amaker hired former player Matt Fraschilla '17 as an assistant coach. The idea was that after years of disruptions from the pandemic and injuries, Fraschilla, a two-time Ivy champion, could help reinforce the program's culture. Amaker's system prizes unselfishness, defense, and balance. Ledlum, who underwent two offseason surgeries before being cleared to play last fall—part of what he calls "a long and tough journey" of recovery—would help reinforce those team qualities as well. 
Harvard's season got off to a quick start. The Crimson won three of its first four games, with Ledlum averaging 19 points in each. He was also unselfish: in the home opener against Siena on November 20, Ledlum ceded his starting spot to Chisom Okpara, a talented freshman, who scored 24 points in the 69-59 win. In the following game, against Loyola Chicago, Ledlum had 30 points in a 61-55 victory, scoring on rugged drives that were reminiscent of his football days and showed that Harvard could compete with a physical team like the Ramblers, which went to the 2018 Final Four. Ledlum "exudes confidence," Amaker said after the game, which "helps other players get a lot more confident in themselves." Ledlum conveyed that assurance in his post-game remarks. He described himself as "a super-competitor" and when asked about the importance of showing toughness to win a physical game, said, "We knew that they're a physical team. A lot of people overlook us and don't think that we can play that type of game. We have a great balance of basketball and school here," he added. "Some people like to overlook the basketball part."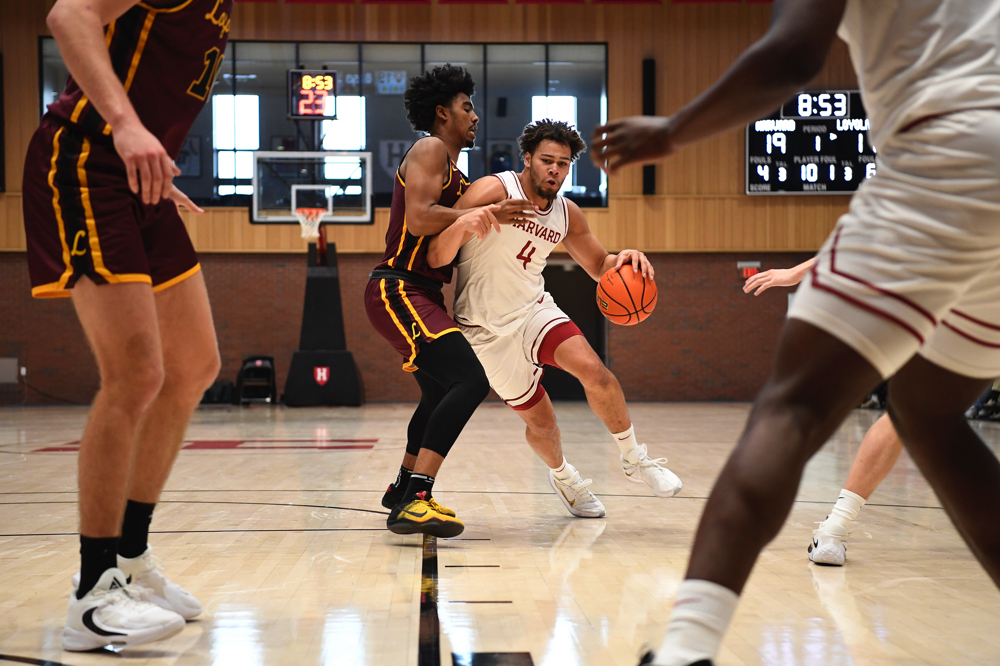 Photograph by Gil Talbot/Harvard Athletics
Ledlum had learned to slow the game down by pausing at the top of the key to read the defense, like a pitcher staring down a batter from the mound. Sometimes he leaps upward for a three-point shot. Sometimes he pump-fakes and drives to the basket. This mix of finesse and force allows Ledlum to play as both a guard and a forward and keeps opponents off balance, helping him create scoring chances for teammates. In the waning seconds of an early-December contest against the University of Massachusetts, for instance, with Harvard trailing 69-68, several Minutemen defenders converged on Ledlum, who ripped a left-handed wraparound pass along the baseline to Tyler Simon '25. Simon's three-pointer missed, and the Crimson lost 71-68, but after the game, Amaker said Ledlum had made the "absolute right play."
But that sequence also points to one of the team's weaknesses: Harvard is shooting 30.8 percent from the three-point line, second-worst in the league. This allows opposing teams to keep their defenders close to the basket and increases the pressure on Harvard's own defense, which ranks second in the league and relies heavily on Ledlum, whose size (he is six-foot-six and weighs 225 pounds) and speed enable him to guard multiple positions. The contrast between the Crimson's offensive limitations and defensive prowess contributed to an inconsistent stretch of 16 games during which Harvard alternated wins and losses. The upside was the team's resilience. After losing to Howard (the Crimson's worst non-conference loss) in mid-December, Harvard won at UC Irvine (its best non-conference win) and played competitively in a 68-54 loss at Kansas, which was ranked fourth in the country at the time. Jayhawks Coach Bill Self praised Ledlum, who had 17 points and nine rebounds, as "the best player in the game until the end." 
The concern has been Harvard's limited scoring capacity beyond Ledlum, an imbalance that Ivy opponents have exploited by trying to get him into foul trouble. He had four fouls and played just 17 minutes in a one-point loss to Dartmouth in mid-January, and in a game against Brown in early February, he sat on the bench for a long stretch of minutes after getting whistled for his fourth foul early in the second half. The Crimson lost by three points. That made the following Saturday's game against Pennsylvania a virtual must-win. Ledlum had 19 points and just two fouls, but Harvard lost 80-72. The Crimson's fourth-straight defeat left them in seventh place in the league with four regular-season games remaining.
Then, just as the team appeared to be fading, Harvard rebounded with wins last weekend at Columbia and Cornell. Against the Big Red, Ledlum had career-highs in points (35) and steals (six) and added 13 rebounds, three assists, and two blocks. His left-handed windmill dunk early in the second half seemed to represent the Crimson's resurgence. With two regular-season games remaining, Harvard is tied with Dartmouth for fifth in the league and one game behind Cornell and Brown. The top four teams qualify for Ivy Madness. 
A sociology concentrator and Academic All-American, Ledlum will have one more year of collegiate eligibility after graduating this spring (he will have exhausted his Harvard eligibility because the Ivy league does not allow graduate students to compete in athletics), and he also hopes to play in the NBA. The Crimson, once healthy, will be more balanced (Louis Lesmond '25, an outstanding shooter, has been sidelined by an injury since November). But the improved health—and accompanying balance—will not come until next season. In the interim, Amaker has emphasized intangibles. Amid the squad's recent four-game skid he told the team that "usually when you find yourselves in some tough spots, you can either 'pitch in' or 'pile on.'" 
Harvard's next opportunity to pitch in comes on Saturday when the Crimson host Princeton in Ledlum's final home game. 
You might also like
Harvard Chabad, IDF, and Bill Ackman screen October 7 Hamas footage
Toward another apartment complex on Harvard-owned land
Stepping down after 30 years of University service
Most popular
After a multiyear renovation, Harvard Art Museums make ready for a November reopening.
Fall travel to New England's seacoast offers art, history, biking, and great restaurants
Harvard's Art Museums reopen, poised to fulfill their pedagogical purpose.
More to explore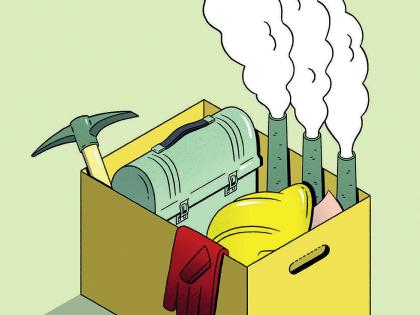 Expect massive job losses in industries associated with fossil fuels. The time to get ready is now.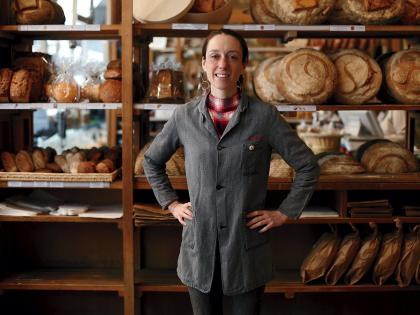 A third-generation French baker on legacy loaves and the "magic" of baking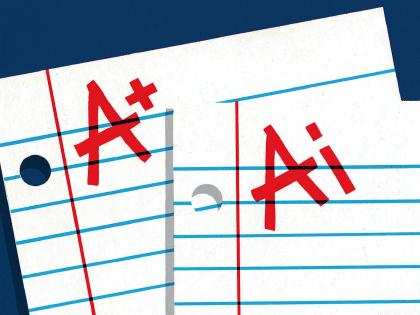 Generative AI can enhance teaching and learning but augurs a shift to oral forms of student assessment.