Flying Squirrel
Wingsuit skydiver Alejandro Montagna on minimizing risk—at 150 mph
Inside the Pilatus Porter airplane, he zipped his wingsuit, lowered his GPS-equipped helmet, and assumed the required spread-eagle position. Then, the exit door flew open and Alejandro Montagna, M.B.A. '96, jumped into the open air at 27,200 feet.
Gliding in webbed gear like a flying squirrel, he hurled through the sky for 11 miles at 150 miles per hour—as fast as a racecar and without the advantage of solid ground. That 5.5-minute flight over Argentina's Pampas grasslands last September set the national record for the highest-altitude wingsuit skydive.
Unlike typical skydives where he drops vertically, in a wingsuit, Montagna glides forward three feet for every foot he drops. He deploys a parachute when he's about 7,000 feet from the ground, but until then, he must remain aerodynamic—rigid as the Vitruvian Man, steering himself only by leaning slightly. "The key is symmetry. I have to make sure that what I am doing on one side of my body is exactly mirrored on the other side," Montagna says. Break that symmetry and he might spin out of control. But that risk, too, is part of the appeal. "Once you step out of the plane, you are 150 percent in the moment. Nothing else matters," he says. "There's no purer form of flying than having only a piece of cloth and moving your wings with small inputs, exactly like birds do."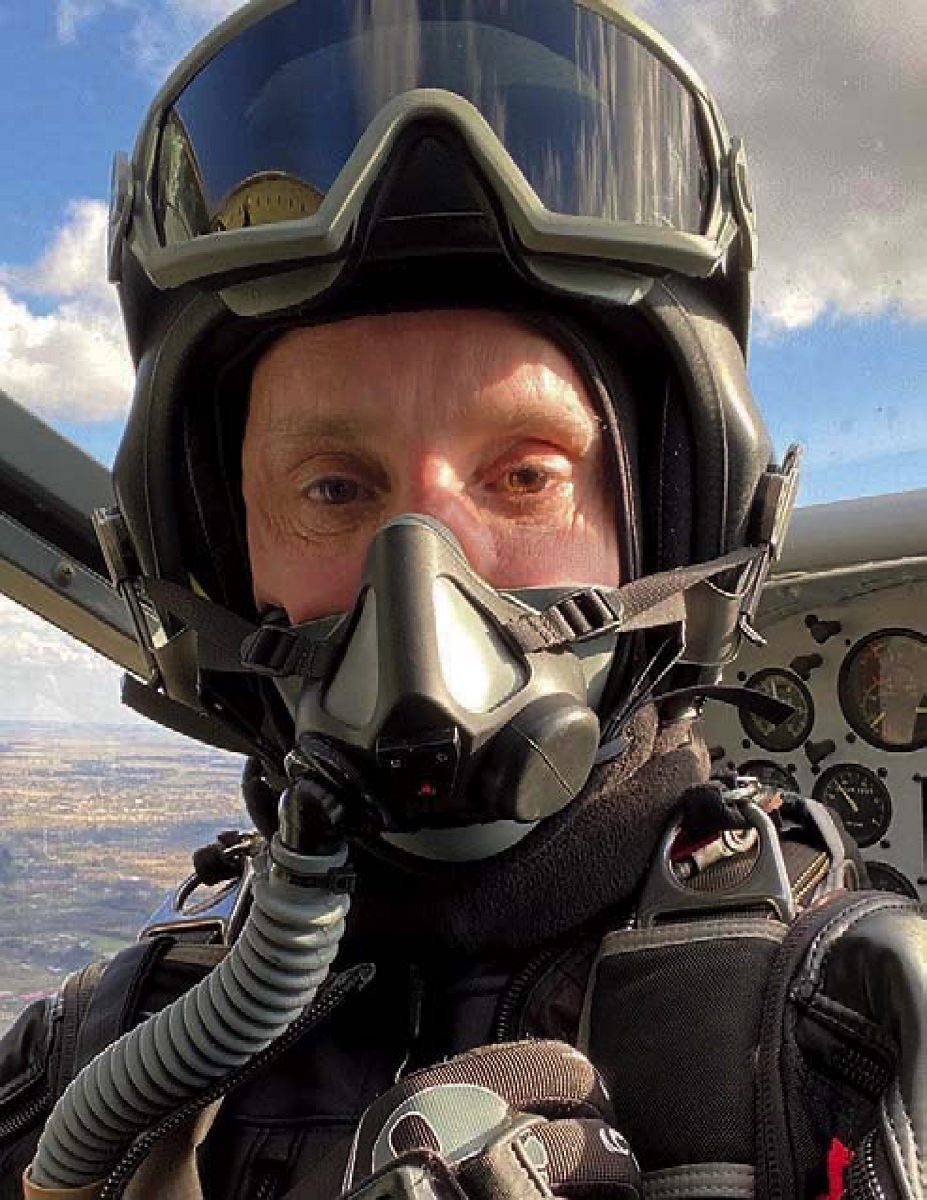 Photograph courtesy of Alejandro Montagna
Growing up in Argentina, Montagna was a disciplined student and also prone to recklessness: "sort of Dr. Jekyll and Mr. Hyde." Sports like windsurfing and skiing dominated his summers and winters, but impetuous driving was the source of most of his thrills. Between ages 18 and 23, he was in five major car crashes—three of which totaled cars and one of which brought him to the hospital with a broken knee, hand, and nose.
At 24, he was working as an industrial engineer for his family's food company, Terrabusi, when a friend invited him skydiving. It took about 40 dives before Montagna started enjoying it. "For me, it was scary, but I am a stubborn person," he says. "I decided I wanted to be a skydiver, and I knew that the sun would come out eventually." It did, and he says the sport rescued him, diverting his daredevil tendencies off the roadway. "Since then," he confirms, "I drive like my grandma."
By the time Montagna got to Harvard Business School (HBS) in 1994, he had hundreds of skydives under his belt, and now has more than 4,100—1,100 of which have been wingsuit flights. He holds several world skydiving records for group formations, where he and dozens of other skydivers execute various shapes together before landing. About 15 years ago, he began devoting himself more to wingsuiting, joining a smaller, more extreme subsect of the already small and already extreme skydiving community. Some estimates place the worldwide population of active wingsuiters at about 5,000; Montagna estimates there are only about 15 in Argentina.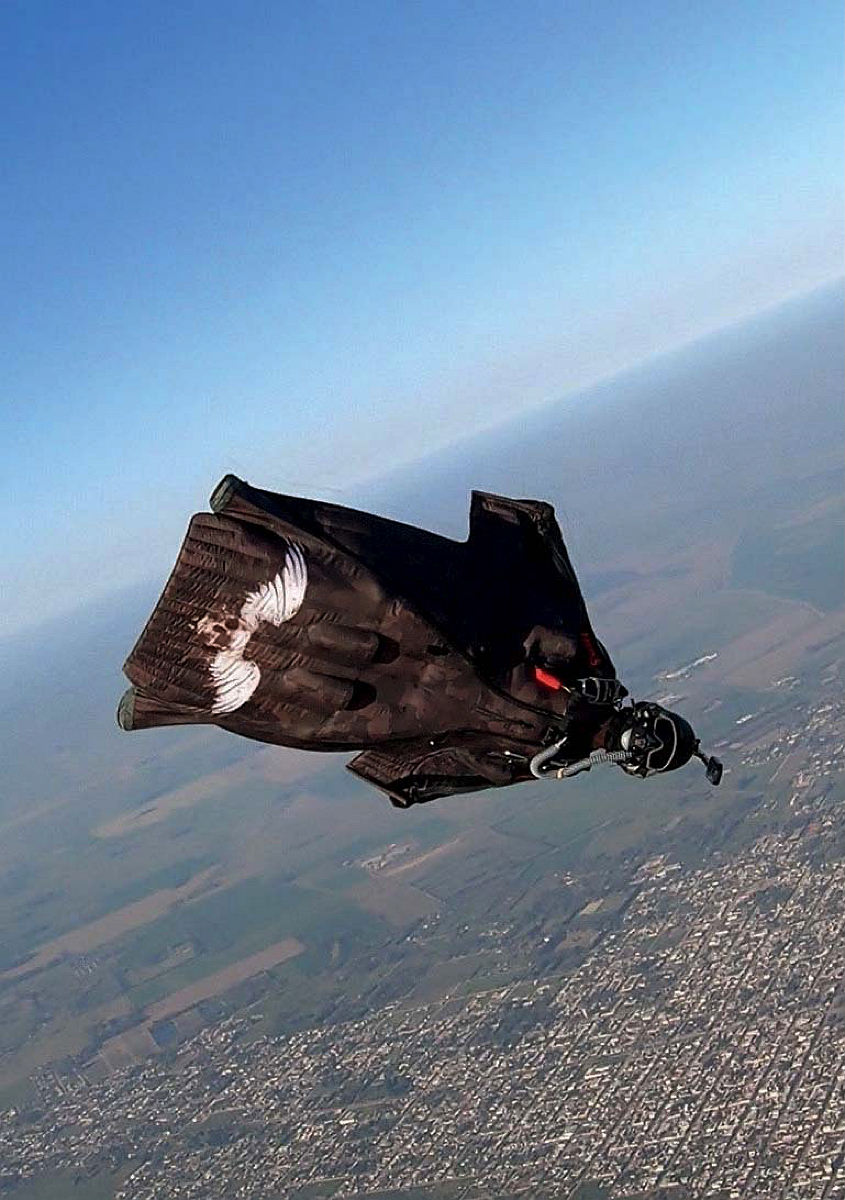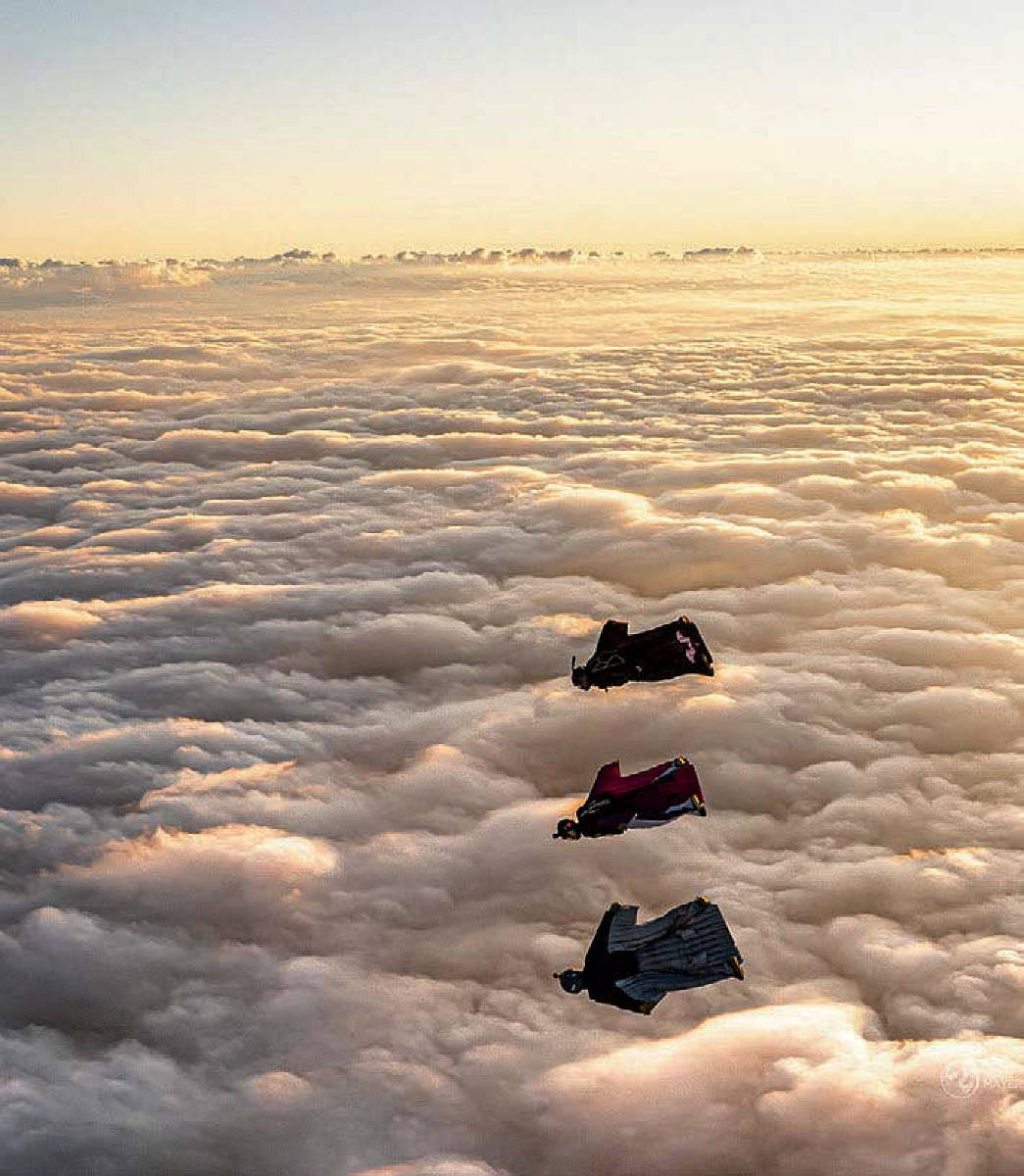 There's no sensation like wingsuiting, he says—piercing the air as fast as an Amtrak Acela, absorbed in the moment, shocked by the -40-degree Fahrenheit air so cold it turns his gloved hands blue. He knows what it feels like to be lost inside a cloud, and what it is for "the sky to be an immense playground, just for you." Trying to describe the experience of flight, he says, "If you're a wingsuiter, no explanation is needed. If you're not, no explanation is possible."
On the ground, he completes rigorous strength training and practices emergency maneuvers, such as what to do if his main parachute gets twisted or fails to deploy—both of which have happened to him during real flights: "In a high-stress situation, you operate with procedure. Procedure and training allow you never to fall into a panic." Most wingsuit flights occur at 12,000 to 14,000 feet, so his high-altitude jump from 27,200 feet required careful planning. Over the course of 14 months, Montagna worked with an expert in California to design an oxygen system that could prevent hypoxia and decompression sickness. "I am not a risk addict. I'm a risk specialist," he says. "I don't like risk. I try to offset it as much as I can in order to enjoy what I love: flying."
He takes a similar "risk management" approach to business. After graduating HBS, he worked as a consultant with Boston Consulting Group, then headed into private equity. Now, he manages a private investment firm in Argentina, K2 Partners, with holdings primarily in the over-the-counter pharmaceutical industry. "When I buy a stock, when I buy a bond, when I buy a company, I'm evaluating the risks of the investment and the benefits, and I only decide to go in if the risks are manageable. It's the same with wingsuiting."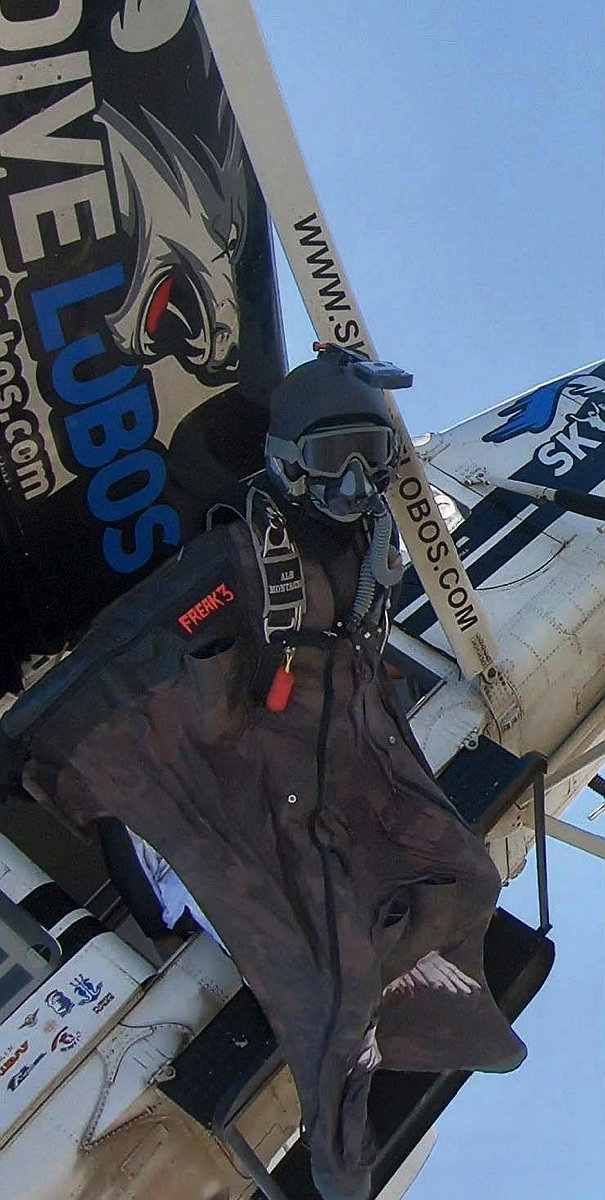 Photograph courtesy of Alejandro Montagna
But one cannot limit all risk while soaring freely through the air at 150 mph. Until French adventurer Patrick de Gayardon designed the modern wingsuit in 1994, nearly every wingsuit flight—including the first one in 1917 from the top of the Eiffel Tower—ended in death. Even now, some of the most highly skilled wingsuiters in the world have died during flights, including de Gayardon himself. "As a wingsuiter, you need to make peace with the fact that you can pay a very high price for practicing what you love," Montagna says. "I know I could die." He worries for his two children. "The family of a wingsuiter will never be happy. They'll accept it if they see you're passionate about it, but they will never like it or encourage you. That's a fact." His family has perhaps been more accommodating than most. He and his girlfriend often wingsuit together, and he's taken his kids, cousins, and even his father skydiving: "All of them except my mother."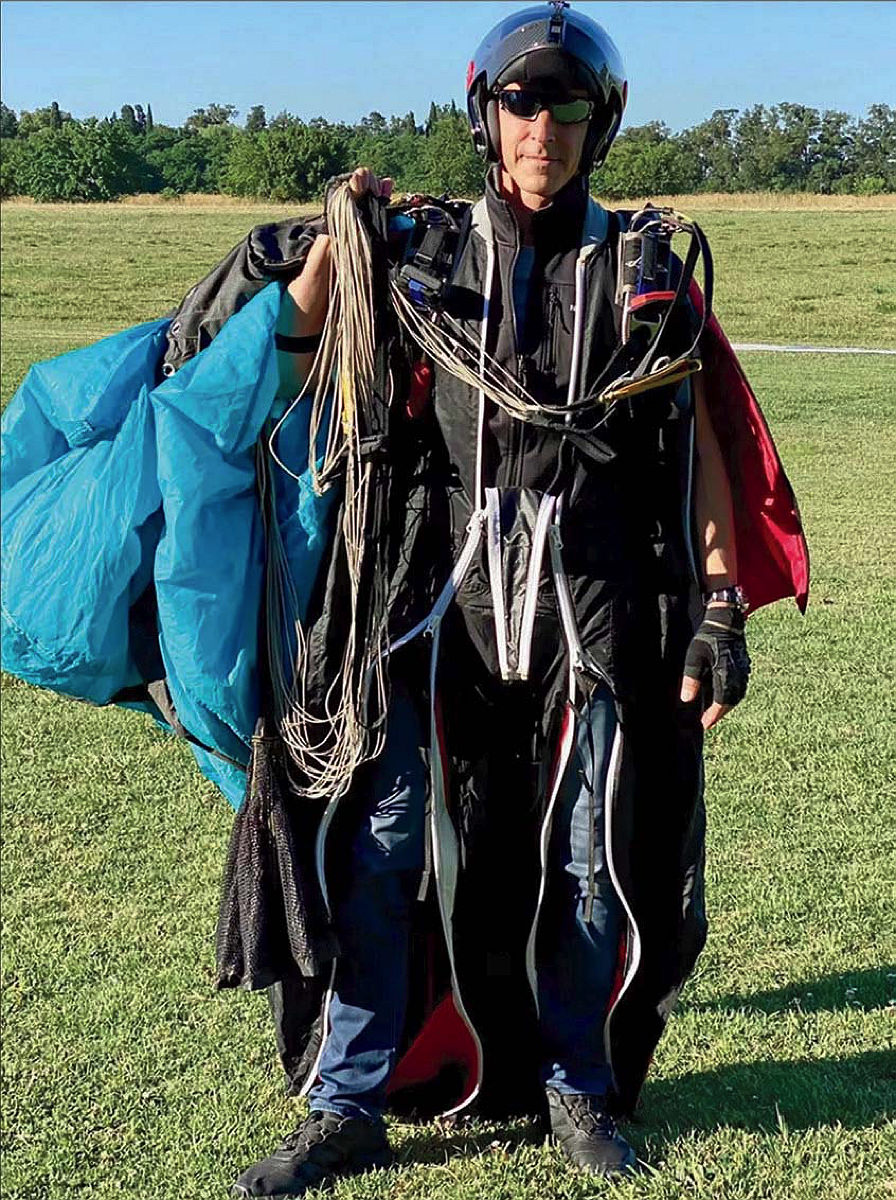 Photograph courtesy of Alejandro Montagna
Montagna believes life is best lived to the extreme. Besides wingsuiting, he has attended Burning Man four times, traveled to electronic dance music (EDM) festivals around the world, and tried bungee jumping, paragliding, parasailing, and scuba diving with sharks. He swears he is not addicted to adrenaline. "People assume I take these risks because I don't appreciate my life. But no, it's the complete opposite," he says. "I love life so much and I know it's so short that I like to enjoy it at the maximum." And so, he lives on the edge, "Knowing that when that day comes, I'll know that I took the most out of life that I could."
You might also like
The context for Harvard Management Company's 2023 results
The Crimson outlasts the Bears in an Ivy nighttime shootout.
The first in a series of public conversations about Harvard and the legacy of slavery
Most popular
First-years Ngozi Musa and Gabby Thomas help set the pace for track and field.
A negative investment return and annual spending reduce the endowment's value 5.1 percent.
The director of Head Over Heels and The Star, on animation's different dimensions
More to explore
A test can identify these productivity-boosting personnel.
Ancient history professor studies coins, ceramics, and Zelda.
Anwar Floyd-Pruitt's wildly profuse art