The Uses of Discomfort
The first in a series of public conversations about Harvard and the legacy of slavery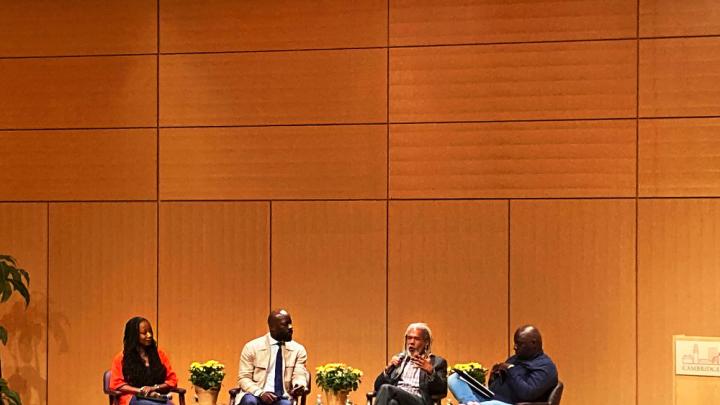 "As we sit here tonight, we are not just spectators, but active participants," Roeshana Moore-Evans, executive director of the Harvard & the Legacy of Slavery Initiative, told those gathered Tuesday evening at the Cambridge Public Library for the first in a series of "community conversations" on the University's April 2022 report revealing its historic connections to slavery. "The echoes of the past reverberate in our present," Moore-Evans said, "and it is our responsibility to shape a more equitable future."
The event, which drew a crowd of about 100 people, began with the screening of a 20-minute introductory film that had accompanied the report's release last year. It spelled out some of the document's major findings: the massive early investments in Harvard from men like Isaac Royall Jr., who had made their fortunes in Caribbean slave trading and sugar plantations; the scholarly legitimacy that Harvard professors like Louis Aggasiz had given to pseudoscientific ideas such as eugenics and racial hierarchies, promoting racist attitudes and policies that have persisted for generations.
Afterward, an hourlong discussion was moderated by Tony Clark, co-founder and co-president of My Brother's Keeper Cambridge, a nonprofit and advocacy organization serving people of color. Three panelists spoke: Vincent Brown, Warren professor of American history and professor of African and African American studies; Melissa Wood Bartholomew, lecturer and associate dean of diversity, inclusion, and belonging at the Harvard Divinity School; and Terrance S. Mitchell, a doctoral student at the Harvard Graduate School of Education (HGSE) and the former principal of a boys' school in Cleveland, Ohio. Last year, Mitchell launched Camp Harvard, a summer leadership retreat for black boys on the University's campus.
The group talked about reparations and memorials, and about the push-pull of intergenerational conflict and cooperation inherent in campaigns for justice. "Young people have always anchored resistance," Mitchell said. "Young people have always been unapologetic about the expectations that they have for the adults who are in places to lead them." The young, he summed up, "are built for war, whereas older people are built for counsel." Agreeing with him, Brown noted the "responsibility of stewardship" for faculty and administrators. "As we say, you don't have a revolution without organization. You want organized revolution that can seed institutions for the future."
Bartholomew spoke of the reality that the report had made visible. Harvard, she said, "is not an ivory tower, and it's not a utopia. It's a place that was formed—as this country was formed—first in conquest and genocide." The University's report offers clarity, "so we don't have to act like Harvard is more than it is." This is healthy and necessary, she added. "In bringing Harvard down a bit, to the reality where the rest of us are, we can recognize the fact that it was built by humans, and it's comprised of humans. And the truth is, humans are messy. And history is messy."
Threaded through the whole discussion, again and again, was the notion of comfort. The panelists kept returning to the question of whether it's possible, or even preferable, to feel comfortable at Harvard as a person of color. And they talked about the importance of discomfort—especially among those who have traditionally been comfortable at Harvard—in forcing change. Toward the end of the film, Yara Shahidi '22, one of the students interviewed on camera, says of Harvardians like her who come from marginalized communities, "we live in a space of discomfort. And so, what we're asking is for people of dominant culture to live in this discomfort with us."
That has been a large part of Bartholomew's work: facilitating constructive discomfort. Last year the Divinity School hosted a series of discussions focused on Harvard's report and on the visible reminders of slavery embedded in the buildings and traditions of the Divinity School itself. Students, faculty, staff, and administrators took part, and the conversations, Bartholomew said, were honest and hard. "People, from our dean on down, were very vulnerable and transparent." She recalled one discussion in which she had asked participants, seated together in a circle, to think about how the work of "race scientists" like Aggasiz "makes you feel about blackness—and specifically how it makes you feel about black people." She was pushing participants to confront the idea that long-discredited science still has the power to affect their consciousness today, to influence how they perceive themselves and the people around them. "Just naming it," she said. "And that's not something that's easy to do. It requires all of us to sit in discomfort." It also requires the right conditions: a space where people can expect to be uncomfortable, but not shamed or villainized, where they feel safe to speak openly. "So that they can really get to the work of healing, because if we don't get to the work of healing"—and following it up with concrete reparative action—"we're going to be talking about this 50 years from now, 100 years from now," she said. "I don't want that life."
But as Shahidi points out in the film, for many on campus, discomfort doesn't have be facilitated. It's always there. Picking up on the famous quip from W.E.B. DuBois, A.B. 1890, Ph.D. 1895, that he was "at" Harvard but not "of" it, Clark asked Mitchell whether he felt a sense of belonging. Not really, Mitchell said. "I have not felt as comfortable as I should." When he arrived in 2021, he expected to find a broader, more welcoming community on campus, he said, but mostly "I have had to go outside of the University to seek black joy and black grace." Recently, he's gotten involved with HGSE's black student union, concluding that, "Maybe I need to try to build the space that I want to live in," he said. "I think there are opportunities to build a safer and closer space for black people here."
Brown offered a slightly different perspective. A historian of slavery and slave revolts in the Americas, he said, "When I show up on the big plantation, I don't expect care and belonging. I expect to be able to grab some of those resources that I can take back to my little Maroon community of escaped people, and do something with it for us." Perhaps it's a good thing, he added, that Harvard isn't a place where he feels complete comfort or belonging or ownership. Discomfort is "something you can use. Sometimes you get too comfortable in a place and get lulled.…That discomfort can remind you of the struggle that we've been in for a very long time."
Just before the evening wrapped up, he offered a striking example of what he meant. During the making of the film the audience had just watched—for which Brown served as co-writer and executive producer—a question had come up, in the midst of the vetting process with Harvard's general counsel and communications teams: Was Isaac Royall Sr. really involved in the violent suppression of the 1736 slave conspiracy in Antigua, as the film asserted? Yes, Brown said, who had literal receipts: records of the compensation Royall was paid for three slaves he'd lost when the conspiracy was put down—two who were exiled and another, Hector, who was executed.
"We won the argument," Brown told the audience, "but the real story is that Isaac Royall Sr. had an advocate—in 2021.…There was someone saying, 'You've got to be really careful what you say about Isaac Royall right now.'" No similar concerns were raised on behalf of Hector and his family. "So, that legacy of Isaac Royall's money is still there," Brown said. "That's the kind of continuity that I'm talking about, the kind of power that repeats itself over generations, so that someone who died a couple hundred years ago still has a voice in the conversation we're having about how to tell the truth about the history of slavery." That's why, Brown said, he can't get too comfortable at a place like Harvard. "Because as long as Isaac Royall's family has a voice and Hector's doesn't, you've still got to be struggling."
You might also like
Toward another apartment complex on Harvard-owned land
Stepping down after 30 years of University service
Harvard researchers seek to empower individuals to steer their own careers.
Most popular
Brief life of a black radical: 1872-1934
Brief life of a textured artist: 1911-1988
In Agyementi, Ghana, Sangu Delle '10 brings clean water to a village.
More to explore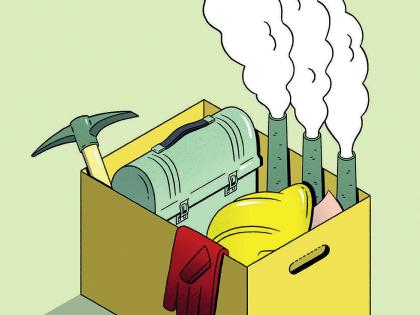 Expect massive job losses in industries associated with fossil fuels. The time to get ready is now.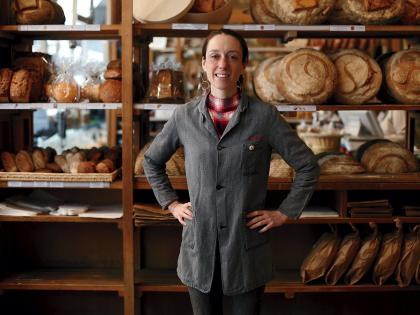 A third-generation French baker on legacy loaves and the "magic" of baking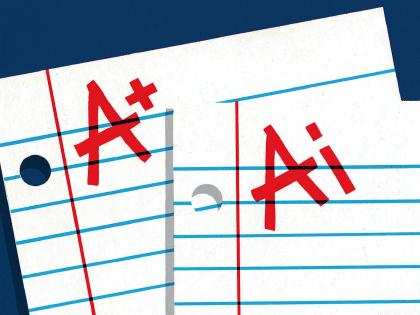 Generative AI can enhance teaching and learning but augurs a shift to oral forms of student assessment.