Sackler—and Beyond
The "Objects of Addiction" exhibit explores Harvard's opium ties.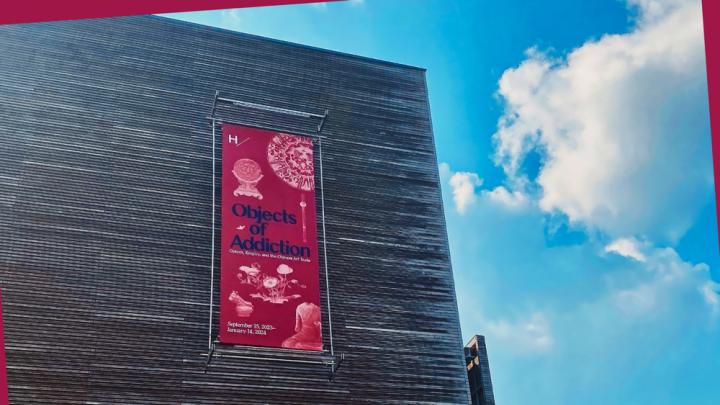 In February 1982, Harvard President Derek C. Bok called off a planned expansion of the Harvard Art Museums due to a lack of funds. Fogg Museum director Seymour Slive was devastated, writing that the cancellation "dealt a blow from which the museum and the university it exists to serve may never recover." But the museums' fortunes changed. In 1985, thanks to a $10.7-million gift from physician and entrepreneur Arthur M. Sackler, the University opened a new museum bearing his name across the street from the Fogg.
Three decades later, the Sackler name looms over the consolidated Harvard Art Museums (HAM). Though the building itself is no longer a part of HAM, the Sackler Museum is still one of its three component museums, and "Arthur M. Sackler Museum" appears on all HAM branding. That association has become controversial. Arthur Sackler helped his brothers purchase the Purdue-Frederick Company, which later produced and sold OxyContin, the drug associated with America's opioid crisis. Although Arthur Sackler died eight years before OxyContin's release, critics argue that his deceptive marketing practices for tranquilizers like Librium and Valium paved the way for overprescribing of OxyContin. During the past five years, some Harvard students and alumni have advocated removing the Sackler name.
The Art Museums cannot make decisions on renaming (that power lies with the University), but HAM can address the complicated legacy of one of its namesakes. On Friday, the Museums will open an ambitious exhibition, "Objects of Addiction: Opium, Empire, and the Chinese Art Trade," that seeks to unite three related histories: the Chinese opium trade, the Western frenzy for Chinese art, and the modern opioid crisis. Throughout the four-month exhibit, the Museums will host community events such as drama therapy, Narcan training, and historical lectures. The HAM reckon not only with the Sackler name but also with the origins of their Chinese objects and the sources of their early benefactors' wealth.
Crafting the narrative
While creating the exhibit, Dworsky associate curator of Chinese art Sarah Laursen took care neither to romanticize opium use nor to stigmatize addiction. Visitors to the special exhibition gallery are met first by four botanical illustrations of red poppies. "Instead of having images of people or drug use in that space," says Laursen, "we decided to just focus on the poppies." Beneath the prints sits a large smoking pipe crafted from water buffalo horn. The cap on its bowl features a small painting of a poppy intertwined with a butterfly, representing a dreamlike state. The pipe, she notes, is both an "example of something that was used in the consumption of opium, but also a collected art object," bridging the exhibition's themes.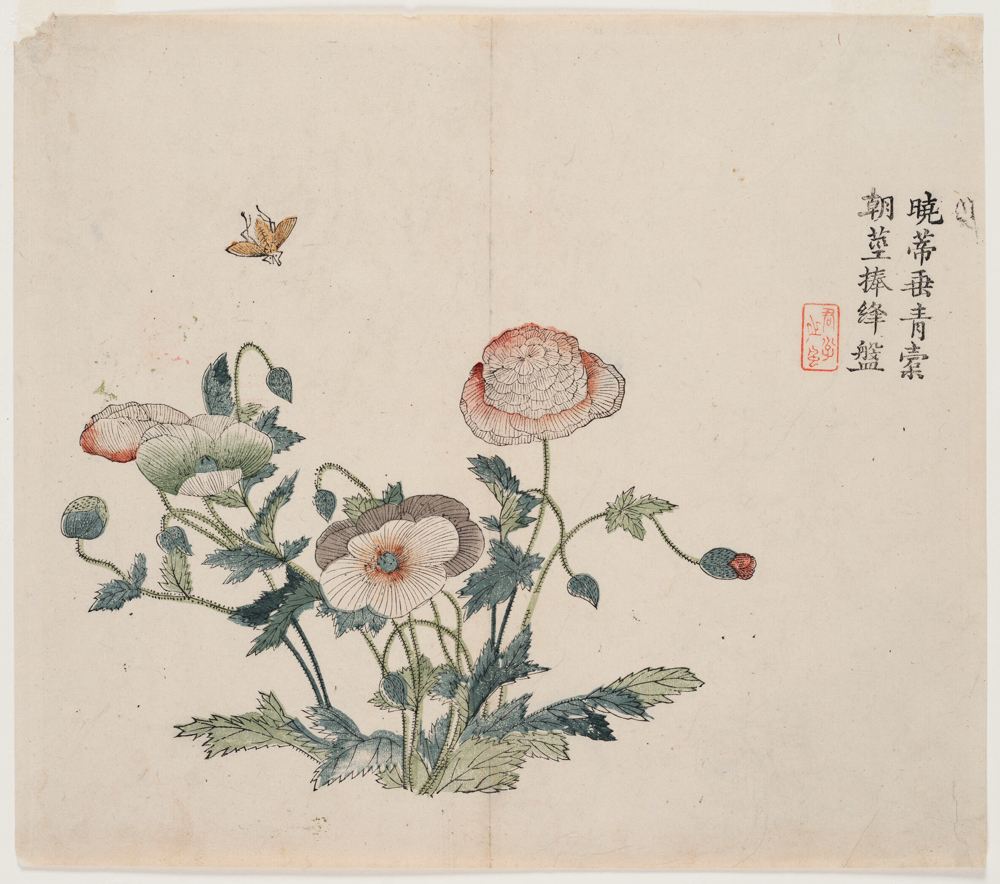 Within the exhibit are charged renderings of opium use. Racialized nineteenth-century cartoons, for instance, portray Chinese people as helplessly addicted to opium. Laursen solicited community feedback about the exhibit while she put it together, presenting a draft to about 40 professors, students, and local stakeholders. "I'm not a member of the recovery community, or of the Chinese or Chinese American community, so I wanted to make sure people felt comfortable with the story we were telling," she says. As a result of those sessions, she decided to scale back the display of racially inflammatory cartoons and opted to avoid using such images in advertisements for the exhibition. "We've been very careful about those images because they're educational but also dangerous," she says.
Another challenge to navigate was Arthur Sackler's name and legacy. Laursen wanted to clarify that the Sacklers simply provided the naming gift for a building: the family does not have an editorial relationship nor did it donate any items to HAM. Early in the exhibit, viewers can find a guide about how to read a museum label. Though most labels in the exhibition credit the Sackler Museum, the introductory panel emphasizes that, "None of the works in the [Sackler] collection were collected or gifted by Arthur M. Sackler, nor were they purchased using funds provided by him."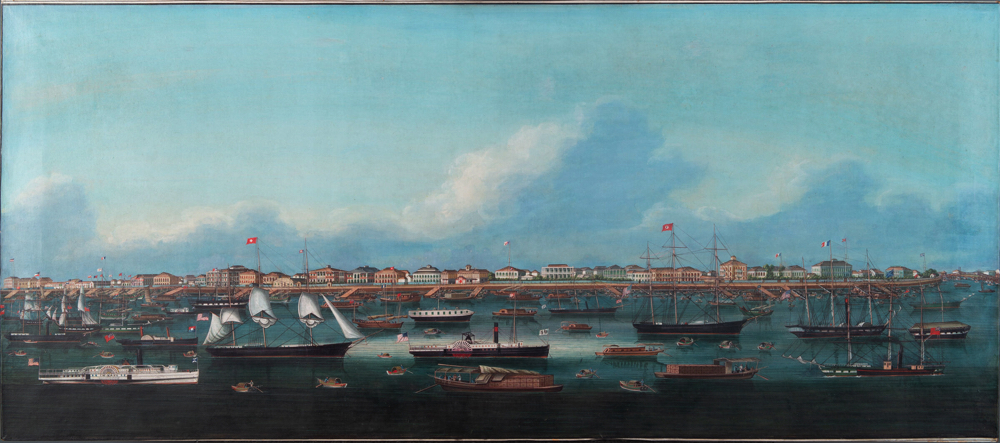 Examining the opium trade
During the eighteenth century, Britain's appetite for tea started causing problems in China. British merchants, only allowed to trade via the port of Canton (now called Guangzhou), bought massive quantities of tea (and China's distinct blue and white porcelain tea sets, included in the exhibit). Since China restricted the sale of Western goods, merchants had to pay for their cargo in silver. Increasingly illiquid, Britain sought to rectify the trade imbalance by instituting a state-endorsed drug trade.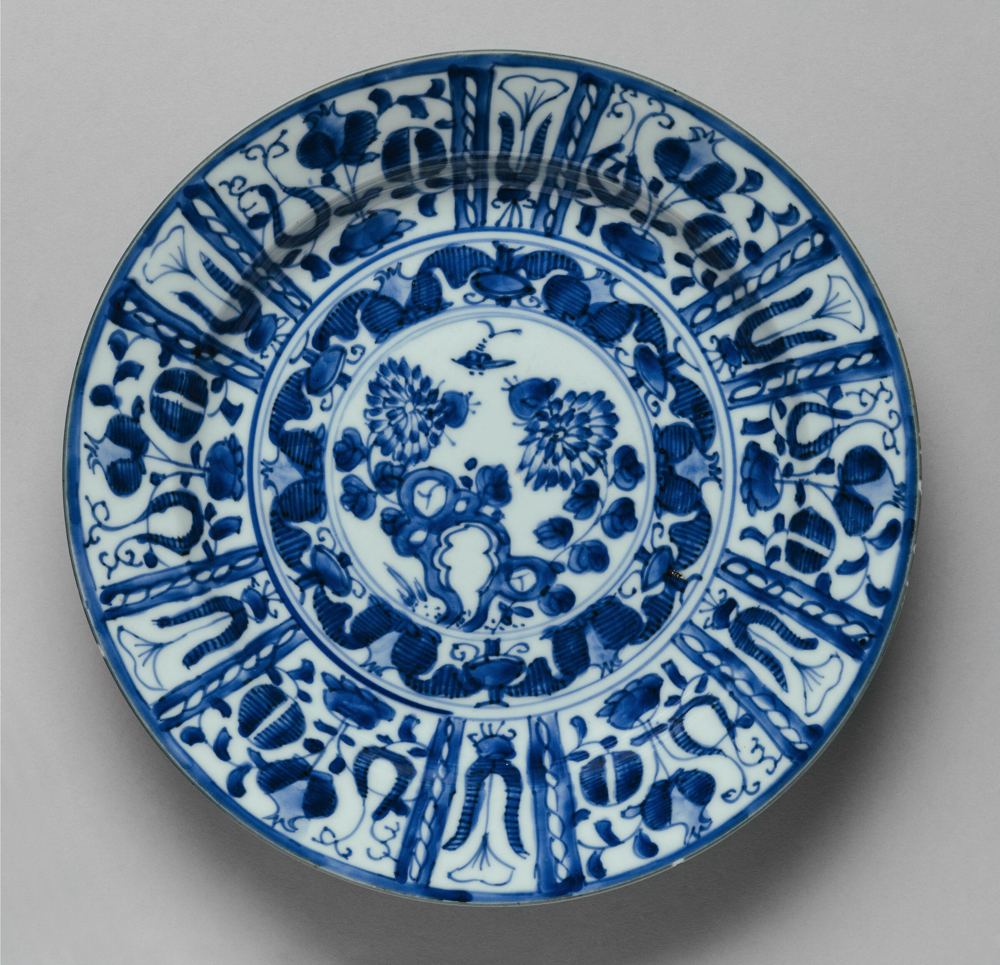 British merchants brought opium to China for the first time in the 1640s. In the beginning, one panel notes, "opium smoking was a symbol of privileged status and largely the domain of wealthy merchants and officials." But when the trade deficit intensified, British merchants drastically ramped up production in India, smuggled lower-grade opium to China, and introduced the drug to the middle and lower classes. Whereas elites would purchase exquisitely crafted paraphernalia like the water buffalo pipe, commoners would visit opium dens and keep their belongings in a painted opium pillow, also on display. At the peak of China's opium struggles (toward the end of the nineteenth century), Laursen says that perhaps 40 million people—10 percent of China's population—were addicted. "For laborers in particular, there was no social mobility," she says. "These jobs involved a lot of physical pain, so regardless of what they might have given up to get it, [opium] was a welcome escape."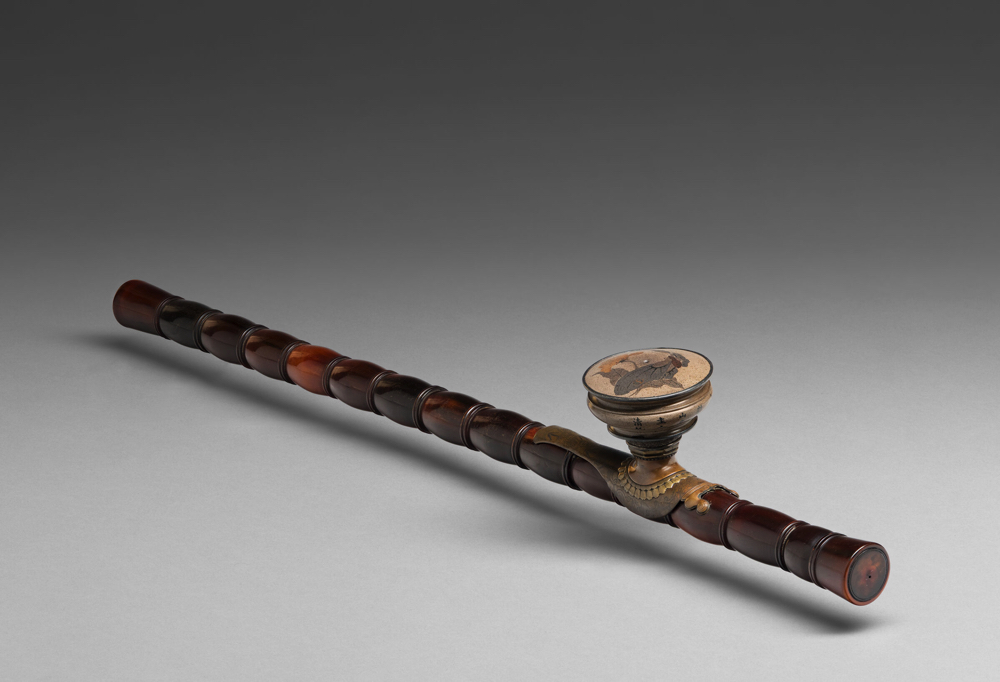 Though frequently smoked for personal pleasure and pain management, opium was also advertised as a cure-all. Laursen notes that it was used to treat chronic cough, diarrhea, and dysentery. But Western merchants did not advertise the risk of addiction, says Allison Chang '23, a student curator of the exhibit: "I was really struck by the similarities in terms of public health, marketing, and advertising—all of these things that really contributed to [today's] opioid epidemic"—just as they did "a few centuries ago."
As Chinese dependence on opium grew, the nation attempted to restrict smuggling. Seeking to open more ports, Britain fought a pair of Opium Wars, winning increased trade privileges. One wall of the exhibition marks the British and French (who joined in the second war) burning of Beijing's Summer Palace in 1860. "It's estimated that in total, 1.5 million objects were lost," says Laursen, "either to looting or to destruction."
Analyzing the museums' benefactors
In the aftermath of the Second Opium War and the Boxer Rebellion at century's end, millions of stolen Chinese art objects were sold on the open market. It's unclear how much of Harvard's Chinese art collection consists of looted goods. "It is extremely rare to have a clear line from an object in a Western collection back to the moment it left China," Laursen says. "We're an older museum, so we can usually go back at least to the early twentieth century, but this is why there are so many questions around provenance in museums, particularly for works that were in imperial collections."
Though Harvard usually cannot trace specific objects back to China, the second room of this exhibition highlights the source of the Museums' early donations and their collecting tactics. In the early nineteenth century, Bostonians including Thomas Handasyd Perkins, John Murray Forbes, and Augustine Heard entered the opium trade. These merchants returned to the United States with lots of Chinese art and encouraged further study and collection. "When the same traders who are bringing over this money straight from the opium trade are the same individuals and families who help spur on the Chinese art trade and the early establishment of East Asian art history at Harvard itself," says Allison Chang, "I think there's a pretty clear, personal connection, which otherwise might have been a little more abstract." In her research, she identified hospitals, museums, and schools that "were funded by families that…profited off the pain of others."
Inspired by these opium-fueled collections, Harvard curators began traveling to China, where they frequently removed objects in a way that would grossly violate modern-day preservation standards. The exhibit highlights a particularly stark example in which Langdon Warner A.B. 1903, arriving at a cave and finding no objects, removed portions of an ancient cave painting from a wall. Laursen placed the two fragments (on permanent display at HAM) next to a life-sized image of the twin voids Warner left behind. Student curator Emily Axelsen '23 applauds the Museums for highlighting the painful context of some items. Generally, she says, "we don't see who these objects impacted or where they were taken from. I think this is a really strong first step."
The modern opioid crisis
The back wall of the second room (and accompanying public events) is dedicated to America's current opioid crisis. One sign describes its emergence, outlining charges brought against younger Sacklers without naming the family directly: "In the 1990s," it reads, "opioids were aggressively and inaccurately marketed to doctors as safe and non-addictive, resulting in overprescribing and contributing to the emergence of an epidemic of addiction, as well as a massive increase in overdose deaths." A screen loops a HarvardX video about the science of addiction, and an accompanying panel explains how to prevent addiction. On a magnetic board, visitors can write messages to victims of substance abuse or share personal stories of addiction. A bookshelf features works about the Sackler family and the opioid crisis such as Empire of Pain, Dreamland, and Dopesick.
The exhibit's focus on the opioid crisis extends beyond its walls. With this past June's announcement that the Museums will now be admission-free, HAM seek to engage with new communities. "Everybody I know who works here at the museums," says Laursen, "we want to see as many people, as diverse a community as possible, coming through the doors." She continues, "Having the first big show really focus on the community, conversations, tearing down walls has been so important. I hope that people will feel seen and heard and welcome in the space." As a part of the exhibition, the Cambridge and Somerville health departments will hold two training sessions at HAM on how to use naloxone (Narcan) to reverse opioid overdoses. A nonprofit artist collection, 2nd Act, will host three addiction drama therapy workshops at the Museums.
"Objects of Addiction" will be on display through January 14, 2024 at the Harvard Art Museums, which is open Tuesday-Sunday 10am-5pm.
You might also like
The first in a series of public conversations about Harvard and the legacy of slavery
How to encourage free speech and inquiry on campus
A new play at the A.R.T. provides a modern take on ancient mythologies   
Most popular
Brief life of a formidable anthropologist: 1903-1991
First-years Ngozi Musa and Gabby Thomas help set the pace for track and field.
A negative investment return and annual spending reduce the endowment's value 5.1 percent.
More to explore
A test can identify these productivity-boosting personnel.
Ancient history professor studies coins, ceramics, and Zelda.
Anwar Floyd-Pruitt's wildly profuse art