Her Bread and Butter
A third-generation French baker on legacy loaves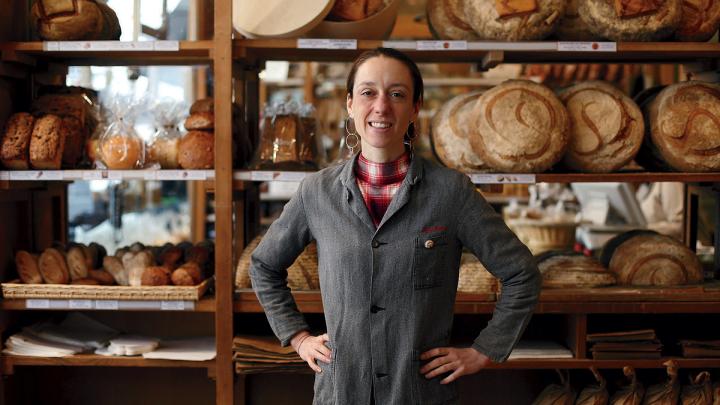 When asked about how to handle her signature four-pound sourdough round, Apollonia Poilâne '07, third-generation leader of her family's renowned French bakery, says a bit despairingly that "I've seen people cut my bread as if it were cake." She mimics a full-throttle downward thrust of the knife—which is totally wrong. Instead, start with the stance: standing with legs hip-width apart stabilizes the whole body, she explains. Anchor the four-pound sourdough round to the cutting board with one hand of an arm that's locked straight at the elbow. With the knife in the other hand, gingerly penetrate the crust to get a track going. Then, in a firm but not overly aggressive sawing motion, split the round in half, and from each half, cut evenly thick slices. Not the floppy lopsided ones that can't withstand a good buttering, or that are too fat or cockeyed to fit into the toaster. Much depends on equipment. "So, that's why you want to have tools that work properly," she says. "Realistically, most of us are using rather [crappy] knives."
Poilâne, of course, possesses the right posture and the right blades, and her slices are impeccable. Which comes from "years of practice," she says with a Mona Lisa smile. Poilâne was founded in Paris in 1932 by her grandfather Pierre Poilâne, and as long as she can remember, she has mixed, kneaded, punched, baked, broken, cut, and eaten the company's loaves. They are the staff of family life.
For years, Pierre served the Left Bank community in the sixth arrondissement's Saint-Germain-des-Prés, often exchanging loaves for artwork. He eschewed lightweight white baguettes, favoring the denser, slightly acidic sourdough loaves made from stone-ground flour. They filled hungry bellies better, lasted longer, and the flavor ripened over time. But it was Apollonia's father, the debonair Lionel Poilâne, who took the helm in 1973 and became a celebrated champion of artisanal craftmanship. He scaled up the company, building a central baking facility, the Manufacture, based on a circular structure designed by Apollonia's equally dashing mother, Irene (who was pregnant with Apollonia when it opened in 1983), expanding sales across the globe.
Today, dozens of bakers there still use high-quality, simple ingredients to hand-build some 3,000 loaves a day, shoveling them into 24 wood-fired ovens. There's wheat, rye, walnut, milk— and a corn bread introduced in 2016 by Apollonia (following a decade of research and development aimed at creating a viable loaf "without any sugars, eggs, gums, or other auxiliaries"). The company also makes a host of patisseries, along with other products she's added, like gingerbread, spoon- and fork-shaped biscuits, and "punitions" (cookies made with three different butters and different cereals, like barley, rice, oat, and buckwheat). But the company's beloved loaf, the one a loyal pool of customers order in bulk, the one that private clients have shipped in for special occasions, is still the original rustic brown-crusted hardy sourdough miche with the curlicue P carved into the top.
 It contains no yeast or sugars, only flour, salt, water—and the company's starter. Known as la mére, or "mother dough," this live fermented culture has been nurtured and carried forward through countless loaves as the source of growth for the company. It's what Poilâne has relied on since taking over, at age 18, after her parents both died. The couple and their dog were en route to the family home on Île des Rimains, with her father, an experienced pilot, at the controls, when the helicopter crashed. That was October 2002, during her gap year between high school and starting Harvard.
After hearing the news, instead of going down to the bakehouse the next morning, Poilâne climbed the stairs to her father's office and sat at his desk. "And here I was in charge of the company," she says. "Growing up, I naturally was trained to take over the family business—albeit it happened much sooner than planned."
Ten months later, she arrived in Cambridge. There, for four years, she balanced a full course load, concentrating in economics, while also running the global enterprise from her dorm room. Half-French and half-American (her mother's family immigrated to New York City, where Apollonia was born), Poilâne says that "Going to college in the U.S. was both a dream from movies I watched in English as a child and a way to honor my roots. As I grew up, I understood the French university system was too specialized for me." At Harvard, in her telling, the dual role of student and CEO wasn't all that difficult. "In Europe you would have 20 hours of classes, plus another maybe 15 hours of sections, whereas in the U.S., you sign up for four classes, yeah, you have the homework, but you have time," she says. "Some kids would never study, or barely go to class, and study for finals. I was like, 'This is easy.' If you work a little bit every day, you just get things done." She could not have managed a more challenging major, like biochemistry, and she didn't get all As. But her earlier training as a ballerina and an equestrian—that precision, perseverance, hyper-focus, and self-restraint—was crucial. She woke up earlier than her friends, meeting all the training athletes in the dining hall at breakfast; took morning classes because that's "when I'm sharpest"; and traveled to Paris every four to eight weeks for business meetings. Instead of joining student clubs, running the company was her extracurricular activity. "It wasn't ideal," she says. "I definitely didn't party as much as the others. I had to be disciplined. But I didn't really have a choice on that."
Now 39, she has long-since settled into her role at the top of the bread chain. Her sister Athena, an artist and interior designer in New York City, is a shareholder and board member. "Together," Poilâne says, "we are a pair of guardians of a heritage that needs to be nurtured through dialogue." Some 140 "pairs of hands" keep the $12-million company going, with five retail bakeries in Paris and one in London, and a robust wholesale business. The strongest markets are elsewhere in France and in neighboring European countries, and in Japan, Hong Kong, Singapore, and throughout North America. Formaggio Kitchen in Cambridge carries the company's bread—which is where she bought a loaf whenever she ran out of it during college.
So embedded is the company's bread in Poilâne's life, it's easy to wonder: Does she ever get tired of eating it? "Absolutely not," she answers. "There is immense pride, and I really love my products." Her breadbox always holds a miche. And she packs a loaf whenever traveling.
Last summer on vacation, before returning to her home in Paris, she gave the leftover hunk to a neighbor. The gesture reflects Poilâne's unflagging enthusiasm for breaking bread—and in sharing the "magic" of conjuring loaves from starter. At root, she notes, the baker's job is to grind grain, mix it with other ingredients, and apply heat. That humble act, though, yields something completely new—and life-sustaining. "Fermentation potentializes, catalyzes, that magic," she says. "Taking material from the soil, our hands merely accompany this transformative movement. Everything is in nature." Such heartfelt gastronomic philosophizing shows up in her artful 2019 cookbook, Poilâne: The Secrets of the World-Famous Bread Bakery. Amid personal family notes, the bakery's history, and company recipes are some other inventive dishes: avocado tartine with banana and lime, and bread-based zucchini and black garlic gazpacho—and instructions for "perfect toast." The trick, she writes, comes from her father, who put two half-inch slices into one toaster slot at a time, creating "double the texture: the moistness of untoasted bread on one side and the crispness of toast on the other. You hear the sound that good toast makes when bitten into but with a lovely supple bite."
She's right. But even then, at the end of any irreproachably sliced loaf, toasted or not, there's always the heel (or, in French, the more appetizing-sounding entame.) "What do I do with this?" she asks. "So, some people really love it. In fact, when we sell bread by the slice in the store, some people want only the heels." She enjoys them as a snack or purposely cuts them thicker, dicing them into croutons (her book offers nine dishes that incorporate such chunks).
Actually, it's the bits and pieces of bread that form her warmest memories. On Sunday nights when she was young, when the week's leftover bread had become like wood, her parents gathered everything from the refrigerated cheese drawer and melted it all together on the stove, adding cumin or some other spices, "because I think realistically the mix was not necessarily at its best," she says, "so the cumin basically overrode whatever was in there." Spread with the hot cheeses and their oils, the bread softened enough to bite into but retained a satisfying crunch. The four of them sat around relishing this weekend tradition, while efficiently using up the last of the loaves. "These were some of my favorite meals. It's just so simple and fantastic," she adds. "Nowadays, it's just having a little piece of bread and cheese when I come home, and that's so wonderful."
You might also like
Toward another apartment complex on Harvard-owned land
Stepping down after 30 years of University service
Harvard researchers seek to empower individuals to steer their own careers.
Most popular
Brief life of a black radical: 1872-1934
Brief life of a textured artist: 1911-1988
In Agyementi, Ghana, Sangu Delle '10 brings clean water to a village.
More to explore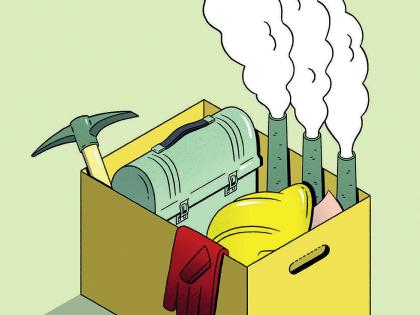 Expect massive job losses in industries associated with fossil fuels. The time to get ready is now.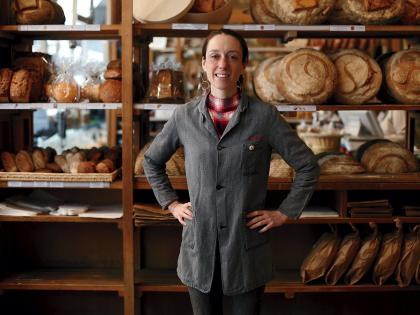 A third-generation French baker on legacy loaves and the "magic" of baking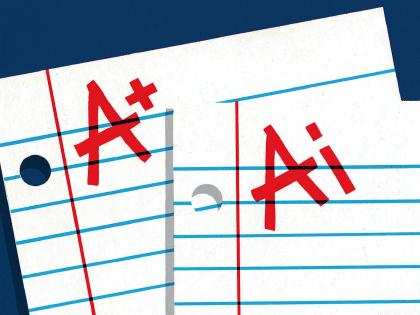 Generative AI can enhance teaching and learning but augurs a shift to oral forms of student assessment.