Alumni
Of Dumplings, Bok Choy, and the Politics of Emoji
2.14.19
In 2015, inspiration struck Jennifer 8. Lee '99 like an apple from Newton's tree. In her case, though, it was a dumpling.
Lee and her friend Yiying Lu were texting about upcoming dinner plans. Lee sent over a picture of dumplings, and Lu went to her iPhone's emoji keyboard to send back a dumpling emoji—a miniature digital icon. None existed. 
For most people, this kind of omission would inspire minor annoyance but little, if any, action. For Lee, a former Ledecky fellow for this magazine, it sparked a passion that continues to this day. Alongside her positions as CEO of a publishing startup and producer of documentaries, Lee is a self-proclaimed "emoji activist," co-founder of Emojination, and vice-chair of the Unicode Emoji Subcommittee—a group that helps decide what images deserve to be emoji. Now, she's at work on an emoji documentary. It's not the first time food has been a creative muse for Lee: in 2014, she co-produced The Search for General Tso, a documentary about the history of the eponymous dish, based on her best-selling book, The Fortune Cookie Chronicles. 
Within hours of discovering the lack of dumpling representation, Lu, a graphic designer, created her own and sent it to Lee. Lee began researching how an emoji gets on the iPhone's keyboard. Did it come from Apple? Did she have to appeal to an app?
"I was just like, 'How could there be no dumpling emoji?'" Lee recalled this week in an interview. "'Clearly the system is broken.'"
She found that the emoji-ruling organization was the Unicode Consortium, a nonprofit entity that sets the standard for handling text in nearly all the world's writing systems. In 2010, responding to petitions and proposals from Google and Apple, Unicode got involved with emoji. Without Unicode's blessing, any character, ideogram, or smiley sent from one kind of device can show up as an incoherent jumble on another. 
Behind the approval process was a board of 11 full-voting members, the Unicode Technical Committee (UTC). Each voting member supports the organization with yearly contributions of between $10,000 and $18,000. The price was fine for most of the board—representatives from companies like Apple, Google, Facebook, and Microsoft—but didn't make sense for her. She paid $75 for an individual membership and started getting emails from Unicode about future meetings, held in Mountain View, California. One happened to be taking place the following month, in late January 2016. She decided to check it out. 
Though no rules prevent individual members from attending technical meetings, most don't bother. The board, mostly volunteers enthusiastic about tech and linguistics, were happy to see there were outsiders who cared about the process. Lee compared it to going to a new church. 
"They're so friendly," she said. "They were like, 'It's so good to see you, tell us about yourself, what brings you here?'" 
And Lee was not alone in her passion for the dumpling. Her Kickstarter crowdfunding campaign, the Dumpling Emoji Project, raised $12,478 from 318 backers and endorsements from chefs, celebrities, and authors who loved dumplings (and pierogis, gyoza, and momos). By January 1, 2016, the Kickstarter had received almost double its original funding goal. The fervor was covered by dozens of publications, including The New York Times—for whom Lee once reported —and The Washington Post. The contributions covered the cost of getting Emojination—the emoji-campaigning group Lee formed during the Kickstarter campaign—associate-member level status on the committee for a few years. Though anyone can propose an emoji, that membership level allows for more influence in the process. Emojination does not receive a vote, but its voice has been felt. 
Lee's proposal for the dumpling emoji, as presented before the committee, ran to more than 1,000 words. Unicode's three main criteria for new emoji are "high expected usage," "distinctiveness," and "broad scope." Lee's proposal included eight distinct sections. According to her "image distinctiveness" portion:
A dumpling emoji would be visually distinct from current emoji, though the closest in spirit is arguably the burrito (flour skin filled with stuffing). But dumplings do not generally share the burrito's elongated, tubular shape.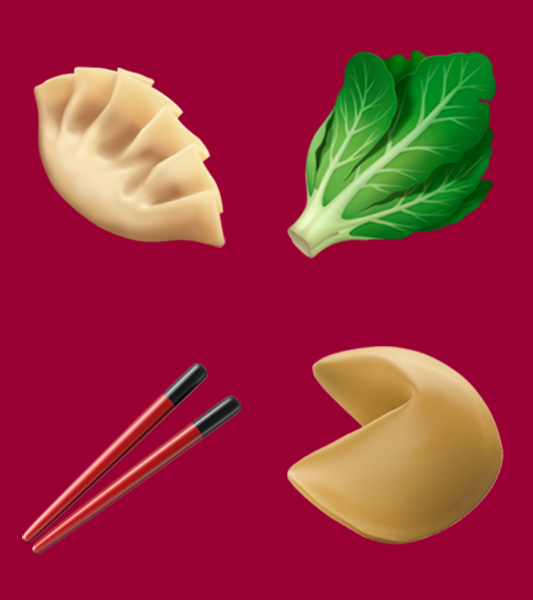 Emoji images courtesy of
Emojipedia
The campaign worked: Lee and Lu received approval for their beloved dumpling. The committee was so impressed, they asked Lu to help design images for three other proposed emoji: the takeout box, chopsticks, and the fortune cookie. For Emojination, this was a grand slam. They've since helped pass several more emoji, including the hijab, DNA, and broccoli. Earlier this month, Unicode passed a slate of emoji portraying interracial couples, responding to efforts from groups like Emojination to add more representation. 
Emoji haven't taken over Lee's entire life, but she is undoubtedly more involved with the icons than she thought she'd be years ago. She has weekly online meetings for the Unicode Emoji Subcommittee and shows up in Mountain View three to four times a year for week-long meetings with the Unicode Technical Committee (though she admits that she doesn't stay all day, every day). 
She is often called when a member of Emojination asks for help getting a proposal through. Recently, she spent an hour on the phone with someone having trouble passing a group of emoji based on the traditional Chinese lion dance. In one meeting with the UTC, Lee defended "leafy greens," which some members thought was too similar to "salad." She explained that many Asians eat leafy greens outside the context of salad and asked whether it would help if the leafy greens were less green and looked more like bok choy. Her colleagues said sure. 
"I'm like, 'Are you serious? Are you really blocking leafy greens?' and then we finally got it through," Lee said. "That one took a little bit of a push." 
In the world of emoji, nothing gets through without initiative. Lee thinks there's something special that makes them worth the effort. "Clearly it matters, because the world cares so much," she declared. "It's not like Unicode went out and tried to promote attention around emoji. It's an explosive passion that is worldwide around both the usage of emoji and the process that brought them to phones. It is truly native to the digital realm."