Sports
To the Frozen Four
4.5.17
Photograph by Gil Talbot/Harvard Athletic Communications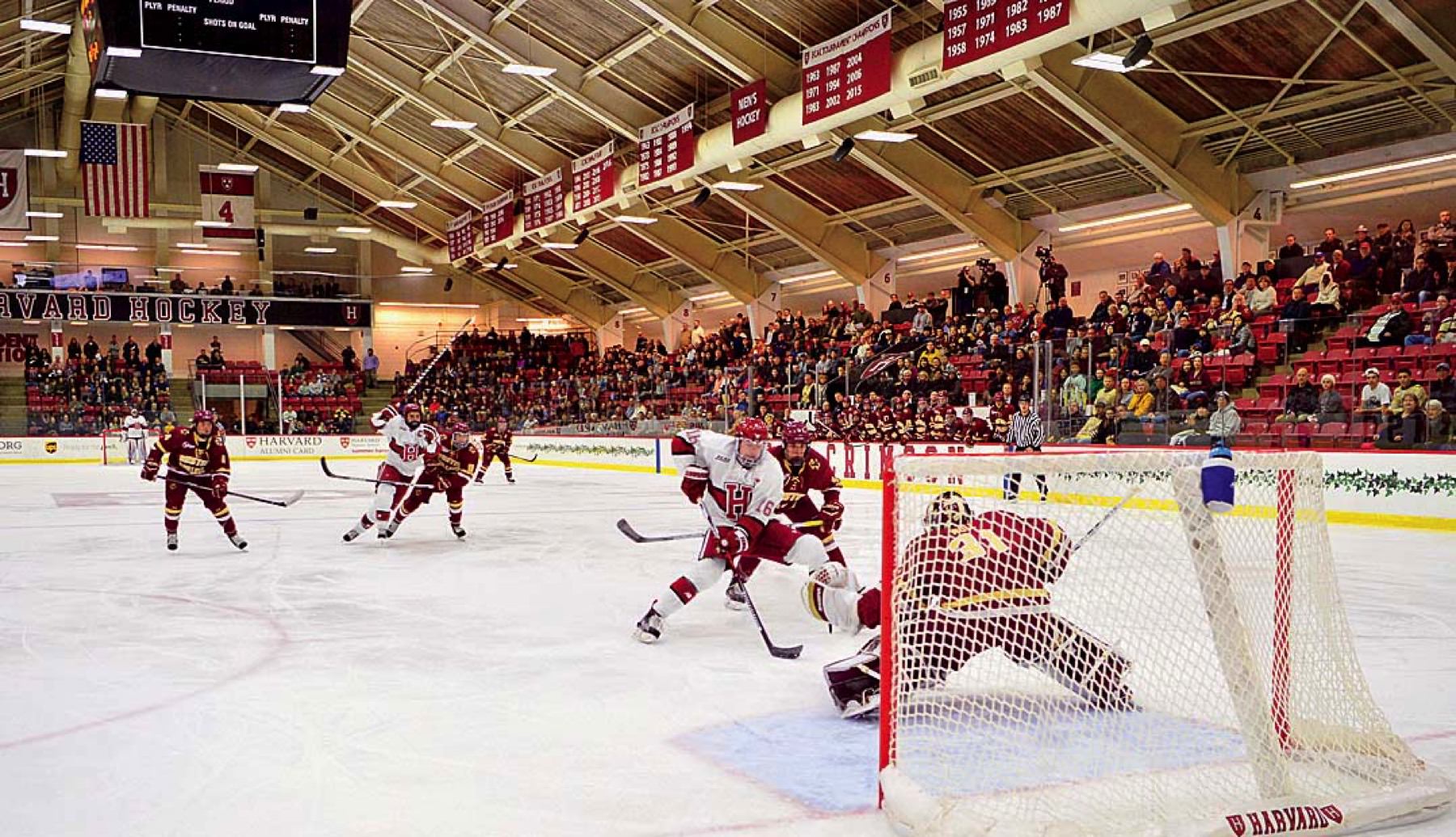 Photograph by Gil Talbot/Harvard Athletic Communications
After sneaking in one last practice at Bright-Landry Hockey Center Tuesday afternoon, the Harvard men's hockey team boarded an evening flight, on their way to Chicago and the United Center and—for the first time in 23 years—the Frozen Four. On Thursday at 6 p.m. EST, the Crimson will take on Minnesota Duluth, a team it hasn't faced in more than two decades and that won the national title in 2011. The game will be broadcast on ESPN2.
"It's pretty amazing," said senior forward and co-captain Devin Tringale of the past couple weeks' experience. "Everyone from classmates to dining hall staff to deans stopping us and congratulating us on the season, wishing us good luck in Chicago….This is kind of the pinnacle of what we were hoping to do this year, and we're right on the brink of doing something really special."
Already it has been an extraordinary season. In February, playing in front of a big crowd at the Boston Garden, the Crimson beat perennial rival Boston University to bring home the Beanpot trophy, and a month later in Lake Placid, New York, Harvard bested a ranked Quinnipiac team and then Cornell to win the Eastern College Athletic Conference championship. On March 25, a victory over Air Force in the NCAA regional final, after beating Providence the day before, earned the Crimson a spot in the Frozen Four. That win marked the team's sixteenth in a row.
They're still hungry. "We're super excited to have made it this far," Tringale says, "but we don't feel like we're done yet…One of the best things about our team is that we haven't been satisfied all year."
Minnesota Duluth, Harvard's Thursday opponent, is member of the powerful National Collegiate Hockey Conference, which also includes Frozen Four top seed Denver; Minnesota beat Ohio State and BU, both in overtime, to punch its ticket to Chicago. Speaking to reporters last week in a telephone press conference, Harvard coach Ted Donato called Minnesota Duluth "a team that year in, year out is tremendously successful. They just go about the business of winning hockey games." Harvard plans to do the same. After highly focused, high-tempo practices this week and last, Tringale says he and his teammates are focused and ready. "We know we have talented players, and we know we can beat anyone in the country," he says. "But we have to play our game. We have to keep it in focus. It's exciting to be in this spot—definitely. And it's been fun to be on the ice. But we have a big weekend ahead of us still. And something special on the line."
The winner of Thursday's game will face the winner of the Frozen Four's other contest, between Denver and Notre Dame, on Saturday at 8 p.m.
Update 4/7/17: With less than 30 seconds remaining in a long-tied, 1-1, game, Minnesota Duluth scored the winning goal on Thursday evening to advance to Saturday's final against the Denver Pioneers.