Staff Pick
Lowell Kinetic Sculpture Race
Photograph by Lucinana Calvin/Courtesy of the Lowell Kinetic Sculpture Race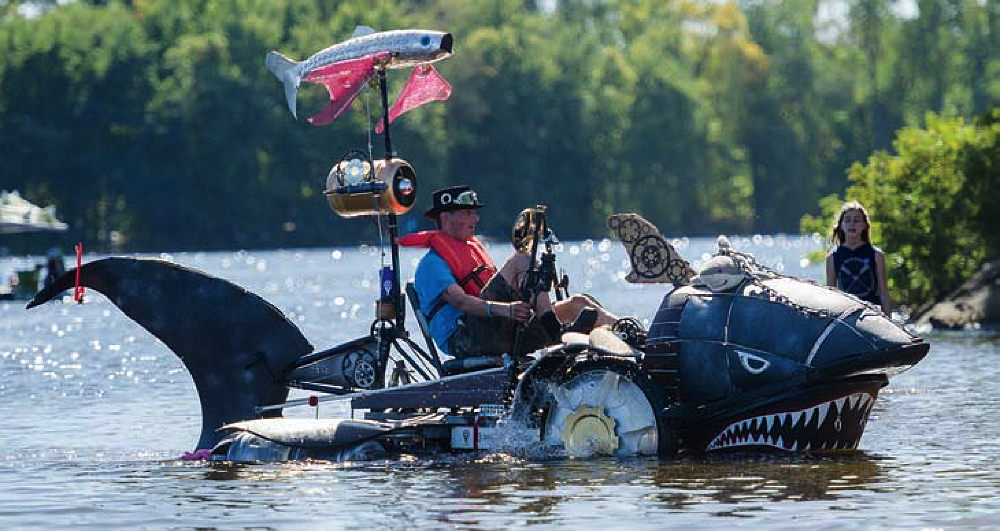 Photograph by Lucinana Calvin/Courtesy of the Lowell Kinetic Sculpture Race
Photograph courtesy of the Lowell Kinetic Sculpture Race
Photograph courtesy of the Lowell Kinetic Sculpture Race
Photograph courtesy of the Lowell Kinetic Sculpture Race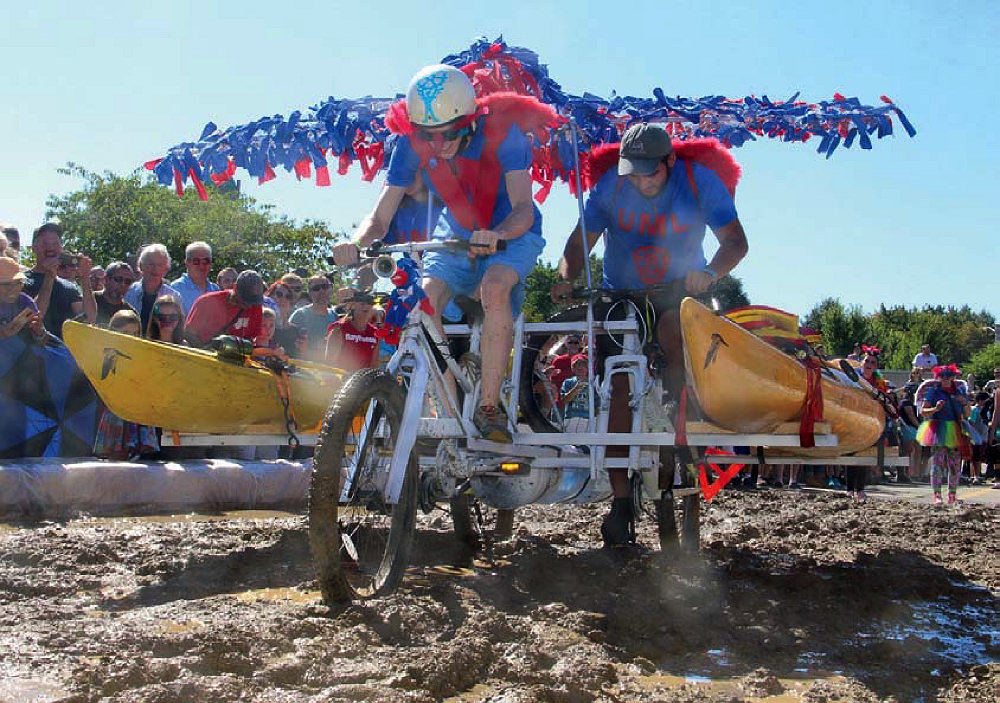 Photograph courtesy of the Lowell Kinetic Sculpture Race
On September 22, about 20 teams will gather to propel their human-powered machines—without their feet ever touching the ground—through downtown streets and a 50-foot mud pit, and then into the Merrimack River, before returning to land to cross the finish line near the Lowell Heritage State Park. [7]
Fun and ingenuity are prized over winning, says race co-producer and artist Michael Roundy, a studio art professor at the University of Massachusetts, Lowell—and the contest supports the national STEM/STEAM educational initiative. The creations utilize all of that knowledge—the physics and mechanics involved in knowing "how to make your way through mud, how to float, how steering works," he says—along with hands-on skills and artistry, as in welding and carpentry.
Last year, a machine featuring three bicycles and two canoes was built as a summer project by fifth- and sixth-graders in a Lowell STEM-based program. In another apparatus, "Ice Cream Floats," co-pilots ably pedaled along asphalt but, once they hit the mud, climbed up front atop an attached, geodesic-dome-like orb made of lightweight plastic and foam tubing and manually rolled their machine (and themselves) through the pit, says Roundy. "People were really amazed at that!"
A record 5,000 spectators turned out, many in funky hats, make-up, and costumes, from hot dogs and queens to Vikings and superheroes. The festivities begin at 8:30 a.m. on Market Street—where anyone can meet the teams and see their machines—and end around 4 p.m. with an award ceremony (there's even one for the next-to-last finisher) at the park. But throughout the day, there are live bands and street performers, along with family-friendly games and food trucks.
The Lowell event, [8]now in its third year, was inspired by the first known kinetic sculpture competition, held in Ferndale, California, in 1969. That began, Roundy says, with artist Hobart Brown's efforts to improve his son's tricycle, and a neighbor who thought he'd do it even better and then challenged Hobart to a race. That friendly rivalry has blossomed into a three-day spectacle that covers 40 miles of water, mud, and sand dunes and spawned similar events across the country. Given the intensive creative process required by these inventions, the Lowell race has no registration deadlines or fees (although there is a list of safety-conscious technical requirements). "We'll even take people up until the last day," Roundy declares, "because we like to leave it all open."