Treasure
Jades, Reread
New insights into ancient artifacts
July-August 2019 [2]
Photograph courtesy of the Harvard Art Museums/Arthur M. Sackler Museum, Bequest of Grenville L. Winthrop,©President and Fellows of Harvard College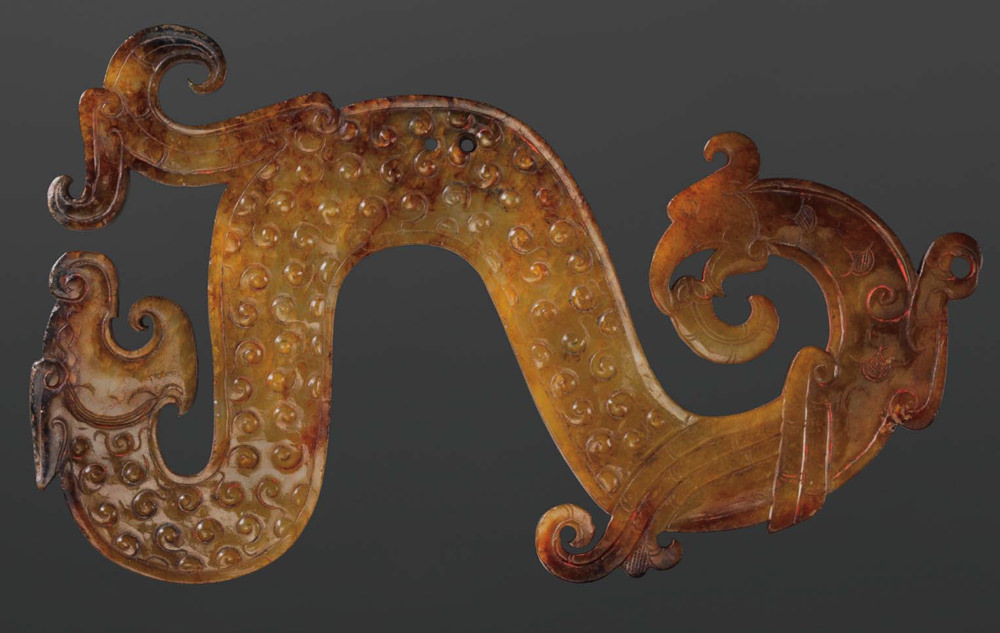 Photograph courtesy of the Harvard Art Museums/Arthur M. Sackler Museum, Bequest of Grenville L. Winthrop,©President and Fellows of Harvard College
Photograph courtesy of the Harvard Art Museums/Arthur M. Sackler Museum, Bequest of Grenville L. Winthrop,©President and Fellows of Harvard College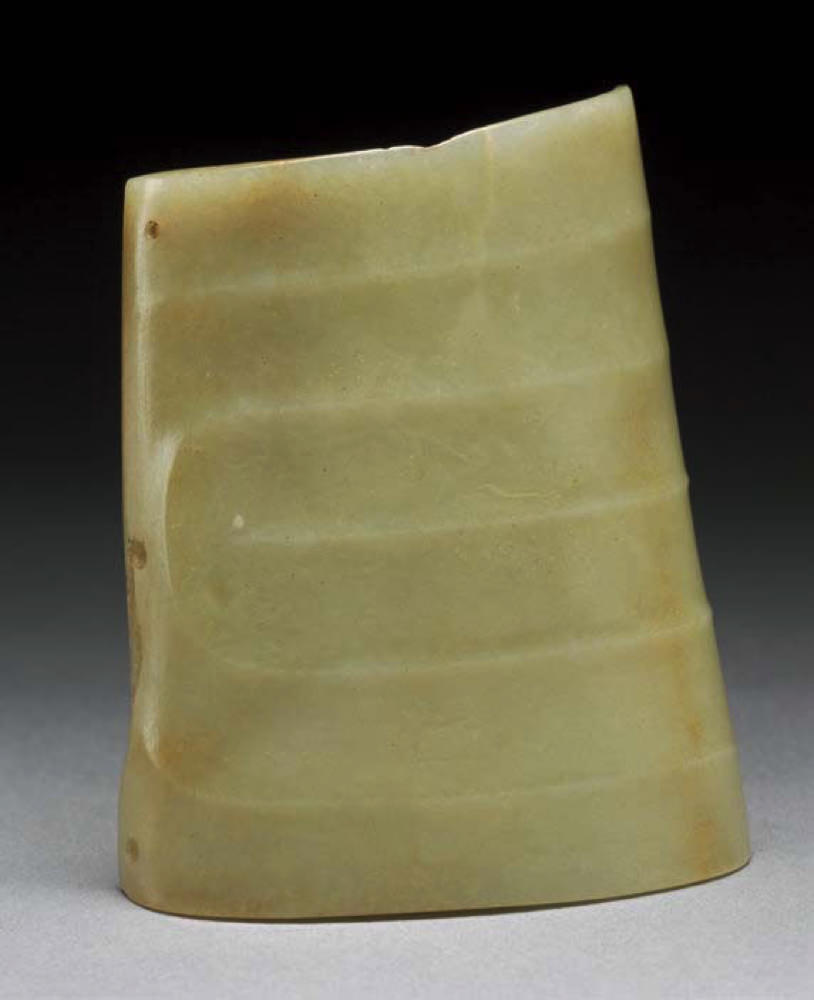 Photograph courtesy of the Harvard Art Museums/Arthur M. Sackler Museum, Bequest of Grenville L. Winthrop,©President and Fellows of Harvard College
Photograph courtesy of the Harvard Art Museums/Arthur M. Sackler Museum, Bequest of Grenville L. Winthrop,©President and Fellows of Harvard College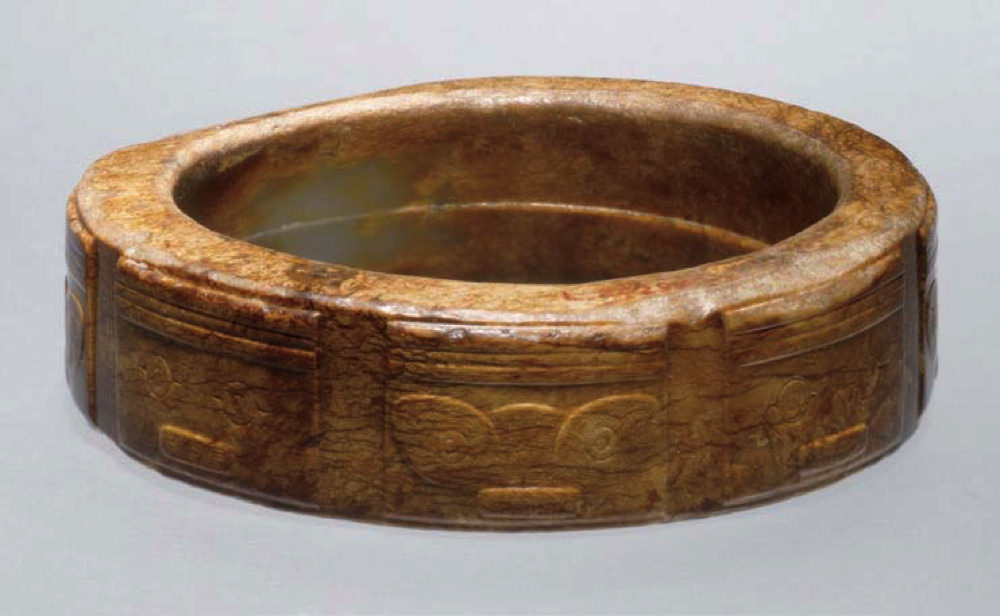 Photograph courtesy of the Harvard Art Museums/Arthur M. Sackler Museum, Bequest of Grenville L. Winthrop,©President and Fellows of Harvard College
Why do early Chinese jades hold such allure? Their antiquity, for one thing: Neolithic examples date back 7,000 years, commanding attention for the sheer survival of human artifacts. The color of the stone, its worked finish and crisp details, can be ravishing. And the difficulty of the work creates a narrative. During a late-winter lecture at the Harvard Art Museums, Jenny F. So, Ph.D. '82, explained that nephrite, the classic white jade, is too hard to be carved with sculpting tools; it must instead be shaped with still harder abrasives—the work of months, or years, before powered machinery. She projected a photograph of workers manually bow-sawing a cubic-foot block of jade in China in the 1930s: two weeks to effect the first cut.
Grenville L. Winthrop, A.B. 1886, LL.B. '89, was among the bewitched: his 1943 bequest to the Fogg included nearly 700 early jades. As a graduate student in the 1970s, So worked with then-Rockefeller professor of Oriental art Max Loehr, who prepared a masterly catalog of the collection published in 1975. After a career including curating the Smithsonian's ancient Chinese collections and in the academy, at the Chinese Academy of Hong Kong, she has "retired" to consult in the field—including her contemporary reinterpretation of the Winthrop collection, just published as Early Chinese Jades in the Harvard Art Museums. The lush, large format brings readers close to 102 of those objects, many of which are diminutive.
Archaeological discoveries and the opening of China since the 1970s, So details, have expanded understanding of ancient jade: the local sources of supply, and the Neolithic, Bronze Age, and early imperial sites where it was shaped. Some objects can now be dated earlier: a gracefully grooved cuff-like ornament (click on arrow in photo gallery above), for example, 600-300 b.c.e. in Loehr's reckoning, can now be identified as 2,000-1,700 b.c.e. Material and stylistic analysis of a cylindrical bracelet decorated with animal masks (click on arrow in photo gallery above) suggests that a very ancient provenance may have to compete with a separate interpretation: that this is an eighteenth- or nineteenth-century "archaistic" item made for the imperial collections. Technical analysis of a unique, iconic mirror points to modern fabrication using remnants of ancient components.
So's most startling findings reflect sheer, dogged scholarship. She has painstakingly interpreted inscribed numbers concealed on the edges of disks and the ends of other jades, from Winthrop's gift and holdings elsewhere. Some, she believes, are scholar-officials' marks from millennia ago, reflecting their collecting of jades that were ancient then, to guide the placement of the pieces across their remains when they were buried. Others suggest accession numbers: scholars' and emperors' own early museumship and curation of their cherished antiques.
And decades after Loehr documented the two holes in the splendid S-shaped pendant shown (see above), with its dragon head and bird tail, So thinks she knows why. The last step in the arduous crafting of this ornament was drilling the hole by which the owner would suspend it from his belt. For all the prior precision grinding and polishing, the maker appears to have goofed. To get the proper balance, he had to drill a second hole—perhaps the world's first mulligan.