Montage
A Life in Harmonica
Scott Albert Johnson finds his path.
May-June 2021 [2]
It was the night before a final exam and Scott Albert Johnson '92 had some studying to do. Only he wasn't studying. A suitemate who came to ask Johnson a question heard through the door an instructional cassette tape and a small, reedy instrument. "What are you doing?" he asked in disbelief. "We have an exam in six hours."
"I know," Johnson responded. "But this is really important.…I've always wanted to learn how to play harmonica." Thirty years after this junior-year moment, he doesn't remember the test's content, and had even forgotten the course's subject (twentieth-century music) until the friend reminded him a few years ago. He is, however, one of the country's finest harmonica players—known for a distinctly melodic approach and mastery of the "overblow" technique, which allows him to hit notes most can't reach on the instrument. The post-midnight harmonica session was a sign, he says. "I didn't even realize how important it was."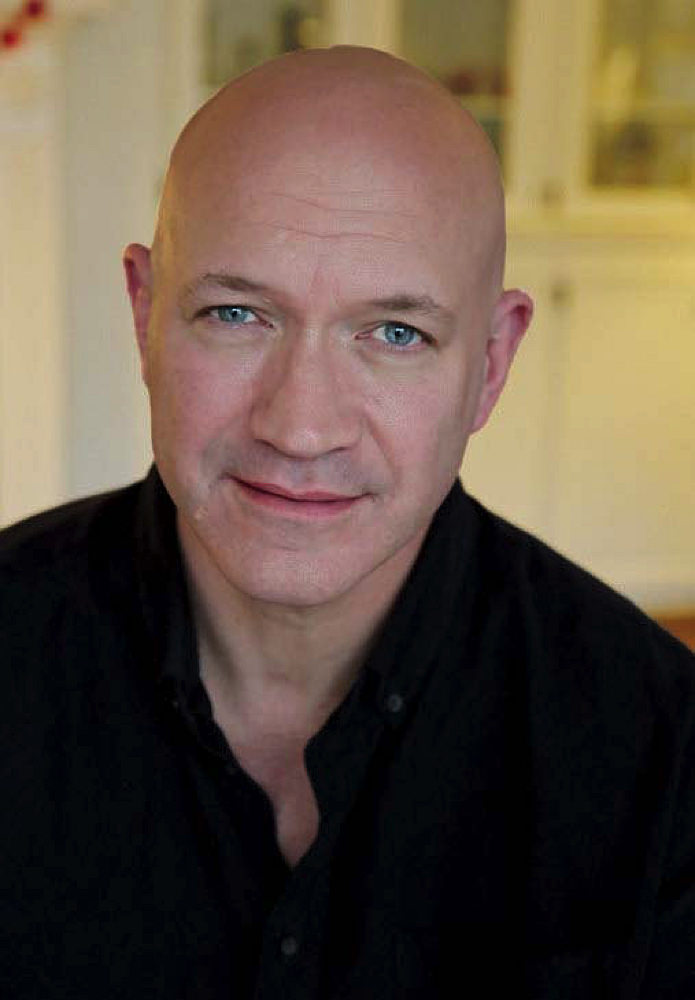 Portrait by Susan Margaret Barrett 
Johnson was born in St. Louis, where he showed an early affinity for singing and learned violin. He struggled on the finicky instrument throughout his family's moves to Tupelo, Mississippi (Elvis's birthplace)and then down to Jackson, and quit in sixth grade. In Jackson, music was inescapable. Everyone seemed to play something. Johnson joined his school's choirs and got into Jimi Hendrix, Dire Straits, Led Zeppelin, and other groups that merged classic rock with blues and psychedelic influences. One day a classmate brought home an old, ratty bass guitar from his father's record studio. After passing through the hands of a friend, it wound up with Johnson. "And then the very next day, this kid comes up to me says, "Hey, I heard you got a bass.'" He asked Johnson to join them for a gig later that week. When Johnson said he didn't even know how to play, the older guitarist offered some pointers. By Friday, Johnson was the bassist. "I just threw myself into it," he says. By sophomore year, he was gigging frequently and convinced his parents to fund a bass upgrade.
Arriving at Harvard, he assumed that the music scene would be as free-flowing as the one in Jackson, where the drummer of his band was also the starter on the baseball team and the guitarist the state's top tennis player. But it was harder to find his "musical tribe." He performed when he could, but his energy for music dissipated. He kicked for the football team, establishing himself as the "barefoot kicker" after his right shoe got stolen before a nationally televised game during his sophomore year. (Going barefoot went so well that he never kicked with a cleated foot again.) A government concentrator, he also got interested in American literature and wrote a paper relating his grandfather's favorite stories to songs by The Band's Robbie Robertson. After graduating, he received letters from a couple pro teams and kicked at a free-agent camp in Canada but was told Canadian franchises weren't signing American kickers. Johnson moved back home. "I was really, really not thinking about my career," he concludes.
That year, he worked on Bill Clinton's presidential campaign. When Clinton won, Johnson moved to Washington, but instead of securing a prestigious job, he waited tables at Tortilla Coast, known for its bottomless chips and dip. He eventually took a low-level job in the Office of Management and Budget, then attended Columbia Journalism School before moving to Ohio—"partly for a job, but also kind of partly for a girl," he says, "and neither one worked out."
He started getting back into music performance in his late twenties, after returning to D.C. Looking to branch out beyond singing, he decided to pick up another instrument and settled on harmonica, one he had barely learned how to play.
But soon he was hooked. He bought a cheap set of harps in different keys and tried to figure out which worked best on different songs. Whether the harmonica was in the original was unimportant; he obsessed over transferring dense, virtuosic guitar solos onto the tiny, diatonic instrument that in most hands plays only the notes of a major scale. Harmonica became an addiction and an irreplaceable component of his performances. Within a year, he was better at it than he had ever been at bass—developing a sound that melded the straightforward, troubadour style of artists like Bob Dylan with traditional blues and progressive rock.
As Johnson harnessed the harmonica, he switched from job to job, loosely in journalism, until he recognized music was not just a hobby. On a trip home for Christmas in 2001, he played at a blues jam and people started asking whether he was available for more gigs. A few months later, after moving back to his home town, he was.
Johnson originally imagined Jackson as a way station before a more permanent move to Austin or New Orleans. But about a month after getting back, he met his future wife, and kept getting more and more performance opportunities. He doubled down on his technique and conquered the overblow, allowing him to play each note of a chromatic scale on any harmonica. By 2010, he'd become an expert and was playing more than 150 gigs a year. Even outside of Mississippi, he was becoming well known in the small but spirited harmonica world.
The recognition felt a little strange. He'd always thought of harmonica as fitting into his career as a singer-songwriter, having long admired artists like Pete Townshend, Marvin Gaye, and Dylan. Music had always been a way to get his thoughts out into the world, and the harmonica a means to an end. But even after he produced two albums of original songs in 2008 and 2015, many considered him a harmonica player first and foremost. And though his first record got some favorable reviews, a record deal didn't come, nor the resources for a full-time touring career. "There are moments of disappointment," he says, "that come with not getting to where you think you ought to be."
But at 51, he feels like he's gotten past that sentiment. He and his wife have three children, and he works as a counselor at his old high school, a role he enjoys that keeps him financially stable—something he's been grateful for during the pandemic. He recalls a recent conversation with a childhood friend who asked if it was liberating to rid himself of some of the traditional markers of success—number of gigs, crowd sizes—that the pandemic rendered obsolete. Johnson agreed.
At the end of 2020, Johnson released a single called "Float," a folksy, atmospheric reflection on the pandemic, and his first new song in about five years. He wrote, recorded, produced, and mixed it almost entirely by himself, owning more of the process than he ever had before. "That was a great feeling," he says, "just to get it done, to get all the little kinks ironed out, and to be able to say, 'This is mine.'" He sang it how he wanted to sing and said what he wanted to say. For the first time in a while, he didn't include harmonica. "Anything else that comes from it is welcome, too," he says, "but life is too short to let it be about those things."