Features | Vita
The Poco of Pocos
Brief life of a Harvard "character": 1831-1918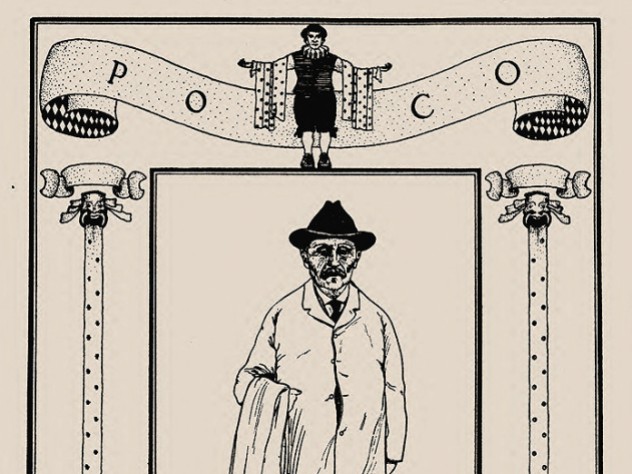 From Harvard Celebrities: A Book of Caricatures and Decorative Drawings, 1901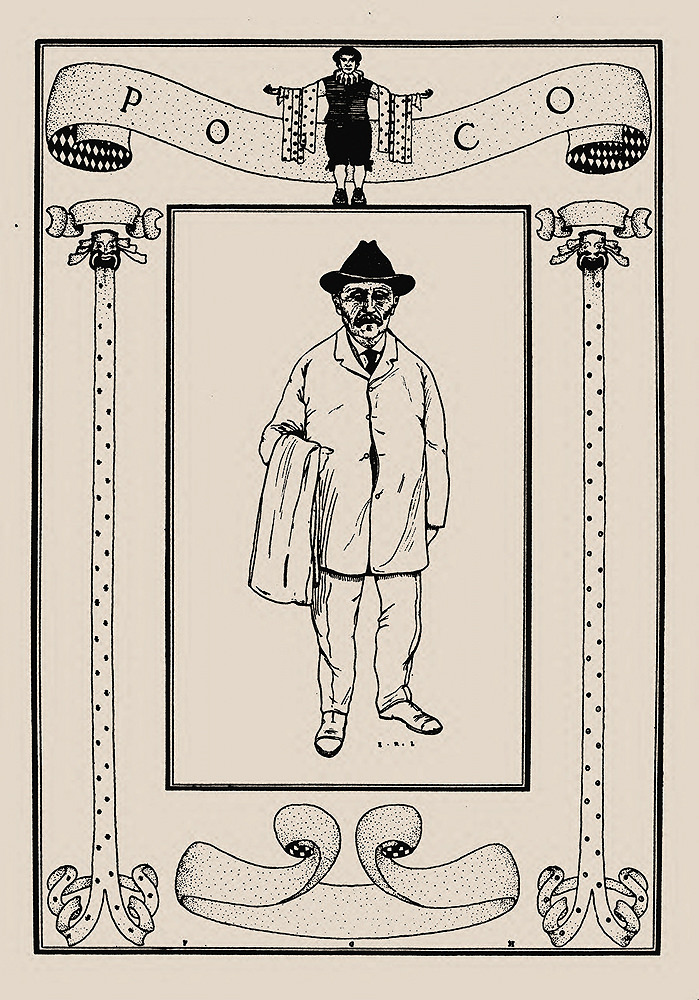 From Harvard Celebrities: A Book of Caricatures and Decorative Drawings, 1901
The "Poco of Pocos" was Bernard Butekan, a secondhand-clothes dealer ("clo'man"), a Harvard celebrity, and the first in a series of rag dealers who played a surprisingly large role in the culture of students, faculty members, and the broader University community between the mid nineteenth and early twentieth centuries. Poco's long hidden story reveals not only unexpected connections between secondhand clothes and Jews, but also the multiple ways in which identities were literally "fashioned" in Harvard Yard.
"Barney" Butekan emigrated from Holland in the 1840s and changed his name from Buitekant, a Dutch-derived word meaning "outsider." By 1850 he was a street peddler of rags, bones, and bottles, a common profession for recent Jewish immigrants. In 1868 he became a naturalized citizen, listing his address as 131 East Dover Street, Boston.
In his early Cambridge years, he tended to buy from Harvard students and resell his wares in Boston, either to working-class customers or to the shoddy (recycled fabric) industry. But Butekan soon realized he could hold court and keep business within the Yard, buying and selling from wealthier to less-wealthy students. The pre-Civil War years were especially lucrative—a result, he later supposed, of the many wealthy Southern students who sold cheap, or even gave away, fine but slightly worn clothing. The arrival of sewing machines in the 1840s also increased both the production of menswear and the size of many student wardrobes. Butekan took advantage, often waiting at residence and dining hall entrances, or dropping cards bearing the address he kept at Foster's, a local cigar store.
He became "Poco" (little) in 1850, named by a wealthy Boston undergraduate who loved Italian, Arthur Dexter, A.B. 1851. Butekan—though readily recognizable as Jewish, and often mocked as such—used that name in advertising in issue after issue of The Harvard Crimson. Under this moniker he became a Harvard "character," showing up in student publications and performances on and around the Yard—In November 1860, for example, he marched at the head of a parade celebrating the election of Abraham Lincoln. In time, "Poco" transformed from a nickname for Butekan to a more general term for a growing number of old clo'men (mostly Jewish, some Italian) around campus.
They were increasingly perceived as a nuisance. Parents upset about the calls of "rags, bones, bottles" by "Hebrews and Israelites" outside the dining hall agitated for Harvard to draft legislation against them. "Advertisers and their Victims," the Crimson titled a November 5, 1884, article about some of the techniques used: "We are met in corners and doorways and cards and bills are thrust in our faces." But others made jokes. The Harvard Lampoon provided a play on words: "Jeu d'esprit: A poco on a spree" (referencing both "Jew" and the French word for "game"). Students themselves presented a range of attitudes—from vitriol to curiosity and even sympathy.
In the 1880s, some pocos turned to moneylending, in particular a new arrival, Bernard Bennett. As "the college men's broker," he began to offer high-interest, collateral-free, cash loans to wealthy students, in addition to buying any sartorial leftovers. As the moneylending thrived, the pocos' reputations soured. In April 1896, the Lampoon parodied the Crimson's advertising page, with its proliferation of old-clothes dealers, and included a discussion about "shooting Pocos in the head," using explicitly antisemitic language. Yet a year later, the Hasty Pudding show Flying Dutchmen featured a friendly, largely endearing character named Poco. Some warmth also pervades the Poco portrait included in Harvard Celebrities: A Book of Caricatures and Decorative Drawings in 1901 (above) when about 7 percent of Harvard students had been identified by a campus office as Jews. The drawing illustrates a poem on Poco written by T.S. Eliot's older brother, Henry, A.B. 1901.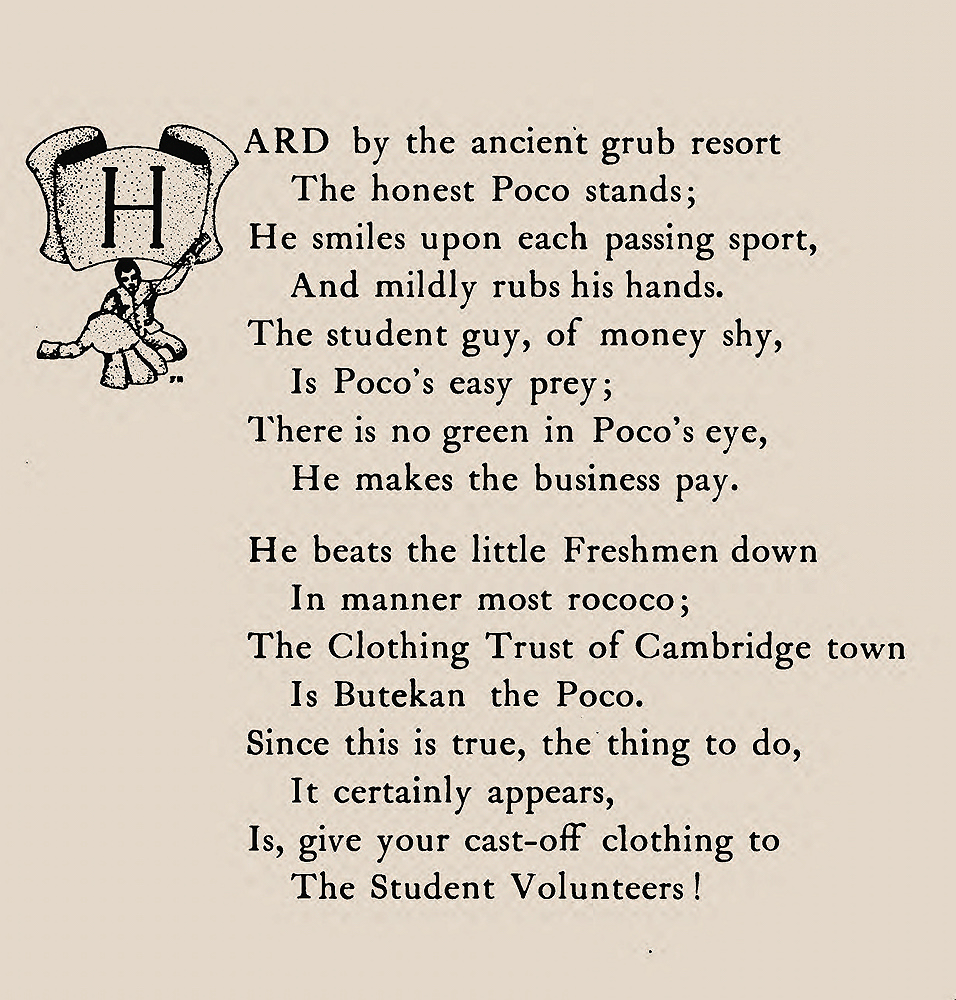 From Harvard Celebrities: A Book of Caricatures and Decorative Drawings, 1901
By the early 1900s, though, the Pocos were closing up, replaced by brick-and-mortar businesses like Keezer's that opened right in the Square. Poco Butekan continued to renew his junk license from the city of Cambridge until his death in 1918; Poco Bennett died having amassed a considerable fortune, according to his 1913 obituary in The New York Times, which noted: "not a student who was wealthy but knew Poco well."
Their stories provide a new lens on the fashioning of identity at Harvard, as it occurred and occurs to this day. That these men could serve this intermediary role—that clothing could pass from one person to another, and one class to another—is part of a larger story of how textile recycling has facilitated new ways for economic, racial, and ethnic groups and individuals to connect and come to know one another. It is striking that a figure forgotten today was, for decades, known via songs, plays, and local Harvard slang. As well, Poco was a meaningful presence in students' lives, appearing on their doorsteps offering to buy or replace their clothes. The existence of a simple rag dealer seemingly caused a whole new word to come into existence, and that word, then, became a kind of record of his existence. Poco was, in his day, a central figure engaged in the day-to-day business of helping to fashion the identities of Harvard students in ways that were at times as much social as sartorial.