The Anti-thesis
I've always had difficulty with conclusions. Writing a 101-page senior thesis may have only made my problem worse. I should have heeded the...
I've always had difficulty with conclusions. Writing a 101-page senior thesis may have only made my problem worse.
I should have heeded the advice that Eliot House resident tutor Amie von Briesen '95, L '01, offered over dinner one night. "Whatever you do, don't wait until the night before to finish writing your thesis conclusion," she warned, rolling her eyes with memory of her own last-minute blunders. "Of course not!" I thought way back in November, with a fresh printout of my personal deadlines in hand. For March 22, my schedule listed "Print out and celebrate!"
But come the actual Night Before, my conclusion was a collection of jumbled paragraphs, my bibliography stretched only a few sparse lines, three chapters remained unproofed, and after a week of continuous thesis work and sleepless nights, none of my sentences made any sense whatsoever. Early in the evening, five different pedestrians had stopped to ask if I--disheveled and wobbly legged--needed help schlepping eight bags of Widener Library books across Harvard Yard to my Eliot House room. I was convinced the End was nearing--all too soon, because I still had pages to go before I slept.
Which is exactly when "Project Geoff" kicked into final high gear.
Around 9:00 p.m., fellow Crimson reporter Kirsten Studlien '02 showed up at my door, large coffee and chocolate croissant in hand. "Take me to your bibliography," she offered. And as she started typing up a pile of some 46 book entries and picture captions, we were joined by crack Crimson editor (and roommate) Andrew Mandel '00, who then proceeded to exchange his already marked-up set of chapters one and two for unproofed copies of three and four. Back in her room, fellow Diversity & Distinction magazine editor Mikhaela Reid '02 was also busy proofing three and four, zapping electronic edits to me via the campus Ethernet network. After midnight, Crimson reporter Vicky Hallett '02 showed up to cheer on the team before digging into another set of chapter proofs, while Andrew and I sat at my computer until dawn attempting to transform my final chapter from speculation into conclusion.
As campus journalists, we produced the best publications when we joined into teams with a common goal; without co-reporters, editors, designers, and photographers, we couldn't produce that next day's front page or magazine cover. As friends, we'd come to rely on each other, too; without support, we couldn't make it through inter-House transfers and thesis crises. As both professional partners and peers, our best and worst moments shared a common assumption: self-made people make few great accomplishments, and end up with anxiety to boot.
In the rush of its final days and a Widener overdue fine so high that a librarian actually snickered at me, my thesis-writing experience was probably similar to that of many other seniors--all part of some grand pedagogical plan to teach young scholars time and library-book management, I suppose.
At the beginning of the year, writing a thesis promised to be the ultimate individual experience. I'd spend hours alone searching through libraries, reading great books, crafting brilliant prose, and emerge from a hole seven months later with a crowning testament to my personal academic achievement: my first book! (An additional lure: if it was really good, I could even win a prize.) The apparent thesis of a Harvard thesis was that individual struggle enables one to scale a scholarly peak.
My anti-thesis sneaked up, quite subtly, via the walls around me. A slightly broken hinge usually left the door to my dorm room unlocked and ajar--a seeming open invitation that ushered in a lot of visitors, and a lot of distraction. As I hammered out outlines during those early months, friends would stop by my room to visit for a spell--for regular 11:00 p.m. Friends reruns with roommates Andrew and Trevor Blake '00, or "spontaneous parties" with Vicky and Kirsten. During these visits, I'd often take photographs of my guests; the one of Vicky doing an interpretive dance to "Jesus Christ Superstar" is a personal favorite. To accommodate my accumulating stacks of prints, I started taping the best photos on the walls of my room. What began as a modest collage now covers all four walls of the room.
As I look now at these photos of distractions "when I should have been working," I realize these guests brought an unexpected (and, initially, unappreciated) benefit to my thesis writing: they'd often sit and listen--sometimes for hours--to my blathering about a thesis point du jour. And talking out loud my latest anthropological theory would make typing it out considerably easier when I'd sit back down in front of my computer to write about it.
Around early February--the beginning of thesis crunch time--I transplanted work locations from my room to the basement of Holworthy Hall in the Yard, the offices of Diversity & Distinction, the campus magazine of which I had been editor-in-chief my junior year. I told people that my room was too distracting, and that Holworthy B-04, with its one tiny window and hard wood chairs, was much more conducive to churning out prose. The office was my thesis prison, I told friends--the place where I'd suffer through to surmount my personal thesis peak.
I kept trying to do what I was supposed to do: work in solitary confinement. I tried Lamont Library's laptop lounge (but studying there is like trying to go to church in a mall) and the basement of the Crimson. Once I even headed down to Central Square's Toscanini coffee shop with my laptop.
But I always found myself returning to Holworthy basement. It turned out, of course, that the offices of an active student organization invited even more visitors than my dorm room. And the people who'd traipse through its door--the staff of a magazine about culture and politics--were the ideal audience with whom to talk through the complexities of an anthropology thesis about race.
My thesis adviser, Professor J. Lorand Matory, had figured out this group-talking advantage long before I realized that he had been making me do the same thing with him. In every office-hour visit or telephone chat, he'd have me start from the beginning and recount the entire arc of my thesis. Each time I did it, he told me at the end, it got better.
When March rolled around, the ears, eyes, and minds of others became a central element of my thesis-writing process. I took the time, attention, and space of so many people that my thesis actually helped delay the publication of the spring Diversity & Distinction by almost a month as they'd group-discuss, suggest new directions, read drafts, and even help transcribe my tapes. As my final month melted into two weeks, new Diversity & Distinction editor-in-chief Claudia Cyganowski '02 and my first-year expository writing preceptor, Nancy Watterson, provided line-by-line editing suggestions so thorough, I could hardly see the white paper through their comments.
They provided exactly what my thesis needed: someone besides just me.
Perhaps it goes without saying that Harvard exhibits--perhaps glorifies--an ethos of individualism. If the idea of the self-made man is deeply rooted in American history and consciousness, then individual success is the key to entrance to the country's most competitive school, and the mark of honor once inside. It is no small wonder that this year's seniors--the class of 2000--entered Harvard our first year with a common reading assignment: Ralph Waldo Emerson's essay "Self-Reliance."
A well-worn joke e-mailed around by first years runs: At Williams, they walk you into the water holding your hand; at Yale, they teach you to swim by watching from the sidelines; at Harvard, they throw you into the water and check in four years later to see how it went.
When I was a junior, a senior told me that a thesis was supposed to help me separate myself from Harvard during my senior year. An individual academic achievement told us that we could make it as budding academics--that we could confidently head out on our own to conquer the world. A Harvard thesis would be sort of like conquering Mount Olympus: when you were done, you could finally claim a spot in the hierarchy of educated men and women.
But even Emerson's self-sufficient Harvard colleague Henry David Thoreau had his mom do his laundry when he camped out a few miles away at Walden Pond. And my sage senior friend didn't have to write a thesis for honors--or a conclusion on the Night Before. Rather than proving to be my most self-reliant academic experience, my thesis was my most collaborative with faculty, friends, and anthropological field informants. My thesis experience didn't make it easier for me to leave Harvard: it made it more difficult.
By 6 a.m. on the morning of March 23, my conclusion had reached 10 pages, but I remained seated in front of my keyboard, nervously fiddling with what I was convinced was the worst piece of writing I had ever produced.
Around 8:30 a.m., the sun had risen and I still wasn't done. I e-mailed Nancy Watterson, who wanted to know how things were going. "I'm soooooooooooo tired!" I typed, "And I know that the conclusion isn't very good...but my brain has just stopped functioning!" Smelling trouble, the consummate wordsmith put aside yet another stack of expository writing grading and, via e-mail, went through my conclusion line-by-line with me. She affirmed that it wouldn't be bad at all, after a couple of manageable edits.
At 10:30, Vicky returned with orange juice and another chocolate croissant in hand, just to make sure I "was still alive." Better than alive, I was almost done.
I snapped a picture.
When I look at the images that litter my wall, I don't want to leave Harvard. I'd be worried about the value of the past four years if I did. Conclusions ought to be difficult. That way, you better appreciate everything--and everyone--that came before them.
You might also like
Genetic analysis reveals a culture enriched from both sides of the Danube.
Harvard researchers illuminate a longstanding epidemiological connection. 
Harvard's Faculty of Arts and Sciences broaches two tough topics.
Most popular
Enjoy stretches from Boston to Portland, Providence to Worcester, and New Haven to Northampton.
A serological test may reveal the COVID-19 virus's weaknesses—and expose its strategic decoys.
Cabot, Eliot, Kirkland, Quincy and Winthrop Houses will have new leadership starting July 1
More to explore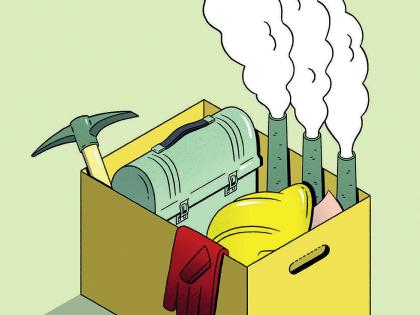 Expect massive job losses in industries associated with fossil fuels. The time to get ready is now.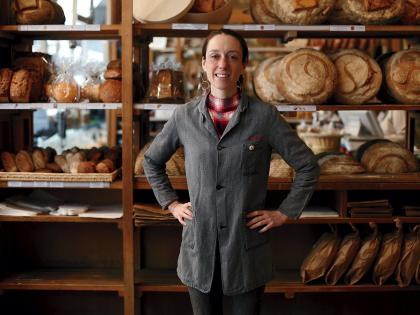 A third-generation French baker on legacy loaves and the "magic" of baking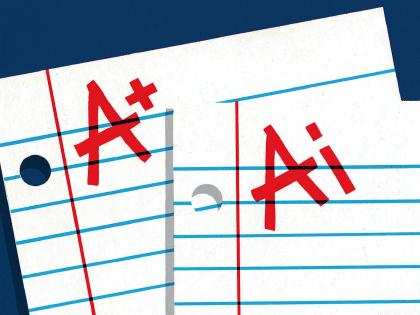 Generative AI can enhance teaching and learning but augurs a shift to oral forms of student assessment.