Montage
Radio Wits
Joking about the news, at the speed of sound
You're at a dinner party with exceptionally witty guests, well versed on current events. Lots of laughs: the wisecracking atmosphere's slightly competitive, though it hums with conviviality.  After a bit, someone famous drops by for some banter and good-natured ribbing. That's how the weekly radio show Wait, Wait…Don't Tell Me! on National Public Radio (NPR) feels: it's a comical quiz show based on current news stories, both mainstream headlines and oddball dispatches like…well, like news that roughly 500 Britons are hospitalized annually from injuries caused by eating cookies—poking oneself in the eye with a biscuit, scalding oneself while dipping the treat in tea, being nipped by a sweet-toothed pet. Host Peter Sagal '87 presides and joins in the repartee; two of the 11 rotating panelists (three appear on each week's broadcast)—Roy Blount Jr., A.M. '64, and Mo Rocca '91—also bring a Harvard background to the radio salon.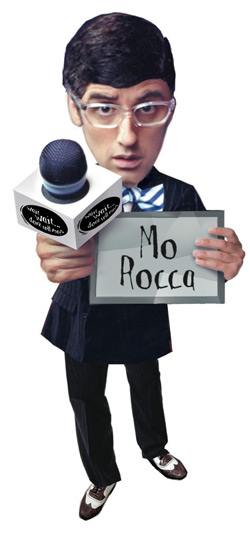 NPR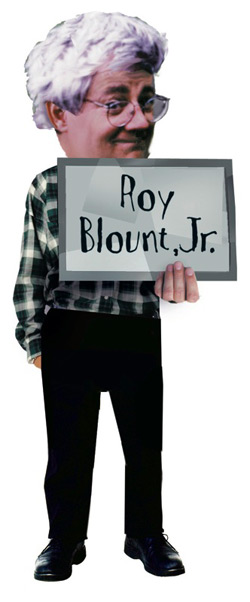 NPR
Asked how he triggers the show's rapid-fire exchanges, Sagal shrugs, grins, and says, "We're just fast." Indeed, Wait, Wait…  is no place for l'esprit de l'escalier, those clever ripostes one thinks of when it is too late to deliver them.  Panelists need to be witty on the spot, though much of the mirth is contextual. "It's more anecdotal than quippal," says Blount, characteristically neologizing. "You have to focus, and be more pushy in conversation than I'm used to. The audience helps keep you keyed up."
An October show got off on a jag about a new line of "sexy" Halloween costumes for pets, prompting Sagal to declare, "I don't find cats or dogs particularly sexy, because they belong to another species." Rocca fired back, "I'm old-fashioned. I find cats sexier when they wear more clothing, and leave more to the imagination."
The program launched in 1998, with Sagal and Blount on the first show; Sagal was quickly promoted to host, even though, as he says, "I'm not a radio guy." In fact, he came from a theater background—in college, he coauthored a Hasty Pudding show and directed a Loeb mainstage production, then spent several years as a playwright, screenwriter, director, theatrical literary manager, actor, and staff writer for a motorcycle magazine. 
Until 2005, almost all the Wait, Wait… shows were produced from an NPR studio in its home base of Chicago, with panelists patched in from remote locations (Rocca from New York City, for example, and Blount from western Massachusetts).
A turning point arrived that April, when Wait, Wait… began recording every show before a live audience—they had done quite a few live shows since 2000—and became more of an "event." (Now it is also on the road 12 weeks per year.) Suddenly there was on-air laughter from an audience of hundreds or even thousands, and the radio listenership climbed, from 1.5 million in 2005 to nearly twice that today. In the studio years, "I didn't know whom I was speaking to," Sagal says. "I like audiences—performing for people and watching their reaction."
Yet the live audience of, say, 2,800 for a road show in Boston mustn't so seduce Sagal that he forgets the radio audience of three million who will hear Wait, Wait… on the weekend after it has been recorded on a Thursday night and edited the next day. "The trick is: the show is not for the audience in front of you," he explains. "They are part of the show that you're doing for everybody listening on the radio. Garrison Keillor is really good at that: he comes out before Prairie Home Companion starts and enlists them in the enterprise."
At its best, the Wait, Wait… enterprise is very improvisational. "It's the most relaxing job I've ever had," Rocca says. "You can't prepare for it. You just show up and be funny off the cuff. If you prepare material ahead of time, it won't work. The audience can tell." Sagal explains that "when you're in the zone, there's this wonderful feeling of your mind racing ahead, and you're able to shape reactions and thoughts as they happen. When it's clicking, I can start a sentence knowing that I'm going to need to finish the joke with, say, the name of a movie or a historical reference that I don't know—but I'm just confident that when I get to the punch line, it'll be there."
Performances run for 90 minutes or more and are edited to 50-minute broadcasts. "If you say something that's really stupid, they'll cut it out," Blount says. "Or something really funny—sometimes they'll cut those, too." Naturally, there's some horsing around; off-color or overtly political witticisms will also get axed. Sagal, along with his four producers, writes the script of questions and set-ups beforehand, with the panelists kept in the dark. "It's like basketball," Blount explains. "Peter brings the ball down the court and he will pass off to one of us—you can either take a shot, or dribble and pass it to someone else." The one segment that allows advance preparation is the "bluff," in which one panelist reads a genuine, if bizarre, news story and two others invent equally ridiculous fictional stories on the same topic and try to bluff a listener on the phone into thinking theirs is the genuine article. "The night before, they tell us the topic and who has the real story," says Blount.
Panelists can also prepare by boning up on the news in the week before their appearances. Sagal is a confessed news addict, Rocca grew up in Washington, D.C., "where you can't escape current events," and Blount says, "I'm a newspaper junkie. I thought the show would give me an excuse to read all the newspapers I read anyway. The one week a month when I'm on, I read even more than I want to."
Then, on Thursday nights, the audiences stream in, the recording devices roll, and the persiflage flies. It's much like a conversation among friends—the panelists all get along and like each other. "There's all sorts of room for personality," Rocca says. "The audience appreciates the individual quirks of the panelists. It's not always about a big joke. If you were just a joke-telling machine without personality, that wouldn't be as interesting." Sagal's wit is a sharp as any panelist's, but he recognizes that "it's not my job to be funny, but to make funny possible, and make sure everybody's having a good time." Blount notes, "We're not trying to top each other. It's a cooperative effort, a team thing." Afterward, cast and crew will typically unwind at a nearby bar over a drink and a nosh—and occasionally, perhaps, reflect on an axiom coined by radio personality and actor Harry Shearer: "Truth is funnier than anything you can make up."