Hanging Tough
A night of self-discovery at the Stadium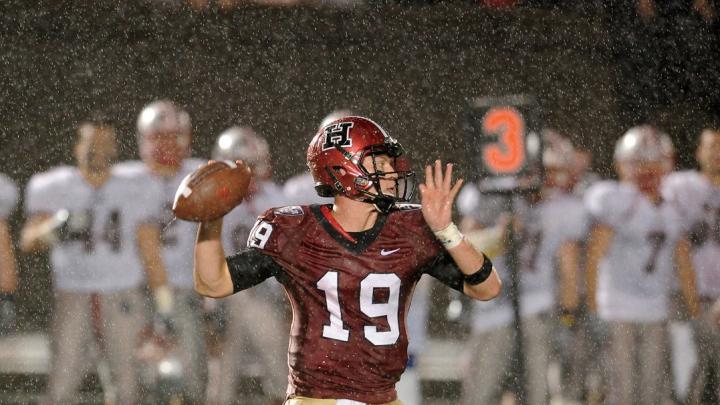 Like Harvard Stadium's FieldTurf surface, this year's football team seems weatherproof. Unfazed by a rainstorm that intensified as the game progressed, the gridders gave Brown a 24-7 dunking in the teams' Ivy League opener, a Friday-night game at the Stadium on September 23. Coach Tim Murphy, whose squads have defeated Brown in 10 of the last 12 encounters, saw this one as a moment of self-discovery. "I think tonight we developed an identity," he said after the game. "We're a tough, physical team."
Tough, physical, and resourceful. With quarterback Collier Winters '10 ('12) nursing a pulled hamstring, junior Colton Chapple got the start against Brown. He directed the offense with authority and passed adroitly, completing 15 of 26 throws for a career-high 207 yards and two touchdowns. Tailback Treavor Scales '13 ran with bruising power, scoring the game's first touchdown and finishing with 129 yards rushing. Despite the rain, the offensive unit and kicking teams finished the game without fumbling. On the other side of the ball, the defensive unit was implacable, forcing five turnovers and hammering the Bears' former all-Ivy quarterback, Kyle Newhall-Caballero. 
As a third-stringer a year ago, Chapple appeared in nine games and started three of them, but completed only 47 percent of his passes. It's now evident that he has mastered Harvard's complex offense, positioning him as the heir apparent to Winters, a fifth-year senior who is scheduled to graduate in January.
Chapple was best against Brown when the weather was worst. Midway through the final quarter, with rain falling in sheets, he uncorked a 56-yard scoring pass to receiver Adam Chrissis '12, giving Harvard a commanding 21-7 lead. 
Chapple had set up the Crimson's first touchdown in the opening quarter, taking the snap on a fake field goal attempt at the Brown 6-yard line and running for a first down at the one. Scales scored on the next play. On Harvard's following series, a 25-yard run by Scales put the team in Bruin territory once again; Chapple then lofted a 20-yard pass to tight end Cameron Brate '14, who made a spectacular one-handed catch and toppled into the end zone.
Harvard's 14-0 lead was imperiled when Brown advanced to the Harvard 9-yard line later in the period, but safety Dan Minamide '12 ended the threat with an interception. The Bears' only score came in the third quarter, on a 30-yard pass from Newhall-Caballero to flanker Tellef Lundevall. Newhall, who missed most of last season with a broken wrist, threw 52 passes and completed 28 for 269 yards. He was intercepted three times, twice in the final quarter.
Brown came within a yard of tying the game as the fourth period opened, but freshman defensive end Zach Hodges knocked the ball loose on a handoff to Bear back Mark Kachmer, and linebacker Alex Norman '13 recovered.
Linebacker Josh Boyd '13 led the defense with 11 tackles and a forced fumble, while fellow linebacker and captain Alex Gedeon '12 had eight tackles.
A week earlier, in the team's season-opening game at Worcester's Fitton Field, defensive letdowns had allowed Holy Cross to score 27 consecutive points after falling behind, 14-3, at the start of the second quarter. But it was an offensive letdown that short-circuited a Crimson comeback in what ended as a 30-22 loss. Early in the final quarter, with Holy Cross leading 23-14, Harvard drove to the hosts' 9-yard line, where Winters attempted a goal-line pass to the team's ranking receiver, Chris Lorditch '11 ('12). Cornerback Andrew Zitnik, the Crusaders' rangiest defender, snared the ball near the sideline and raced 97 yards for a game-changing touchdown.
Will this be seen as the "Year of the Quarterback in the Ivy League," as a New York Times headline proclaimed last August? It noted that Pennsylvania, Columbia, and Brown would each have former all-Ivy quarterbacks at the helm; that Yale, Princeton, Dartmouth, and Harvard would field battle-tested seniors; and that Harvard's Winters had outpassed a clutch of elite college quarterbacks in a summer-camp competition run by Archie, Peyton, and Eli Manning.
Coach Murphy was quoted as saying that the season might be "the most competitive in a long time. I don't think you can look at a single team in our league that doesn't have an all-Ivy-caliber quarterback back. That's something I've never seen in my 18 years in the league."
Yet only Yale, with former Nebraska backup Patrick Witt calling signals, was able to post a W in both of its first two outings. On the season's first weekend, Penn, Columbia, Princeton, and Harvard lost to Patriot League opponents. A week later, Cornell lost to Yale, while Penn lost to Villanova, Columbia lost to Albany, Dartmouth lost to Sacred Heart, and Princeton lost—for the first time ever—to Bucknell. Not an auspicious prologue to the Ivy League wars.
 In recent seasons, Penn and Harvard have customarily been the Ivy front-runners, with Brown and Yale a step or two behind and the four also-rans beating up on one another in the league's second division. Penn, which normally fields the Ivies' best defense, uncharacteristically yielded 67 points in its first two games, but the Quakers, Ivy champions in 2009 and 2010, still seemed likely to right themselves. Patrick Witt, on pace to break all Yale's passing records, could keep the Blue in contention for its first Ivy title since the Eli shared it with Princeton in 2006. But if the injury-prone Collier Winters is good to go—and maybe even if he isn't—Harvard should have something to say about that.
The most trenchant comment in the Times text came from Columbia coach Norries Wilson: "A guy slips in the shower and you're looking at the second-team guy. I found last year that probably the most important person on the team is the backup quarterback."
Tidbits: After the Brown win, backup Colton Chapple said of starter Winters: "I hurt for Collier. No one loves to play the game of football like he does. You can see the intensity—that's why he gets hurt all the time, he plays so hard. [He's] a great leader. You can't replace Collier."…Winters missed the 2008 season because of a torn leg muscle, and sustained a similar injury in preseason practice a year ago. He played the last five games of the season while his leg was still mending, leading all Ivy quarterbacks with a 61 percent pass-completion rate. 
New wrinkle: Harvard's no-huddle offense now features a two-tight-end set, teaming six-foot-five sophomore Cameron Brate and the versatile Kyle Juszczyk '13. "It's a quarterback's dream to have those two [tight ends]," said Chapple after the Brown game. "They're big, they're fast, they've got great hands."…Brate, who did not see varsity action last year, caught 11 passes in the team's first three games.
New faces: Freshman Seitu Smith III was a special-teams force in the Holy Cross opener, returning four kicks for a total of 124 yards, with a long of 42. Other promising freshmen include defensive lineman Zach Hodges, speedy tailback Zach Boden, and Will Whitman, a 6-6, 260-pound offensive tackle.…Hodges, a fiery competitor who also plays on the kickoff team, was credited with three tackles, three quarterback hurries, and a pass breakup against Brown.
Toughing it out: A crowd of 18,565 braved the Brown game deluge.…Crimson teams are now 5-0 in night games at Harvard Stadium.
Resilience: Since 2007, Harvard is 9-0 in games following a loss.
Lagniappe: A 31-yard field goal by kicking specialist David Mothander '14 gave Harvard its final points in the Brown game.
Leopards skinned: Tough defense enabled Harvard to shut down Lafayette, 31-3, in the season's third game, but a new reserve quarterback, Michael Pruneau '14, had to be mobilized when Chapple took a hard hit and was sidelined at halftime by stiffness in his back. Harvard scored its 31 points on a field goal by Mothander, a short run by Scales, a short pass from Chapple to Alex Sarkisian '12, a short pass from Pruneau to Cameron Brate, and a 43-yard breakaway by Zach Boden, of whom more will likely be heard this season and in seasons to come. 
You might also like
Harvard researchers seek to empower individuals to steer their own careers.
How the Bezos Earth Fund hopes to seed economic transformation
A Harvard series explores South Korean cinema in the years following the Korean War. 
Most popular
Brant Berkstresser aims to ensure sound bodies for Harvard's student athletes.
Steven Choi, J.D. '04, works—and fights—at the vitriolic epicenter of immigration politics.
John Alexander follows the ups and downs of funk musician Rudy Love.
More to explore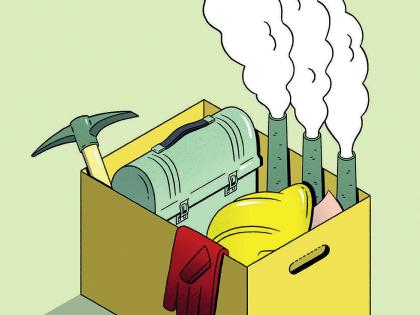 Expect massive job losses in industries associated with fossil fuels. The time to get ready is now.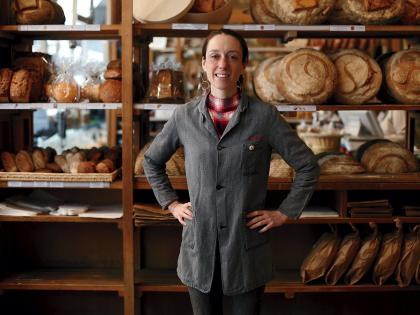 A third-generation French baker on legacy loaves and the "magic" of baking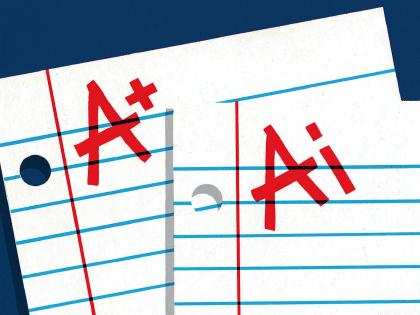 Generative AI can enhance teaching and learning but augurs a shift to oral forms of student assessment.