Guidelines for Commencement Day
Thursday, May 29, 2014
Morning Exercises
Degree candidates will receive a set number of tickets. Parents and guests must have tickets to enter Tercentenary Theatre. Seating is limited, not guaranteed, and cannot be reserved; there is standing room on the Widener steps and at the rear and sides of the Theatre. The sale of Commencement tickets is prohibited. For details, visit http://commencement.harvard.edu.
A limited supply of tickets will be made available to all other alumni/ae on a first-come, first-served basis through the Harvard Alumni Association (HAA) at http://alumni.harvard.edu/annualmeeting.
Alumni/ae and guests are urged to view the Morning Exercises on large-screen televisions in the Science Center and at most of the undergraduate Houses and professional schools. These locations have ample seating, and tickets are not required.
Alumni/ae attending their College reunions (25th, 35th, 50th) will receive tickets at their reunions. Alumni/ae in classes beyond the 50th may obtain tickets from the HAA by calling 617-496-7001, or through the annual Tree Spread mailing sent out in March (RSVP by April 15).
Afternoon Program
The HAA's Annual Meeting, which includes remarks by the president of the HAA, Overseer and HAA election results, the presentation of the Harvard Medals, and remarks by President Drew Gilpin Faust and the Commencement speaker, convenes in Tercentenary Theatre on Commencement afternoon at 2:30 p.m. For tickets (which are required, but free), visit http://alumni.harvard.edu/annualmeeting, or call 617-496-7001.
~The Commencement Office
You might also like
The Crimson springs a major upset.
Harvard officially installs Claudine Gay, its thirtieth leader.
A half-dozen symposiums feature Harvard research on AI, climate change, inequality, and more
Most popular
A profile of Harvard's thirtieth president
Life decisions en route to Massachusetts Hall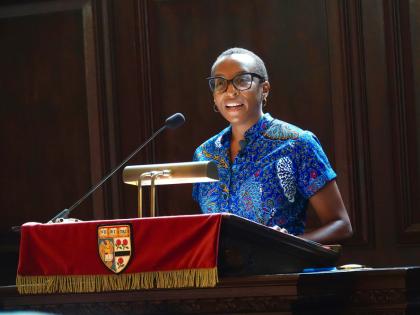 President Claudine Gay's first semester-opening Morning Prayers
More to explore
A test can identify these productivity-boosting personnel.
Ancient history professor studies coins, ceramics, and Zelda.
Anwar Floyd-Pruitt's wildly profuse art