John Harvard's Journal | Sports
A Calming Presence
Hockey goalie Emerance Maschmeyer steadies her team, in record-setting fashion.
The moment was easy to miss. Halfway through the third period in an early January game that Harvard would soon put out of reach, Colgate defenseman Nicole Gass skated into the zone and, from the top of the right-hand faceoff circle, snapped a hard shot toward the Harvard net. The puck sailed past two Crimson defenders and into the pads of goalie Emerance Maschmeyer '16, who flicked it harmlessly into the corner.
And that was it. Maschmeyer, 21, a senior co-captain of the Harvard women's hockey team and its principal goaltender for the past three years, had made her 2,108th career save, surpassing the school's all-time record. A half-second later, her teammates corralled the puck along the left boards and, after a skirmish at the blue line, cleared it out of the zone and up the ice. In the next 10 minutes, Harvard would score another three goals to win the game 6-2, and it wasn't until after the final buzzer that the rink announcer reported Maschmeyer's record to the applauding crowd. By then she'd made another nine saves.
"My opinion is, she's the best goalie on the college level," says Landry Family head coach Katey Stone. Canada's national team wants her; so does the newly formed National Women's Hockey League: in 2015 the all-women professional league chose her as one of 20 athletes its inaugural draft. "She's really good," Stone says, "and she's a calming presence back there. You can feel it all over the ice." Averaging just over 30 saves per game, Maschmeyer (teammates call her "Mash") is hovering close to several Harvard or NCAA records: for save percentage, goals-against average, career shutouts, per-season wins. Last year she backstopped the team all the way to the NCAA tournament final, where the women fell to Minnesota in the title game. Harvard did take the 2015 ECAC regular-season and tournament championships, and upset a top-ranked, unbeaten Boston College team to win the Beanpot Tournament for the first time in five years.
This season has been a harder slog: seven players (two of them Olympians) graduated last spring, and the early fall was disrupted by absences and injuries, including one to center Mary Parker '16, last year's leading scorer. Along with her co-captain, defenseman (and Olympian) Michelle Picard '15 ('16), Maschmeyer, who will graduate this spring with a degree in sociology, has helped steady a younger squad.
"She's rock solid," Picard says. And she's helped her team win games they otherwise might not have. In a November contest against Northeastern, the Huskies came out flying; for the first period, the Crimson players found themselves mostly on their heels, battling in their own defensive zone. Against volley after volley, Maschmeyer kept the puck out of the net—she made 30 saves that night on 30 shots—and eventually her teammates found their stride. "I like being able to steal a game," she says. "A team can be outshooting and outplaying us, but if I'm able to stand on my head and give my team the chance to win—that's the best feeling."
Whenever she's in the net, Maschmeyer sings a song in her head. Not always the same one—and she's cagey about divulging titles (that might provoke the hockey gods)—although she allows it's less likely to be country ("a little slow") than hip-hop or R&B. "It depends on my mood." But when the pucks are flying toward her and opposing forwards crashing the net, a song in her head helps hold her focus.
That's what her teammates talk about when they describe her: her focus, her calm, her stability. Among the qualities that make a goalie good—lightning reflexes, disciplined positioning, a split-second instinct for when and where the puck is coming—confidence is sometimes the most elusive. It doesn't seem that way for Maschmeyer, though. Standing all of five-foot-six, she fairly disappears into her pads, a pair of dark eyes behind a wall of white and crimson. But she does not disappear on the ice. Her technical skill is formidable, and her poise and self-assurance give her team confidence to push hard and take chances on offense. "She's fun to play in front of," Picard says. "You always know that she'll have your back if you make a mistake.…Nothing rattles her."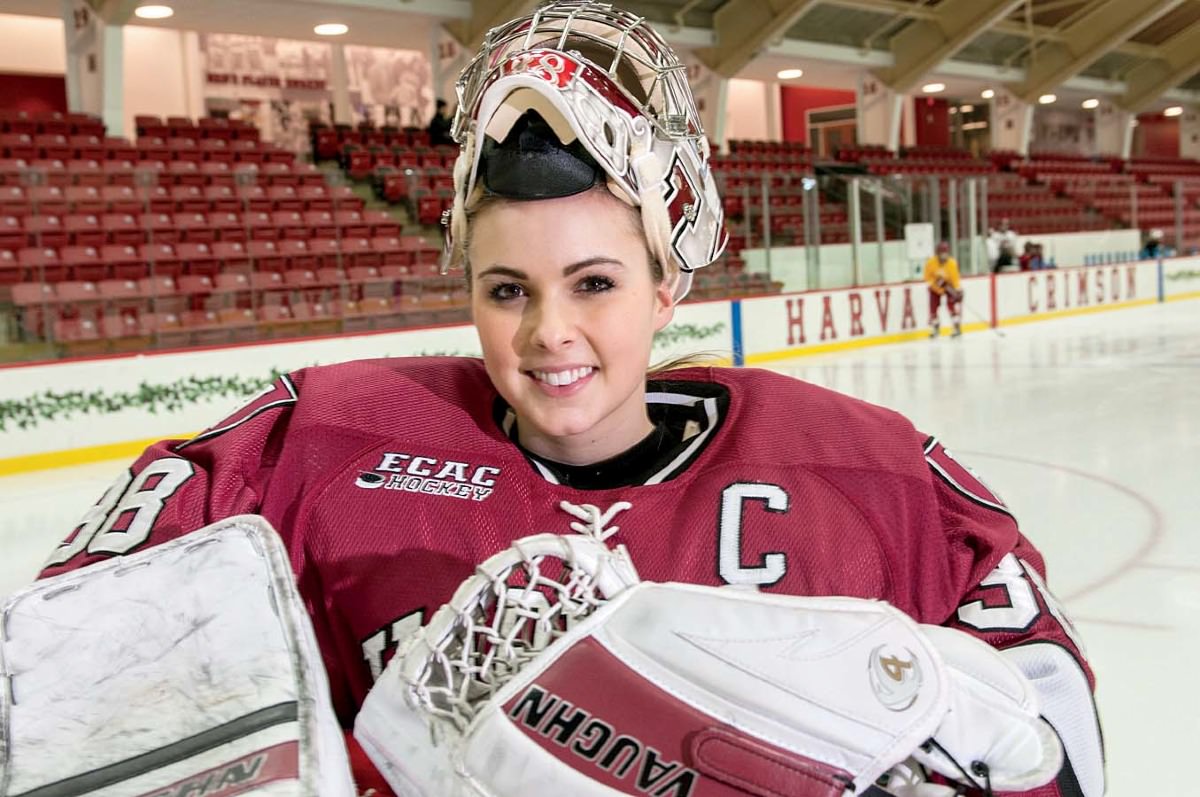 Emerance Maschmeyer
Photograph by Jim Harrison
The first time Maschmeyer strapped on a set of goalie pads, it was just to be polite. She was seven years old, and she'd been playing hockey since she was three. "I started out as a forward," she says. "I liked scoring goals." Then she joined a league in which the young players rotated positions, including guarding the goal. "So I would just be in regular player equipment in net," she recalls. After one game, she told her parents she'd had fun as goaltender. That Christmas, there was a set of goalie pads under the tree. "I felt like, OK, this is my present. I have to try this on." The first outing on the ice didn't go well. There were tears. "I did not like it," she says. "I had my pads on the opposite legs; it was a mess." After that, though, it got better, and then it got serious. Her siblings—all five Maschmeyer kids played hockey—were overjoyed to have a goalie to shoot against in their backyard rink.
"Backyard rink" doesn't really do justice, though. Maschmeyer grew up outside Bruderheim, Alberta, Canada, a tiny speck of a town about an hour's drive from Edmonton. Her parents, Arlan and Christine, farm 10,000 acres of wheat, barley, and canola. The rink Arlan Maschmeyer constructed every winter had full-size boards and Plexiglas shielding and a warming shack. There were workout stations, shooting-drill spots, and dummy bags to practice body-checking. A player himself until age 20, he coached his daughter and her siblings—three brothers and a sister—in those early years. "We'd be out there until 12:30 at night skating, and our toes would be frozen," she says. "It was awesome. And my dad would be like, 'You can't get off the ice until you can lift the puck.' And then we'd come in and my mom would put us in the bathtub to warm up." She gets a faraway look when she talks about Bruderheim and the rink and all those acres. "That's the root of my game," she says. "My game was built there, with my family."
Coach Stone remembers visiting Maschmeyer before the goalie came to Harvard. "It was a long trip—we took an airplane and then another and then got in a car and drove another couple of hours and arrived on one of the most beautiful summer days," she recalls. She spent hours touring the farm in Arlan's pickup truck and chatting with Maschmeyer's grandmother; she ate with the family out on the deck. "By the end, it's pitch black, and we're about to drive away, and Emerance said to me, 'Thank you for coming; it was really important for me that you know where I come from.' That's a special kid."
Until college, Maschmeyer played on boys' teams; at 10 she was only the second female goalie (Hockey Canada legend Shannon Szabados, whom Maschmeyer grew up idolizing—and against whom she may compete for a spot in the 2018 Olympics—was the first) invited to play in Edmonton's Brick Invitational Hockey Tournament, an event that routinely draws future NHLers. In her last year of high school, she played with the Alberta Junior Hockey League, at the highest amateur level, and also played in the Alberta Winter Games and Canada Winter Games.
Hockey Canada came calling that year, too. In 2012, she won gold with the national under-18 team in the International Ice Hockey Federation World Championship in Finland and Sweden. Maschmeyer was in net for the gold-medal game, a 3-0 shutout against the U.S. team (facing future Harvard teammate Brianna Laing in goal for the Americans). Playing with Canada's under-22 team, Maschmeyer has competed twice, in 2014 and 2015, in Europe's Four Nations Cup (this past November the team took second place), as well as in the world championship in Sweden last March. She plans to be there this spring, too. "I'm still getting stronger," she says.
That's true, says sophomore forward Karly Heffernan, Maschmeyer's roommate, best friend, and teammate—both at Harvard and Hockey Canada. The two grew up half an hour apart in Alberta and met when Heffernan was 12 and Maschmeyer was 15. Already, she says, Maschmeyer is the best goaltender she's ever played against or in front of. The two practiced together back home last summer, and the goalie coach often asked Heffernan to take shots on Maschmeyer at the end of a practice session. "So I've probably tried 200 different moves on her," Heffernan reports. "And maybe—maybe—10 went in. I've said to her, 'I've probably taken more shots on you than anyone in the world, and I still can't figure you out.' She just laughed. She's so calm in the net. You can't throw her off."
And the song keeps playing in her head.