The Business of Lies
Making crime pay
"We can't go on together / With suspicious minds," Elvis crooned in '68—though roughly 50 years later, if you feel so inclined, you can graft the title of Joseph Finder's new thriller Guilty Minds onto the lyrics without seriously neutering the themes of either work. Both guilty minds and suspicious minds hurt people—and even though the mechanics of a thriller are necessarily powered by outsize doses of suspicion, Finder second-guesses this force. He knows that minds trained in suspicion, trained to act on suspicion, will sometimes make dangerous mistakes. In his novels, the suspicious mind is ever on the precipice of becoming guilty.
Finder has been publishing thrillers for the past quarter-century, beginning with 1991's The Moscow Club, which took as its jumping-off point the dissolution of the Soviet Union. (He earned a master's in regional studies, focusing on the Soviet Union, in 1984.) The end of the Golden Age of espionage serves as a tonal backdrop to Finder's fictions; the post-Cold War matriculation of intelligence agents into the private sector served as inspiration for his series character Nick Heller, who first appeared in 2009's Vanished. Throughout his works, all the leftover postwar suspicion hovers like a vile force.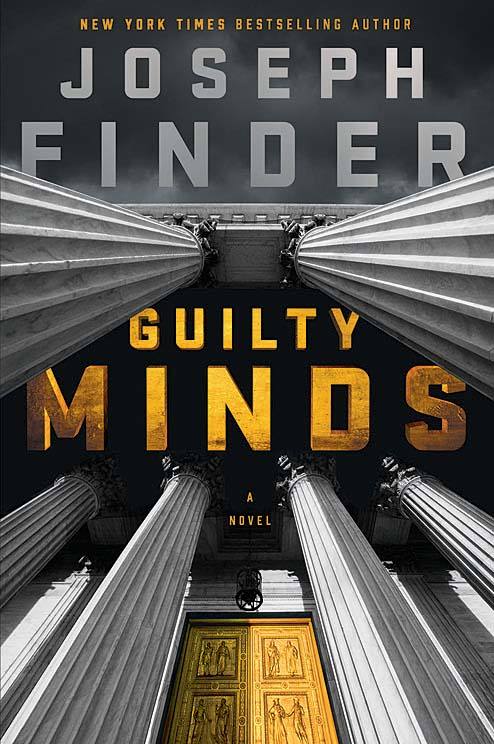 The plot of Guilty Minds, as you'd expect, is taut, rapid, and tensely recurving. Private spy Heller has been hired by D.C. socialite and political power player Gideon Parnell to debunk a salacious story about one of Parnell's good friends. The online gossip rag Slander Sheet is threatening to release an exposé linking the publicly milquetoast Chief Justice Jeremiah Claflin (one thinks of the blandish Everyman air of John Roberts '76, J.D. '79) to a series of liaisons with a District-based escort pseudonymously named, à la Ian Fleming, Heidi L'Amour. Heller's charge: disprove the tale, and resettle the status quo.
Crafting one of his thrillers involves extensive, detailed, and peripatetic research, including interviews with specialists of his chosen mise en scène; if it takes him, on average, a year to produce a manuscript, only three to four months are given over to the actual writing. In prepping for Guilty Minds, for instance, he spoke with call girls and private investigators and even visited the offices of the gossip website Gawker, where he studied the company's business model and spoke to employees about their fear of lawsuits. ("You can see," he says, "how we haven't fully negotiated privacy, or the responsibility of journalists.")
Speaking with Finder, it becomes evident that he knows a lot, yet his conversation is pleasant in the way the conversation of a happily condescending professor is—he is pleased enough to engage with others on the level of their curiosity; it's the hunger for knowledge, shared between speakers, that matters to him.
Though he's primarily written stand-alone thrillers, Finder notes that working with the Heller series has yielded special technical benefits. In a one-off literary treatment, "the central character's world has to be turned upside down—but you can't have the character's life be upended in every book." In exchange for sacrificing that high drama, Finder reaps opportunities for increased topicality and societal commentary, which in turn augment intellectual heft—what he calls his works' "ballast." (Guilty Minds, for instance, treats of the dilemma of privacy in the digital age.) Though he raised himself on the thin, snappy novels of Ian Fleming, he also paid his dues with the baroque doorstoppers of writers like Herman Wouk, James Michener, and Tom Clancy. "I actually loved those books," he says. "There was a time when popular entertainment meant a thick book, but then books began to slim down—I suspect it had a lot to do with the shortening of the American attention span."
Technology, too, has whittled down the standard-issue thriller's page-count, he points out: "I was on a panel once a long time ago and someone said, 'You know, the one thing that's gonna really screw up detective novels is the cell phone'—because in the old days you could be out of touch, and you couldn't find a payphone anywhere nearby, and that took up time. But I realized it's actually going to transform the storylines. Technology is going to make things more difficult in some ways, and more interesting in other ways."
In Finder's works, technology doesn't needlessly complicate the plot. "What I didn't like about Clancy and his thousand-page books," he says, "was that they were so drily technical….Reading them was like reading an owner's manual for a submarine—I don't actually want to learn how to operate this thing; I'd like to ride in it." Nor is technology, in his novels, the spectacle-in-itself. "I've heard people describe my books as techno­thrillers," he adds, "and that terrifies me, because to me a technothriller is a thriller that's completely taken up with the exposition of technology—and…I'm much more interested in people. Technology is simply the texture of the world in which I set the book."
For all the cell-phone tracking, password hacking, and digital hijinks that stipple Guilty Minds, the narrative remains driven by what Finder refers to as "gumption work"—the classic private-eye footwork of stakeouts, stalking, and visual clue-grubbing. If a complicated technological device springs up at any point, it always leads back to the characters, and the sometimes sordid interconnectedness of their lives.
Finder's career itself began with an instance of gumption, during his degree-work at Harvard's Russian Research Center (now the Davis Center for Russian and Eurasian Studies). He paid his bills teaching expository writing; he passed his afternoons haunting used bookstores in Harvard Square. "I wanted to be a writer," he recalls, "but I had no idea how to do it." One afternoon, browsing at Harvard Bookstore, he picked up a copy of Walt Whitman: A Life, by Justin Kaplan '45, and discovered, upon reading the author's note, that the Pulitzer Prize-winning biographer lived in Cambridge. "So I went home and I looked in the phonebook and I found his number and I called him up, and I said, 'You don't know me, but I want to write, and I don't know what to do,' and he invited me over to his house on Francis Avenue, and he told me how it works. He helped me write my first proposal—and he introduced me to his agent."
As in sleuthing, the old ways will always pay.
Bailey Trela '16 was one of this magazine's 2015-2016 Berta Greenwald Ledecky Undergraduate Fellows.
You might also like
The first in a series of public conversations about Harvard and the legacy of slavery
How to encourage free speech and inquiry on campus
A new play at the A.R.T. provides a modern take on ancient mythologies   
Most popular
Brief life of a formidable anthropologist: 1903-1991
First-years Ngozi Musa and Gabby Thomas help set the pace for track and field.
A negative investment return and annual spending reduce the endowment's value 5.1 percent.
More to explore
A test can identify these productivity-boosting personnel.
Ancient history professor studies coins, ceramics, and Zelda.
Anwar Floyd-Pruitt's wildly profuse art