John Harvard's Journal | Sports
New-Look Lavietes
rendering courtesy of Bruner/Cott & Associates, Inc.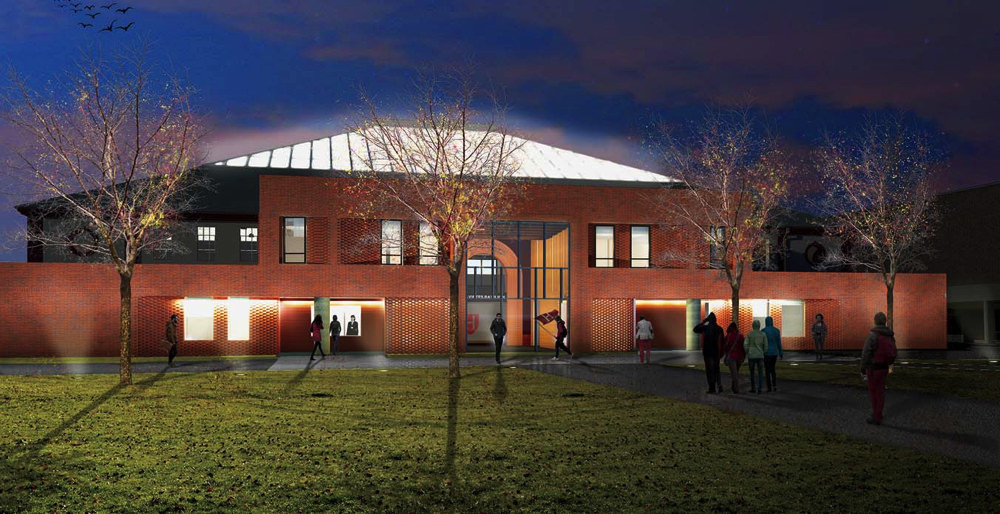 rendering courtesy of Bruner/Cott & Associates, Inc.
Basketball Fans will navigate through construction-work-in-progress, temporarily in abeyance during the Crimson's season, as they enter Lavietes Pavilion for this season's games. Although the University's 2013 master plan for Allston construction envisioned a new and larger arena located farther down North Harvard Street, well past Harvard Stadium, that would have been an expensive and long-term project, with no certain date for completion.
Now, the decision has been made to overhaul Lavietes, which was built in the 1920s as an indoor-track center and converted to basketball use in 1982. The visible construction extends the front façade, ultimately yielding 5,000 square feet of additional space to accommodate new team locker rooms and coaches' offices. When the work is completed, before next season, fans will pass through a new entry, and be served with upgraded concession, merchandise, and restroom areas. The bleacher seating will be replaced; all the heating, cooling, electrical, and lighting systems will be modernized; and there will be that most au courant of amenities: a jazzy video board and sound system.
The renovation will retain the intimate scale of Lavietes and its proximity to the main campus in Cambridge, and is obviously ready soon—perhaps, one can hope, as a venue for the new Ivy League conference tournament, which launches next March at Penn's venerable Palestra. Read complete coverage at harvardmag.com/lavietes-16.